Mountain bikes are bikes that manufacturers design specially for off-roading excursions. Manufacturers design these bikes in a way that they can weather all the tough terrain that they may come across.
Mountain bikes aren't bikes you buy on a whim. They require that you spend some time looking into your options before you purchase one. Part of the reason for this deliberation is that mountain bikes aren't exactly cheap.
They can cost you upwards of 500$, and thus, you must know what you're buying and why you're buying it.
The turn of the century has seen an uptick in electric bikes, which rely on motors to provide an extra kick. Manufacturers have started building more electric bikes because of the increased demand for a more sustainable mode of transportation.
In the case of mountain bikes, the story is different. Customers don't use mountain bikes as a method to get from place to place on normal roads.
Mountain bikes adhere to an audience that's more prolific in their search for adventure. But what if you want to motorize your mountain bike?
You can achieve this by attaching a motor to your mountain bike along with a battery. Read on as we tell you all about how you can do this and reap the advantages.
What is a Mountain Bike?
A mountain bike is a specially strong bike that manufacturers have designed for off-roading and rough terrain. Mountain bikes have a light, yet sturdy frame, wide deep-treaded tires, and multiple gears.
These bikes are designed to be safe as customers of the bike ride these on very dangerous territory.
Mountain bikes are designed after careful consideration, as simple miscalculations can be the difference between a rider's life or death.
It may not seem like mountain bikes are that much different from regular bikes. Their bike mechanisms are relatively the same. However, mountain bikes use different materials and designs compared to road bikes and regular bikes.
Manufacturers are aware of the differences in terrain that mountain bikes will uptake. This knowledge informs their decisions in terms of designing a particular bike.
Mountain bikes are more expensive as they use sturdier material that carries more weight. Very specific riders buy mountain bikes, and as a beginner, it isn't easy to choose which one will suit you best.
Your best bet is to ask someone who's been biking on mountainous trails for a while. Even the attendant at a bike store will do. They'll likely give you something that makes sense depending on your height and built.
If you're a beginner, you can always ask them to apply a degree of ease to the bike. They may be able to help you out with running the bike easily and then updating it to something that requires more effort when you're ready.
What Is a Motorized Mountain Bike?
A motorized mountain bike is any mountain bike that has a motor in it. Electric mountain bikes are a subset of motorized mountain bikes that work with a motor and an electric battery.
Motorized mountain bikes can also run on fuel. However, it's important to note that a motorized mountain bike is very different from a motorcycle. A motorcycle or a motorbike only works with the engine fueling the motor.
However, in a motorized mountain bike, the motor is likely to provide some assistance. For the rest of the work, the rider will have to do it by pedaling.
Motorized mountain bikes, which aren't necessarily electric bikes, are also tricky because there are chances they're not regulated.
Even if you install a motor on your mountain bikes, chances are you won't be approved to ride it in your mountain biking tournament. It may also be dangerous for you to ride a mountain bike which isn't regulated. Thus, you must know what kind of motor you're going to apply it.
Electric mountain bikes are better options as they're regulated, and you know what you're getting when you use these.
You don't even have to buy an electric mountain bike. Get a regular mountain bike and then apply a motor to it along with the battery. With a battery, you can control the speed on your electric mountain bike more easily.
It won't go past a certain number due to the wattage on the battery. This safety limit makes motorized mountain bikes with batteries a better option than installing a motor with an engineer.
How to Install a Motor on a Mountain Bike
Even though mountain bikes are extremely tough, they can still not take on all kinds of terrains. To give your mountain bike an extra lift, you can install a motor on it.
You may also be an older mountain biker who feels like the little engine that can't. It's completely okay to want to overcome a certain trail and master it but to not be able to because of the physical restraint that comes with age.
You can install a motor on your bike, so you don't have to put extra effort into reaching the same heights you once did.
You don't want to spend all that extra money on a completely new bike when you already have a mountain bike. You'll have to apply a motor on the mountain bike you're using.
Like any other equipment, it's essential you know what steps you must follow. We are going to discuss the procedure for motor installation on your mountain bike on a step-by-step basis below:
1. Gather the Essential Supplies
What are some of the basic, most important supplies you need to get your job done? You will need protective eye gear, overalls, masks, gloves, trousers, and rags for the installation.
It would be best to prepare your workspace in a particular manner, i.e., make sure you have the entire garage to yourself so you have enough space to keep your mountain bike on a stand. You must have space to move around it as well.
At this time, you should also try to match your motor to the bike's frame so you know your bike can handle it.
2. Prepare the Mountain Bike
After you've gathered all the supplies, it's time to get your mountain bike in action. You'll likely have to work on getting your bike on a stand and raising it a little.
Having the mountain bike at eye level will help you understand what exactly is happening with it. Experts also recommend that you install a spare front caliper brake to make it easy for you to bring your bike to a halt altogether.
You can also use this time to install new tubes into the tire or switch to tubeless tires. You're more likely to cruise down the streets if you have fewer punctures.
3. Identify the Right Motor
The first step in getting yourself a perfectly motorized motor mountain bike is to pick the right motor.
A good motor should be able to produce the right kind and amount of torque. The amount of torque is determined according to the terrain you're embarking on.
You should also be careful about fuel consumption or battery usage when you're picking a motor so that you can choose one which works for you accordingly. Some motors run on gas while others can run on electricity.
If you want to be environmentally conscious, it's best to choose the electric battery, so you're not releasing any harmful gases into the environment. If you opt for the fuel motor, you can go faster.
Read Lubricating Your Bike Chain
4. Gauge the compatibility of the motor and the bike
If the motor is too big or too small for your bike, you'll put in all that effort over nothing. It's imperative to ensure that your motor fits snugly in the frame of the bike.
If a motor is too heavy, you likely won't drive your electric bike at the speeds you were hoping for. A good measure is that the motor must fit inside the frame of your bike.
If you have any trouble with its installation, you'll have to tend to the frame and modify that instead. You can do this by introducing new brackets to add a newer dimension.
You should also tighten the motor then so that it's firmly fitted into your frame and doesn't fall from shaking too much,
Read 8 Best Mountain Bikes for Heavy Riders
5. Perfect the placement of a Rear Sprocket
After you've installed the motor, you have to make connections to the rear sprocket. The rear sprocket acts as a primary drive to the rear wheel.
It's one of the most significant parts of your bike's riding mechanism, and thus, you should fix it properly. Mountain bikes are ridden in rough terrain, and so all motor and sprockets must be attached firmly.
You should also test that the sprocket is exactly in the middle of the distance that spans the wheel, all the way around.
6. Fix the Drive Chain into the System
The drive chain is what conveys the torque from the engine of the motor to the rear wheels. This drive chain is also the most fragile part of the entire system.
You need to ensure that it doesn't fail in the middle of its working, especially when it's under high loads of stress. To do so, make sure it lines up perfectly straight.
You should check if the fit is correct by shaking the bike gently. The chain must hit the dropouts. If it doesn't, then the placement is incorrect. You have to make the necessary adjustments to make sure it's perfect then.
7. Assemble the Bike Structure
Once you have placed the drive chain and the drive train, you can move on to the rest of the bike structure. You have to assemble the rest of the bikes back together.
You have to fix the carbs, the throttle mechanism, clutch, and fuel lines or battery connections. The assembling is the most tricky aspect of the entire operation. Each component also requires its approach to undertake.
You will have to familiarize yourself with the steps you'll be taking to install all of the other components. It won't be possible for you to do this on your own and so you should ask for an expert's help to take on the rest of the steps.
An expert will know how to assemble the motor so that nothing is caught on fire when you take it out for a test drive. These connections are very tenuous, and you need an expert to help you with them.
8. Take Your Motorized Mountain Bike out for a Test Drive
You have to conduct a test drive, so you're sure about the bike. Driving the bike will help you look for any misgivings of your mechanical prowess.
If the motor or sprocket is loose, riding will help you identify what things you need to tighten up. You should go the complete hundred yards and drive around for five minutes.
Make sure you're accelerating, slowing down, and breaking so that if there are any problems, you can identify them with ease.
If you feel like any of the issues require fine-tuning, you can make a note of it and ask an expert to help you make things better. You should try to make those final touches before you call it a day.
You may like the following biking articles:
Final Thoughts
Installing a motor on your mountain bike is one way that you can use it with greater ease. However, there are many steps you must take to install the motor.
You have to pick out the perfect motor and decide whether you're going to connect it to an engine or a battery. When you've weighed out the kind of energy source you're going to apply on the bike, you'll have a better idea of what your mountain bike can do.
If you want something with greater power and speed, applying a motor is the way to go forward.
However, it would do you well to notice that your motorized mountain bike should be perfect according to you. So, if you want something that's more environmentally friendly, you should opt for powering your bike with a battery.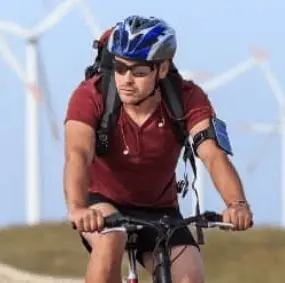 I am Michael, an avid rider and bike expert. I am here to provide, biking tips and expert advice on in-depth bike reviews covering features, capabilities, price range, and much more. Specially on electric bikes, mountain bikes, road bikes, etc. I will provide honest product reviews, along with expert advice on purchasing, training, and maintenance. Check out my complete profile.