Long gone are the days when mountain bikes were "pinked and shrink-ed" in order to create a sense of appeal to the female audience. Nonetheless, as the mountain bike industry progresses in racing, participation, and enhanced opportunities, women-specific mountain bikes and apparel are no longer an afterthought.
Rather, they are viewed as a tool for change in an otherwise dominantly men-based sport.
From stable entry-level off-road builds to those particularly designed for a more adventurous technical terrain, women-specific bikes now span the entire mountain bike spectrum.
Geometric tweaks have given all mountain bikes, specifically 29-ers, lower stand-over heights, making them more manageable and accessible for smaller riders.
Likewise, short-suspension mountain bikes now offer slacker geometries that do not affect climbing and make riding downhill a steadier affair.
Several women-specific mountain bikes now provide a better than ever pedaling uphill experience and can smoothly handle an array of conditions from complex trails to those found in bike parks.
In this blog post, we'll be revealing our top six best mountain bikes for women, along with some buying advice more and other useful information.
So, without further ado, let us get started!
Women's Mountain Bike: Overview
Just like there's no single body type for women, there is no single geometry feature or tweak set that distinguishes mountain bikes for women from mountain bikes for men or even unisex bikes.
Nonetheless, the majority of mountain bike brands agree to the fact that the average female is lighter and shorter than an average male.
Therefore, female-specific mountain bikes usually come in small sizes not available in unisex versions, comprising XS (extra small) and XXS (extra, extra small) sizes.
On one hand, brands like Santa Cruz and Specialized think a great mountain bike does not require a different geometry to work for female or male riders. All those brands' female-specific versions provide touchpoints specially designed for women.
For example, a narrower handlebar, a women-specific saddle, and shorter cranks. Likewise, they are also shock tuned to offer a lighter rider.
On the other end of the spectrum are brands like Canyon and Liv, who believe the entire biking experience for women a step further since they believe women riders are best served by frames tuned grounded on pragmatic research of female musculature.
In the next section of this article, we've highlighted some key aspects brands use to differentiate between men's mountain bikes and women's mountain bikes.
Check out, Buying an MTB: What Mountain Bike Brands are the Best?
How Women's Mountain Bikes Differ from Men's Mountain Bikes?
There was a time when mountain bikes for women were simply smaller in size, prettier (or rather pinker), and, unfortunately, more poorly designed in contrast to models devised for the male population.
But fortunately, those troglodyte days are way behind us now. Apart from aesthetic nuances, today, high-quality women's mountain bikes offer the same components and performance as their male counterpart versions.
Here are some of the key aspects brands use to differentiate between men's mountain bikes and women's mountain bikes.
Geometry & Frames
Since mountain biking necessitates a great deal of time up and out of the saddle and requires considerably less of the recurring steady motion present in simple road cycling, it can lead to severe injury or accidents if the fit and sizing of the bike are not right.
Now, you must know that the geometry between female-specific and unisex mountain bikes is usually not as distinctive as among female-specific and unisex road bikes.
Stand-over height – refers to how low the upper tube rests above the ground – is usually considered a key differentiating factor, and thus mountain bikes with low stand-overs entail more selling points among women riders.
Nevertheless, nowadays, many mountain bikes are being designed with lower stand-over heights anyway. Similarly, women's mountain bike models tend to run to tinier frame sizes than their male/unisex equivalents.
Wheel size
For companies that provide a twenty-nine-inch wheel range for female-specific mountain bikes, they might match smallest size frames with corresponding smaller wheel sizes. This is partially because big wheels can be difficult to fit in smaller bike frames.
In addition to this, some brands believe that shorter and lighter riders would not be able to experience the true value of bigger wheels. However, there are other brands that disagree and ensure improvements in design are incurred all the time.
Saddles
The saddles are designed to cushion the hips for both female and male mountain bikes, especially when the rider is seated in a more upright position.
However, just like the saddles of road bikes, the exact shape, holes and depressions, and the areas of cushioning will be different between saddles for male and female riders, to accommodate for their distinctive anatomical features.
Brake levers
Like road bikes, brake levers tend to be the same on female- and unisex-specific mountain bikes.
However, many female riders choose to adjust the levers in order to sit closer to the handlebars as they believe it is more comfortable and much easier to control braking like this, especially if someone has smaller hands.
Read Why are Mountain Bikes So Expensive?
Best Mountain Bikes for Women
Every mountain bike on this list has been carefully chosen based on its price and quality of parts, our experience riding comparable models, and how the overall offering fulfills the intended buyer's biking needs and requirements.
So, irrespective of whether you wish to go big or spend small, one of these female-specific mountain bikes models will surely meet your needs, budget, and skill level.
Scott Contessa Active 50
Best for: a stable entry-level ride
| | |
| --- | --- |
| Price | $500.00 |
| Size |  S, M, L |
| Wheel Size | 27.5" / 29" |
| Frame Material | Main frame is constructed of carbon fiber, with aluminum swing arms. |
| Drivetrain | Shimano |
This inexpensive hardtail from Scott is the perfect gateway mountain bike for riders who are about to start their off-road biking journey.
The Contessa Active 50's suspension fork with 100mm of drive effectively smooths out coarse, bumpy terrain. Its upright positioning extends great comfort to your neck, back, and wrists.
In addition to this, the Contessa Active 50's wide Kenda Booster tires keep riders fixed and stable on wet trails and across corners.
Moreover, the saddle of this mountain bike is decent. However, it starts to feel stiff after some minutes of use, so we suggest you swap it out with one you know you would like.
The bike has a Shimano Tourney drivetrain that offers ample gears and enables riders to find a comfy pace to ride uphill. Likewise, the Tektro hydraulic disc brakes will provide you a smooth stop, minus any erratic and jerky movements.
So, whether you are searching for a super comfy and stable ride for the bike path or simply want an inexpensive option to explore trail riding, we absolutely love and recommend the great quality and fun the Contessa Active 50 by Scott offers at this particular price point.
Here are some leading pros and cons of the Contessa Active 50 mountain bike:
| | |
| --- | --- |
| ✓ Stable and sturdy biking experience | ✗ Stiff saddle |
| ✓ Affordable | ✗ A bit heavy in weight |
| ✓ Ideal for mountain bike |   |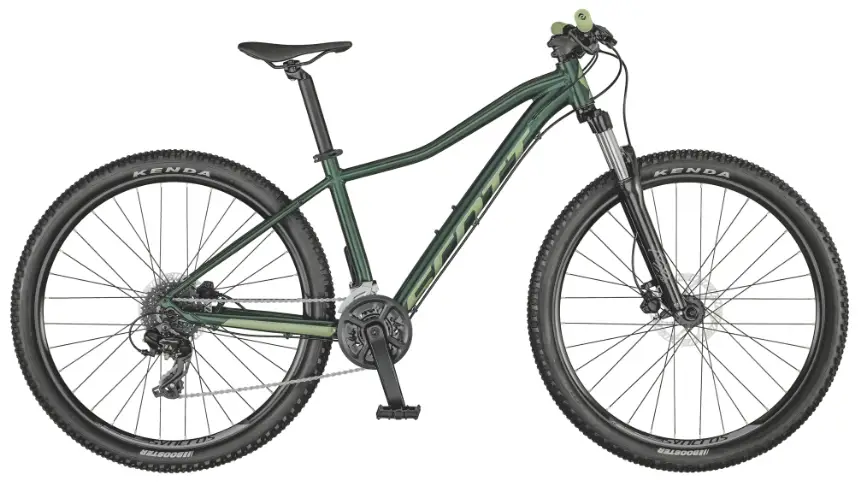 Read How to ride mountain bike on snow
Juliana Maverick
Best for: a full-suspension mountain bike for a fun, rowdy, and aggressive biking adventure!
| | |
| --- | --- |
| Price | $8,299.00 |
| Size |  S, M, L |
| Wheel Size | 29" |
| Frame Material | Main frame is constructed of carbon fiber. |
| Drivetrain | SRAM Eagle |
Aggressive, rowdy, and fun – this is exactly what the Juliana Maverick full mountain suspension mountain bike is all about. Possibly deemed to be the crème de la crème of all mountain bikes designed especially for women.
Believe it or not, the Juliana Maverick is undoubtedly more than just a mountain bike. As the sister-in-arm of the Goliath Santa Cruz company, over the years, the Juliana Bikes has gathered a group of loyal followers for its extraordinarily built carbon frames. Plus, the frames are kitted out with cutting-edge parts.
Without much shock, this trailblazing tech does come inevitably at a steep price. But when you are rocking a RockShox Super Deluxe Ultimate shock, a 150mm of Fox 36 Float Factory-supplied travel up front, SRAM Code RSC brakes, as well as a SRAM X01 Eagle drivetrain – there is very little possibility that something else can beat this stallion on the trail.
Juliana Maverick is indeed a capable and fun train bike ready for some thrilling rock drops!
Here are some leading pros and cons of the Juliana Maverick mountain bike:
| | |
| --- | --- |
| ✓ Perfect for rowdy, complex trails | ✗ Fails to beat your XC bike uphill |
| ✓ Great climbing ability | ✗ Expensive |
| ✓ Neat looking carbon frame | ✗ Weak specification list |
Read Riding mountain bikes on sand and beaches
Liv Bliss 3
Best for: rail trail explorers and riders with lesser experience.
| | |
| --- | --- |
| Price | $430.00 |
| Size |  XS, XSS, S, M, L |
| Wheel Size | 26" / 27.5" |
| Frame Material | Aluminum |
| Drivetrain | 3 x 7 |
If you intend to cruise bike lanes, smooth dirt paths, and rail trails, the versatile Bliss 3 by Liv can surely get you out there. With broad, 2.1inch tires along with a suspension fork, this mountain bike soaks up jumps and bumps in the road and sticks to the trail.
The Liv Bliss 3 comes in five different sizes: XS and XXS sizes come with 26-inch wheels, whereas the remaining three sizes: S, M, and L come with 27.5-inch wheels.
Nonetheless, both of these tire sizes are on the smaller end of the scale – i.e. not 29ers – making this mountain bike more responsive to the rider's steering. This feature makes it ideal for women with less experience.
In addition to this, a seven-speed cassette and triple-chainring offer around twenty-one unique gear combinations, with loads of light ones for biking uphill.
Moreover, the quick-release seat post will allow you to easily make modifications to your saddle height even during a ride; leaving you in a comfortable fit and upright position that's kind to your lower back as well as your neck
Here are some leading pros and cons of the Liv Bliss 3 mountain bike:
| | |
| --- | --- |
| ✓ Wide, grippy tires | ✗ A bit on the heavier side |
| ✓ Affordable |   |
| ✓ Easier handling due to smaller wheels on XS/XXS |   |
Check out, Can Mountain Bikes be Used on Road?
Liv Pique Advanced Pro 29
Best for: women wanting to ride confidently and comfortably over everything in their path.
| | |
| --- | --- |
| Price | $6,250.00 |
| Size |  XS, S, M, L |
| Wheel Size | 29" |
| Frame Material | Carbon   |
| Drivetrain | 1 x 12 |
The Pique Advanced Pro by Liv is an off-road (cross-country) 29er mountain bike that proudly claims it has been "tuned for women, and by women". Though a sister-in-arm to Giant Bikes, this brand has stepped out magnificently from Giant Bike's shadow.
In fact, over recent years, it has made a noteworthy impact on female mountain biking experiences.
Apart from being an exemplary trail slayer, the Liv's Pique Advanced Pro entails an impeccable blend of top-quality parts, eye-catching design, and form-fitting geometry.
Armed with dropper post, 100mm of travel back and front, and Shimano's Deore XT drivetrain, this women's mountain bike will take you further than ever before.
Here are some leading pros and cons of the Liv Pique Advanced Pro 29 mountain bike:
| | |
| --- | --- |
| ✓ High bottom bracket enables riders to pedal over anything. | ✗ High bottom position and bracket create an unreliable balance point, especially when riding fast and on steeper descents. |
| ✓ Good specs and weight | ✗ Expensive |
| ✓ Tuned especially for women and by women. |   |
Read How To Change A Mountain Bike Tire?
Cannondale Habit Women's 3
Best for: women seeking for something versatile, more comfortable, and trail-capable.
| | |
| --- | --- |
| Price | $2,100.00 |
| Size |  XS, S, M |
| Wheel Size | 29" |
| Frame Material | Aluminum |
| Drivetrain | 1 x 11 |
If you are searching for something more versatile, trail-capable, and comfortable or if you have out-ridden your hardtail, then the Cannondale Habit 3 full-suspension mountain bike might be the perfect choice for you.
Featuring 29-inch wheels for better ground contact and traction coupled with130mm of smooth suspension (front and back), the Cannondale's Habit 3 aluminum frame is washed-up in a splendid ultraviolet colorway as well as Cannondale's Stage 3 Women's Ergo saddle.
Here are some leading pros and cons of the Cannondale Habit Women's 3 mountain bike:
| | |
| --- | --- |
| ✓ Fun and playful character | ✗ Slight cable rattle |
| ✓ Impressive tire combo | ✗ Steep price |
| ✓ Light feel | ✗ Under-gunned brakes and twangy fork |
Read How to Make A Mountain Bike Faster
Juliana Furtado
Best for light and lively biking experience.
| | |
| --- | --- |
| Price | $2,699.00 |
| Size |  XS, S, M, L |
| Wheel Size | 27.5" |
| Frame Material | Aluminum, standard carbon, and premium carbon |
| Drivetrain | 1 x 12 |
If you are in search of a more playful and lighter trail bike, then the Juliana Furtado with 130mm-travel (front and back) and 27.5-inch wheels in an excellent option.
Provided in three frame grades (basic carbon, premium carbon, and aluminum), two tire size options (i.e. grippier 2.6-inch tires and lighter 2.3-inch models) as well as a plethora of build options.
The complete Juliana Furtado mountain bike price starts at $2,699 and goes up to $9,499. With new suspension and geometry, the Juliana Furtado is more capable and sure-footed than ever before!
Nonetheless, it still retains a fun and lively feel that transform every trail into your personal playground.
Here are some leading pros and cons of the Juliana Furtado mountain bike:
| | |
| --- | --- |
| ✓ Active clime that responds instantly | ✗ The 760mm carbon handlebar can be a bit wide for some women.   |
| ✓ Features a RockShox Reverb Stealth dropper posts |   |
| ✓ Light and lively  |   |
Read How to Convert a Mountain Bike to a Road Bike
Choosing the Right Mountain Bike for Yourself
Not many people consider this but it is highly imperative for you to understand that the kind of riding you want to use a mountain bike for, is more important than the gender the bike is designed for.
Therefore, before you buy a mountain bike, we strongly suggest you first consider and truly think about the sort of experience you want on the trails.
Apart from this, also closely consider what your existing skill level is, the place or terrain you intend on riding, and, of course, your planned budget. Trail mountain bikes are best for a combo of climbing and descending.
An off-road or cross-country mountain bike is idle for efficient and fast pedaling on smooth tracks.
In contrast, Enduro mountain bikes are great for going big with conviction and confidence on technical downhills – although, thanks to contemporary suspension designs, several riders can now even handle some climbing.
Apart from the above considerations, it is also good practice to test a few mountain bikes before purchasing one. If you can demo or test-drive mountain bikes at a local shop, be sure to ask them about the mechanics of how to set up the suspension explicitly for you.
Additionally, before you roll out, do also ask whether they check the rebound and compression settings.
Keep in mind, if these elements are not set up correctly, a mountain bike that seems perfect for you could end up feeling terrible during an actual ride.
Read How to Clean A Mountain Bike Chain
Best Mountain Bikes for Women: Conclusion
With this list of best mountain bikes for women, you can say goodbye to poor form and ill-fitted rigs; and welcome form-perfect, trail slaying bikes that are designed specially to cater to the needs of women riders.
So, that is it for today. We would love it if this blog post on "Best Mountain Bikes for Women" helps you in any way possible. Let us know if you have any queries and, more importantly, if there is more to add!
Related Posts: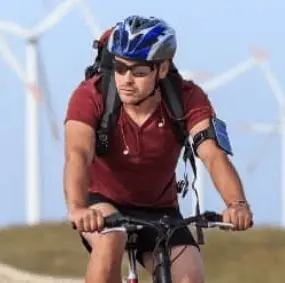 I am Michael, an avid rider and bike expert. I am here to provide, biking tips and expert advice on in-depth bike reviews covering features, capabilities, price range, and much more. Specially on electric bikes, mountain bikes, road bikes, etc. I will provide honest product reviews, along with expert advice on purchasing, training, and maintenance. Check out my complete profile.