Tubeless tire bikes are increasingly popular. They have been in the market for a while now, and, at some point, they make you question whether they are an enhanced option than the regular tires. The thing is, both tire bikes have their advantages and disadvantages, and you must evaluate them as per your biking needs.
Tubeless tires bikes are known as core mountain bikes and have certainly made their way into the normal motorway or street cycling.
As you have probably guessed, tubeless tires don't consist of inner tubes, unlike the traditional ones, which use inner tubes to inflate your tires.
These tires are designed to be airtight through latex-based sealant or an additional layer of rubber.
Even though each rider has their specific requirements and preferences, in our opinion, a few cons are nothing as compared to the advantages the tubeless tires provide. Let's take a look at tubeless tires advantages and disadvantages.
What Is A Tubeless Tire?
Tubeless tires have no inner tube and operate on a special rim bead and sealant system. A tubeless tire is much lighter than the usual tires. They give an improved puncture defiance and bring about less resistance.
All of these benefits offer a substantial increase in the overall act and ease of your tubeless tire experience.
Nevertheless, the installation of a tubeless tire is not an easy task, and they are on the pricier side. Along with that, they tend to have punctures that are not easily repaired, so you will still need an extra inner tube.
If you're considering the overall improvement, a tubeless tire is a great option to opt for. Yes, there are always drawbacks that you should consider, and in this case, it's the price and the difficulties of setting up the tires.
But it all depends upon your personal preference and the type of landscape you ride.
How Do Tubeless Tires Work?
By the name, there is no inner tube in tubeless tires, and they are similar to the tire of a car. The open rubber tie sits firmly on the wheel's rim, while the air sits in the cavity between the rim and the inside of the tire.
In addition to this, a liquid sealant is used on the insides of the tire to proactively seal all the small cuts in the tire without losing a bit of its pressure.
Tubeless Wheel Setup
Tubeless wheels are a great option as they are easy to use with tubeless tires and the typical clincher (inner tube) setup. The shoulder in the inner rim will allow for a much more pronounced recess that will fit the tire beads securely as opposed to the traditional U-shaped rim bed on the clincher wheels.
Tubeless tires are made so that they have a strong bead to provide an instant seal with a perfect airtight fit. It will gradually come off as you add pressure if you opt to fit a tubeless tire on a clincher rim.
Advantages Of Tubeless Tires
Opting for a tubeless tire will offer you some great benefits that are sure to enhance your overall bike experience.
Here are the main advantages of a tubeless tire bike:
1. A Smoother Ride
The typical tubed setup creates much resistance since the distance between the tire and the inner tube is less. So when you're riding the bike, your tire, along with the inner tube, creates friction that tends to increase your progressing defiance considerably. So it's a bouncy ride.
However, this issue of inner friction will not exist without an inner tube, meaning there will be a reduced resistance and an even cycle.
In addition, if you decide to go tubeless, this will mean that you can operate at a much lesser force, which will allow you to get a more tire-ground pace. This will also allow you a better grip and power over your rides, such as driving and spinning turns.
Along with that, it will give you a much smoother ride and deal with bumps better.
2. Fewer Chances Of A Flat Tire
A major drawback of a typically tubed riding method is that there are higher chances of pinched flats. This is a flat tire that is mostly caused because there is a pinch between the rim and the rock. It can make a pretty deep flat tire and cause you inconvenience.
But without an inner tube, this problem is no longer going to exist. With an inner tube, pinched flats along with flat tires will be reduced. Small punctures known as snake bites can be triggered by tubing – these can be prevented by opting for a tubeless tire.
And since a tubeless tire is fixed with sealants while mounting, it eliminates the flat tire troubles entirely. Thus, if one decides upon switching to a tubeless tire, you can say farewell to any potential flat tires for good.
3. A Lighter Ride
One main difference of having an internal tube will be that your bike's intense amount of weight is reduced. Once you get rid of the tube, it means you'll get rid of all that extra weight. An average tube counts about 200 grams – imagine how lightweight your ride will get with a tubeless tire.
The benefit of a light ride is that it increases your productivity by applying less drive to get the same great speed. Along with this, you don't have to think twice before picking up your bike and moving ahead. Carrying around your ride now can be easily managed.
While tubeless tires use sealant along with an inflation valve, the outcome will be a remarkably lighter ride. In addition, lightweight tires mean less power spent on spins. It will increase a riders ration of energy to distance.
Disadvantages Of Tubeless Tires
While there are great benefits of going tubeless, unfortunately, some disadvantages might make people consider different options or change their minds at the last minute.
It's More On The Pricier Side
The cost of a tubeless tire is above. The tubeless tire setup requires more gears, rising its total price. Tubeless tire systems, in common, are on the pricier side. It also hangs on the fact whether your rims are tubeless tire-ready.
Regardless of this, you get a better result for the money you put in as the tubeless tires system has high-priced gears and the options are more innovative and sturdy.
Mountain Riding Is Harder And Takes Longer
Going on a mountain tubeless is riskier, and the rider has to be extremely careful with a tubeless tire. You must safeguard everything is strongly intact. It will also need a rim tape along with supporting sealed valve closures overall.
It is a challenging thing to do initially and takes time to adjust to, mainly because you have to put a sealant and condensed air, all in a shorter duration.
Using sealant is not a piece of cake for beginners. In general, it can become difficult and is an untidy process to learn. The thing with the sealant is that it demands routine upkeep, normally in few months, it also differs greatly because of the weather of the country you live in.
One should know that warm climates tend to dry out the sealant faster, thus demanding replacement now and then.
Fortunately, most of the bike workshops will be glad to assist you with this and deliver to you all the essential components and be of service with the installation process.
Carrying A Tube Is A Possibility
It is a notable drawback but one that is a huge possibility. While a tubeless tire is already extremely durable, it is still prone to getting horrible rips now and then. Occasionally, these rips are huge and cannot be fixed with sealant only.
In such cases, you are left with no option and must mend it with the help of a tube. Although you are riding a tubeless tire, it's advised to take precaution.
Either you should carry around with you a tubeless fix kit of tire plugs, a plugger, or a backup tube. Most riders already have a emergency equipment, but we recommend getting one highly. It saves the rider time and an extra hike.
It's Sticky & Messy
Applying sealant to fix the punctures is not everyone's deal – it can be an untidy job. It isn't great, neither is it something the average rider expects or wants to go experience daily.
It smells unpleasant, is extremely gluey, and gets all over the place. People have reported that mud and filth from the ground start sticking to the tire when it's all around your tire.
The Big Question: Would It Be Beneficial To Go Tubeless?
Since you've read the advantages and disadvantages of tubeless tires, it is upon you to make the big decision – To elevate your bike to tubeless or not?
Considering everything; a tubeless tire works perfectly when the whole thing works, but it can be terrible as there are chances of it not turning out the way you thought it would.
Though tubeless tires are on the pricier side and demanding better care, it has become the top tire machinery that is being used by mountain bikers. So much so that it has taken over road bikes.
People who have switched to tubeless tires are happy and don't regret their decision. Instead, they and claim it is a great experience.
A smart thing to do would be to start your upgrade with the basics: tubeless tires and rims. Your bike system might or might not be tubeless-ready. If you're switching to tubeless, you must first confirm whether your bike is tubeless-ready or not before going directly to purchase a new tire system.
Nowadays, most top bikes are tubeless-ready but are presented or distributed with inner tubes for their outlet.
The next best thing you can do is to go tubeless by changing your rims and tires with the help of a kit. Kits will cost you less money as compared to changing each component separately.
Your present system will define how much of an alteration your bike will need and whether it is a stress-free one or not, but you will at the very least need a valve, sealant, and rim tape.
When nothing works, the only option that you're left with will be to buy a new ride. It isn't the best option, but if you've decided and are prepared to start your tubeless journey and know that you will be getting great use out of it, the expense is worth it.
The Bottom Line
So, now that you know tubeless tires advantages and disadvantages, you can make a better decision about the types of tubeless systems to choose from. The benefits are great, and most people love it, but others not so much. Make sure to go in with a full plan if you have to face many difficulties and problems.
Make sure you're fully ready and have a backup plan. Installing and repairing tubeless tires is not an easy thing to do – it can be a bit of a pain, but it won't be that difficult if you're well prepared.
Related Posts: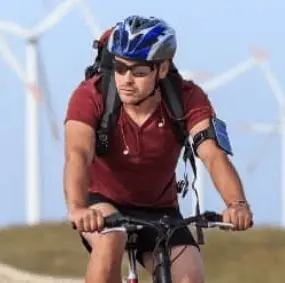 I am Michael, an avid rider and bike expert. I am here to provide, biking tips and expert advice on in-depth bike reviews covering features, capabilities, price range, and much more. Specially on electric bikes, mountain bikes, road bikes, etc. I will provide honest product reviews, along with expert advice on purchasing, training, and maintenance. Check out my complete profile.