Electric bikes are getting faster and more powerful with every passing year, allowing riders to go faster, further, and longer without tiring out.
What are the best mid drive electric bikes? Here is the list of best mid drive electric bikes 2021, 1. Fifield Rogue Wave, 2. Bakcou Storm, 3. The Schwinn Voyageur, 4. Trek Powerfly FS 9 Equipped, 5. Buzz Ebike, 6. Moustache Samedi 27 Xroad.
This is mostly thanks to the use of a powerful mid-drive motor system that is placed at the bottom bracket. It can improve efficiency in nearly all respects, from battery and power to weight distribution and gear shifting.
Mid-drive electric bikes in California also offer the most natural cycling experience because of how they adjust to the rider's pedaling effort.
While they offer numerous advantages of hub-drive electric bikes, mid-drive e-bikes are more costly – but the extra price tag is well worth it. In fact, most high-end e-bikes utilize mid-drive systems.
Best Mid Drive Electric Bikes of 2021
Keep reading to find out our top picks of the best mid-drive electric bikes of 2021.
1. Fifield Rogue Wave – Suitable for Beginners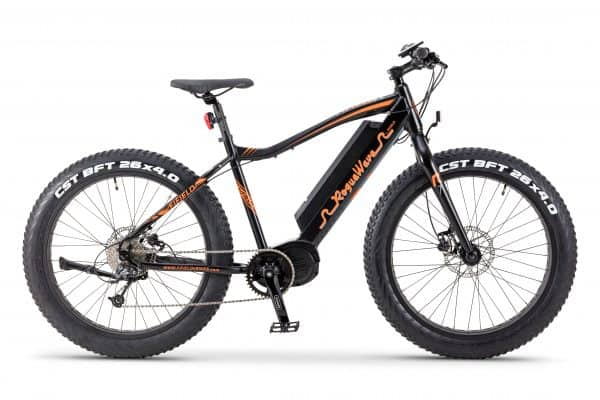 Specifications
Motor: 750W Bafang
Battery: 48V Lithium-Ion
Range: 40 Miles
Weight: 55 lbs.
Tires: Fat
The Fifield Rogue Wave is a sturdy trail type electric bike that also happens to do well on the road to work or out of town. It weighs in at a moderate 55lbs. but doesn't come with suspension on either the rear or front tires.
The Rogue Wave is designed to handle rougher terrain but we recommend sticking to the tarmac since it does not come with suspension.
To make up for this discrepancy, the Rogue Wave comes with four-inch wide fat tires that can absorb most of the bumps on a bouncy surface. It also features the Shimano 9-speed Alivio gears to help you change gears with relative ease.
Motor
The impressive mid-drive 750 watt motor packs more than a punch and helps to accelerate your way to a thrilling journey. This motor is also very silent, which allows you to be extra stealthy in case you decide to hunt for big game.
Bikes with hub motors are never as responsive as mid-drive types such as the Rogue Wave.
Frame
Thanks to its strong and robust aluminum frame, the Rogue Wave can handle a lot of weight, almost 300 lbs. This means you can easily hook up large bags and haul supplies through all kinds of terrain like lose ground and rocks without difficulty.
Brakes
Another advantage is that the Rogue Wave comes with hydraulic disc brakes, which give you the confidence to cycle on rough terrain and bring it to a complete halt.
These disc brakes are responsive and offer consistent stopping power. They are known for their reliability and grip that can work in all kinds of weather regardless of rain, dirt, and temperatures.
If you plan on riding at night, you'll find the Rogue Wave perfect for the occasion. It comes with a headlight to help you shine all the way through the terrain.
Battery
This discussion won't be complete without mentioning the 48V Lithium Battery. The battery is designed by Greenway, which has been involved with the industry since 2006.
When fully charged, you can travel anywhere from 30 miles to 40 miles, depending on several factors such as your weight, supplies, and the weather. If you want to extend the range on this bike, make sure to choose your route carefully.
Verdict:
Overall the Rogue Wave is the perfect electric bike for anyone looking to get started with this hobby. It is built with quality components and many must-have safety features. It is slightly heavy at 55 lbs, but that is not a problem when you have a charged battery.
If you plan on taking longer range trips, take your charger with you in case you need to recharge the battery. The charger can be plugged into any outlet at a nearby hotel or café.
Click here to check out prices.
2. Bakcou Storm – For Unadulterated Power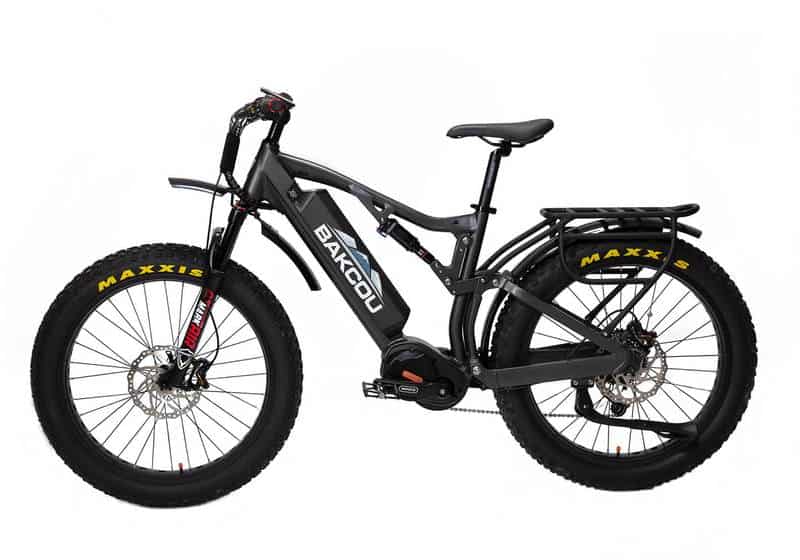 Specifications
Motor: Bafang Ultra M620 750w or 1000W
Battery: 48V Lithium Ion
Range: Over 40 miles
Weight: 72 lbs.
Tires: Maxxis Minion 26" X 4.0
With a name like that, you would expect the bike to zip through the toughest of terrains in a matter of seconds. And you wouldn't be wrong. With options for 750w and 1000w batteries, you can easily climb up steep hills without overworking yourself.
The Storm is designed for rugged usage and allows you to cycle through difficult roads in relative comfort thanks to the robust suspension system.
Battery and Shifting
Even when you're traveling at high speeds, the 48V lithium-ion battery is surprisingly effective and can give you a decent 20 miles before needing to recharge.
Shifting is flawless and smooth, and the brakes are very powerful even when you're maxing the speed out.
One of the best features of the Storm is that you can toggle from 1000w to 750w relatively easily.
This is important when you're on public land where safety is an issue. Once you're back on private land, you can switch back to the more powerful 1000w option.
Torque Sensor
Another feature worth discussing is the integrated torque sensor when pedaling. If you've used electric bikes before, then you know they can often haphazardly hurl you forward if you pedal in a high power setting.
The Storm can sense how much torque you are applying and adjusts the power accordingly, ensuring you don't land face-first on the dirt.
Frame
The standard version of the Storm comes with a rear frame that can accommodate waterproof bags. These bags can be easily removed if you don't want them around.
Being waterproof is an added advantage in case you happen to be cycling during the rain. Overall, the accessories for the Storm are well thought out and complement its features greatly.
If you want, you can opt for an optional headlamp that can provide at least 2200 lumens of light intensity in five power settings and can last for several hours on a full charge.
The only caveat with the Storm is that it is can be very heavy at a whopping 72 lbs. If the battery dies out, you'll have to do the heavy lifting yourself. This is why we recommend planning your route very carefully indeed. 
Verdict:
The Storm is designed to handle any terrain thanks to its extremely powerful motor that makes your average trip even more thrilling.
The price tag of the Strom is slightly higher than other e-bikes, but you are paying for high-quality features and technology. So there isn't much to complain.
Also, check out, How to Remove a Speed Limiter on an Electric Bike.
3. The Schwinn Voyageur – Slow But Capable
Specifications
Motor: Bafang 250-watt mid-drive motor
Battery: Rechargeable 400 Watt-Hour, Lithium-Ion
Range: 40 to 65 miles
Weight: 45 pounds
Tires: 700c x 35mm with Puncture Protection
The Schwinn Voyageur is touted as one of the best mid-drive electric bikes in California despite only carrying a 250-watt Bafang mid-drive motor.
This motor can provide 5 levels of pedal assists and is greased more towards the casual cyclists who are looking for balance and speed without the extra power.
It also happens to be the best electric bike under 2000 with a step-thru frame that is ideal for people with mobility issues. The step-through feature offers a more comfortable riding experience and provides more visibility when cycling in traffic.
Motor
The Bafang motor is very quiet and efficient, and despite being slightly underpowered, it can easily tackle the terrain better than the equivalent power rating on any hub motor.
One special feature of the bike is the coil spring suspension fork that allows you to tune the electric bike based on your comfort level. This makes the average trip on the roughest of terrains smooth and ensures you stay in control all the time.
Battery
The battery can provide 40 to 65 miles in terms of range before requiring another charge and can support a maximum speed of 20 mph.
In terms of safety, the Voyageur electric bike features the Tektro mechanical disc brakes with 160mm rotors that provide precision stopping power even when you're applying full force.
Verdict:
If slow speed is not a problem for you, then the Schwinn Voyageur will be a great fit for your daily commute. You can travel around the city without any problems.
The only problem is that this bike is very heavy and when it runs out of battery, it could tire you out quickly.
All in all, the Voyageur is a practical and reliable electric bike for low-speed thrills, however, it could prove to be insufficient for anyone looking to push it up high speeds.
4. Trek Powerfly FS 9 Equipped – The Whole Package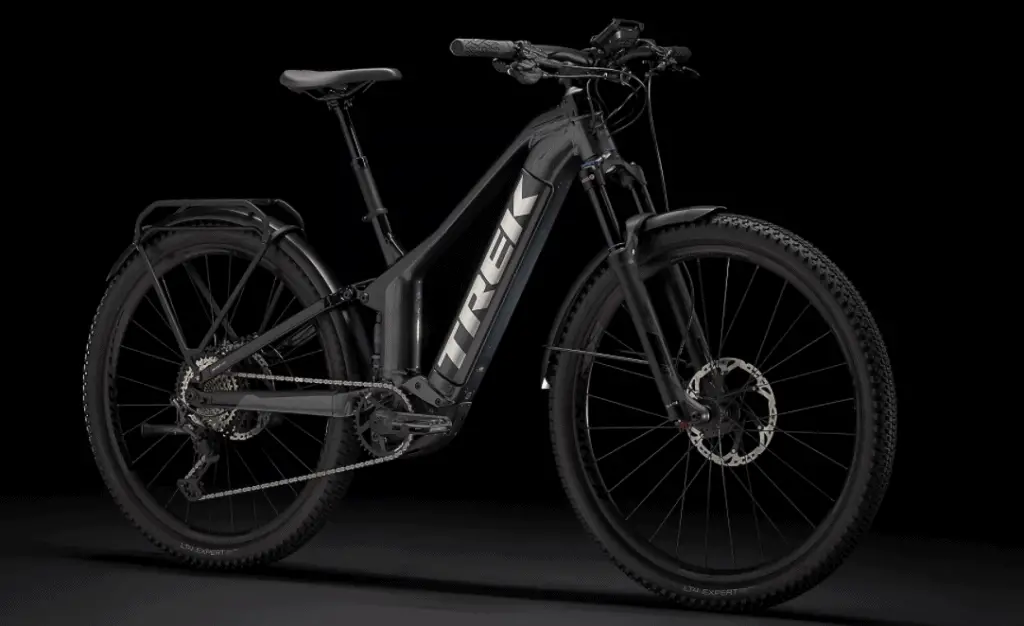 Specifications
Motor: Bosch Performance CX
Battery: Bosch PowerTube 625
Range: 45 to 88 miles
Weight: 60.00 lbs
Tires: Bontrager LT4 Expert
Trek is no stranger to bicycles and holds a considerable monopoly in North America alongside Giant and Specialized. So it comes as no surprise that they have just as strong a grip in the electric bike marketplace as conventional bicycles.
The Powerfly is decked with high-end features that you'll hardly find in competing for electric bikes. For starters, it is among very few full-suspension electric bikes with racks and fenders.
The powerful FS 9 comes in five different sizes, including the FS 9 Equipped. This is done for ergonomic reasons. Buyers can also choose from the Extra Small and Small frame sizes with 27.5" wheels.
The Medium, Large, and Extra Large sizes come with larger 29" wheels that increase the e-bike's height and lower its attack angle for a smoother ride.
Suspension
For the suspension, Trek features their own proprietary rear suspension design they call the ABP (or active brake pivot). It isolates braking and suspension so you can use both systems seamlessly without overwhelming either one.
Before the ABP, braking would lock the suspension and compromise safety, which eroded biker confidence on the brakes. That's no longer the case thanks to ABP.
The hydraulic system on these bikes is especially powerful because its motors measure at an impressive 203mm, both front and rear. Its carbon steel rotors are attached to aluminum alloy cores that can dissipate heat at a very high rate (thus preventing buildup of excessive friction).
It features four pistons with heat sinks that can efficiently dissipate heat.
This is an incredible setup that provides massive mechanical leverage over the heavier wheels, and can deal with active suspension, while supporting the heavy bike along with its riders.
The drivetrain is an upgraded Shimano Deore XT trigger set (allowing you to use your thumb for both low and high levers).
Battery
The FS 9 comes with a durable battery pack from Bosch called the PowerTube 625. It comes with an excellent range and use premium lithium-ion cells and is supported by a big network of dealers, and one of the most recognizable tech companies in the industry (Bosh).
The PowerTube 625 offers approximately 625 Wh of energy and boasts a maximum range of around 95 miles. Considering that this isn't supposed to be a bike designed for high range use, this is a very impressive figure.
Motor
Finally, for the motor, Trek brings you the most premium mid-drive motor by Bosch, a 4th generation high powered Performance Line CX which can offer up to 85 Nm of torque. It is rated at 250 watts but can feel a lot higher.
What's special about the motor is that it is smaller and weighs less at only about 6.39 pounds. The unique design of the motor allows it to easily maintain a top speed of 20 mph.
Verdict:
The FS 9 is a high-end bike designed to handle anything from mountainous terrains to the pavement. It also supports a range of sizes, from small all the way to extra large. It is a blend of Bosch's engineering and art, ensuring that every day feels like an adventure. 
5. Buzz Ebike – Budget Option
Specifications
Motor: TSDZ2 350W
Battery: 36V capable of 375 Wh
Range: 20 to 45 miles
Weight: 57 lbs. 
Tires: 24" by 3"
This electric bike sells under $2,000 at nearly $1,500 (depending on where you buy it from). This makes it a lot more affordable than most entries on this list. So why was Buzz Ebike able to achieve this price point?
They avoided going with the likes of Bosch and Yamaha for their mid-drive motor and instead, use a 500W motor from a no-name Chinese manufacturer called Tong Sheng.
This does not make this bike any less competent. It can churn out a sizable 80Nm of torque, setting it right on par with the best in the industry such as Bosch.
This strategic decision allowed Buzz Ebike to create a blend of comfort and speed, making the rider feel relaxed in an upright riding position. The mid-drive motor has a built-in torque sensor that gives you complete confidence.
It should be noted that the torque sensor is a very premium feature that most electric bikes in this price range do not offer. A cadence sensor can only measure the bike's pedaling speed and comes with a longer lag.
The Buzz E-Bike also features a step-through frame that uses large tubes, mostly to conceal the battery in the frame.
There is also a very sturdy basket on the front of the electric bike. You could put anything on it (even your own weight) and it just wouldn't budge.
The wheels are 3 inches wide and are smaller than most bike wheels, measuring only 24 inches. Taller cyclists can always adjust the seat to fit their long legs.
The battery is capable of only 375 Wh, which is par for the course for any electric bike that bills itself as affordable.
Verdict:
You'll have a harder time trying to find a mid-drive electric bike at this price point. The Buzz Ebike is incredibly fun to ride for just $1.5k, and comes with so many accessories you normally wouldn't expect, including metal fenders, a powerful basket on the front, LED lights, a torque-sensing mid-drive motor, and more.
If this is your first time buying a mid-drive electric bike in USA, you should definitely give this electric bike a shot.
6. Moustache Samedi 27 Xroad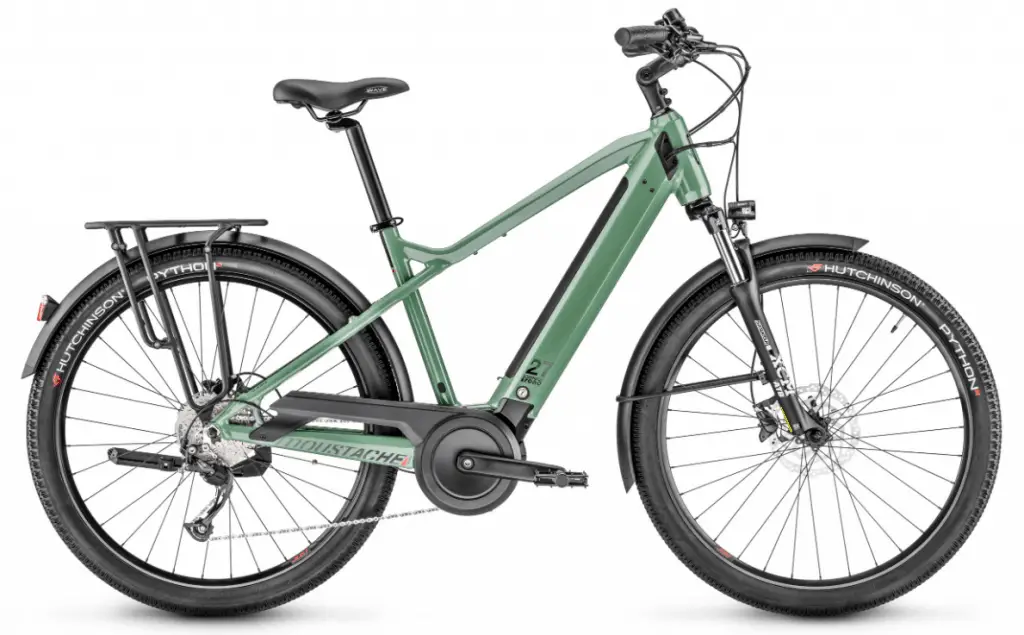 Specifications
Motor: Bosch, Active Line Plus 250W
Battery: Bosch, PowerTube 400Wh
Range: 20 to 80 miles
Weight: 55 lbs.
Tires: Hutchinson, Python, 27.5×2.10
If you are looking for a durable crossover bike that is sturdy and fun to ride, then you'll find the Moustache Samedi 27 Xroad to admirably fit the bill.
It boasts a Bosch Performance Line CX Motor and a very impressive 625 Wh PowerTube battery by Bosch, and a Shimano 11 gear groupset. The Xroad is suited for urban roads and light trails alike.
It is very comfortable for the rider thanks to the 100 mm front fork suspensions and the rear suspensions. You can ride this around for several hours around fully loaded with accessories and enjoy a bit of off-roading as well.
The mid-drive motor is quiet and can let you easily maneuver through traffic without creating heavy motor noise. Its battery is situated on the underside of the downtube with a plastic cover that locks into place. This is very convenient and looks great too.
With that said, it can be a little difficult to reach the battery without a struggle. At 625 Wh, there is a lot of capacity here, but it also adds a bit of weight, which can seriously affect the total range.
The Xroad 5 comes with Shimano hydraulic brakes, 180mm in the front and 160mm in the rear, which can bring it to a full stop at maximum speed in a matter of seconds.
You may like the following electric bikes:
Verdict:
The Moustache XRoad 5 is a worthy contender for the title of "best mid-drive electric bike of 2020". It is durable, well-built, boasts top speeds, and a quiet motor. This isn't the cheapest electric bike by any means, but you're getting value for your money with the Bosch power system and Shimano components.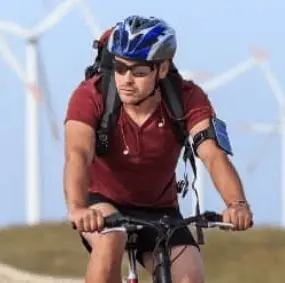 I am Michael, an avid rider and bike expert. I am here to provide, biking tips and expert advice on in-depth bike reviews covering features, capabilities, price range, and much more. Specially on electric bikes, mountain bikes, road bikes, etc. I will provide honest product reviews, along with expert advice on purchasing, training, and maintenance. Check out my complete profile.