Traveling with your bike is not an easy task; it's difficult to fit it in the trunk, but good thing you can now use a bike rack to transport your bike safely and easily.
Bike racks are structures that you can lock or attach your bikes to. They are attached to the rear end of the car. Bike racks come in various forms to suit different bikes and needs.
If you've just got a new bike and are new to how bike racks work, you've come to the right place.
Here are a few guidelines, steps, and tips to keep your bike safely attached to the bike rack and make you're a hassle-free one.
Types of Bike Racks
1. Trunk Bike Racks
These bike racks are easy to mount and remove from cars. If you're looking forward to carrying more than one bike, trunk bike racks are the perfect choice for you as they can carry 1 to 3 bikes, depending on the model. They are lightweight and easy to store.
2. Hitch Bike Racks
This type of bike rack comes in two designs — platform hitch racks and hanging hitch racks. Hitch bike racks are popular because they can be installed on any car, whether you own a sedan or an SUV.
The type of hitch bike rack you need would depend on the type of car you have. Here are the two types explained further:
a. Platform Hitch Racks
Platform hitch racks are compatible and versatile, making them a very popular choice among bike riders. They can carry around 4 bikes depending on the model you purchase. In addition, with platform racks, it is easy to load and unload bikes with minimum lifting.
Some bike riders are worried about damaging their bikes while traveling, but with platform racks, they won't have to worry about it; it transports bikes by tires with little and no frame contact.
b. Hanging Hitch Racks
This hitch rack is lightweight and easy to maneuver. Hanging Hitch Racks can carry the most bikes, at least 2 bikes, and can go up to 5 bikes. It has coated bike hold-downs and anti-sways to protect the bike frame.
Read What to Look For in a Road Bike?
Bike Carrying Options
Before we jump to the tips and tricks of placing your bike onto the bike rack, it is essential to know about the carrying options for your bike.
1. In The Trunk
If your car is equipped with a large space, you can easily fit the bike in the back of the car without needing an additional bike rack.
All you need to do is minimally disassemble your bike to make it fit properly. Drop out the bike's front wheel and its saddle.
This option of bike carrying offers safety to your bike, easy loading, convenience, and without any additional cost.
However, one downfall is that it may not provide enough room for anything else in your car, especially when you're traveling with family and need room for luggage.
To keep your bike safe in the car trunk, install an alarm system to warn you of theft threats.
2. In Estate Car
Estate cars have huge load space that can accommodate bikes, especially if their backseats are folded. These cars provide bikes with security against theft, and you are spared any additional cost of investing in a bike rack. 
However, this option can make the interior of your car dirty and will take up a lot of seating space. It will not be feasible if you have more than two passengers traveling.  
Read 8 Steps To Clean Your Bike
3. Roof Rack
This rack is a traditional way of carrying bikes if you don't have space in the trunk or car. The roof rack uses the space above the car's head to carry bikes.
All you have to do is take off the front wheel to fit it in properly. Some racks also come with an extra arm to grab the bike's frame and provide extra support.
This method of carrying is feasible and can carry up to 4 bikes if the roof area is spacious for your car.
Loading bikes on the roof will make enough room in the car for you and your family to travel comfortably. Your bike spares your car from any damage.
However, it can be awkward and challenging to fit and remove your bike.
4. Hatch Rack
This Hatch rack is the most contemporary and popular method to carry your bike. The rack is attached to the car using straps. Its padding is where the rack rests on your car alongside two arms for your bike.
This method makes loading and removing your bike easy; it is cost-effective and consumes less fuel.
However, it restricts access to your car's back interior and poses a security risk. It obscures the lights and the plate and could also be easy to steal. Hence, we recommend using an extra lock to prevent any theft.
Read How to Convert a Mountain Bike to a Road Bike
On How to Put a Bike on a Bike Rack- Step by Step
A bike rack is a very useful tool, especially for those bike riders who travel a lot but don't want to leave their expensive bikes behind.
A bike rack attached your bike to the car and locked it to keep it in place while traveling across the city.
Loading a bike onto the bike rack can be a tricky process. Follow this step-by-step guide explaining how to put a bike on a bike rack.
Step 1: Opening Up the Bike Rack
To successfully install the bike rack onto the hatch, follow the instructions in the manual; different bike racks open differently based on the model and design. However, most of the racks show a big arc once they are completed opened.
The next step is to ensure the tusks sit upright and the rack is not lying flat on the hatchback glass. Position the rack in a way that is closer to the car bumper.
Step 2: Carefully Strapping the Rack to the Car
Multiple straps on the bike rack may seem confusing at first, but don't worry; everything falls into a certain place when approached systematically. 
Most times, the top adjustments or straps are used to lock the bike in place and make sure you double loop to prevent any risk of the bike falling when loaded.
Installing the bike will be a lot easier once you get the hang of these adjustments and identify the correct length.
See to it that you have properly attached and securely tightened the lateral straps.
Many bike racks do not have lateral straps, then to keep your bike from falling off, drive slowly around bends and bumps on the road. You can use extra straps if you have any to secure your bike in place at speed.
To further secure your bike, use steel U-locks to fasten the bike to your car. These are the safest bike locks available since they are very difficult to break open without using serious tools.
Avoid using combination locks or cable locks because they are easy to pick and cut through.
Step 3: Padding the Delicate Parts Whenever Needed
Padding the sensitive bits of the bike can help you keep your bike safe from damage and scratched while traveling.
Remove the bike's front wheel to make it more compact and keep it from protruding past the driver's side into traffic. You can even install a foam cladding stretch between the rack tusk and top-tube.
Place one tusk of the bike rack through the rear wheel to mitigate frame damage. Make sure your bike and bike rack are in no way obstructing the exhaust pipe, the number plate, and lights of the vehicle; place it safely in the right position. This mistake can put you in danger of accidents on the road.
Step 4: Lashing the Bike to the Rack with Excess Straps
To keep your bike secure at all times while driving, lash it to the rack. This way, you can prevent your bike from flying off on the motorway. Just attach the top tube to the bike rack using straps. 
The next step to keep your bike safe is to anchor the bike's lower portions to the bike rack to lessen swinging or bouncing.
Immobilize the front and rear wheels to stop them from spinning; this can cause distraction or annoyance in your rearview mirror. 
Step 5: Tensioning Up the Rack's Lower Straps
The foam cladding protectors of your bike will be compressed once it is loaded up onto the rack. This would eventually loosen up the tension to its lower straps and result in straps unclipping while in the middle of the road.
You could prevent this from happening to reach down to the lower buckles and tightening them up. Just pull on its free strap bit.
Shake the bike a bit to test that nothing bangs against it and it doesn't fall; not testing it in time may damage the bike later. Also, remove anything hard and rough in contact with the bike; it can cause damage to the bike frame over longer trips.
Always recheck the straps and add any pipe cladding if needed. Go on your trip with peace of mind once everything is securely attached and in place but always remember to obey the speed limits and drive safely to keep your bike at ease.
Read How to Remove Rust from Bikes
Tips and Tricks
The information above is helpful, but to further keep your bike safe in place; there are other things or factors you need to consider:
Invest in high-quality locks to keep your bike safe from theft. Thieves use several ways to cut bike locks, and the easiest to cut are the cable locks.
Use a chain or, better, a U-lock for the security of your bike. Take the locks along if you want to go for a bike ride and safely lock your bike to a pole.
Whenever you get time, get your bike registered with the local police department. This registration will make it easier to find your bike in case it gets stolen.
If you're taking more than one bike along, then the best way to load them on the rack is to alternate each bike's direction. These positions will ensure that their handlebars will not conflict with each other.
The hatch becomes inaccessible once you load the bike onto the hitch rack. Make sure you take all the essentials out and keep them in your bags with you. You wouldn't want to go through the hassle of unstrapping your bike multiple times.
Never leave your car in the parking lot with your bike attached to the rack. Once your bike is out of sight, it is very easy for thieves to attempt to steal it. Bikes are expensive, so it is important to protect them. Lock them securely to the rack even if you leave.
Load the bike on the bike rack a few minutes before leaving. It is not wise to load the bike the night before since bikes appeal to thieves because they are pricy.
Don't overburden the rack; only fit the number of bikes it can carry. This way, racks can break, or the extra bikes can fall off in the middle of your journey. 
You may also like:
The Final Note
Traveling with bikes is easier now that bike racks are available in various designs and with different features. A bike rack can be an expensive tool, but the investment is worth it, especially if you're a traveler. These racks offer several years of dependable service.
However, security is a huge issue when it comes to traveling with bikes. There have been a lot of cases of bike theft, which is why it is important to know how to put a bike on the bike rack properly and lock it with a U-lock to keep it secure.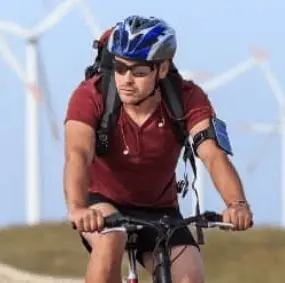 I am Michael, an avid rider and bike expert. I am here to provide, biking tips and expert advice on in-depth bike reviews covering features, capabilities, price range, and much more. Specially on electric bikes, mountain bikes, road bikes, etc. I will provide honest product reviews, along with expert advice on purchasing, training, and maintenance. Check out my complete profile.