Looking for an e-bike under $500 in the US or UK? You've come to the right place!
What are the best electric bikes under $500? Here are the Best Electric Bikes under $500
SWAGTRON Swagcycle EB5 Pro
Sentuca 80CC 2-Stroke
GlareWheel EB-X5
GoPlus Folding Electric Bicycle
ANCHEER Folding Electric Bicycle
Shaofu Electric Bicycle
We have recently seen an upsurge in the popularity of electric bikes, and we can't be more thrilled about it! Electric bikes are the complete package – they are eco-friendly, stylish, affordable, comfortable, and the perfect partner on your journey to achieving a healthier lifestyle.
You may like How to Choose an Electric Bike (Ultimate Guide) and What is the Best Electric Bike Repair Stand?
For these reasons, e-bikes are even better than ordinary bicycles. Whether you want to amp up your exercise regime or make the daily commute easier and more convenient by removing pressure from your legs, these bikes have got you covered.
Since they come with a battery, you don't have to worry about getting tired while pedaling or breaking a sweat on your way to work.
The best thing is that a wide variety of electric bikes comes with a decent price tag. If you're eager to add one to your collection, check out our list of the best electric bikes under $500 below.
Best Electric Bikes under $500       
Before you fall head over heels in love with an electric bike, make sure you have set your priorities straight in terms of your desired features, intended purpose, and of course, budget.
No matter what your preferred price range is, you will find tons of e-bikes in the market that will appeal to you. The key to making a well-informed decision is to understand what each model has to offer.
Ideally, you would want to pick an affordable e-bike if it is your first time buying one. But you need to be smart about it, as many low-cost models feature a low-quality frame and an incompetent battery.
To make things easier for you, we have made a list of the top six best electric bikes under $500. Let's dive right in to explore the specifications and benefits of each.
1. SWAGTRON Swagcycle EB5 Pro – A Super Convenient Folding E-Bike under $500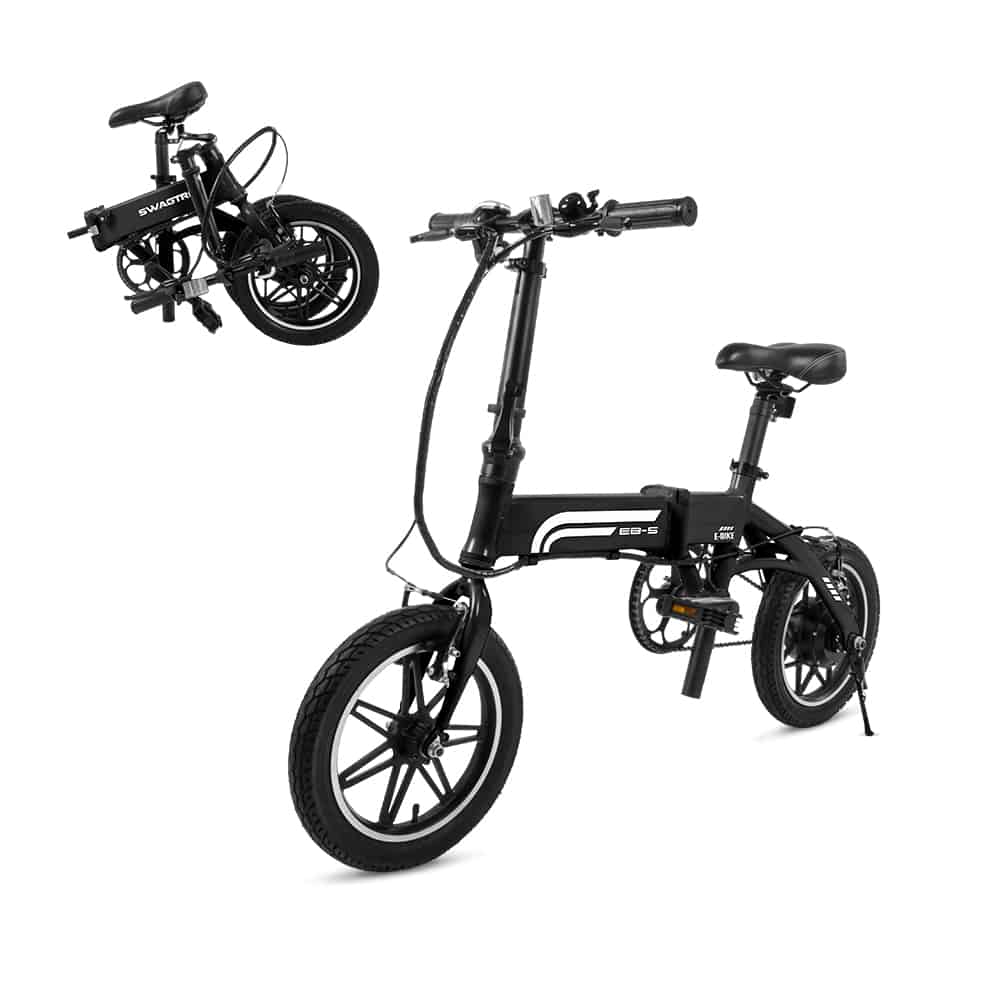 Specifications
Battery: 36 V, 7.8 Ah, Lithium-ion battery
Charge time: 4-5 hours
Motor: 250 W  
Weight: 37 lbs
Range: 15.5 miles per charge (estimate)
Max load capacity: 264 lbs
Top speed: 15 mph
Tires: 15-inch air-filled, rubber tires
Boasting an eye-catching design, the Swagcycle EB5 Pro is a steal under $500. This cheap electric bike makes commuting and staying active easy. It comes with a quick rechargeable battery, which takes 4-5 hours to charge fully. The battery life is pretty great, considering the modern on-the-go lifestyles. The best thing is that the battery can be charged while attached or separate from the bike.   
The upgraded fold-and-lock mechanism makes it a powerful e-bike. It can go up to 15.5 miles on one charge. You can easily fold this lightweight e-bike to fit into a vehicle or under your work desk or carry around on subways.    
The Swagcycle EB5 Pro comes with some impressive features designed to help you save time, energy, and hassle. It combines 250 watts of power with the ability to pedal, serving as the ideal mode of transportation for daily commuters. Moreover, it comes with a bell and reflectors for added safety.
This bike also has a battery indicator on the right handlebar that comes in handy for long city trips. Keeping your comfort and convenience in mind, it comes with an adjustable seat that can even be removed and replaced with any universal seat of your choice. You can also adjust the handlebars according to your height.
With high-performance rubber tires, this electric bike is bound to give you a smooth, comfortable ride, even on rough surfaces. Moreover, its frame is built using extra-durable aluminum to carry up to 264 lbs. most importantly, this e-bike has IPX4 water-resistant protection, which means you can ride on it in any weather.
The only problem with the Swagcycle EB5 Pro is that it offers only one level of power assistance and can be difficult to ride without a motor. 
2. Sentuca 80CC 2-Stroke – An Adult Electric Mountain Bike under $500
Specifications
Motor: Super Power 80CC DIY 2-stroke motorized 
Top speed: 30+ mph (recommended speed is 10-15 mph)
Wheels: 26-inch 700 38C wheels
Brakes: Front disc and rear v-brakes
Front and rear lights included
The Sentuca 80CC 2-stroke electric bike is a hot gas tank bike with 26-inch wheels. You can ride in style around the city or on your way to or from work on this stunning bike. The front and rear lights allow you to cruise at night safely.
Please note that you must always wear a mounted bike helmet before riding. It would be great if you also wear safety gloves, pants, and closed-toed shoes. While the powerful motor of this e-bike allows you to ride at a speed of over 30 mph, it is recommended not to go over the 15 mph limit to avoid accidents.
That being said, it is important to keep this mountain bike in good shape to ensure optimal function in the long run.      
This cheap electric bike comes with a 36T easy bolt-on sprocket. It is volatile, combustible, and flammable. Hence, you should avoid smoking while riding on this bike. At the front, there is a triple tree suspension fork. This 80CC motorized e-bike looks sleek and stylish and easily stands out from the crowd. It instantly grabs the attention, and you'll be proud to own it!
The gas mileage of the Sentuca 80CC 2-stroke electric mountain bike is insane; you get 90-100 mpg. If you decide to buy this e-bike, be prepared to assemble it and install its motor.
3. GlareWheel EB-X5 – A Promising Electric Foldable Bike under $500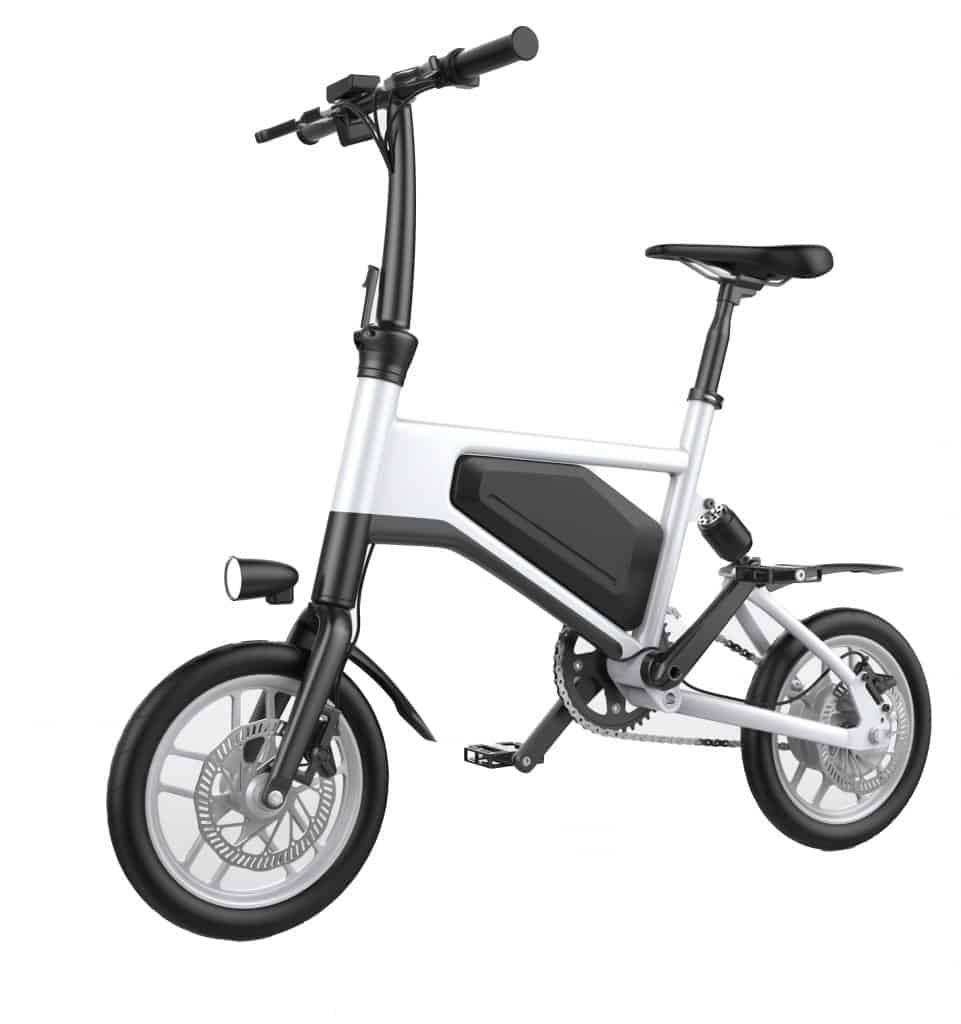 Specifications
Battery: 42 V, 6 Ah removable battery
Motor: 250 W high-speed motor
Top speed: 15 mph
Maximum distance: 15 miles (with paddle assist, it can go over 20 miles)
Tires: 12-inch air-filled, rubber tires  
Brakes: Front and rear disc brakes
Front headlight included
This pre-assembled electric bike is ideal for those looking for a bike that's ready to go whenever they want. You won't have to worry about complicated assembly and foreign bike parts. The best thing is that it is fully foldable. You can easily carry it around or store it anywhere.
Thanks to the 250-watt, high-power motor, you can enjoy smooth, fast rides, cruising at a top speed of 15 mph. Moreover, you can adjust the seat and handlebar according to your height. This feature allows both adults and teenagers to use the bike.
The 12-inch air-filled rubber tires have quick-disconnect power lines, which make maintenance easy while ensuring better traction. You can throttle up to 15 miles on a single charge or go above 20 miles with paddle assist.
This electric bike also comes with a front headlight and front and rear disc brakes.   
4. GoPlus Folding Electric Bicycle – The Cheapest E-Bike under $500
Specifications
Battery capacity: 6 Ah
Motor: 350 W, 36 V
Charge time: 3-4 hours
Top speed: 19 mph
Maximum distance: 12.5 miles on a flat ground
Bike weight: 30 lbs
Weight capacity: 265 lbs
Waterproof grade: IP54
Overall dimension: 36" x 39" x 19" 
If you're looking for the cheapest e-bike under $500, the GoPlus Folding electric bicycle is the answer!
This electric bike is so volatile that it works well for office workers as well as housewives. You can fold the bike head to save space if there is heavy traffic or use it for storage purposes. The battery charges quickly, taking approximately 3-4 hours for full charging. For your safety, this e-bike comes with a front headlight and braking tail light.
The GoPlus Folding Electric Bicycle also features a battery indicator to help you stay on top of the charging schedule. It also features with APP to ensure an exceptional riding experience. You can conveniently control speed, controller temperature, electricity quantity, front light intensity, bike lock/unlock and drive distance. With the cruise control function, you can not only reduce riding fatigue but also save electricity.
The 12-inch tires of this electric bicycle possess remarkable shock-absorbent properties to ensure a smooth and pleasant riding experience. Furthermore, the foldable, compact design of this e-bike makes it easy to carry around. The seat is also adjustable to accommodate riders of different heights.
Thanks to the high-grade and innovative aluminum alloy frame, this folding electric bicycle can support riders weighing up to 265 lbs. On top of that, the waterproof design along with anti-pressure ability ensures that your bike will stay protected during rain.   
The rear disc brakes of the GoPlus Folding Electric Bicycle offer greater control over the wheels and ensure more reliable stopping. You must also know that this e-bike allows you to choose from three riding modes. You can use it as an electric bike or an assisted bicycle. The third option is to combine the two modes for an enjoyable cruise across the streets.
5. ANCHEER Folding Electric Bicycle – An Excellent Commuter E-Bike under $500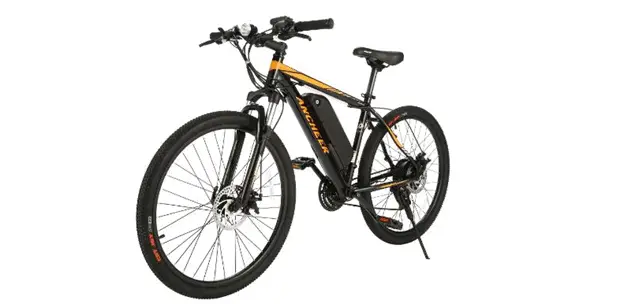 Specifications
Battery: 36 V, 6 Ah
Motor: 350 W high-speed motor
Range: 20 km per charge (estimate)
Top speed: 20-25 mph
Bike weight: 26.5 lbs
Brakes: Dual disc brake system
Frame: Metal
Has an IPX5 waterproof range
The ANCHEER Folding Electric Bicycle serves as an excellent commuter bike for everyday use. It might not look as stylish as other electric bikes but it surely is a good investment. It could be the ideal option for you if aesthetics don't mean everything to you. Users may even argue that it is the best folding e-bike you can get for less than $500.
This e-bike has a 350-watt high-speed motor, which allows you to achieve a speed of 20-25 km/h. Since it can easily be folded, you can take it anywhere without worrying about storage or handling issues. On top of that, this bike weighs only 26.5 lbs, so it is quite lightweight and portable. Even teenagers can conveniently toss it in the back of a car.
The ANCHEER Folding e-bike is powered by a 36 V 6 Ah battery and offers a range of 20 km. It features Bluetooth technology, so you can connect it with your smartphone to gain more control over your bike's settings. With the help of app support, you can adjust its speed and lock or unlock the motor. You can also get time recordings and mileage with the app.
Although this e-bike isn't the prettiest, it certainly has a unique design. It comes in two colors: black and white.
6. Shaofu Electric Bicycle – The Best Folding E-Bike under $500
Specifications
Motor: 350 W 36 V
Charge time: 3 hours
Range: 15 miles per charge (estimate)
Bike weight: 26.5 lbs
Brake style: Disc
Has an IPX5 waterproof range
The Shaofu Electric Bicycle offers a range of impressive features for its moderately low price. For starters, this e-bike is waterproof, so you can enjoy riding it in rainy weather without worrying about battery damage.
Next, the bike's frame is foldable and super lightweight, making it easy for you to take it from one place to another. Its high-grade aluminum alloy frame is complemented with a dual-layer aluminum alloy wheel.
The design of this electric bicycle mimics the shape of a dolphin and is meant to signify young people's sense of freedom and fashion. Apart from this, this bike has an app-supporting Bluetooth system, which allows you to set speed, lock the motor, and record mileage and time. You can also take an e-bike self-test.
If this is your first time buying an e-bike, you would be happy to know that the Shaofu Electric Bicycle is designed to ensure a safe riding experience. It comes with a front headlight, braking tail light, and a horn. Moreover, the rear disc brakes provide greater control and help ensure reliable stopping.       
This eco-friendly electric bicycle is fully electric with zero emissions. This not only helps you save fuel money but also beneficial for the environment. The 350-watt motor is quite powerful and the battery only needs three hours to charge fully. You can easily get a 15-mile range with this.
The only minor problem we have is that the tubes of this electric bike can sometimes be challenging to change. Otherwise, it is a pretty great deal!
Read This Before Choosing the Perfect Cheap Electric Bike for Your Needs
It is easy to get confused while looking at the best electric bikes under $500 when you don't know which features can make or break the deal for you. A good rule of thumb is to focus on the following things:
Bike's Charging Time
First and foremost, you must check the charging time on the e-bike's battery. If convenience and reliability is what you're looking for, it shouldn't be more than a few hours. If the battery doesn't last long and you have to wait 8-10 hours for it to charge fully, you're surely going to get frustrated in just a few days.    
Range
The range offered by an electric bike is also a crucial factor to consider. Think about how you're going to use the e-bike. If you plan on riding on it to school or work, make sure it offers enough range to get you to and from the destination without any hassle.
Speed
One thing you should know is that electric bikes are different from regular bikes. Most importantly, each e-bike is capable of offering different speeds. Hence, you need to ask yourself, 'At what speed do I want to travel?' If you ought to drive fast, you'll have to look for a model that offers a higher maximum speed.  
Weight
Ideally, you should choose a lightweight electric bike that offers maximum comfort and convenience.
Folding Ability
Lastly, it is always a good idea to purchase an electric bike that can be folded. A foldable bike makes transportation and storage easy. You can put it in your car's trunk or underneath your work desk and even carry it with you on subways.
You may check out the below electric bikes:
Now that you have a list of the best electric bikes under $500, it's time to determine which one will suit your individual needs and preferences best!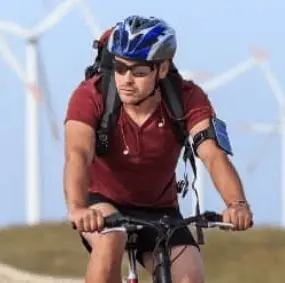 I am Michael, an avid rider and bike expert. I am here to provide, biking tips and expert advice on in-depth bike reviews covering features, capabilities, price range, and much more. Specially on electric bikes, mountain bikes, road bikes, etc. I will provide honest product reviews, along with expert advice on purchasing, training, and maintenance. Check out my complete profile.