"$500 tops."
That's what most of us are willing to pay for a mountain bike, right?
It's completely possible to get one that can handle harsh terrains without requiring you to break your bank. That said, there's a significant difference between how enjoyable and resilient good-budget mountain bikes are compared to the shoddy options in the market.
The sheer uncertainty can make the budget mountain bike industry seem like a minefield, but luckily, you're in good hands.
As you read on, you'll find some of the best mountain bikes under $500. But before we get to that, let's first address the elephant in the room.
Is $500 Enough?
For people planning to go all out and devote extensive time to mountain biking, anything under $1,000 may not be enough for a high-performing mountain bike.
But then again, in the last decade, several affordable mountain bikes built by industry-leading manufacturers have stood well against the test of time.
If you intend to buy an affordable mountain bike for light trails or daily commuting, bear in mind that $500 is the lowest you can go. Regular maintenance is a given in this price range, and you may also have to swap out some of the bike's parts in the long run.
With that said, let's put the pedal to the metal!
Check out, How To Change A Mountain Bike Tire?
Mongoose Switchback
This is a versatile hybrid bike that's suitable for all genders. It's available in several versions, such as:
Trail,
Expert,
Sport, and
Comp
It has a streamlined, sleek, and lightweight aluminum frame painted in eye-catching colors, which is a huge plus. We wouldn't necessarily call it ultra-lightweight, but that doesn't mean it's heavy.
The bike's coil suspension fork isn't too fancy, but it performs relatively well on gravel, dirt, or recreational trails. 
>> Check price on Amazon <<
Key Features:
Built for both genders
Mechanical disc brakes
A sleek aluminum frame
The bike is suitable for all people within the age group of eight to twenty-one, enough for entry-level riders based on the model you get. The groupsets can vary since you can get Altus or Shimano Tourney, depending on the model you select.
Additionally, the bike is also equipped with mechanical disc brakes that can help you slow down quickly, which is imperative if you're off-roading.
Read How to Make A Mountain Bike Faster
Co-Op Cycles DRT 1.0
While this may sound like a new name, we've been Co-Op fans for a long time now. The parent company for Co-Op cycles is renowned for producing mountain bikes around or under the $500 range.
Key Features:
Has 21 gears
Comes with a free tune-up
Strong hydraulic disc brakes
Suitable for shorter riders (4 feet 9 inches and up)
The bike has a light 6061 aluminum frame coupled with 100 mm worth of travel in the front suspension. This makes all rough trails services feel a lot smoother, which also increases your confidence and control.
Another unique feature is that it has hydraulic disc brakes. The bike takes minimal mechanical expertise to assemble since the instructions that come with it make the job easy.
Read How to Convert a Mountain Bike to a Road Bike
Neffice 27.5 Mountain Bike
It's not possible to create a list of the best mountain bikes under $500 and not mention the value champion. This Neffice 27.5 mountain bike has a 6061 light aluminum frame and relaxed geometry fit for any trail.
It allows the rider to have a comfortable and upright position that makes them feel more confident.
>> Check more features on Amazon <<
Key Features:
Captivating colors
Light and high-quality frame
24 speeds
2.1-inch knobby tires
Mechanical disc brakes
It has an adjustable suspension fork, 27.5-inch wheels, and 2.1-inch wide tires. These tires make it is suitable for multiple terrains. Even though this bike costs a lot less than $500, it still has durable, entry-level components but can still perform well.
The 24 speeds also give it decent climbing and off-road riding ability.
Read How to Clean A Mountain Bike Chain
Schwinn Mesa
Schwinn has been making commendable bikes for various market segments for a long time. One of those segments is mountain biking. Their strategy of making the perfect budget mountain bike is simple: focusing on the essentials. That is why their bikes have strong wheels and efficient brakes.
Key Features:
Built for riders between the heights of 5'2 to 5'6
27.5-inch wheels
Disc brakes
The effective disc brakes on the bike allow the rider to negotiate obstacles easily. The knobby tires are fit for off-roading and aren't too wide for your daily commute.
However, assembling the bike may require some technical knowledge, but you can get the bike shipped to you completely assembled.
Since the bike also has a frontal suspension, it can be a bit heavy. This suspension isn't meant for aggressive trail riding, but it improves the comfort one can get on those off-road journeys.
>> Check Price on Amazon <<
Read How to Climb Faster on a Mountain Bike?
Batch the Mountain 29
We won't necessarily call this a high-end bike, but it's still a brilliant choice for beginner riders. It was able to secure a spot on our list because of its impressive value to money ratio.
Key Features:
Light aluminum frame
Alloy-built V-brakes
3 x 7 drivetrain
29-inch wheels
The bike has an aluminum frame that does an excellent job of blending comfort and durability. For short riders, there's ample standover clearance because of the slanted top tube.
The bike's frame also has a rear rack and mounts for fenders. This model specifically has a modern design and comes in blue and orange colors that make it look high-end.
Out of the box, the bike is equipped with the SR Suntour XCE28 fork, alloy V-brakes and 100 mm of suspension travel that gives it sufficient stopping power. Moreover, the bike also has a 3 x 7 Shimano drivetrain that is adequate gearing for a beginner.
Read Mountain Bike vs Fat Bike – Detail Guide
Vilano Blackjack 3.0
You can easily get Vilano Blackjack 3.0 bike for less than $500 – but can you trust the components? In many cases, expecting state-of-the-art components in this price bracket can be a big ask.
However, the Vilano provides a good tradeoff between quality and price.
>> Check out price and feature on Amazon <<
Key Features:
One size (17")
Disc brakes in front and rear
Suspension fork
Light aluminum frame
29-inch wheels
The 29-inch wheels on this bike are double-walled, but the bike comes in only one size, so some very tall or very short riders may not be able to ride this bike. According to what Vilano claims, the material of the bike is heat-treated aluminum.
This bike comes only in black with red and gray details. The bike weighs around thirty pounds, which is not light, but it's great for the price. The bike most prominently uses low-level Shimano components better than various third-party components in the market.
The bike is also equipped with 24 gears that are more than enough for riding situations.
Even though the assembling instructions are precise, you're still going to need some tools. However, if you don't have prior experience, you may need to take it to a bike shop near you.
Read Can Mountain Bikes Get Wet?
Voodoo Aizan
The Aizan is the perfect option for people who want a little bit of everything on their mountain bike. The bike's relatively lightweight and has big wheels, which means that it can cross ground easily.
Moreover, the geometry of the bike is friendly, and it offers plenty of control.
Key Features:
All-rounder
29-inch wheels that help it roll over obstacles easily
Relaxed and long frame
Cannondale Trail 8
Over the years, Cannondale has made a name for itself by producing top-of-the-line mountain bikes professionals trust. However, that doesn't mean they don't consider budget riders!
One of the best mountain bikes under $500 is Cannondale's Trail 8, a decent choice for beginner riders.
But did Cannondale make significant compromises to bring the price down?
Not at all!
The Trail 8 has a recognizable frame made with the SmartForm C3 alloy. It has a bottom tube that goes straight into the head tube, making the bike's structure attractive, sturdy, and durable. But that's not all!
Key Features:
2.25-inch tires
75 mm suspension travel
14-speeds
The bike is only available in a shade of grey that adds more personality to its strong riding persona. You can also choose to stay discreet with the bike's dark color.
But if anyone wants to make a memorable first impression, they can do so by making a statement on the trails. You can also shift between the 14-speeds thanks to the Shimano Altus front derailleur and the Tourney one in the rear.
They won't necessarily do a fantastic job when you're cycling on steep hills, but they'll perform well on moderate and flat ascents. Additionally, this bike also has mechanical disc brakes from Tektro and a 160/160mm rotor, which means you'll always descend from hills safely.
To sum it up, this is a great bike if you want to satisfy your need for the outdoors while doing something fun on the weekends.
Read Mountain Bike vs. Road Bike vs. Hybrid Bike
Royce Union
Even though it isn't a famous brand, Royce is on a mission to popularize mountain biking among entry-level riders around the globe. They're the perfect entity for this mission because they have the tools to do so too!
>> Check reviews on Amazon <<
Key Features:
29-inch wheels
Hydraulic disc breaks
22 gears
Straight away, this bike looks like a modern mountain bike because of its progressive geometry and eye-catching paint job. The bike turns heads when it's on the streets, and the ride feels even better. It has an SR Suntour XCT fork which gives it 100mm of travel for bumpy roads.
The frame and the fork also allow fat knobby tires to smoothen the ride when the surface gets bumpy. Even if you're riding in wet conditions, you'll get ample grip.
Read How To Clean a Mountain Bike
Raleigh – Talus 1
Raleigh is a renowned company in the cycling industry. Even when bikers get one of their affordable options, they know they're getting a quality bike. The Talus is well under the $500 mark, which is impressive since the bike has a sturdy aluminum frame.
Key Features:
2.25-inch tires
The choice between 27.5-inch or 29-inch wheels
Two designs
ALUX-grade aluminum
100mm front travel
While most mountain bikes only have 27.5-inch wheels, the Raleigh has progressive wheel sizing. This way, bikers can get a bike that fits the geometry of their body, and the 100mm suspension fork also allows them to have fun on the trails.
The bike's brakes will perform fine for everyday use, and many novice riders won't notice much difference.
So if you want style, versatility, and reliability, the Raleigh Talus 1 is one of the best mountain bikes under $500.
Trek – Marlin 5
It seems like the year 2021 brought us closer to the $500 price tag.
The Marlin 5 is a good option for inexperienced and cautious riders who don't plan to participate in downhill races anytime soon.
Key Features:
29-inch and 27-inch wheels
Strong aluminum frame
100 mm travel suspension
21-speeds
Shimano Altus Shifters
Hydraulic disc brakes
Since it is a trail bike, it has a fender, a rack, and a routed internal cable. If you haven't ever ridden a half-decent bike before, you're going to be surprised with 29-inch or 27.5-inch wheels.
Read Mountain Bikes vs. Hybrid Bikes
Schwinn High Timber
Schwinn's High Timber is an affordable option if you're trying to buy your first off-road-ready bicycle. It is easy to maintain, good-looking, and well-equipped.
Key Features:
29-inch tires
21 speeds
Aluminum frame
It has a durable and lightweight frame that gives it a modern look and makes the ride comfortable. The body's aesthetics are this bike's standout feature, but it's also sufficiently equipped for the price tag.
Moreover, it also has a comfortable saddle that can support you on those long rides.
Trek – Marlin 4
It is often called one of the best budget mountain bikes as it has excellent components for beginner mountain bike riders and an aluminum frame. The best part is, if you like the bike enough, you can swap out the components with higher-end parts.
That said, we don't think it would be necessary since the bike is impeccable the way it is. You can use it every day without ever worrying.
Key Features:
Components from Shimano
Mechanical disc brakes
3 x 7 speeds
Light aluminum frame
The lucky few who have bought the bike already say the bike is built for every terrain, thanks to the components Trek decided to use in the bike's construction.
The front and rear derailleur are from Shimano are there are 21 speeds. For a beginner, this number is more than enough.
The mechanical brakes from Tektro have good stopping power as well. So, if you want to have fun riding on inaccessible terrain and through the mud on a pocket-friendly mountain bike, buy the Trek – Martin 4.
Read Mountain Bike vs Gravel Bike: What's the difference?
Merax 26 Mountain Bike
This Merax 26 mountain bike is an excellent option for those on a budget. It's nothing out of the ordinary, but it seems like a borderline steal for the price. Because of its front suspension forks, the bike is immensely popular on Amazon.
It smoothens out the most aggressive bumps and, in turn, you have increased control.
>> Check out reviews on Amazon <<
Key Features:
Speed Shimano Drivetrain
Easy control
Comfortable seats
Mechanical disc brake
Moreover, it also has dual disc brakes that give it a powerful stopping capacity. All in all, this bike is an economical option and will meet all of your needs if you're a new rider in the mountain biking world.
Plus, the sleek color combinations will turn heads in every street!
Hiland 26 Aluminum
We think kids should have the off-road mountain biking experience while they're young. It's good for their health and a fun hobby! That's precisely why we're wrapping up our list of the best mountain bikes under $500 with a kid's bike!
This bike is a versatile option for kids since it does a good job on-road and off-road.
>> Check out reviews on Amazon <<
Key Features:
Frontal suspension
Aluminum frame
26-inch wheels
Its 26-inch wheels make the bike optimal for young adults and teenagers. That said, based on a kid's height, even younger kids can ride this nifty mountain bike. The kid riding this bike, however, must be taller than 5'1.
The stock model of this bike is equipped to guarantee quality and fun biking experience. The 24-speed Shimano drivetrain also makes maintenance easy for parents to carry out.
You may also like:
In Conclusion
It may be apparent that in the world of budget-friendly mountain bikes, being affordable does not mean bad. Several amazing bikes under the $500 price cap can last a long time if you take care of them. If you thought differently, we hope we changed your mind.
Therefore, if you're looking for mountain bikes to work out, commute, stay fit, get fit, or explore Mother Nature, pick one from our list of the best mountain bikes under $500. They're brilliant for occasional and beginner riders, and we promise they're lots of fun!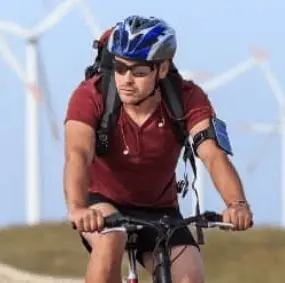 I am Michael, an avid rider and bike expert. I am here to provide, biking tips and expert advice on in-depth bike reviews covering features, capabilities, price range, and much more. Specially on electric bikes, mountain bikes, road bikes, etc. I will provide honest product reviews, along with expert advice on purchasing, training, and maintenance. Check out my complete profile.