Want to get information on electric bike batteries? In this beginner's guide to electric bike batteries, let us check out the Best battery for electric bikes.
Electric bikes have become a trendy commodity in recent years, not only because they make the daily commute more convenient but also for the innovative features they bring.
Right now, the most important aspect of electric bikes is the choice of battery. A good battery will cost nearly 2/3rd of the price, so it's important to choose the right one.
Ideally, you want something that will give you your money's worth in terms of charge cycles, battery size, and recharge time.
The benefit of electric bikes is that even if there's no charge left, you can still pedal and roll on, but where's the fun in that? You'll be left with a heavy – but a very cool – machine to carry on with.  
Now if you are new to electric bikes, the sheer volume of things to know about batteries can be a bit overwhelming. Keep reading to learn all there is to know about the best battery for electric bikes in the USA. 
Top 7 Best Electric Bikes Batteries
Let us check out the list of best Electric Bike Batteries for your electric bikes.
1. Pswpower 48V 13Ah E-bike Battery
Specifications
48V, 13Ah
18650 cells
Waterproof
1000 charge cycles
Lithium-ion
>> Check out the price on Amazon <<
This Pswpower model not only looks great but it packs in quite a punch at a total capacity of 624W. It uses 80 pcs of battery cells for a longer range and more charge cycles. The battery is encased in a powerful plastic that does not overheat, unlike other models.
While the plastic may seem like the manufacturer wanted to cheap out on materials, it helps reduce the weight so you can easily carry it with you if you run out of charge. 
This battery is waterproof, as long as the encasing isn't damaged. This allows you to bring this electric bike battery with you in rainy conditions as well.
Also, read, Can You Charge An Electric Bike With Solar Panel?
2. AW Lithium Rechargeable Battery
Specifications
36V, 10Ah
8.6 lbs.
1000 life cycles
Easy to mount
Lithium-ion
>> Buy from Amazon <<
Don't let the water bottle design deceive you, this neat little device is one of the best batteries for electric bikes out there. It packs in a decent 1000 life cycles and gives you a range of at least 50 miles.
The best part about this battery is that it features lockable bracket bolts for easy installation.
The only downside is that it is not waterproof and cannot be used in rainy conditions. Other than that, this battery works really well under regular weather conditions.
In terms of installation, the battery can be installed on a rack and can be locked with a key for added security. It is also easy to remove and take indoors with you in case you want to prevent theft and if you expect rain.
Read Electric Folding Bike Pros And Cons
3. Flying Horse ModWheel
Specifications
35V, 11Ah
5 lbs.
800 charge cycles
Lithium-ion
The aptly named Flying Horse ModWheel is designed to be exceptionally reliable in any situation – whether it's off-roading or a harmless commute to work.
It is compatible with most conversion kits, including 250W, 500W, and 1000W variants. Expect a range of 20 miles on a single charge, which is decent for any battery in this price range.
You can attach this electric bike to a rack on the back of the electric bike or the down tubing. Installation is relatively easy and secure as it seamlessly locks into position. When not in use, you can remove the battery from the electric bike to prevent theft.
Read Wave Electric Bikes
4. Joyisi 48V 15AH Electric Ebike
Specifications
Lithium-ion
48V, 15Ah
1000 charge cycles
Lightweight design
34-mile range
This lightweight electric bike battery is designed for power and capacity. You can travel between 30 to 40 miles on a single charge. The 48V works well with 1000 watt conversion kits.
For added protection, it features a BMS protective plate along with a robust aluminum casing. This allows you to ride with convenience and not worry about damaging it.
The only caveat is the lack of waterproofing. You shouldn't take this electric bike battery with you on your travels if you expect rain. 
You may like When to Replace A Bike Tire?
5. Mighty Max Baoshi
Specifications
Sealed lead acid
4 x 12V
22Ah
13lbs.
>> Check out the reviews on Amazon <<
This battery is among the heavier items on this list but it packs a lot of power in a tiny package. There are four 12V batteries that you can add or remove depending on your conversion kit's requirements.
This gives you more control over the exact capacity of the battery. The only problem is that at 13lbs., its weight will be very cumbersome to carry and you may feel especially overburdened once you run out of charge.
With that said, you're getting a total of 48 volts for nearly $165, which makes it a lot cheaper than a lithium-ion battery at equivalent capacity. In terms of reliability, these batteries are built with spill-proof casing and shock absorbers.
The performance is pretty good too, although we wouldn't expect it to outperform a lithium-ion battery. If you're running low on budget and need a quick fix to your battery woes, the Mighty Max Baoshi should be a top priority.
Also read, Stealth Electric Bike – Why you should buy one
6. Juiced 48V Battery Pack (only compatible with Juiced e-bikes)
Specifications
12.8 Ah or 8.8 Ah
7.2 lbs.
48V
52 cells
4.4 hours rechargeable time
The only reason why this electric bike battery didn't rank higher on this list is that it is only compatible with Juiced electric bikes. This electric bike battery gives a total capacity of nearly 600+ watts (depending on which variant you buy) at a price tag of nearly $450.
In terms of performance, these batteries blow the competition out of the water. If you don't own a Juiced electric bike, you may run into compatibility issues though.
7. Universal Power Group UB12120
>> Buy from Amazon <<
Specifications
Sealed lead acid
2 X 12V
12Ah
16lbs.
If raw power at an affordable price appeals to you, then the Universal Power Group may fit the bill. We use the word 'fit' loosely here because this battery pack is going to weigh you down at a hefty 16 lbs.
It only costs around $50, which is good value for money, especially if you're new to electric bikes.
The downside is that it does not come with any mounting mechanism that connects to the frame of the electric bike. This could annoy most users.
In terms of performance, they should not be compared to lithium batteries because the weight alone limits your range.
We recommend using these batteries for anyone running low on budget and just want to test things out first. If you become comfortable, then you can upgrade to a $400 lithium battery!
Also read, Solar Charger for Electric Bike
What are Electric Bike Batteries Made Of?
When it comes to manufacturing electric bike batteries in USA, it's usually a toss-up between lithium-ion and nickel-cadmium batteries.
A third option, lead-acid batteries, used to be popular but is being dropped in favor of lithium-ion because of safety problems and the added weight.
Lead-acid batteries can be especially massive, which explains why they are slowly being phased out.
Lithium Polymer batteries (LiPo) are a more advanced variant of Li-ion batteries. They are smaller and more affordable, however, the tech is still at a nascent stage and the service life on these batteries is a bit unreliable. So the default choice is almost always lithium-ion, but there are always exceptions to this rule.
For the most part, lithium-ion batteries give you more range, longevity, and of course, reliability. You may come across different variants of Li-ion batteries with manganese, phosphate, and other metals are thrown in to cause all kinds of confusion. That's not a problem.
The industry is split about the best formula for lithium-ion batteries, so for now, it's important to just rely on Li-ion batteries without going into the exact chemistry.
Pro tip: You should also invest in an energy-efficient drive system to conserve battery life and allow for a wider range of travel. The most popular drive system manufacturers for electric bikes are Bosch, Yamaha, Shimano, and Brose, to name just a few.
Read Fastest Electric Bike in the World
How Far Can You Travel On Electric Bike Batteries?
All things considered, an electric battery bike can take you pretty far – usually in the ballpark figure of 40 to 100 miles.
However, the actual duration and mileage depend on a combination of many factors including average speed, terrain, rider weight, weather conditions, and of course, battery size. A smaller 36V battery will give you a shorter range of around 15 to 35 miles only.
More powerful battery packs can take you much farther (to the tune of 150 miles), but they come with a hefty price tag.
As a general rule, if you're cycling on full throttle with maximum pedal assist, you'll run out of charge pretty quickly. To conserve your battery you have to manage your energy more effectively.
You can use the Range Assistant by Bosch to quickly estimate the actual range of your electric bike battery.
It is worth pointing out that electric bike batteries in America should be charged at least once a month, especially if you don't ride the ebike very often.
Another thing you should note is that batteries have a limited life span, i.e. they are scheduled for failure from the date of manufacture.
With that said, most lithium-ion batteries should give you at least 1000 charge cycles or more, depending on how they were manufactured. 
You can extend the battery range by using the gears to keep the pedals spinning at a decent cadence as well as moderating your speed. Max pedal assistance will drain your battery. 
Also read, 2-Seater Electric Bikes
Battery Capacity for Electric Bike
For obvious reasons, you want to go for the best electric bike battery in the USA with more capacity. This means more range per charge and easier battery management (i.e. fewer charge cycles are consumed per ride).
Battery capacity is measured in watt-hours (Wh) – with 300Wh and 400Wh being the industry standard.
Batteries with more capacity will cost you more and usually weigh a lot more, so you may want to opt for smaller sizes to keep the weight down. You can also choose a smaller battery if you know you'll be only making smaller trips.
Also check, Self Charging Electric Bikes
A Word on Amp Hours and Watt Hours
Another metric used for battery packs is voltage and amp-hours. The voltage dictates the speed and power of the electric bike. However, the total distance you can travel depends on the amount of energy that the electric bike can store.
Energy can be calculated using simple arithmetic with the formula: Voltage X Amp Hour
So an electric bike with a rating of 12V/22Ah comes out to nearly 264W. If you are enthusiastic about more power, you should aim for more watt-hours because it translates into longer distance traveled.
Watt-hours: This is a more accurate way of knowing how much energy you have in the battery pack. A 500wh battery can deliver 500 watts of power for 1 hour or 1000 watts for half an hour.
These numbers are just estimates, by the way, because in real-life conditions, the electric bike uses varying levels of power.
Read How to Repair Electric Bike Battery
Amp Hours or Watt-Hours?
This is when things start getting confusing, but it is important to learn the difference. Amp-hours are meaningless without factoring in the voltage.
Watt-hours is more important because it uses the voltage and amp-hours together to determine how far you can go on a full charge.
Not all battery packs are constructed the same or feature the same labels, so make sure to carefully read them before purchasing.
Read How to Clean an Electric Bike
Size, Weight, and Shape
The three most important things to consider before buying an electric bike battery is the size, weight, and shape.
For obvious reasons, the electric bike battery must fit and not be excessively heavy. It shouldn't look out of place either. If you're using a conversion kit, you will probably have to make a few sacrifices along the way since you won't find all the ideal factors in a single battery pack, unless it was specifically designed for your electric bike.
As a general rule, you should buy yourself the smallest and lightest battery pack that will get the job done. It may be tempting to go after the biggest battery pack available, but if it runs out of charge during your travels, you'll have to haul it back home!
You can easily figure out which battery pack to buy for yourself. If you're using the electric bike to only travel 20 miles at 100% charge, then you can make do with the battery packs mentioned above. 
Check out, Electric Bikes vs. Electric Skateboards
How to Maintain Electric Battery Bikes
The best battery for electric bike will already feature a robust design that can withstand outside elements such as dirt, dust, and even water.
However, you still have to follow a few rules to make sure you can keep your battery in good working conditions.
i) Store at Optimum Temperature
The optimum operating temperature for batteries is around room temperature. It is good practice to charge the battery indoors and keep it indoors until the last possible second to keep the cells warm, this is important if where you live is cold.
ii) Keep Away From Sunlight
When the battery is not in use, keep it indoors and away from direct sunlight. In the case of lithium-ion batteries, prolonged exposure to the sun will cause them to start leaking and cut their life short.
iii) Invest in a Battery Cover
If you plan on using your electric bike often and live in cold temperatures, you should invest in a battery cover. Fahrer offers a range of battery covers for most battery packs. Users with Yamaha batteries can click here to buy a compatible battery pack. 
Never Overcharge or Undercharge
It can be tempting to overcharge your battery in the hopes that the charge stays longer. However, this is a bad practice because overcharging can result in battery failure and even lead to a fire.
Overcharging can increase the temperature of the battery, leading to a potential fire hazard. In the case of lithium-ion batteries, unplug the power cord once it has achieved full charge., 
Undercharging, on the other hand, will degrade the battery over time. Completely draining the battery of all charge can completely kill it.
Most high-end electric bikes feature good batteries that have reliable BMS (battery management systems) in place that prevents overcharging and undercharging.
Avoid Rough Handling
How you handle your electric bike battery also plays a role in reducing its life span. As a rule, you should avoid applying shock and vibration to the battery.
Keep the Battery at 30% to 60% Charge (when not in use)
If you plan on not using your electric bike for a long period of time, then make sure that the battery has a charge of approximately 30% to 60% of the full charge. This will preserve battery life and also ensure your electric bike is ready for use when it comes out of storage.
You may like the following articles: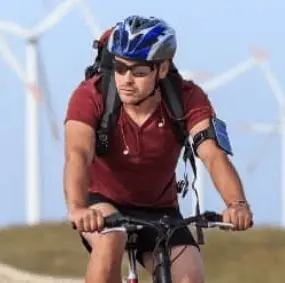 I am Michael, an avid rider and bike expert. I am here to provide, biking tips and expert advice on in-depth bike reviews covering features, capabilities, price range, and much more. Specially on electric bikes, mountain bikes, road bikes, etc. I will provide honest product reviews, along with expert advice on purchasing, training, and maintenance. Check out my complete profile.