Wondering what is an electric mountain bike? If someone hears it for the first time, they could think of it as an electric motorcycle or scooter. However, an electric bike is different.
An electric bike is powered by an electric motor and looks very much like an ordinary bike. However, they have a controller, battery, motor, and other electrical components as well that are seamlessly integrated into the frame.
How Do Electric Mountain Bikes Work?
You have to pedal and control electric mountain bikes just like regular bikes. Electric mountain bikes have many of the same parts as ordinary bikes.
They have extra electrical components like a battery and motor to augment your peddling power. However, note that electric mountain bikes work to increase your peddling power.
They don't completely replace it. Thus, you can climb hills and other slopes more easily with an electric mountain bike. You can go further while being less tired.
Read How to Ride an Electric Mountain Bike
The Motor
Electric bikes have a variety of power ratings. The minimum is around 200W. Some are as powerful as 1,000W. In the US, the legal limit for electric bike motors is 750W. However, states can set different limits.
You can think of electric mountain bike power in the same way as you think of horsepower when talking about cars. A higher power rating means that the bike can carry more weight more easily. However, the battery will also drain more quickly.
So although a 750W electric mountain bike will be more powerful and faster than a 250W model, it will also drain battery levels more quickly.
There is another factor that you need to consider. The location and design of the motor strongly influence how an electric mountain bike operates.
The hub motor is the most commonly used for electric mountain bikes. It may be connected to the front or rear wheel. When it is engaged, it pushes or pulls the wheel.
Read How Much Does a Bike Weigh
Electric Mountain Bike Market
Electric mountain bikes are becoming more popular. From 2019 to 2020, sales of electric bikes jumped an amazing 145 percent. The size of the electric bike market was almost $24 billion in 2020.
Some are skeptical about the rise of electric mountain bikes. However, electric mountain bikes are becoming more popular and may one day replace the standard mountain bike.
Easier Peddling
Electric mountain bikes are battery-powered bikes. The battery-powered assist helps you with peddling.
As you push an electric mountain bike's pedals, a motor will engage in giving you a boost. Thanks to the motor, you can climb hills and go over tough terrain without getting exhausted.
They look like conventional bikes, but they are actually much better. You can control the speed of the bike by varying your peddling speed.
However, thanks to the electric-powered assist, you can move forward much more easily on an electric mountain bike.
Read How Do Mountain Bike Hydraulic Disc Brakes Work?
Electric Mountain Bike Speed
Electric mountain bikes can go quite fast for a bike. The quicker you pedal, the greater your boost is. As a result, you go faster when you pedal more quickly on an electric mountain bike.
You can go quite briskly on an electric mountain bike. However, they are not motorcycles. You can't go racing down the road at over 40 mph.
The motor is designed not to boost the bike beyond 20 to 25 mph. You can save time when you are commuting for work at these speeds.
You can also control how much assistance you are getting on an electric mountain bike.
In most electric mountain bikes, there is a power switch that lets you control the size of the assist. You can go up to high assist if you require more power, such as going up a steep slope.
Read 8 Best Mountain Bikes for Heavy Riders
Electric Mountain Bike Owners Ride More
The results of one survey show that you will ride more often if you get an e-bike. Almost 1,800 e-bike owners were asked about their bike riding habits in this survey.
Before owning an e-bike, 55% of respondents stated that they used to ride daily or weekly. But after purchasing an e-bike, 91 percent of respondents were riding daily or weekly.
These numbers should not come as a surprise. With a standard mountain bike, you will feel more tired and thus less inclined to use it. But with an e-bike, you can keep riding without getting much tired.
Hence, you will ride it more often. Since e-bikes help you to go faster, you will go on longer trips using your e-bike. That is, you will use it more often.
E-bikes open up a world of opportunities for those who don't ride frequently. Many people don't have the stamina to ride 5 to 10 miles without getting exhausted.
However, you can cover such distances with much greater ease using electric assist. You can thus ride with greater endurance and confidence if you have an e-bike.
In the same survey, it was found that 94% of those who did not cycle frequently were riding daily or weekly after buying an e-bike.
E-Bikes Can Replace Driving
People are buying e-bikes as a way of reducing car trips.
28 percent of people questioned in a survey said they bought an e-bike to reduce trips made by cars. There were many reasons why respondents said they got themselves an e-bike.
These included the desire to avoid traffic and parking, carrying cargo, and also environmental factors. This shows that many people are using e-bikes as a way of reducing their reliance on cars.
E-bikes can be very convenient because you don't get sweaty and tired after riding it.
Over half of all car trips are less than 10 miles. According to some surveys, the average distance for a single trip is just under 6 miles. An e-bike can easily cover these distances.
According to these surveys, e-bike owners used their e-bikes for 46% of commutes and 30% of driving trips. 
E-Bikes Still Provide Exercise
E-bikes do much of the work for you. However, riding an e-bike will still be considered exercise. That's because an e-bike is not like a motorcycle where you have to do absolutely no work.
E-bikes can be a source of exercise, especially for those who are sedentary.
Researchers from Colorado University noted that when 20 adults who did not exercise regularly rode an e-bike for 40 minutes 3 days per week, they saw better blood sugar levels and cardiovascular fitness in about a month.
Many people don't have the fitness level to ride a standard time for a substantial amount of time to bring fitness and health benefits. However, since e-bikes are easy to ride, even sedentary people can ride them for an hour and thus get a good deal of exercise in the process.
Even if you are in good shape, you can get many exercise benefits with an e-bike. Although you have to apply much less effort on an e-bike, you are still burning calories. And the calories soon add up. You can burn about 200 calories an hour on an e-bike.
Getting an e-bike means that owners replace car trips with e-bike rides. Hence, they become more active and spend more time exercising after getting an e-bike. The time that would have been spent behind the car wheel is now spent doing exercise on an e-bike.
Better Batteries
With an e-bike, you have yet another battery-powered device that needs charging. There is no way around charging.
E-bike batteries can, on average, work for 35 to 100 miles before they need to be recharged. The distance that batteries can travel on a full charge depends on the battery size as well as the power of the motor. A more powerful motor will draw more current and thus drain the battery much more quickly.
A lot also depends on the mode you are using. If you use turbo mode a lot, then the battery will drain more quickly.
E-bike batteries are getting better and will provide better performance in the near future.
Access to Trails
E-bikes are a source of discussion in mountain bike riding. Many do not consider them to be true mountain bikes. Hence, e-bikes are often not allowed on many non-motorized trails.
However, things are changing, and soon e-bikes will have greater acceptance and thus more permissions for access to trails.
IMBA is the biggest advocacy group for mountain bikes users. The group has supported permitting access to e-bikes with a 20 mph top speed on certain trails. 
With e-bikes becoming more popular and gaining wider acceptance, it is just a matter of time to have more access universally.
A lot of this has to do with how e-bikes are perceived. Even today, many confuse them for motorcycles.
However, the truth is that their impact on the trail is the same as that of an average mountain bike. When more people understand this fact, e-bikes will gain more access to trails.
E-Bikes Can Save You Money
E-bikes are not exactly cheap. But they can still save you money. If you use your e-bike in place of a car, you can save money on gas and car maintenance. You can also get a lot of health and fitness benefits by using your e-bike in place of your car.
A decent e-bike will cost you at least $1500. You will have to pay more if you decide to get an e-bike with a good motor made by leading manufacturers like Yamaha, Shimano, or Bosch.
E-Bikes Are Heavy
When checking out a bike, the first thing that many people do is to lift it to understand how heavy it is. If you try doing that with an e-bike for the first time, you will get a surprise since these are much heavier than conventional mountain bikes.
An average e-bike can be about 20 pounds heavier than an ordinary bike. Despite their weight, they are designed to be easily controlled.
If you are worried about the weight of e-bikes, then you need not worry because the motor assist will make cycling them very easy. Of course, lifting e-bikes will still require muscle, for example, if you want to put your e-bike on the car rack.
Related electric bike articles:
Bottom Line
Electric mountain bikes are gaining more and more popularity due to their convenience and environmental benefits. It won't be wrong to say that soon; they will become a universal form of transport.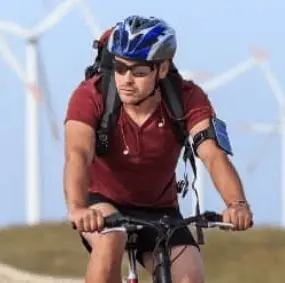 I am Michael, an avid rider and bike expert. I am here to provide, biking tips and expert advice on in-depth bike reviews covering features, capabilities, price range, and much more. Specially on electric bikes, mountain bikes, road bikes, etc. I will provide honest product reviews, along with expert advice on purchasing, training, and maintenance. Check out my complete profile.