People get mountain bikes for several reasons. While some buy one for leisure and fun, others get one to fulfill their transportation needs. Not only is a bicycle an exercise tool and a source of recreation, but it's also a way of getting around the city, usually used for errands.
However, whether you're shopping for a cruiser, road bike, or mountain bike, the decision might boil down to time.
That's right.
If you're considering buying a two-wheeler, knowing the best time to buy a mountain bike could be the first step you take towards the perfect offer.  
Anytime Can Be a Good Time
If you're struggling with the "mountain bike fever," it's likely you're not willing to wait for a specific time to ride one.
Depending on the types and brands your nearest bike shop carries, they may be willing to adjust the price for you based on the stock they have.
As a result, it's always a good strategy to ask about the upcoming price adjustments, packages, or sales.
You may be in luck!
Check out, 27.5 Mountain Bike vs. 29 Inch Mountain Bike
End of Riding Season
When the cooler temperatures come beckoning, the riding season often closes to its end.
During this time, no bike shop or online retailer has a desire to get swamped with an inventory that won't budge. One of the reasons why is because, in few months, newer bike models are released.
In many cases, several brands debut their new gear and bikes for the upcoming year in Monterey, California (the Sea Otter Classic).
Consequently, you can expect sharp price reductions on mountain bikes that are redesigned for the new year in this season.
Also, check, How to Raise Handlebars on A Mountain Bike
Early Fall
Whether you're looking to buy a deep race bike, a time trial bike, or other accessories, the Iron Man tournament gives bikers a fantastic opportunity to identify the bike they want.
During the first few days of fall, several brands start dumping their existing inventory into the market, which is also a great time to get big discounts.
Federal Holidays
Several local bike shops and online retailers frequently give their customers big discounts on all major holidays. If you're in America, you can get the deals on:
Labor day
Independence day
New Year
Memorial day
Columbus day
President's day
Check out, Replacing Mountain Bike Tires
Mid-Summer
This time of the year is usually associated with all the major cycling competitions. The most popular one is the Tour De France.
This is also when the cycling world gets the most exposure to TV and print media thanks to numerous other sporting events taking place around the world.
This publicity creates the best window for brands to launch their new models and discount their previous ones.
Therefore, if you're trying to find the best time to buy a mountain bike, you may feel lucky during the first few weeks of June – particularly if you're trying to find a great deal on models from the previous year.
June is when the prices begin to drop.
Read How Fast a Mountain Bike Can go?
Year-End Deals
Cyber Monday and Black Friday sales are also an awesome time to get a discounted price. This is also when bike retailers decide to clear stock. You can take advantage of this and get yourself a good deal on a bike of your choice.
New Model Release Dates
If you're a buyer with a solid budget and in search of top-of-the-line features in the mountain bike you get, you should consider waiting for the release dates of the latest mountain bikes.
As we mentioned earlier, new bikes are often released at the end of summer (depending on the manufacturer). Early fall, all new bikes are distributed to every major retailer.
Here's when you can expect to see new releases from the biggest MTB brands:
Cannondale: Around August, when summer is ending, they usually release their new bikes. Their bikes are announced a month before you can find them in a shop.
Giant: You can expect to see new models in June
Scott: Like several others – at the end of fall or summer
Trek: they usually release their new models after the Trek World dealer expo. The expo is usually held in October or August. After this, the new models are rolled out.
Check out, How to Choose an Electric Mountain Bike? Buyer's Guide
When Do the Prices Drop?
Typically, new models come out between June and September. Just like the automobile industry, older models lose a lot of their value when new ones are announced. That's true in the mountain biking world, too.
However, the goal is not to buy the most affordable mountain bike but rather one that provides the most value for the price.
To get the most utility out of a purchase, you must know what you're expecting. If you're willing to wait and do your research, you may get the perfect deal on the bike of your dreams.
No one can tell how big of a price cut you're going to see when the price gets discounted or if your favorite bike is going to go on sale, but you should still consider waiting.
Chances are, your favorite bike will get an upgrade in the following year, and that's when you can expect to see a price cut.
Read How To Change A Mountain Bike Tire?
When Do the Big Retail Stores Have Sales?
Big guns like Walmart and REI can offer discounted prices at different times throughout the year.
A giant chain like Walmart doesn't get the latest bike models simultaneously as bike shops. Thus, the June to September period may not be the best time to buy a bike from a superstore.
But unless you've been living under a rock, we're sure you know there are always great deals waiting for you on Black Friday. Mountain bike stores are also discounted during this time.
However, the only downside is that your purchasing options may be limited. You may not find the right size, the color you've always wanted, or the preferred tire size.
You'll have to outrun the value-hungry bike enthusiasts, and we're sure you already know this, but we won't call it the ideal shopping experience.
However, if Black Friday doesn't sit well with you, you can perhaps try your luck again during the Christmas season.
This is when stores like Walmart and REI have a sale, and until the weather warms up, you'll easily find a bike that provides value.
Also, read, Can Mountain Bikes be Used on Road?
Consider Buying From Direct-to-Consumer Companies
Okay, so if you're reading this article and you're looking for a brand-new bike, you're not going to wait till the offseason – we know.
You're going to look for something specific, something that makes you want to ride a bike every day, even when you have nowhere to go.
In a case like this, a custom build may not pay off, so your best bet may be buying a bicycle from a direct-to-consumer company.
Companies like Commencal, YT Industries, Canyon, and others are producing state-of-the-art mountain bikes that can easily compete with the best mountain bikes in the world.
Even after producing their quality bikes, they can sell their bikes for a more affordable price since the retailer does not have to keep their cut.
Believe it or not, but manufacturers like YT Industries reduce their prices every year. Before this trend dies out, take advantage of it, and get yourself a stellar bike.
Also, check out, Riding mountain bikes on sand and beaches
Which Mountain Bike Should You Get?
An Enduro Bike
Enduro racing is when bikers go down a hill over technical terrain. But throughout the course, they also have to climb up and push on flats in some instances. This kind of racing combines the skills of high stamina and downhill speed navigation.
Enduro bikes have become immensely popular because these bikes are incredibly diverse. This rising demand for Enduro bikes has also introduced the "All-Mountain" sub-category as well.
All-mountain bikes aren't quite like Enduro bikes; they're more close to Cross Country bikes. Nowadays, several bikes claim that they can do it all.
The term "all-mountain bike" is now thrown around to describe bikes that do a good job on technical terrain while blazing through descents. These bikes are also responsive and stiff, yet their bodies are flxible.
For several riders around the world, this niche gives them the best of every world. The short travel of these bikes keeps them snappy and fast, but the unique structure also lets them tackle drops and air. On a typical bike, these challenges would require extra suspension.
Read How to ride mountain bike on snow
Cross Country Bikes
These bikes are designed for fast acceleration and are more focused on climbing and sprinting. A classic cross country bike has a suspension fork in the front and no rear shocks.
This kind of bike is usually called a hardtail bike since the bike's rear end is rigid and has no suspension. The rider's core, legs, and whole-body receive the leftover impact after the bike absorbs the initial impact through vibration.
This benefits riders since their muscles (mainly twitch fibers) can build strength and muscle memory, which further improves their seating posture.
If you're starting in the mountain biking world, we'd recommend you to get started with a hardtail as it lets you work on your skills from the grassroots level.
Read Why are Mountain Bikes So Expensive?
Downhill Mountain Bikes
Often considered the holy grail of the mountain biking world, the downhill segment has a huge fan base.
Regardless of which mountain biking style you're accustomed to, it's hard to resist the allure and appreciation of downhill mountain biking.
These bikes are the strongest you can find, and they're designed to do one thing and one thing only: descend.
A downhill bike has a specific geometry, styling, and componentry geared towards riding downhill and doing it fast. The gears on these bikes are usually designed for speed, and they can't be used while you're climbing.
Additionally, they have large brakes that are more efficient due to the high amount of strength they require.
While every downhill bike isn't specced for extreme rides, several follow this trend which helps the rider unlock the true potential of these bikes.
Read Tubeless Mountain Bike Tires Maintenance
How to Save Money When Buying a Bike
Once you've decided on the best time to buy a mountain bike, there are some additional tips you can follow to ensure you get your two-wheeler at the best possible price.
Get an Older Model
Sure, having the newest version of a bike can make you feel a certain way. However, suppose the latest model has only minor upgrades (which usually happens with almost every bike nowadays) in parts, performance, and appearance.
In that case, you should consider saving your hard-earned money by buying a dated bike.
That said, if the new model has made significant breakthroughs and has gone through an intensive overhaul, you should consider getting an upgrade.
Read How to Make A Mountain Bike Faster
Buy a Used Mountain Bike
Sometimes, you can get amazing deals on used mountain bikes, but you first need to know what you're looking for. A bike loses 45% of its value once the newer bike is out. So your best bet is to get a bike that is slightly used.
The older the bike, the more problems they may have. Before you decide, ask the owner for a test ride and ask them questions about why they're selling and if the bike has crashed before.
If possible, take it to a bike shop near you and ask them for an inspection. Once you're there, here's what you need to look for:
Spin the bike's wheels. They must not wobble. Check the brakes, too
Check for fractures in the frame or cracks
Look for missing patches of paint
Check the chain, chainring and check if they have any signs of wear and tear
Do the tires look worn down?
Related Posts:
Conclusion
A good time to get a mountain bike is usually a month or two before the new models arrive. If you're unlucky and you can't find your size, consider getting a demo bike. Getting a used bike can be risky if you don't know what you're getting yourself into.
Ensure you check the bike for signs of damage, so you don't overpay. A used bike is worth half the price, so make sure you get your money's worth. Lastly, do not get paralyzed because of analysis!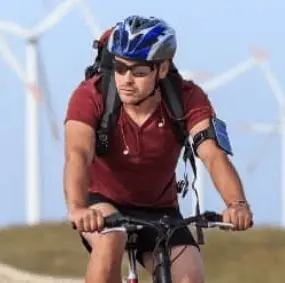 I am Michael, an avid rider and bike expert. I am here to provide, biking tips and expert advice on in-depth bike reviews covering features, capabilities, price range, and much more. Specially on electric bikes, mountain bikes, road bikes, etc. I will provide honest product reviews, along with expert advice on purchasing, training, and maintenance. Check out my complete profile.