In the search for the best electric bikes for kids in the US, UK, or Canada? Look no further!
What are the best electric bikes for kids? Here are the list of best Electric Bikes for Kids, 1. Tomasar Power Electric Bike, 2. Monster Moto MM-E250-PR, 3. Ecotric 20" New Fat Tire Electric Bike, 4. Razor RSF350, 5. Razor Dirt Rocket SX500, 6. Emdaot 26" Electric Mountain Bike
Electric bikes are a worthy investment if you want to encourage your kids to exercise regularly, switch to a healthier lifestyle, and care for the environment. These bikes are eco-friendly and super comfortable to ride on different terrains.
We say an electric bike is the best gift you can give to your children this holiday season or on their next birthday. Not only will they enjoy the thrill of riding an e-bike but also the much-needed exercise of their motor and coordination skills.
Let's also tell you that these bikes are much easier and cheaper to maintain than gasoline bikes. And they're pretty affordable too!
That being said, there are so many kid-friendly electric bikes out there that you'll likely get confused choosing one that your child will absolutely love.
To make things easier for you, we've prepared a detailed review of the top six best electric bikes for kids.
Best Electric Bikes for Kids       
Before you start exploring your options of kid-friendly e-bikes, you need to think about a few things, including your personal requirements and preferences, your kid's age and weight, and your budget.
Most parents end up being confused and frustrated when they encounter the heap of options in the market. To avoid this, you must have proper knowledge of e-bikes and most importantly, you must know what you are looking for.
We have rounded up the top six best electric bikes for kids. Let's dive right in for a detailed review of each.
1.Tomasar Power Electric Bike – The Overall Best Electric Bike for Kids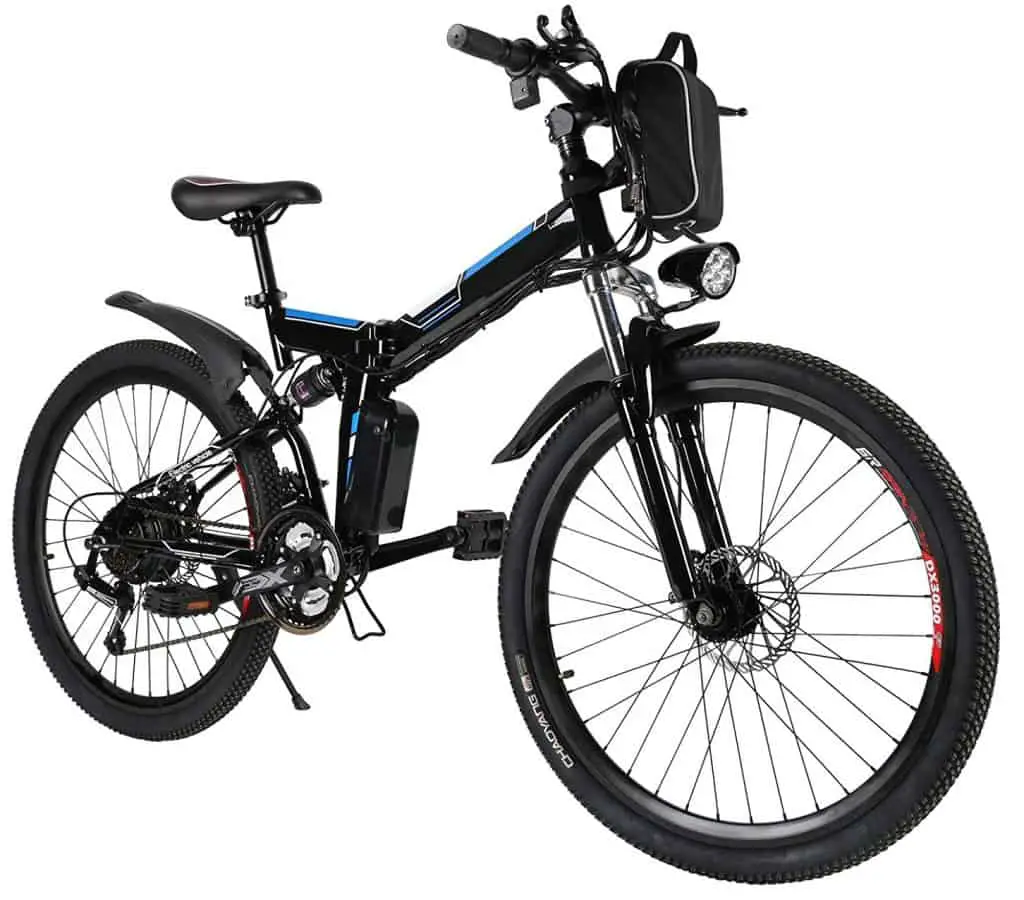 Specifications
Battery: 36 V, 8 Ah, large-capacity lithium-ion battery
Charge time: 4-6 hours
Motor: 250 W 360 V brushless motor  
Range: 15.5 miles per charge (estimate)
Bike weight: 20 kg
Max load capacity: 150 kg
Top speed: 25 km/h
Brakes: Mechanical front and rear disc brake design
Wheels: 26-inch bead spoke wheels
The Tomasar Power is a good-quality electric bike at a reasonable price. It has a sporty design featuring a sturdy frame. The tires and disc brakes are also of excellent quality.
Since it has both the throttle and paddle assist, kids can easily climb steep hills while riding on it. Thanks to the lithium battery, children can go up to 15.5 miles on e-bike mode and approximately 31 miles on assisted mode. You get a smart lithium battery charger for fast charging. The battery takes about 4-6 hours to charge fully.
This kid-friendly electric bike has a foldable design to ensure optimal convenience and ease of use. Its weight is also considerably low, making it easy to store it or carry it around during traveling.
Apart from this, the brake and motor system of this affordable e-bike is phenomenal. With a mechanical front and rear disc brake design and a 21-speed professional transmission system, it boasts excellent climbing ability.
Keeping the safety of your kids in mind, this electric bike is equipped with an LED headlamp and a horn. These features come in handy for nighttime riding.
Furthermore, the wheels of this bike are exceptionally strong and durable. They are made of aluminum alloy and wear-resistant, anti-slip tires. This material allows the Tomasar Power Electric Bike to power through all kinds of weather, be it rainy or snowy. It can also take your child on a mountain roadway safely.
Lastly, this e-bike allows you to choose from two working modes. The electric mode helps save energy, whereas the assisted mode ensures a longer ride. Switching between the two modes is simple. You only have to press the M key.
It is important to note that this electric bike may be too high for children under 14 years.
2. Monster Moto MM-E250-PR – An Electric Mini Bike for Kids
Specifications
Motor: 250 W
Charging time: 5 hours
Bike weight: 51 lbs
Top speed: Around 11 mph
Maximum weight capacity: 130 lbs
Continuous run-time: 45 minutes
The Monster Moto MM-E250-PR Electric Mini Bike is specially designed for children aged eight years and above. The frame is made of heavy-duty steel and is complemented with wide, stable tires to ensure your child's safety.
The height of this e-bike is considerably low to accommodate kids, allowing them to touch the ground with their feet to gain control or for stopping. If your child knows how to ride a pedal bike, he'll have no issues riding this one too.
This electric bike allows kids to ride at the top speed of 11 mph. However, you can always use the safety speed limiter underneath the handlebar to change it. The switch toggles between 7 and 11 mph.
In addition to this, there is a charge status indicator on the handlebar so that you can stay on top of the bike's charging schedule at all times. The battery takes five hours to charge fully.
The no-dent polypropylene fenders tell that the Monster Moto MM-E250-PR has been built to last. You can rest assured that this bike can handle the rugged outdoors. The maximum weight it can handle is 130 lbs.
While this electric bike looks and functions great for kids, one setback is that it can only run for 45 minutes continuously before you need to recharge it. Some users also report that the ignition switch tends to burn out often, so you are required to replace it. On the bright side, the warranty covers this issue.
3. Ecotric 20" New Fat Tire Electric Bike – A Folding Bike for Kids
Specifications
Battery: 36 V, 12 Ah
Motor: 36 V 500 W rear hub motor
Charging time: 5-8 hours
Battery life: 400-600 cycles
Maximum distance: up to 30 miles on hills (more on a flat surface)
Bike weight: 51.2 lbs
Weight capacity: 200 lbs
Display: Ecotric smart LED
Tires: 20" x 4.0" fat bike tires  
Brakes: Front and rear mechanical disc brakes
If you want to buy an electric bike for your kid but are worried about storage space at home, you need to check out the Ecotric 20" New Fat Tire Electric Bike. Its foldable design allows you to make it compact and fit anywhere. Moreover, its size is suitable for children.
Thanks to the powerful 500-watt motor, this e-bike will easily get your kid to their destination through rough and challenging terrain without breaking a sweat. Hence, it is ideal for commuting to and from school.
There are seven-speed options for your child to choose from. They can even climb steep hills with the 20" x 4.0" fat bike tires.
Once the battery is fully charged, the Ecotric 20" Folding Electric Bike can travel long distance smoothly. All in all, this e-bike looks beautiful and functions reasonably well on all terrains.
The only downside is that the battery takes up to 8 hours to charge. Assembly can also be challenging. Also, some users find that the plastic pedals are not as strong as they should be.
4. Razor RSF350 – An Electric Street Bike for Kids
Specifications
Battery capacity: 36 V rechargeable battery
Motor: 650 W chain-driven motor with high torque
Top speed: 17 mph
Continuous run-time: 50 minutes
Weight capacity: 170 lbs
Other features: soft rubber grips, adjustable angle riser style handlebars, folding footpegs, retractable kickstand, and a hidden storage compartment
If you're looking for a powerful electric bike for your kid, the Razor RSF350 is the answer!
This compact electric bike is ideal for kids, as it is easy to maneuver.
However, the small size doesn't mean its performance is compromised in any way. This e-bike comes with a twist-grip throttle that controls the high-torque motor.
The battery life of this bike is quite promising, which ensures that your kid will enjoy smooth, pleasant rides every time they take the bike out.
Pro tip: Always charge the battery after using the bike. It will help shorten the charging time.
The Razor RSF350 has been designed with the height and bodyweight of a 14-year-old in mind. It can carry up to 140 lbs of weight. If your child weighs more than this, you should avoid buying this e-bike for them because the extra weight can put unnecessary pressure on the torque and front ball bearings.
Furthermore, this e-bike features a Trellis frame design and street geometry with a low-profile windscreen. Additionally, it has 14-inch, 10-spoke custom mag wheels and street tires along with hand-operated rear disc brakes and rear suspension.
All these features work together to make your kid's ride as smooth, safe, and convenient as possible.
5. Razor Dirt Rocket SX500 – An Excellent Electric Bike for Kids
Specifications
Battery: 36 V lead-acid rechargeable battery
Charging time: 8 hours
Top speed: 15 mph
Weight capacity: 175 lbs
Continuous run-time: 40 minutes
The mighty Razor Dirt Rocket SX500 is inspired by the legendary Jeremy McGrath. It boasts McGrath graphics and fairing design along with genuine dirt bike frame geometry. The high-torque motor is capable of operating at variable speeds, offering a thrilling and super-charged experience to the riders.
One of the best things about this electric bike is that it ensures maximum ease of assembly. It even comes with assembly tools for installing the handlebar and front tires.
Another thing users love about this e-bike is that its seats are more extensive and the suspension is much better as compared to the Razor MX650.
The high-torque motor easily powers the bike through hills and rough, challenging terrains. Please note that riding the bike on rugged pathways has a negative impact on its battery life.
The battery lasts around 20 minutes on hills, whereas it can keep the bike alive for up to 75 minutes on flat terrain. That being said, the battery takes up to 8 hours to charge fully, which may be frustrating for some users.
In addition to the dual suspension and riser handlebars, the Razor Dirt Rocket SX500 features a retractable kickstand, large pneumatic knobby tires, and hand-operated disc brakes.
Overall, this electric bike is pretty decent and is recommended for children aged 14 years and above.
6. Emdaot 26" Electric Mountain Bike – The Ideal E-Bike for Secondary School Kids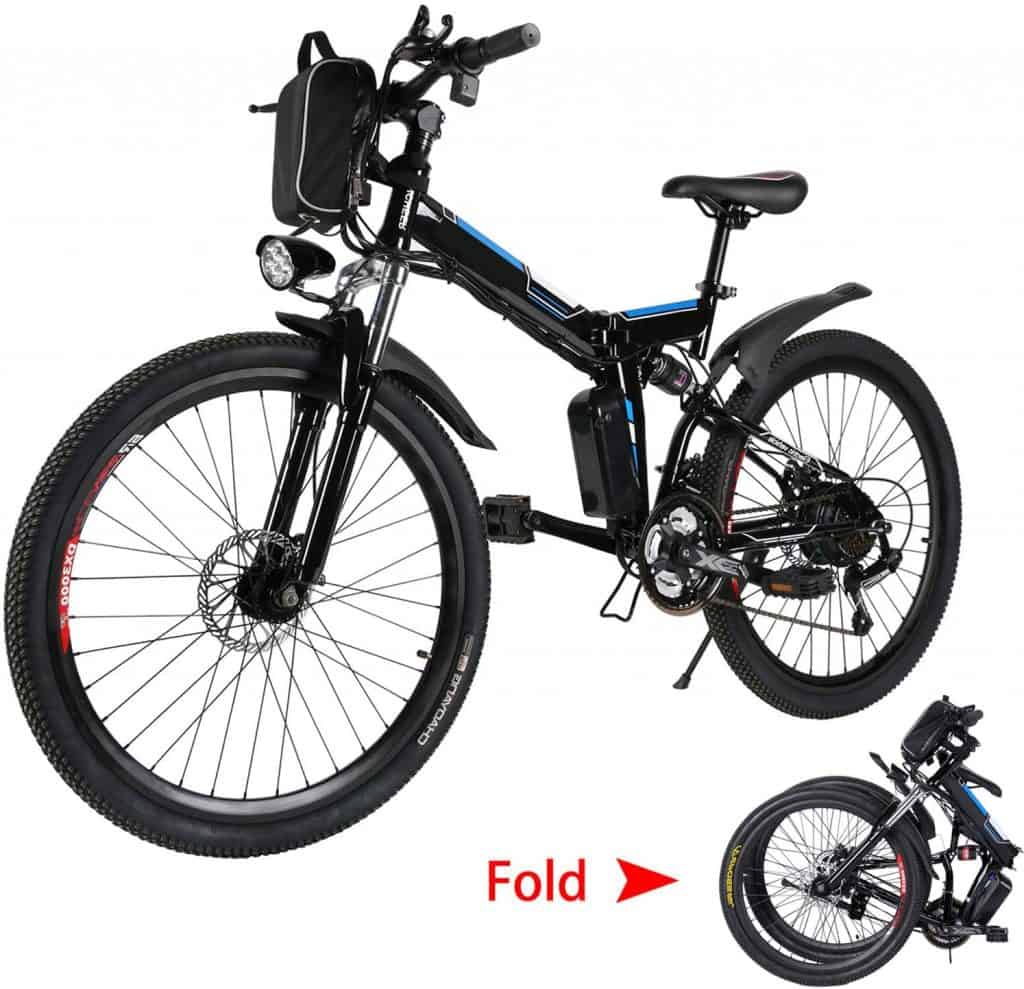 Specifications
Motor: 250 W 36 V, removable lithium-ion battery
Number of speeds: 21
Frame: Aluminum alloy
Bike weight: 20 kg
Brake style: Disc
Wheel size: 26 inches
The Emdaot Mountain Electric Bike is a highly versatile bike suitable for children aged above 13. It can ride on flat roads as well as steep hills. Moreover, its foldable design makes it easy for you to carry it around or move from one place to another.
This kid-friendly e-bike offers three working modes: 1:1 booster riding, pure human riding, and pure electric riding. It features an aluminum alloy frame for optimal durability and aesthetics.
Most importantly, the wheels and brakes of this mountain electric bike are impressive. They offer unique suspension for a smooth, enjoyable ride while ensuring you stay safe throughout.
Like the frame, the battery is also quite sturdy. However, the seat of this e-bike is a bit hard. Moreover, installation is not a DIY job. You will need professional help for accurate assembly. Kids aged below 13 years are likely to find this e-bike too high.     
The Ultimate Guide to Choosing the Best Electric Bike for Your Kids
The following are a few critical factors that you should consider when evaluating the best electric bikes for kids.
Your Requirements
The first step to choosing the perfect electric bike for your child is to determine your requirements and preferences. By now, you must have understood that different models of e-bikes are designed for different people and purposes.
Thereby, you should look for one that offers maximum comfort when riding. You can easily gauge how comfortable a bike will be by taking a close look at its frame.
If your kid wants to climb hills while riding on an electric bike, you'll have to choose one with at least a 250-watt motor.
On the other hand, if your child will be using the e-bike for commuting to and from school, you must look at the battery life of the bike while keeping the distance from your home to school in mind.   
Understanding your personal requirements will make it easy for you to focus on the e-bikes that meet your needs.
Bike's Capacity
The capacity of the electric bike is also a crucial factor to consider. Think of the bike as a long-term investment. Your kids will get bigger at some point and will need more space on the bike. Apart from that, there's a possibility that you or your kid's friends will take rides together.
If you choose a bike with greater capacity, it will last longer. The load you put on a bike affects the durability of its engine and chassis. A bike that is continuously overloaded is likely to break down faster.
Travel Distance
Once fully charged, most electric bikes can run an average of 30-40 km. Before choosing one for your kid, think about where they will usually be taking it. How much distance is it from your home to school? Do your child's friends live nearby?
Ideally, an e-bike that offers the aforementioned range is good enough for children. However, if you plan on traveling for days on the bike sometimes, you would want to pick one that can go up to 60 km per charge. A bike that charges fast will also be a steal in this case.
Warranty
Whether you plan on spending $500 or $5,000 on a kid-friendly electric bike, see it as an important investment.
Check the warranty of each model to ensure your investment will be worth it. Most e-bikes come with a 6 to 12-month warranty. However, if you are spending more than $1,500, you can expect to receive a motor and battery warranty of 18 to 24 months.
You may also like the following e-bike ideas:
So, which of the aforementioned best electric bikes for kids did you like the most? We think the Tomasar Power Electric Bike stands out from the rest!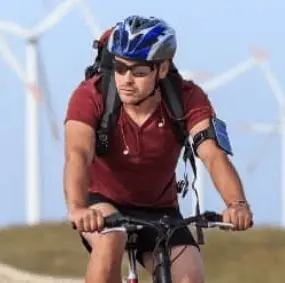 I am Michael, an avid rider and bike expert. I am here to provide, biking tips and expert advice on in-depth bike reviews covering features, capabilities, price range, and much more. Specially on electric bikes, mountain bikes, road bikes, etc. I will provide honest product reviews, along with expert advice on purchasing, training, and maintenance. Check out my complete profile.