E-bikes are enjoying mainstream success as manufacturers continue to make breakthroughs in terms of tech every year. Electric bikes combine the thrill of cycling with the power of motorcycles – simplifying daily commute.
It's an exciting time for e-bike tech as manufacturers continue to add cool new features to their offerings. 2021 is the year that sees dual-motor electric bikes becoming more widespread – and that could shake up the market, just as electric bikes first did many years ago. 
So why dual motors? Because two motors can deliver instant superbike-levels of performance. The only problem is, there aren't very many companies out there that offer dual-motor setups.
Best Dual Motor Electric Bike
We've shortlisted six dual-motor electric bikes, worthy contenders, for the title of "best dual-motor electric bike in 2021" USA. Each entry is justified with an in-depth review that you can read to make up your mind.  
1# The Super Monarch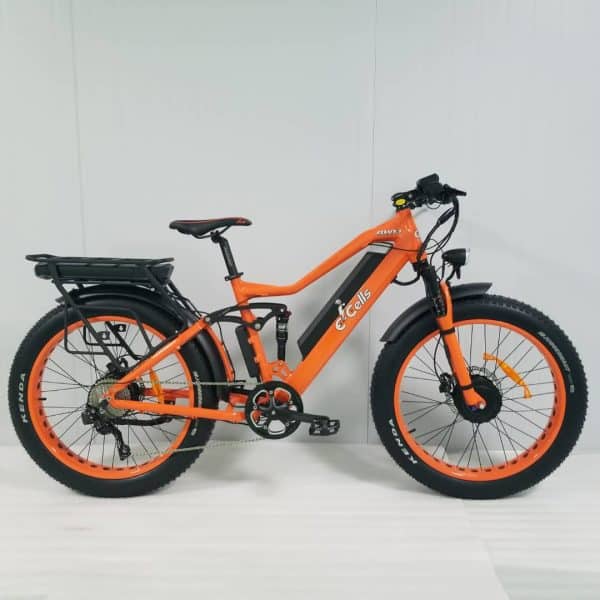 Specifications
1.5 kW of battery capacity
Dual motor
Dual suspension
Dual batteries
Dual fat tires
Cadence sensor
Weight: 90 lbs.
At a reasonable 1000 W, the Super Monarch is a powerful dual suspension electric bike that makes bike riding infinitely more fun. It is packed to the brim with dual motors, dual batteries, dual suspension, and dual fat tires. It gives you raw power that no other option on the market can match in an affordable package.
The Super Monarch can work well on and off the road. It's refreshing being able to take the bike around trails and on the streets to your favorite places.
The 1.5kWh battery means that you can take the bike anywhere in an 80 to 100-mile radius. This means you'll no longer have to bother with putting the bike in a car or truck.
You peg the throttle and ride where you want to go. The 1000 W battery ebike has a range of around 60 miles.
Interestingly, the Super Monarch comes with a factory limited 20 mph, but you can tinker around with the display settings to unlock the top speed. This will allow you to reach up to 32 mph on smooth pavement.
We want to give a fair bit of warning that you shouldn't ride at such crazy high speeds on trails where you could unexpectedly come across other hikers or bikers. So, make sure to ride responsibly.
This bike is quite heavy at 90 lbs. and can do some severe damage at high speeds. Speaking of heavy, if you want to reduce the bike's weight, you can pull out the batteries. This is especially useful if you need to lift the bike into the car or pickup truck.  
The Super Monarch packs tremendous power under the hood at 1000W. This is enough to help you climb up steep summits on pedal assist if you set it high enough.
The pedal assist does not use a torque sensor and comes with a cadence sensor instead. This means there's a bit of a lag when you first start pedaling. But the power should kick in once your pedals begin moving.
This can be a bit of a bummer if you want power right away. The Super Monarch is slightly pricey compared to the more affordable offerings, so we expected a little better.
Although considering the dual battery, dual suspension, and of course, dual motor options, the Super Monarch is right on the money.
Verdict: We believe the Super Monarch is a worthy contender for the title of Best Dual Motor Electric Bike for the years 2019, 2020, and 2021 simply because it combines user-friendliness with raw power.
Also, read, What Is A BMX Bike?
2# Ariel Rider D-Class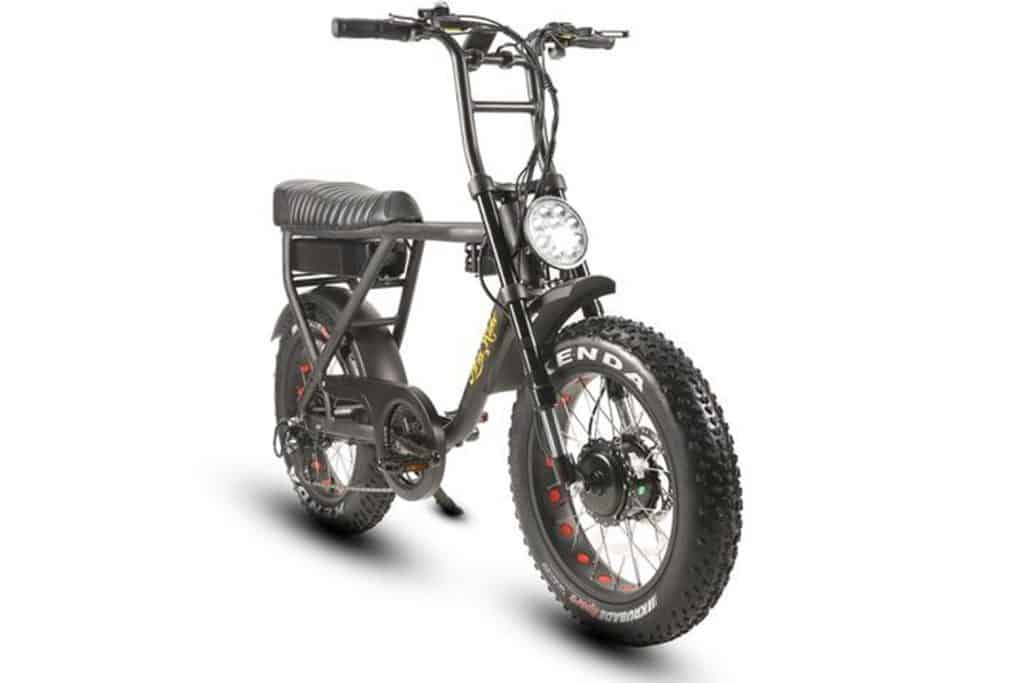 Specifications
Motor: 2X750 watt (peaking out at 1500 watts)
Range: 20 to 40 miles
Charging time: 6 hours
Battery: 48V, 18Ah with Lithium cells
Water-resistant connectors
The Ariel Rider D-Class is an unusual hybrid between electric bikes, mini-bikes, and mopeds. It flaunts a miniature bike frame, has speeds that rival electric mopeds, and pedals just like e-bikes.
But what sets this ebike apart from its competition is the sheer power thanks to dual motors. Each motor is capable of 48V at 30A, pushing the peak power off the ebike to nearly 1,500 watts.
This means if you're not careful, you could end up doing burnouts with the front tire. To maintain control over the ebike, start from rest in rear-wheel-drive mode and then flip the handlebar switch to start the front motor a few seconds later.
The Ariel Rider D-Class has a lot going under the hood other than sheer power. For starters, the front headlight is so powerful that it can be blinding if you peek too long.
The hydraulic disc brakes can bring the bike to a full stop in mere seconds. Then there's the large battery pack, which means you've got enough juice for those two beefy motors.
That being said, there are a few caveats. The suspension fork, for instance, could have been upgraded. It works, but it's not the best. It absorbs a fraction of bumps on the road/trek, leaving the rest to 4" fat tires that pick up what remains.
Interestingly, the rear footpegs feel a bit underwhelming. They look as if they've been put together in a rush. It isn't designed for heavier individuals and will buckle under pressure.
That being said, it's not good practice to put your entire weight on the rear footpeg. That's what the bench seat is for.
Speaking of which, the seat is definitely among the more comfortable varieties out there. It's soft, plush, and completely supportive. It also gives you lots of room for decent pedal movement. Furthermore, it is spaciously designed to accommodate more people.
The handling on this ebike is pretty decent, too, so long as you don't fully activate the power. Make sure to properly adapt to the bike's handling.
Use higher tire pressure on the tarmac and switch to lower pressure while on the trails. At lower pressures, those fat tires may not perform to your expectations.
Verdict: All in all, we believe the Ariel Rider D-Class is worth every penny. It's not easy finding another 33 mph electric bike with a giant battery, dual motors, and room for passengers –  all neatly packaged in an upbeat design. The power on this electric bike can take you by surprise, but you'll do fine as long as you don't floor it off the line.
Read Can You Ride an Electric Bike if Banned from Driving?
3# Eunorau FAT-AWD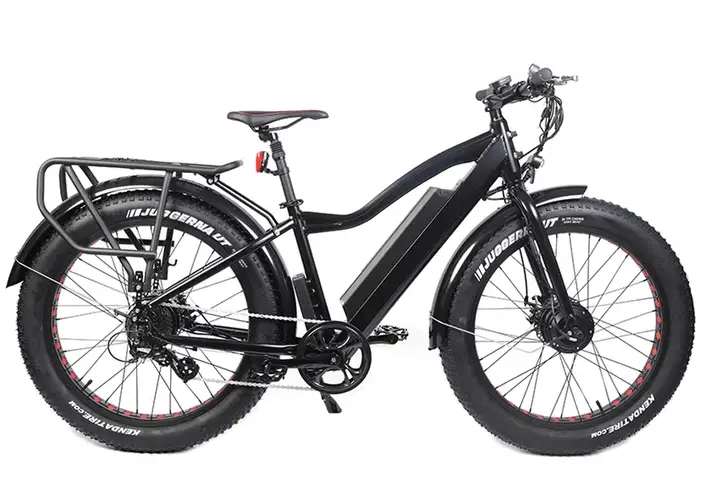 Specifications
Motor: 250 W front, 350 W rear
Max speed: 20 mph
Weight: 62 lbs.
Range: 10 miles
Battery: 40V 10Ah
Tires: 26" by 4" Kenda Juggernaut
Brakes: 160mm Mechanical Disc by Promax
Eunorau may have pushed out the best dual motor electric bike yet with their new FAT-AWD. It is designed to pummel its way, smoothly, across snowy fields, tumultuous trails, and slippery streets.
The dual motors and fat tires can handle anything and everything. With that said, the battery does get drained out relatively quickly as it struggles to power those hungry motors.  
If you don't have mountain biking skills, don't worry – you don't need any advanced skills thanks to the throttle.
The FAT AWD comes with one throttle that considerably improves your biking experience. You can put the seat low and use your legs for stability to make tight turns without worrying about crashing.
The fat tires let you access more trails because of increased traction, and the dual motors have enough power to let you climb slippery slopes.
The FAT AWD features a rack in the rear to carry must-have items with you. You also get every essential tool you need right out of the gate – including front and rear lights to illuminate the path.
We really appreciated the powerful mechanical disc brakes on a heavy bike like this. The FAT-AWD has a 7 speed Shimano Altus derailleur with a trigger indexer on the front.
You can comfortably ride with the bike in low gear without much resistance, only using them to engage the electric system to add just a tiny bit more torque to each tire.
It comes packed with 12 magnet cadence pedal assist that most riders will find useful if they have leg stress considerations.
Verdict: You could make a case for the FAT-AWD to be an engineering marvel (although it doesn't win much in terms of style and design). It is the perfect all-out winder dual motor electric bike. Can you find a better-equipped bike for active snowing conditions? 
4# Easy Motion Evo Snow 29″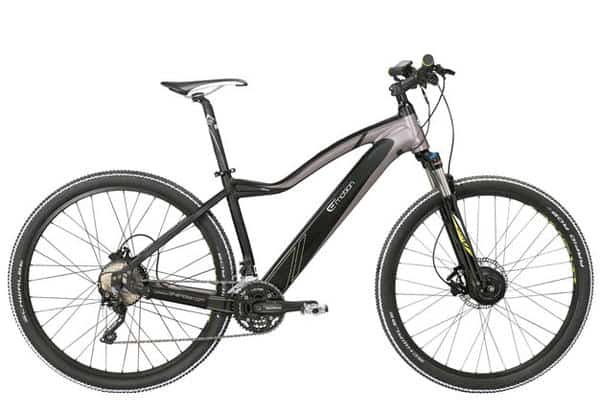 Specifications
Motor: Dapu
Weight: 58 lbs.
Battery: 36 volts, 11.5 ah, 417.6 wh
Charge time: 5 hours
Brake: 180 mm front rotor and 160 mm rear rotor
Motor: 548 watts
Torque: 37 Nm
Easy Motion Ebikes is known for its dual-motor ebikes that serve a range of different purposes. The Easy Motion Evo Snow 29" stood out as a great fit for off-roading adventures as well as commuting on regular streets.
It features large 29" x 2.25" tires that can take care of rough terrain and help smooth out the ride considerably. The front motor is rated at 250 watts and the rear motor is rated at 350 watts, both are powered by a 432 Wh battery.
Note: You can upgrade to the Easy Motion Evo Big Bud Pro, a fat bike built on the same front and rear motors. It comes with larger tires and a more capable battery pack.
As opposed to the Evo snow, which is a great fit for both on and off-road biking, the Evo Big Bud Pro is suitable for off-roading terrains. This is the bike you'll want to bring with you to speed past tricky terrain.
One concern with both bikes is the added weight of a front hub motor that could impact steering. In practice, the motor is properly placed in its position so it doesn't affect steering.
In heavier situations, such as when you take the bike on an uphill climb, the motor will start to vibrate and you'll hear it complain. In many ways, this is a good thing because you can feel the added speed and control.
Additionally, you can remove the battery pack at the cost of having to deal with an extra little dongle attachment since the plug interfaces are different.
It is worth mentioning that the plug and key ports on the left side of the battery are in the path of the crank arm, which can become problematic if you're moving the bike backward while charging the battery.
You could end up breaking the charging plug and the kickstand. This is potentially dangerous, so be careful.
Verdict: If you plan on driving slippery terrain frequently, then you'll want to choose the Motion Evo.
5# Christini AWD Fat-E 5 Ultra Max 2XL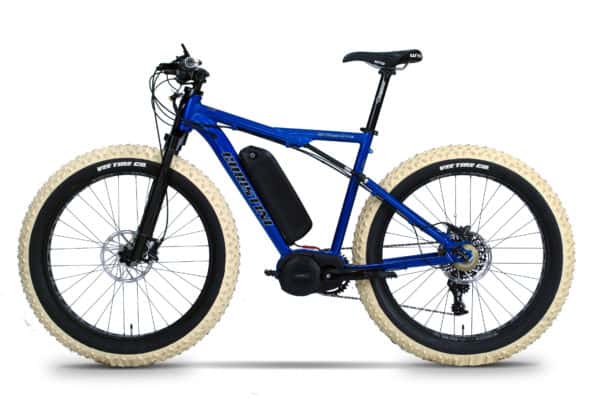 Specifications
Motor: Bafang Ultra Drive 1500w
Torque: 160 Nm
Tires: Vee Snow Show 2XL
Weight: 68 lbs.
Over the years, Christini has made a name for itself as an all-wheel-drive specialist and is now expanding into ebikes. Their latest iteration is the Ultra Max 2XL with its new twist on the AWD concept.
The motor system on this bike uses the Bafang Ultra Drive 1500 watts, a motor with a powerful 160 Nm torque, and the potential to hit a staggering 2000 watts with a bit of tuning. This is significantly more than what most competitors offer, and is actually higher than a Fiat 500!
Despite all that power under the hooked, the Ultra Max 2XL is still very much a conventional electric bike that requires you to pedal it with the motors rathe than relying solely on the throttle.
The build for this model comes with the same components as you would find on a regular 1 wheel drive bike, from the Raceface cockpit to the 11 speed SRAM drivetrain.
Upon driving the AWD, you'll notice that the front wheel doesn't just drift randomly, but manages to track extremely well in the snow. This feature can be a game-changer in icy and deep snow conditions. 
Christini bikes build their entire AWD system from scratch. Based on the customer's choice, the gears for both front and rear hubs can be made out of aluminum or steel.
For those wondering, steel is more durable in terms of strength. If you prefer to traverse the snow, then steel is the only way to go.
Pro tip: Make sure to opt for the 5-inch tire version called the Vee Rubber Snow Shoe 2XL, which some experts argue is the best snow tire currently in the market.
Our only regret with these bikes is that they take an incredibly long time to build. Expect several weeks from the time you place the order until when you get your e-bike delivered.
Verdict: If you're a fan of customization and want more control in how your AWD bike performs, go with the AWD Fat-E 5 Ultra Max 2XL.
6# Evo Big Bud Pro – AWD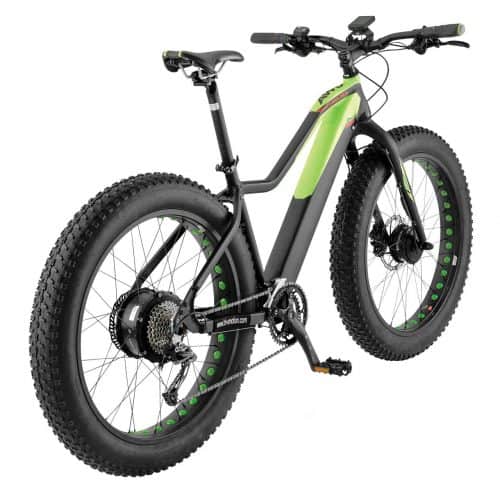 Specification
Motor: 700-watt peak (350W rear and 250W front)
Motor torque: 37 Nm
Battery: 48V, 12.6Ah, 604.8 wh by Samsung
Charge time: 5.5 hours
Estimated range: 30-70 miles
Weight: 65 lbs.
The Evo Big Bug Pro is another entry by Easy Motion that made it this list because it truly delivers the definitive all-wheel electric drive experience like no other. You can opt for the rear motor, front motor, or dual motors (for an AWD experience).
This is an excellent ebike that can be used in snowy conditions. Easy motion sells an optional Neoprene cover that insulates the battery from the cold so it can last longer.
The robust 16-speed drivetrain works independently from the motor and you can switch gears without encountering any strain. More importantly, the 180/160 mm hydraulic disc brakes can bring the ebike to a complete stop when pulled.
The Evo Big Bud Pro features Dapu planetary geared hub motors, with the front rated at 250 watts and the rear rated at 350 watts. The combination is more than enough to help you get over steep hills.
The actual benefit of these hub motors is that they make efficient use of battery power and reduce the total weight of the bike (especially on the front wheel that could otherwise impact steering). 
Powering the two motors is a capable 48V 12.6Ah battery that can provide 600 watt-hours of capacity. This is larger than what most competitors offer and can make all the difference when you're pushing through the snow. 
In many ways, the ebikes feels very smooth and powerful while being stealthy. You can easily climb on steep hills as the front motor allows the front tire to gain traction instead of pulling you in the forward direction. You will appreciate the balanced distribution of weight.
There are a few caveats to this ebike, including the fairly annoying charge interface (you have to use a dongle to recharge the battery when it's not on the bike) and the lack of a viable kickstand mount.
In terms of functionality, this ebike is easy to use and requires fewer steps than some other options in the market. All you have to do is charge and mount the battery, and hold the center button. This will turn the display on and show battery level, speed, and assist level.
Verdict: You'll be surprised just how well this bike works. It may be slightly heavy at 65 lbs., but the extra gears to pedal with more than makes up for it if you encounter trouble.
You may also like:
It's a Wrap!
So there you have it, our list of the 6 best dual motor electric bikes on the market. As we mentioned earlier, there aren't many companies that offer these products. If you agree with our list, let us know in the comments below.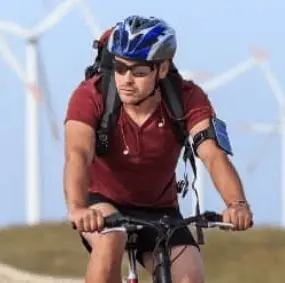 I am Michael, an avid rider and bike expert. I am here to provide, biking tips and expert advice on in-depth bike reviews covering features, capabilities, price range, and much more. Specially on electric bikes, mountain bikes, road bikes, etc. I will provide honest product reviews, along with expert advice on purchasing, training, and maintenance. Check out my complete profile.