Riding a mountain bike can be one of the best ways you can get around. Many people today are leaving their cars and heavy vehicles and shifting to lighter, much cheaper options to move.
One of these options is riding bikes. Bikes have been around for a very long time, and they offer various options to people today. People use bikes for commuting, for fitness, and even as an adventure sport.
Manufacturers saw this gap and the market and decided to manufacture bikes for different demographics. This realization is the reason behind the plethora of bikes like road bikes, BMX bikes, and even mountain bikes. In all of these bikes, a consistent factor that riders like to look into is speed.
How fast can all of these bikes go? While road bikes are more suited for the average rider, BMX and mountain bikes are for special aficionados who love thrilling adventures.
In biking, the thrill doesn't come without speed, which is why most mountain bikers need to know how fast a mountain bike can go. In this article, we will look at the speed of a mountain bike and the aspects that can make it go faster.
What Is a Mountain Bike?
A mountain bike or a mountain bicycle is a bicycle meant for off-roading. They share some similarities with other bicycles in the way that they have similar mechanisms to other bikes.
However, mountain bikes have a relatively different make since they use reinforced material. They are heavier due to the reinforced material, and they have to be reinforced.
Off-roading involves some rough terrain, and to scale this territory, the bikes have to be strong.
These bikes have a light sturdy frame, broad deep-treaded tires, and multiple gears so you can have better control over the bike when you're riding it.
Mountain bikes can be expensive because they have to be of very high quality. The greater the quality of the bikes, the more sure you are of their performance on rough territory.
Check out, Best Mountain Bikes for Women
How Fast Can a Mountain Bike go?
Since you're supposed to drive mountain bikes on a mountain or rough terrain, their speed isn't usually that great. They don't go too fast as there are significant hurdles to their speed given their environment and mechanisms.
In mountain bikes, the average speed is roughly 10 mph. This may not seem like a lot, and it isn't. However, this is one of the safest speeds you can take going uphill.
The speed going downhill is also much faster, allowing mountain bikes to reach speeds like 30 mph.
The most significant thing to note is that the speed of your mountain bike largely depends on you and how much power you can apply to it. If you're in great shape and have a great practice, you can likely ride up to 15-20 mph.
If you have a motor assist or pedal-assist option on your mountain bike, you'll be able to saunter and bike at faster speeds. The motor provides assistance for you to react more easily, and thus, these electric motorbikes can give a faster average speed than others.
If you're hitting 17 mph without any pedal assists or motor assist features, it's considered a good speed in terms of mountain bikes. If you're on a difficult trail, anywhere between 10 and 14 mph is considered a pretty good speed.
Also, read, What Mountain Bike Brands are the Best?
What Makes Mountain Bikes Slow?
If you're someone who's ridden on normal road bikes for most of your life, you'll be surprised to know that mountain bikes are slower than regular road bikes.
It makes sense when you think of how they're made from reinforced material, and it makes them heavier. The heaviness and weight are bound to slow down your bike.
Weight is indeed a significant factor in these situations; however, that's not the only reason mountain bikes are slow. It's one of the many reasons that mountain bikes are slow.
The following are forces that slow you down when you're riding a mountain bike:
Gravity
Aerodynamics
Tire rolling resistance.
The gravity and weight go hand in hand. The heavyweight of the bikes is because of gravity. However, a factor people don't regularly discuss is aerodynamics.
Mountain bikes have wide handlebars and are high-up front, this creates a larger frontal area against the wind when you're riding.
The frontal area is the one that receives the most air pressure or wind resistance. If the frontal area is larger, your bike is likely to feel the effects of air resistance.  This resistance becomes a problem, especially when you're riding at higher speeds.
The frontal area for a mountain bike is 0.6 m2 on average, whereas the area for a road bike is only 0.4 m2. It may seem like a small area; however, it can create a difference of approximately 3 mph.
There's also the factor of the rolling resistance in the bike. Unlike aerodynamics, the rolling resistance is the same regardless of the bike's speed. Rolling resistance is dependent on the weight, riding terrain, and the tire itself.
Mountain bike tires tend to be hard as they have to traverse on rough terrain. They are wide and have a hard pattern. These major differences create a higher resisting rolling force and thus slow down the bike.
Talking about weight, the average mountain bike is about 12 kgs, and the weight only has an effect if the road grade is greater than 0%. If we compare a road bike and a mountain bike, the terrain is a specific factor to look into.
Mountain bikes can be 15% slower than road bikes on flat terrain since this is where road bikes excel.
However, when a mountain bike is on a mountain or has an elevated gradient, it can be slower than 12%. So, the terrain affects the speed immensely.
Furthermore, mountain bike tires also hit a lot of sharp edges on the trail. So, to prevent damaging the rim and getting a punctured tire, riders lower the psi.
The lower psi helps will grip and absorbing the impact. Using a lower psi can cause most mountain bikers to drive slower on the road.
Read Best Cheap Mountain Bikes Under 300$
How Can You Make Mountain Bikes Faster on the Road
Many people are looking to switch their regular mountain bike up to a bike which they can drive more easily on the road.
Mountain bikes are particularly difficult to handle on the road, especially if you don't ride them often. If you're looking to get into biking again and torn since you only have a mountain bike, we can list some changes you can make to your mountain bike to make it go faster.
You can make small fixes that transform the way you bike and look at your mountain bike.
1. Tires
The first thing you can do is change the tires. Part of the reason you find it so difficult to gain traction on the road is that mountain bikes have very wide and heavy tires.
Getting thinner tires will reduce the rolling resistance and make the bike lighter. You should also ensure your bikes are slick and don't have any knobs. You can roll faster using this and increase as well as maintain your momentum.
You should also increase the pressure of your tires so you can travel more easily and get where you must.
2. Suspension
Suspensions are necessary for a mountain bike as you must ride over rocks and roots. The suspensions help absorb the shock from unruly terrain on the mountains.
However, when riding on a straight road, you don't need to do that anymore. You can remove the suspensions from your mountain bike and observe as your bike goes faster.
The reason behind this is that the front and back suspension absorb your biking power when you're simply riding on the road. Since the suspensions are absorbing the power, it's not transferred to the road, and you can't go faster.
If you don't want to remove your suspension completely, you can simply lock it out or set it to stiff and rigid. This way, you won't lose any pedal power to shocks absorbing it. Since the pavement is flat and smooth, you don't have to worry about the suspensions absorbing any shock.
Check out, Replacing Mountain Bike Tires
3. Pedals
This is more for comfort, but mountain bikes generally have flat pedals. You can switch from flat pedals to clipless pedals.
This way, when you push down, you can pull up to complete a full rotation. You can provide force during the entire pedal stroke and get more control and speed.
4. Handlebars
Handlebars may not seem like a big deal to everyone. However, bikers know that every part of the bike design alters the speed of the vehicle.
If you want the aerodynamics of your bike to support speed,  you can switch to more narrow handlebars. You should also set your handlebars to the lowest height possible so you can tuck your body in a more aerodynamic position.
You can crouch down, so your shoulders and head are less prone to disturbing the wind resistance. You can thus go faster.
Check out, 27.5 Mountain Bike vs. 29 Inch Mountain Bike
5. Fork
All mountain bikes have specialized forks. Instead of using one designated for a mountain bike, you should use a rigid fork. The forks are present so they can absorb some of the shocks faced by trail riders.
You don't need this on the pavement since there are no intense shocks that you need to weather. You will lose speed with travel due to the bouncing.
If you're someone who stands on the pedals for speed, you'll face even more of a disappointment. A rigid fork will keep you pedaling forward, and you can overcome the speed.
6. Chainring
Chainrings in bikes are the parts with the teeth sets over which the chain passes. These can wear out over time, but they're available to purchase individually.
A mountain bike has multiple chainrings at a time. If you have three, you can switch to one. This move will reduce the weight of your mountain bike overall, and you'll be able to move much faster.
Each chainring is roughly 300 grams, and reducing two can help you lose over half a kilogram. It makes quite a difference when you're biking on the road.
Read Mountain Bike vs Gravel Bike: What's the difference?
Benefits of Commuting on a Mountain Bike
We've understood that the mountain bikes are slow on the road and also on mountains. However, does the heavier set of equipment on the mountain bike make it better for commuting, and are there are benefits to commuting on a bike?
Certainly, there are. We have listed some of these benefits below.
They're more comfortable and safe than road bikes.
You can ride them anywhere. You won't have any worries going through ascents, parks, or even rough roads.
They offer more grip and have wider knobby tires. The grip helps you have more control over your bike, allowing you to weave in and out of traffic. You can also bike through bad weather conditions like snow and rain.
Cities can have bad roads as well. It's not uncommon for roads to have potholes or bad weathering. Here, mountain bikes are better than road bikes as they provide less rolling resistance.
Even though mountain bikes are slower, you will find a better alternative that you can ride through. You don't have to follow any single bike path.
Final Thoughts
Mountain bikes aren't the fastest bikes out there. At their speediest, they go up to 30 mph. However, this is a good thing since mountain bikes are ridden on hard terrain. In this terrain, there's a greater chance of accidents. If you add speed to that, the results can be more drastic.
Hence, people should maintain a slower speed. However, if you want to take your MTB out for a ride in town on the road, you can make a few small changes in the mechanism, and you'll be good to go.
There are many benefits to using mountain bikes for commute even without any adjustments like you'll have more control over your bike.
You may like the following mountain bike articles: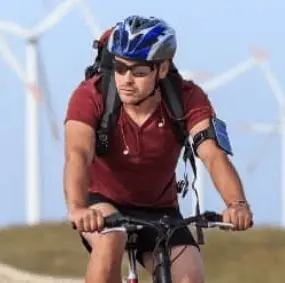 I am Michael, an avid rider and bike expert. I am here to provide, biking tips and expert advice on in-depth bike reviews covering features, capabilities, price range, and much more. Specially on electric bikes, mountain bikes, road bikes, etc. I will provide honest product reviews, along with expert advice on purchasing, training, and maintenance. Check out my complete profile.