When it comes to transportation, electric vehicles are taking over slowly but surely. From EVs to electric bikes, many options are available for a more environmentally sustainable and eco-friendly commute. One off-shoot from the same tree is electric mountain bikes or eMTBs.
The basic difference between an electric and regular bike is that of a motor. While a regular bike only uses kinetic energy from your pedaling to move ahead, an electric bike has motorized assistance that, combined with your pedaling, helps it move faster.
This is why, instead of buying a car – more people are getting an electric bike to commute to work or college.
However, biking is not just about getting to one place from another. Many people love to bike off-road and on rugged terrains as a sport or hobby, and this is known as mountain biking.
If you are reading this, you probably are one of those people or are trying to get a present for a loved one who loves mountain biking.
Whatever the case, we have curated this short guide to help you choose the best electric mountain bike per your needs and preferences.
There are several options available in the market, and if you are switching to an eMTB from an MTB – the decision-making process can be hard. So, without further ado – let's dive right into it.
What are the different types of eMTBs?
Before you decide on an electric motorbike, you obviously need to know what are the different types. Classic mountain bikes were usually classified on the basis of factors like their travel and perceived efficiency.
However, when it comes to eMTBs, their motorized nature characterizes them much more than individual factors like their weight and travel. They cannot be classified on the basis of the components fitted into them, as every electric mountain bike is different.
According to experts and eMTB enthusiasts – there are three main types of electric mountain bikes:
As the name suggests, power eMTBs have the most powerful motors and help you push through on steep climbs. They are designed so as to not slow down on an uphill trail and are often equipped with the TQ motor.
With this motor, you can get a maximum torque output of 120 Nm. These electric mountain bikes may weigh more than or up to 25 kg, and their powerful motors can drain the battery super quickly if you use them in the highest mode.
As the name suggests – these are the mid-tier options designed to take you either on a rugged ride or a smoother off-road track. They come with large 500-700 W batteries, and quite a few manufactures are giving a dual-battery option in this tier.
All-rounder eMTBs offer a very natural feel to the ride and can be super powerful or lower assistance, depending on your budget.
Finally, light electric mountain bikes are specifically designed for casual use. This tier often blurs the line between analog mountain bikes and electric ones as they are a perfect substitute for classic non-motorized bikes.
They are lightweight, easy to pick up, and chuck in the back of your van. They are ideal for light off-road biking with your friends.
How each works and which one is best suited for you will largely depend on your need and where you will be using it.
However, before we get into suggestions based on an eMTB's application – let us look at a few more important characteristics that you should be aware of when choosing an electric mountain bike.
Check out, Do Electric Bikes Save You Money?
What are the essential factors to consider?
1- Motor Placement
Some models of eMTBs have a motor fitted on the rear wheel, but the most sensible placement is in the middle. This is mainly because electric motorbikes are designed for rough terrains and steeper climbs, and with the motor in the middle, weight is evenly distributed.
It gives the eMTB a low center of gravity, and you will find most eMTBs with mid-motor placement.
2- Hardtail or Full Suspension?
Another important design characteristic of an electric motorbike is its suspension. Contrary to full suspension eMTBs, hardtails have no suspension on the back.
If you are riding an eMTB – you should always go for a full-suspension bike because it is safer and simply more sensible.
The only time a hardtail in eMTB makes sense is if you have to bike on super well-maintained roads or in the city. There is no denying that they are also a cheaper option and require lesser maintenance.
Check out, How to Clean an Electric Bike
3- Travel in an eMTB
More travel is usually a better feature in an electric mountain bike as bikes with lesser travel do not have much range and do not climb better either. With the correct geometry, you will enjoy riding a bike with at least 130 mm travel.
You will also have more traction on climbs. Experts recommend a 130-170 mm travel perfect for all-round use. 170 mm is best suited for the roughest of terrains but try to get an electric bike that falls anywhere between that range.
4- Cost and Maintenance
As is the case with any major purchase decision – you obviously need to consider the total cost you will incur for an electric mountain bike. If you decide to go for high-quality, full-suspension eMTB – be ready to spend about $5000 – $7000.
However, it can go much higher up depending on the manufacturer, features, and build. This does not mean that cheaper options are not available, but you may have to compromise on the performance, components, motor, or frame.
Check out, Self Charging Electric Bikes
5- Range of an eMTB
The final most important factor to look into is the range of an eMTB. It is highly dependent on a number of factors, such as the selected assistance mode and battery capacity.
Elevation of the route you will be riding on as well as your own weight also makes a difference. So, making a blanket statement about the 'ideal range' is not possible.
It can vary between 10 km to 100 km, with the former being in the highest mode, only going uphill while the latter having moderate assistance and casual riding.
Read Best 750 Watt Electric Bike – Four Options to Pick
How to choose an eMTB depending on your needs
Now that you are fairly acquainted with some of the basic features and characteristics to look for in an electric mountain bike, it is time to narrow it down.
Given the variety of options available, there is an eMTB out there for everyone. The real question is, what will you be using one for?
Are you into extreme sports or just want to go on trail adventures sometimes? Are you buying one for a daily commute or relaxed off-road tracking? The answer to these questions will help you narrow down on the eMTB which is best suited for you.
1. Riding mainly on gravel roads – completely relaxed route
If your aim is to have a relaxed countryside bike ride in a well-maintained forest or gravel track – you should be aiming for ride comfort. In this case, you should choose a full-suspension bike.
You will also need an upright riding position and great quality contact points to eliminate the risks of back pain. If you are planning to do long routes, then considering an option with dual batteries is also a good idea.
Modern step-through electric bikes are also a good option to consider if you want to go for light off-road trekking. They offer a new perspective on mountain biking, and riding without a top tube is a lot of fun.
They also come for a wide variety of applications, from sportier models to luggage bikes for extended tours.
Read How Fast Does a 1000W Electric Bike Go?
2. Riding off-road – trail adventures and single tracking
If you have more of an adventurous soul and love to ride up and down a single track, then you are looking for a sturdier option.
Improving your riding technique or riding on the alps will require a capable suspension and travel of at least 140 mm.
You should look for a bike with balanced geometry and sturdy componentry. Enduro bikes make for a great choice in this case.
3. Riding for extreme sport bike parks, steep climbs
Clearly, an electric mountain bike designed for clear terrain will not live up to extreme sports trails. If you plan to ride the roughest or steepest trails, you will need a bike to sustain the challenge.
There are eMTBs made specifically for this purpose. You should look for electric mountain bikes with extreme geometry and very long travel suspensions. 
Check out, Best electric bike for long distance touring
4. Riding for the commute – in place of cars
Now, it is very much possible that you are only looking for an eMTB that can take you from your home to work or college. You may take it off-road on the weekends to enjoy an off-road ride once in a while, but nothing too wild.
In this case, you should go for a low-maintenance eMTB which has sturdy mudguards fitted to the back along with racks and lights.
These features will make maneuvering your way through the city traffic easier and give you space to keep your backpack and other essentials.
You do not have to worry too much about the suspension and componentry on this one, as you will not be putting it on rough and rugged terrains.
However, even though a hardtail will do in this scenario – experts still recommend a full-suspension model for more comfort. You should also check for the maximum permissible weight of the bike before buying it, given you will be carrying things on it.
We would also like to add here that eMTBs are becoming a status symbol for urban use. This has given rise to SUV eMTBs as a trend. So, you may want to look into those if you have both the money and desire.
Read Best Electric Mountain Bikes Under $4000
5. Riding for casual fun – choosing an eMTB for a child
Finally, there are eMTBs designed for kids, and contrary to popular belief – they have many advantages over adult electric mountain bikes. You may already be able to guess that they are much lighter in weight.
What's more, is that they also often come with particular components such as optimized brake levers and short cranks. These can be ideal for casual riding.
However, you should also expect a less powerful motor and smaller battery when it comes to kid eMTBs.
You may like the following electric bike articles:
The Bottom Line
Choosing an electric mountain bike, given the variety of options in this day and age, can be challenging. If you are new to the game or are simply looking forward to switching from your analog mountain bike – we hope this guide helps you understand the background and features to look for in an eMTB.
Remember, there is an electric mountain bike for everyone – but you should be very clear in your application, need, and purpose for this bike. If you have that sorted, narrowing it down to the right category and type will be super easy for you.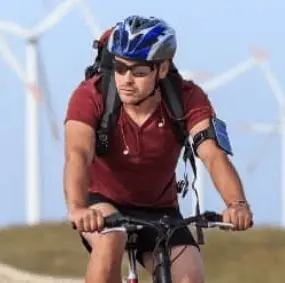 I am Michael, an avid rider and bike expert. I am here to provide, biking tips and expert advice on in-depth bike reviews covering features, capabilities, price range, and much more. Specially on electric bikes, mountain bikes, road bikes, etc. I will provide honest product reviews, along with expert advice on purchasing, training, and maintenance. Check out my complete profile.