Welcome to BikeLovy
Home to all Bike Enthusiasts!
Designed exclusively for bike enthusiasts, BikeLovy.com is the knowledge hub and bike reviews center for riders worldwide. Started by Michael, an avid rider and bikes expert, BikeLovy is the authority on bikes and biking gear of all kinds. From recommendations on the latest trends to biking tips and expert advice on purchasing and caring for your gear, this platform has everything you're looking for.
What Bike Enthusiasts Can Do On BikeLovy
Enjoy in-depth bike reviews covering features, capabilities, price range, and much more
Learn everything about the latest models and biking trends
Check out and learn about the best bikes in the market 
Find the perfect bike that matches your riding style, needs, and budget
Explore different kinds of bikes – you'll be surprised by how many kinds of bikes there are!
Learn all about different bike tires and batteries
Discover amazing biking tips and tricks on keeping your bike in tip-top condition
Learn about various bike problems and how to fix them
Feed your passion for biking
Ask away any questions or clear out concerns regarding bikes or biking gear
Request comprehensive bike reviews for any bike of your choice
Browse through hundreds of biking articles to learn everything about bikes!
Why BikeLovey Was Created
With different bikes and numerous choices in the market, picking the right bike can be a challenge. Therefore, BikeLovy provides hundreds of honest product reviews, along with expert advice on purchasing, training, and maintenance. The goal is to help you find the perfect bike that matches your personal needs, health goals, and unique styles and make the most of your biking journeys.
You Need a Bike in Your Life!
Did you know that riding a bike for 20 minutes every day can help you achieve WHO's recommended physical activity level, which is 150 minutes? Regular cycling can improve the overall quality of life. It not only keeps you fit and active but can also help you relax and unwind.
Apart from personal benefits, riding a bike instead of cars or other fuel-based vehicles can also help you reduce your carbon footprint in the environment. So, what are you waiting for? Pull out that bike from the garage and take it out for a spin to refresh your mind and revitalize your body!
If you don't have a bike, here are the different types of bikes that can help you get started. BikeLovy provides accurate and authoritative information about all kinds of bikes, including the following:
Electric Bikes: Our all-time favorite, an electric bike features a rechargeable battery and motor that kicks in to assist with or replace pedaling. It's all about convenience – ideal for the daily commute and even off-road trips.
Mountain Bikes: Perfect for riding on narrow trails, mountain bikes are rugged machines for off-road adventurers. With wide tires and flat handlebars, mountain bikes are super versatile, comfy, and will take you a long way.
Road Bikes: Go old school with road bikes! Designed to take you as far as your legs can manage, road bikes are classics with thin tires, drop handlebars, and a sleek structure. They go fast and smooth on flat pavements – the ultimate choice for passionate riders. 
Hybrid Bikes: With large padded seats and an upright handlebar, hybrid bikes combine the ease of road bikes with mountain bikes' comfort and versatility. If you want the best of both worlds, consider a hybrid bike.
Cruiser Bikes: Closely related to hybrids, cruiser bicycles are designed for casual riding on flat terrain. They often come with wide "balloon" tires and offer a very comfortable, upright riding position.
Commuter Bikes: Also known as urban or city bikes, commuter bikes are designed for the daily commute and running errands. These bikes are not restricted to one specific bike type. Any bike suitable for your day to day jobs can pass as a commuter.
Fitness Bikes: Fitness bikes offer the advantages of regular road bikes and more. With relatively narrow tires and a flat handlebar, these bikes offer a fun and efficient way of staying in shape and shedding those extra pounds – the perfect choice for all health-conscious riders out there.
A Note from Michael
A true bike lover at heart, Michael is on a mission to get as many people as possible to include riding into their daily routine and adopt a healthier, greener lifestyle.
Let's hear it in his own words.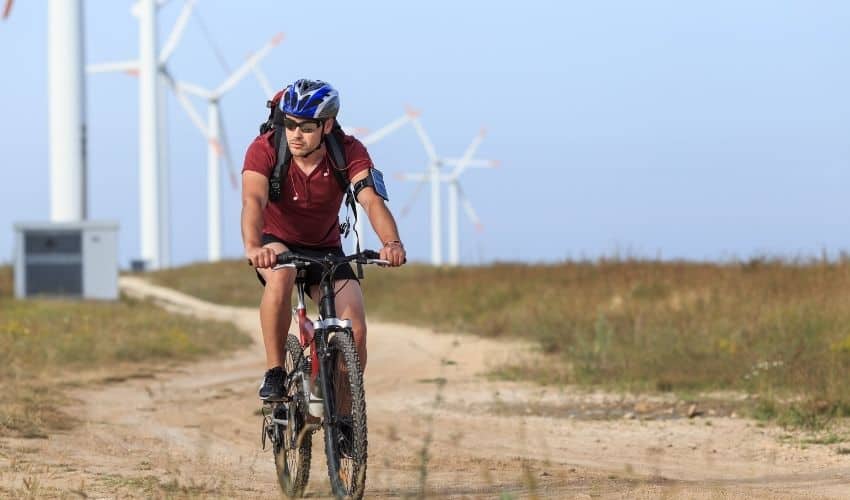 "Bike riding has always been an important part of my life. As a kid, my first bike served as a ticket to the world beyond the front lawn. It represented fun and the freedom to explore.
Today, as an adult, I still hold the same views about bikes. I can vouch that riding a bike is something one can never outgrow because nothing beats the simple joy of riding a bike!
Plus, with new and innovative bikes coming out every other day, the ever-evolving bike industry always has something new and exciting to try and explore. As a bike enthusiast and an avid rider, I wish to share my experience, knowledge, and biking tips accumulated over the years with you.
I have created BikeLovy to inspire people to take up biking and embrace a healthier and eco-friendly lifestyle. I hope you will find everything you need to know about bikes and biking gear on BikeLovy.
Keep Riding. Keep Living!"
With BikeLovy, delve into the exciting world of biking!
Whether you want to ask a question, request a bike review, or simply learn more about BikeLovy, reach out today.