Are you looking for the best fat tire electric bikes in the market in USA? You've come to the right place! 
Electric bikes are great for cruising around town, running errands, and daily commute. They are fun, convenient, reliable, and durable. However, if you are an e-bike enthusiast looking for some off-road adventure, then a standard electric bike may not do. Instead, what you need is a fat tire electric bike.
What are the best fat tire electric bikes? Here are the top 5 best Fat Tire Electric Bikes: 1. RadRover 5 2. Addmotor Montan M-140 R7 3. NAKTO Fat Tire Electric Bicycle 26″ Cruiser 4. E-Bike Generation Rungu Dualie XR Trail Edition and 5. Ancheer 26" Fat Tire E-Bike.
Fat tire electric bikes are designed to traverse terrains where your ordinary e-bike might struggle. As the name suggests, these bikes have larger tires that are usually about 4-inches wide. The tire size is everything. Wider tires mean a larger contact surface between the ground and your tires.
This translates into better grip and smoother ride – perfect for all kinds of fun outdoors! You can ride on the sand at the beach or travel on snow during the winters.
The fat-tire bikes are also a safer option for riding on wet surfaces or through the mud. Where ever you go, your fat tire electric bike will be the perfect companion!
Best Fat Tire Electric Bikes: Top 5 Picks
Let's take a look at some of the best fat tire electric bikes that money can buy. Like all e-bikes, a fat tire electric bike is a worthwhile investment. All the e-bikes discussed below will serve you for years to come!
1. RadRover 5 – Editor's Choice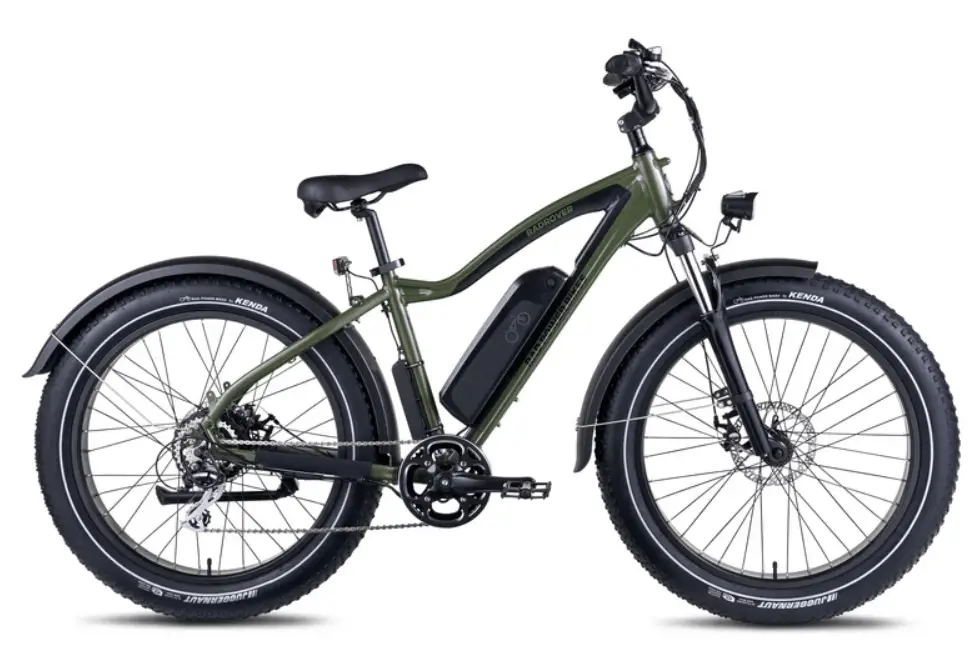 Specifications
Battery: 48V, 14 Ah (672 Wh) Lithium NMC Samsung cells
Charger: Rad Power Bikes smart charger, 48V, 2 Amp
Motor: 750W Bafang geared hub motor (brushless)
Display: Backlit LCD 
Range: 45+ miles per charge (estimate)
Max load capacity: 275lbs
Frame: 18 inch 
Tire: 4" Puncture resistant with Kenda K-Shield integrated tire liner
RadRover 5 is called the "Go Anywhere, Do Anything E-bike."  It offers exceptional comfort and functionality. Powered by a 750W Geared hub motor, the e-bike has an estimated range of over 45 miles.
The motor is compact and discreet. It is powerful enough to power you up hills and reach top speed within seconds, meaning you will outperform everyone on the road.
The e-bike also features a high-capacity Rad Battery Pack that is designed using energy-dense lithium-ion cells. The premium-quality battery weighs only 7.7lbs.
So, you can rest assured that the weight of the battery won't hold you back. The best part is that it charges quickly, taking around 5 to 6 hours to charge fully.
The 7-speed bike comes with a wide range of gearing, which means you will have more torque for steep inclines, better control, and commendable pedal authority even at top speed.
Now let's talk about the tires. The 4-inch tires are the star of the show. Manufactured from aramid and ceramic particles inside and under the tread, the tires are sturdy and puncture resistant.
Kenda K-Shield integrated tire lines protect against cuts and puncture from all kinds of materials, such as broken glass, thorns, etc. As a result, you can ride your e-bike anywhere you want without worrying about damaging the tires. 
Other mentionable features include PVC and stainless steel front and rear fenders, integrated brake light, custom Rad Power Bikes RST suspension fork, half-twist grip throttle that provides 750W of power on demand, front and rear LED lights, Intelligent 5-level assist with magnet cadence sensors, and a backlit LCD that indicates the charge, speedometer, pedal assist level, wattmeter, and more! 
Considering all the features, RadRover 5 is easily of the best fat tire electric bikes in regards to power, features, capabilities, durability, and even affordability!
Check out Best Beach Cruiser Electric Bikes.
2. Addmotor Montan M-140 R7 – Best Foldable Fat Tire Electric Bike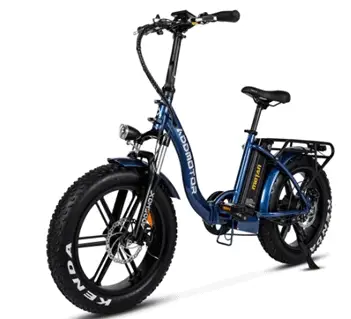 Specifications
Battery: Panasonic 48V, 16 Ah Lithium Cell Battery 
Charger: Rad Power Bikes smart charger, 48V, 2 Amp
Motor: Rear Hub Brushless Motor, 48V/750W 
Display: 5-inch LCD display, USB port included  
Range: 55-65 miles per charge (estimate)
Max load capacity: 280lbs
Frame: Aluminum-alloy frame  
Tire: Kenda 20" x 4.0" Fat Tires
If you are a fan of step-thru foldable design, then this e-bike is for you. MOTAN m-140 r7 is one of the best fat tire electric bike options available with a foldable step-thru frame.
It comes with a collapsible top tube and folding frame, which means the e-bike scores high on the portability scale. You can fold it easily to store under your desk at work or take it along on road trips in the trunk of your car.
The step-thru design makes it easier to mount and dismount from the e-bike. Hence, the e-bike is the perfect choice for women, the elderly, and riders who experience balance issues. Thick tube technology is employed to ensure a strong and sturdy frame stable enough to take you on outdoor adventures in all kinds of terrains.
Plus, the sturdy frame can carry a load of up to 280lbs quite easily. From daily commuting to off-road traveling, this e-bike can be used for a variety of purposes. Therefore, it won't be a stretch to say that this e-bike is perfect for everyone and suitable for a wide range of riders.
The electric bike features a rear-mounted wheel motor with peak power of up to 1180w to power you uphill, downhill, through mud, sand, and even snow without any difficulty. In any case, you won't have to worry about getting stuck or your bike breaking down on challenging terrain.
Additionally, sturdy tires are integrated into the model to provide more control in all kinds of terrain. The bikes' fat tires also work to reduce wind resistance while driving in windy areas and offer strong support on the road.
The highlight is that the tires are not only highly functional but also look great. They are compactly incorporated to give your e-bike a sleek and modern look.
The super high capacity 16Ah lithium battery is also top class – perfect for covering long-range distances in a single charge. The battery takes around 6 to 7 hours to charge fully and lasts for about 55 to 65 miles on level one pedal assist. You can view the battery status on the 5-inch LCD screen display at all times.
The display is mounted on the front tube. It comes with a USB port that you can use to charge your phone or other electronic devices as you ride your e-bike. The display also features a night mode to ensure visibility during your night riding adventures.
Several parameters are displayed on the screen, including the speedometer, battery bars, odometer, biking meter, etc.
Also, read, What Is A BMX Bike?
3. NAKTO Fat Tire Electric Bicycle 26″ Cruiser – Best Fat Tire Electric Bike Under $1000
Specifications
Battery: 36v 10Ah Lithium Battery
Charging time: 4 to 6 hours
Motor: Rear Hub 36V 300W
Display: LED displayer   
Range: 22- 28 miles per charge (estimate)
Max load capacity: 240lbs
Frame: Steel frame   
Tire: 26" x 4.0" Fat Tires
Looking for a high-quality fat tire electric bike with premium capabilities at an affordable rate? Consider Natko Fat Tire 26" Cruiser. Natko is a unique company that operates directly from the factory, removing the need for mediators. As a result, the price of its electric bikes is considerably low.
The Natko Fat Tire 26" Cruiser is no different. It is durable and offers some excellent features that are ideal for regular cruising or off-road traveling. You can ride your bike on the beach and snowy areas without any problem.
The fat tires provide an excellent cushion effect to ensure a comfortable ride in all kinds of terrain.
Other commendable comfort features of this e-bike include a Shimano 6-speed derailleur, front shock suspension, and comfortable seat post. All these work together to ensure a smooth and bump-free ride. The saddle height is also adjustable to suit different needs.
Made using high-strength carbon steel and coated with superior car paint, the bike is extremely durable and guaranteed to serve you for years. The e-bike also has several standard safety features, including the LED headlight, reflective rear lights, motor safety cut off, kickstand, and powerful front and rear disc brakes. The wiring is also waterproof with water-resistant connectors.
You can ride your Natko fat Tire 26" electric bike in three modes. It also features on-demand throttle that you can use to boost speed as required. All in all, this is one of the best fat tire electric bikes currently available in the market for under $1,000.  
Read: Do Electric Bikes Save You Money?
4. E-Bike Generation Rungu Dualie XR Trail Edition – Best Fat Tire Electric Bike for Long Range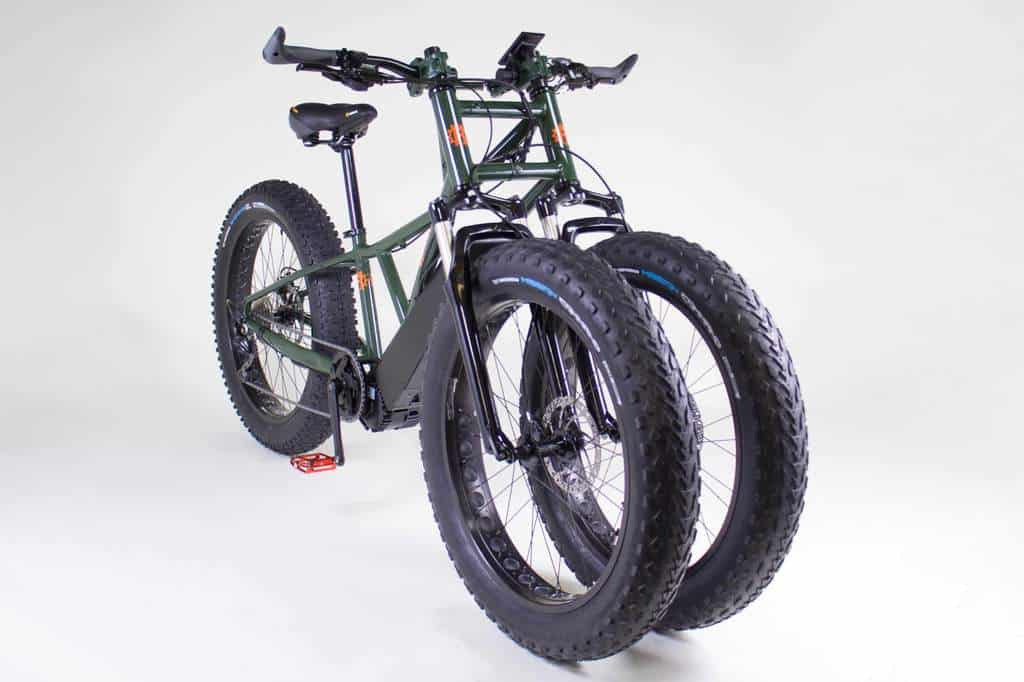 Specifications
Battery: Dual 52V 15Ah (30 Ah)
Charger: Dual 7.5A
Motor: Bafang 1120 W Mid-drive 
Display: LED displayer   
Range: 35 miles per charge (estimate)
Max load capacity: 300lbs
Frame: Aircraft-aluminum, hand-welded frame
Tire: Maxxis and Vee Snowshoes XL Tires
E-Bike Generation Rungu Dualie XR Trail Edition is one of the most extraordinary and best fat tire electric bikes in terms of both capabilities and aesthetics. The most noticeable feature of this e-bike is the two front wheels that offer superior stability as compared to other fat-tire bikes.
More stable and reliable than most other fat tire electric bikes and lighter and agile than ATV – Rungu Dualie offers the best of both worlds. While it is perfect for off-road travels, it is also ideal for daily commute and cruising.
Another amazing thing about this bike is that it comes without a kickstand. You can just dismount from it whenever you want! The two-wheel design provides enough stability to keep your bike standing without the kickstand.
Additionally, the frame is extremely sturdy. After all – it is made using aircraft aluminum and is hand-welded. Once ready, the frame receives two coats of powder-coat to further enhance durability.
Apart from the absolutely stunning aesthetics and maximum durability, the bike also guarantees high control and a smooth ride. It is because each front wheel comes with an alloy and steel suspension fork with suspension and adjustable tension.
The front and rear wheel assemblies are rugged with sealed bearing hubs, aluminum alloy rims, and stainless steel spokes. Plus, all three tires feature quick-release hubs that work like a charm to reduce the time and complexity of tire change.
However, you won't be changing the wheels often as the e-bike also features Anti-Pinch Flat (APF) tire lines. The APF liners help avoid punctures even in the rockiest terrains. On the other hand, the double wheels and double suspension ensures that the bike moves seamlessly on the softest surfaces, such as soft sand or snow.
The strongest chains in the industry are used to reduce the risk of the chain breaking. The chain is specifically designed to handle the highest power motor output without wearing out.
The e-bike also comes with a colored dashboard that displays various parameters, including the speedometer, power level settings, power meter, trip computer settings, etc.
 A micro port is also included with the display, which means you can charge your phone and electronic devices on the go and also use GPS whenever required. The dashboard also offers security features.
For example, you can set a programmable PIN via the dashboard to restrict access to the motor when your e-bike is parked.
While the e-bike has a commendable profile, you may be wondering what makes it the best fat tire electric bike for long-range.
Well, the XR model comes with two batteries. While you use one battery, the other can be stored in an easy-access battery compartment located in the rear rack. Double batteries mean double range – you can go long-range without any trouble!
It must be mentioned that the XR model is a bit costly. So, if you are on a tight budget, check out other Generation Rungu Dualie models. You can also choose a flexible payment program to make payments over several months.
5. Ancheer 26" Fat Tire E-Bike – The Best Electric Mountain Bike
Specifications
Battery: 48V 10Ah large-capacity lithium ion (removable)
Charging time: 6 to 8 hours 
Motor: 48V 500W brushless gear motor  
Display: LED displayer   
Range: 22-40 miles per charge (estimate)
Max load capacity: 300lbs
Speeds: 7-speed gear 
Tire: 26" x 4.0"
Are you looking for the best electric mountain bike? Then check out the Ancheer 26" Fat Tire Mountain E-bike. The e-bike is designed to travel uphill, downhill, and traverse mountains without any difficulty.
However, it doesn't limit you to mountainous terrain. It offers a comfortable ride on all kinds of surfaces, including gravel, city roads, rail trails, hiking tracks, sand, etc.
The combination of 7-speed gearing and five pedal-assist levels allows for complete control while riding the bike. Plus, the throttle can help you achieve accelerating speeds of 15mphs.
At the same time, the fat tires and high-performance shock-absorbing forks work to absorb bumps and offer the smoothest ride.
The riding quality is generally better and smoother than the standard 1.75" or 1.95" wheels. Large and manageable – 26"x 4.0" tires are anti-slip to provide better control on wet surfaces. They are also wear-resistant to maximize durability.
The e-bike is equipped with a high-speed motor that is designed to provide higher than standard power, particularly when going uphill on inclined surfaces. On straight roads, it empowers you with more freedom and speed.
The battery is also long-range and will take you 22 to 40 miles in one charge based on the type of terrain, the rider's weight, outdoor temperature, the gradient, etc.
Let's not forget the front and rear disc brakes that allow for precise braking and provide greater stopping power. It is especially helpful and safer on long descents. The brakes are also more suited and well equipped to perform well in wet weather conditions as compared to rim brakes.    
You can ride your bike in three working modes – electric bike, pedal assistance, and human riding mode. When you are not in the mood to break a sweat, then choose the electric mode.
On the other hand, if you want to double your riding time as exercise, then opt for human riding mode or pedal assistance.
You can switch between the five pedal-assist levels by manipulating the updated LCD display located at the front. The upgraded LCD shows several parameters, providing better control of your riding status and exercise regime.
Check out the below bike options:
The Bottom Line
The popularity of fat tire electric bikes is on the rise as they take the standard e-biking experience to the next level. However, that doesn't mean that these bikes are reserved only for adventurous and outdoorsy riders. It is important to understand that fat tire bikes work just as seamlessly for cruising.
Now that you know the 5 best fat tire electric bikes, which one are you considering? Remember, choose one that fulfills your needs, fits your budget, and matches your style!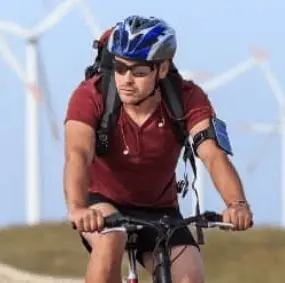 I am Michael, an avid rider and bike expert. I am here to provide, biking tips and expert advice on in-depth bike reviews covering features, capabilities, price range, and much more. Specially on electric bikes, mountain bikes, road bikes, etc. I will provide honest product reviews, along with expert advice on purchasing, training, and maintenance. Check out my complete profile.