Getting a mountain bike that fits you perfectly is possibly the biggest consideration you'll have to make before you click on the "Add to Cart" button. But just like a pair of jeans you can get from Levis at 70% off, it's not a good deal if they don't fit.
Unlike denim, aluminum and carbon can't be altered. As a result, it's much more important to get the right-sized bike from the start. Wondering how mountain bike sizing works? Read on as we take you through the process.
If you're a rider with a road biking background, it's essential to understand that mountain bike sizing is drastically different from road bike sizing.
What Size Should You Get?
Talk to an experienced rider about mountain bike sizing, and they'll tell you that every bike rides and feels differently, even if their traits and numbers look identical on paper.
The mountain bike frames manufacturers list on their website can be confusing. The typical approach is to post the seat's tube length, which also varies since some bikes are measured to the top of the seat tube while some are measured until the top joins the tube.
On the other hand, several manufacturers can list bikes as S, M, and L (some can also have the XS and XL sizes).
However, more recently, manufacturers have begun listing their bikes' solely based on reach figures rather than the top tube lengths or seat tubes.
This means they've increased the bike's reach, top tube length, and wheelbase while keeping the seat lengths and stack height shorter.
A smaller tube length means that shorter people can fit on bikes that require longer reaches. This is so because they can decrease the seat's height, which creates the potential to ride a bigger bike.
That said, it's still essential that you consider the top tube length and seat tube length when you're buying a mountain bike. The seat's tube length decides the lowest saddle height you can set.
On the other hand, the top tube length will roughly decide how stretched out a rider can be while riding.
Getting a bike that fits perfectly can greatly improve comfort, speed, and control while you're on a harsh trail. But where do you find the frame size you need?
Like several other aspects of a mountain bike, there isn't a perfect solution. You can adjust your bike's stem, handlebar, and saddle to make an imperfect-fitting bike by staying within logical limits.
But then again, we'll always recommend that you take a look at the manufacturer's size charts.
They'll give you a possible height range for every bike they produce. Here are some general mountain bike sizing guidelines:
| | | |
| --- | --- | --- |
| Height (Feet) | Inside Leg | Frame Size(CM) |
| 5′.0″ | 28″ | X Small 15″ |
| 5′.3″ | 29.5″ | Small 16″ |
| 5′.7″ | 31″ | Medium 17″ |
| 5′.9″ | 32.5″ | Medium 18″ |
| 5′.11″ | 33.5″ | Large 19″ |
| 6′.2″ | 35″ | Large 20″ |
| 6′.5″ | 36.5″ | X Large 21″ |
However, it would be best to remember that hybrid and cyclocross bikes can be three to four inches bigger for a rider of the same height. This can confuse many riders when they're going through bike listings.
Check 27.5 Mountain Bike vs. 29 Inch Mountain Bike
The Different Kind of Mountain Bikes
Almost every modern mountain bike has a frontal suspension, and several models can have rear suspension, too.
A bike that only has a front suspension is called a hardtail, and a bike with both frontal and rear suspension is called a full suspension bike. Both suspensions are installed in a bike to smoothen out the bumps and lumps of a rocky trail ride.
When a rider goes over an obstacle, a bike's suspension compresses, which absorbs that shock.
The mountain bike you decide to go with, be it a full suspension or a hardtail, depends completely on your riding style. Where and how you ride your bike will have a direct impact on the size of the frame.
A downhill rider may prefer riding a full-suspension bike since its large frame can roll over obstacles easily. Cross-country riders, on the other hand, may prefer a smaller frame since they're faster.
Here's a brief introduction of the different kinds of mountain bikes:
Enduro: These bikes are built to tackle almost every trail. Whether you're riding up or down a mountain, these bikes can handle everything. If you're a beginner in the mountain biking world, we'd say that these bikes are your best bet. They perform well on off-road tracks and can also do well on gravel.
All-mountain: All-mountain bike riders, well, ride trails on the mountains. This riding demands a resilient bike and one that can handle bumps, jumps, and technical tracks. Full-suspension mountain bikes usually perform well in these scenarios.
Downhill: A downhill bike is designed to do one thing only: descending. These are also full suspension.
Trail Riding: These bikes are designed to deal with varying terrain. You'll find both hardtail and full-suspension bikes in this category.
One category that is still new in the mountain biking world is electric mountain bikes. These bikes are changing the definition of mountain biking.
Even though they're pack full of state-of-the-art technology, electric mountain bikes still don't miss out on key sizing aspects like frame sizes and other essential components.
Read How to Raise Handlebars on A Mountain Bike
Measurements of a Mountain Bike
Find the perfect sized mountain bike is all about prioritizing a safe bike. It's imperative that you can steer and control the bike safely to avoid obstacles. Here are some fundamental things you need to remember.
There must be a gap of around 5 centimeters between you and the bike frame when you're standing over your bike. However, remember that this is a basic guide, and this rule may not apply to all riding styles.
Pedaling the bike should be comfortable. Your knee should bend slightly with every stroke.
You shouldn't have to feel cramped or stretched while you're riding the bike. You should instead feel relaxed and ready for a long ride. The bike should give you enough room to climb out whenever you need to
You must be able to use both of the brakes of the bike
The size of the seat tube measures a mountain bike's size. The best way to know the size of the bike you want is to start with your old bike. Measure the length of the bike seat to the seat clamp, and then buy the same sized frame.
If you're buying a mountain for the first time, then get your tape measure out. By measuring your inseam, you can get a more accurate size guide. Here's what you need to do:
Inseam measurement X 0.66 – 5 inches = the perfect frame size.
This way of finding the perfect sized bike is a bit more advanced since you're taking a mathematical approach. While it may not be perfect, it'll certainly help you narrow down your options.
Read Replacing Mountain Bike Tires
Getting the Perfect Sized Bike
To ensure your bike fits you perfectly, you'll have to do some homework. Several riders have ridden mountain bikes they thought were perfect for them.
These bikes had the perfect reach, perfect handlebar shape, perfect saddle height, and perfectly inflated tires – until they found out it wasn't the perfect size.
These riders understand that minimal changes to their bike's setup can greatly improve their riding experience with time.
It can often be something as simple as a handlebar sweep, a reduced suspension fork, or tires with a different PSI (tire pressure) rating. When you sit on a mountain bike, you make contact with the bike in three points:
Your butt on the saddle
Your hands on the handlebars
Your feet on the pedals
The relative position of these three contact points decides how well a bike fits you, and different variables impact your ride. Variables like:
Seat angle
Bar width and height
Stem length
Top tube length
Crank length
To ensure all of these elements align to give you the perfect performance, keep tweaking them from time to time.
A few things can feel out of place when you first change them, but after a few rides, you won't notice the difference.
The important thing to remember is that you shouldn't think of your bike's setup as carved in stone. You can experiment whenever you want to.
Read How Fast a Mountain Bike Can go?
Measuring a Mountain Bike's Frame
Even though mountain bikes are usually measured according to the length of the seat tube, a lot more thought goes into a bicycle that fits you like a glove.
A professional bicycle fitter will consider several measurements to find you a bike that fits you perfectly. You may not need a professional fit, but it's still important to understand some of the standards they use.
Before you read ahead, take out your tape measure.
Seat's tube length: The distance between the crank and the tube (the saddle and seat post excluded)
Head angle: This is the angle between the ground and the head tube. A shorted angle makes the bike more responsive and agile on trails. That said, it can also feel a bit weak on a downhill journey.
Wheel size: There are three different wheel sizes a biker can opt for – 26-inch, 27.5-inch, and 29-inch
Reach: This is the distance between the head tube and the bottom bracket of a bike.
Other considerations like the chainstay length and the seat size can also affect how a bike performs and feels. However, these are less critical.
Check out, How To Change A Mountain Bike Tire?
Changing the Size of Your Mountain Bike
The decision of getting a large bike frame or a smaller one can be nerve-wracking for several riders.
If you've done all the necessary measurements we've told you to do and are still stuck between two differently sized bikes, then your reach can help break the deadlock. Your upper body strength decides your reach.
One way you can narrow down your search is by calculating your Ape index. Meaning, you should know whether the span of your arms is longer than your height or not.
To know your Ape index, stretch out your arms, and get someone to measure the space between your two middle fingers. Once you have the number, subtract it from your height.
If your arm length is greater, you have a long reach, and a bigger frame would suit you better. However, if it's lesser, we recommend sticking with the smaller frame.
Range of motion and flexibility is also something you should consider. If bending over to touch your toes seems like a tall order, the position a longer bike demands can be a bit taxing.
It requires you to be in an aggressive and low position. However, the aggressive riding posture is still something riders prefer, so it's all about knowing what you want at the end of the day.
While these numbers can narrow down your research, we still don't think they're conclusive. Some riders prefer a large frame, while others like a smaller one.
Read Can Mountain Bikes be Used on Road?
Get the Opinion of a Biker Fitter or a Shop
If you're feeling overwhelmed with the amount of information mentioned above, fear not. Any famous bike shop can help you in finding the right sized bike for all of your needs.
Some bike shops can also offer you a free fitting session that can help you nail down the size you'll need or if you'll need to modify your existing bike for a better fit.
Read What Mountain Bikes Are Made in The USA?
Conclusion
That is extensive information on mountain bike sizing, and even though we've covered almost everything about finding the perfect size, don't underestimate the knowledge of a professional bike fitter. Don't be afraid to go out there and test some bikes that you think may fit you.
When it's about choosing an appropriately sized bike, there's always going to be that intangible and unexplainable bond you have with a bike. While numbers measure different statistics about the "seemingly" perfect bike, the right bike feels right.
That's it. So at the end of the day, what truly matters is that you're happy and satisfied when you come off the saddle to park your bike. Take the information we've listed above with a grain of salt, and start riding!
You may like the following mountain bike blogs: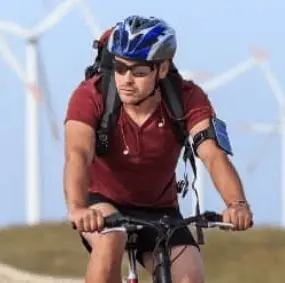 I am Michael, an avid rider and bike expert. I am here to provide, biking tips and expert advice on in-depth bike reviews covering features, capabilities, price range, and much more. Specially on electric bikes, mountain bikes, road bikes, etc. I will provide honest product reviews, along with expert advice on purchasing, training, and maintenance. Check out my complete profile.