When buying an electric bike, many cyclists overlook one important aspect: the ebike's range. Let us try to find out which electric bike has the longest range?
Which Electric Bike has the Longest Range? Here the top 5 electric bikes with the longest range, 1. Delfast Prime 2.0 – 228 Miles, 2. QWIC MN7VV Premium, 3. QWIC RD11, 4. Raleigh Centros 2019, 5. QWIC Urban Range.
If you want to travel far away or in hard to reach areas, you need enough range and battery time to ride to take you there.
You may like How to Choose an Electric Bike (Ultimate Guide)
The longer your range, the less chance of having to stop down due to low battery. The range refers to the number of miles an ebike can go on a single charge. It depends on numerous components, more specifically, the battery.
Top 5 Electric Bikes with the Longest Range
This guide reviews some of the best long range electric bikes on the market right now. It will help you determine which electric bike has the longest range in 2021 for your needs and budgets.
Let's get down to brass tacks.
1# Delfast Prime 2.0 – 228 Miles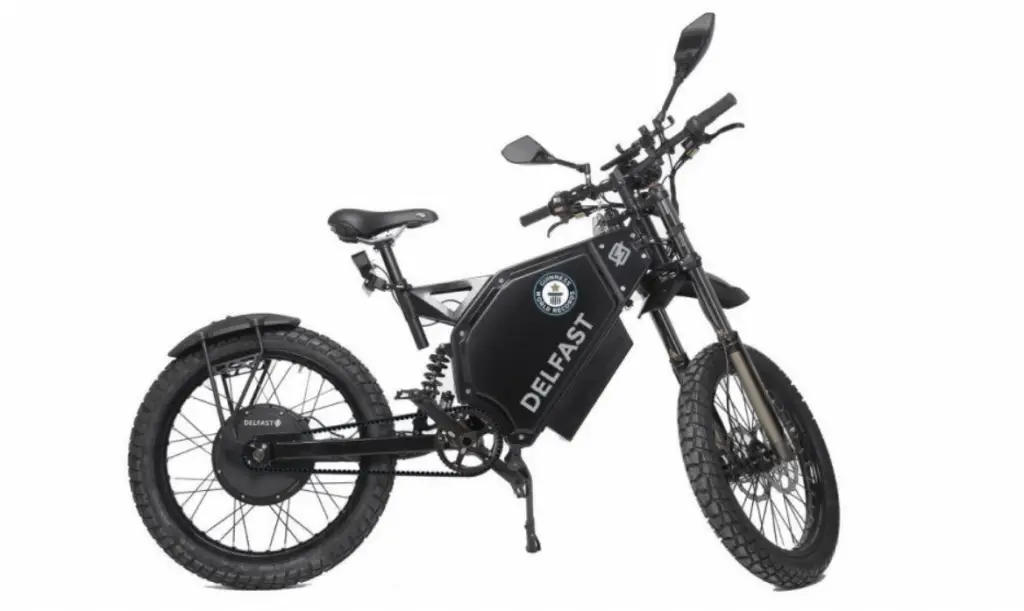 Specifications
Motor: Delfast QS IPX5 protection
Battery: Integrated Samsung 3500 mAh 48V 70Ah 13S 20P, comes with Bluetooth
Range: 236 miles
Suspension: DNM RCP rear shock, Zoom 680DH front forks
Tyres: 80/100-19″ (motorcycle tyres)
Lights: Front light (both high and low modes) and rear light
Display: Colorful display
Weight: 70 kg
Capable of racking over 228 miles in a single charge, the Delfast Prime 2.0 is the hottest contender for the title of "longest ranging ebike in 2021". It's a hybrid electric bike with pedals designed for both street use and off-roading.
The Delfast comes with an adjustable seat that goes from 29 inches to 36 inches, so most riders should have an easier time setting up the bike according to their preferences.
It features a 48V 70Ah Samsung battery that can sustain speeds of up to 10 to 13 mph for up to 236 miles. Even more impressive, the battery features a 54.6V charger (waterproof) that allows you to quickly recharge the e-bike within just 5 hours.
The recharge time may be slightly disappointing for some riders, but it makes up for this shortcoming with a longer charge cycle of over 7 years.
In terms of build, the Delfast Prime 2.0 sports an 'endure frame' which incorporates the versatile geometry of a dirt bike to accommodate rugged terrains and slippery slopes. This unique combination creates a strong and agile but solid bike that lets you handle off-roading with absolute finesse.
The Delfast Prime 2.0 packs in a respectable 1.5kW down low, which allows you to rush past a speed of 28mph in merely 2 seconds. If you're obsessed with speed, consider opting for some cool aftermarket upgrades to achieve a maximum speed of 37mph.
Also worth mentioning is the belt drive – it's not made of many different parts and doesn't clank like a regular chain does. It is also very good at absorbing shock due to its flexible properties.
This Delfast bike features dual disc brakes that prove their mettle when you're going downhill – letting you bring the cycle to a full stop at peak speeds. The larger rear disc brake is directly attached to the rear hub motor, which explains why it can bring the bike down to a grinding halt.
Pro tip: Don't apply excessive pressure because the bike will come to a stop and send you flying off the handles!
It is worth pointing out that this bike is excessively heavy at nearly 70 kg. This means you'll have a really hard time pedaling manually if the battery runs out. To support its massive frame and provide the necessary shock absorption, Prime 2.0 uses a DNM rear shock and Zoom 680DH front forks. All in all, The Prime 2.0 will make your ride a pleasant experience even on the toughest terrains.
Read: Do Electric Bikes Save You Money?
2# QWIC MN7VV Premium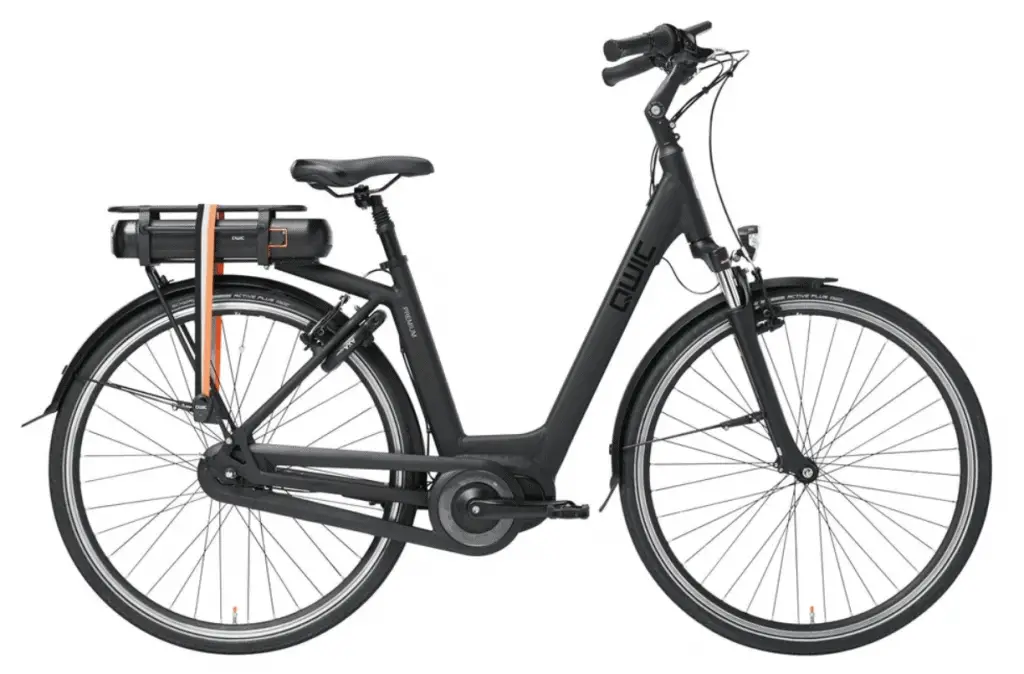 Specifications
Motor: Bafang M400 mid motor
Battery: NCM LI-ion CAN-Bus
Range: 110 miles in Eco mode
Brakes: Shimano Deore V-brakes
Tyres: Schwalbe Energizer Life
Lights: Axa Echo 30 Lux
Display: Bafang LCD console
Weight: 24.7 kg
A cursory glance at the QWIC MN7VV (premium version) reveals that it is designed more for daily use and less for outdoor usage. It comes equipped with an impressive 375 Wh li-ion battery that boasts a state-of-the-art battery management system.
This proprietary tech protects the battery from self-discharge, something you'll find useful when off-roading and low on battery.
Under the hood, we have the Bafang M400 mid-motor that gives a reasonable balance for city riding. You can choose from two frame styles, depending on your preferences,
i) The crossbar is ideal if you're looking for a more traditional bike experience or
ii) The step-through style which makes it easier to get on and off.
Both styles come in different sizes, which is ideal for adults of all sizes.
The battery lets you travel up to 130 miles in eco mound (which is more than enough for commuting to and from work). If you decide to crank up the speed, expect the battery to give away in less than 40 miles. It is expected that the battery will struggle if you make full use of the 80Nm motor or cycle over steep hills.
Check out, How to Remove a Speed Limiter on an Electric Bike.
3# QWIC RD11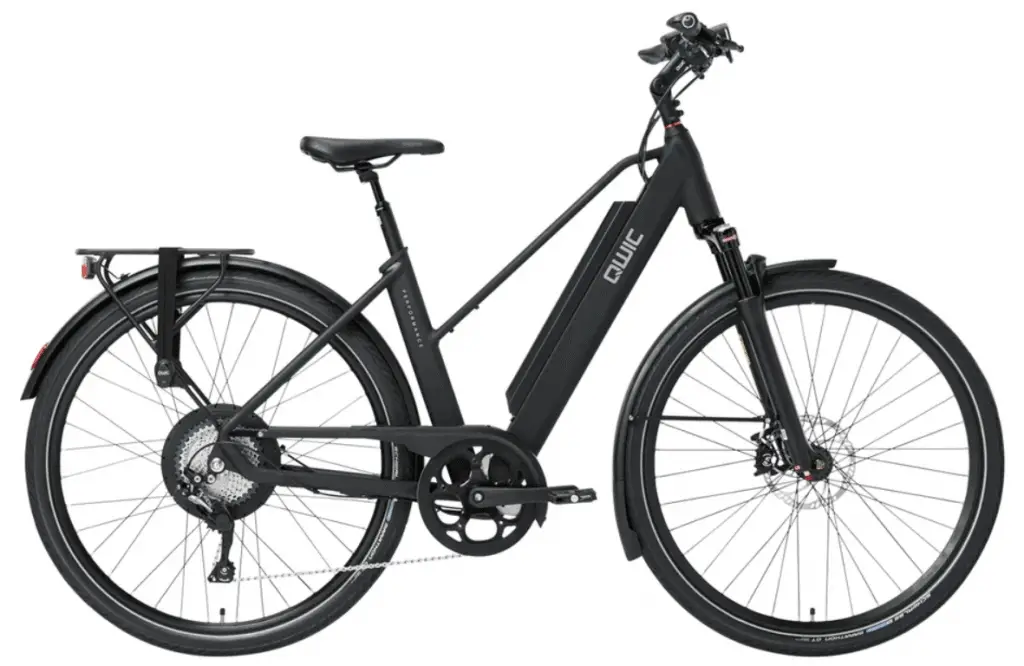 Specifications
Motor: TDCM Direct-drive rear motor
Battery: LI-ion CAN-Bus Downtube
Range: 110 miles on eco mode
Brakes: Magurate MT4 Disc Brakes
Tyres: Schwalbe Marathon GT Tyres
Lights: Busch & Müller for front and rear
Display: Bluetooth Console
Weight: 26.0 kg
The QWIC RD11 features a range of 110 miles thanks to its powerful battery (capable of 735Wh). It is a drastic improvement over the RD11 with a more powerful rear-engine, robust suspension seatpost, and a more beefy front fork. The QWIC RD11 offers speed, character, and design. The combination of sporty derailleur gears and a powerful rear engine offers unprecedented performance.
Since it's a rear-wheel drive, the RD11 is very responsive and rides just like a traditional bike would in delivering power to the rear wheel, but with extra power from the electric motor. Commuting to and from work couldn't get any more exciting.
Moreover, if you're enthusiastic about speed, you can also choose from the '28mph' version which can make the riding experience a lot more exhilarating. Like the QWIC MN7VV Premium, the RD11 comes with options for two frame styles i) crossbar and ii) step through.
This bike has a well-featured kit list. A suspension that cushions jolts from the road, a kickstand that allows easy parking, and a Bluetooth console that puts control directly into your phone. It is easy to flick it on and off with the push of a button. The front and back lamps make you feel safer when commuting after dark. Although they are moderately bright they should easily light your way.
4# Raleigh Centros 2019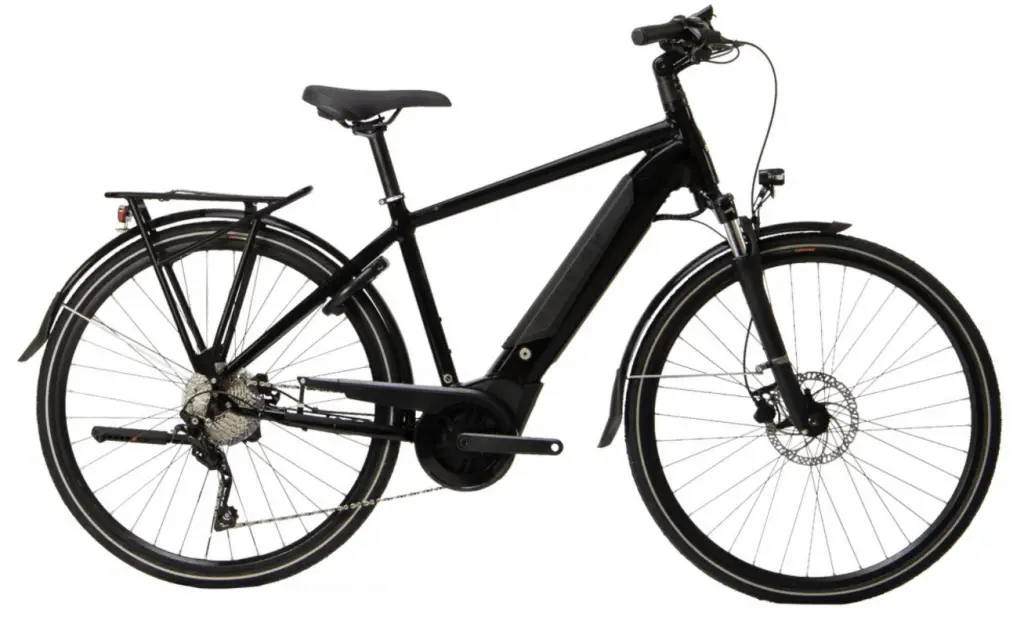 Specifications
Motor: Bosch Active Line Plus
Battery: Bosch Power Tube 500Wh, 36V
Range: 140 Miles
Brakes: Tektro T285 Hydraulic Disc
Tyres: Mitas 700c x 42
Lights: Integrated front and rear lights
Display: Bosch display
Weight: 25.0 kg
Although it's decked in slightly off-putting dull black, the Raleigh Centros 2019 features a beefy motor and an equally capable battery. It can travel up to 140 miles on a single charge thanks to the 500Wh battery.
The Active Line Plus motor is capable of producing up to 40Nm of supporting torque to help you make short work of steep terrains. Its ride position is fully adjustable, although will stay completely upright. Its backswept bars are comfortable to use for a long period of time.
Since you'll be always upright when riding the bike, the Raleigh Centros makes your journey safer and comfortable at the same time.
The fully integrated Bosch Active Line Plus motor makes your ride extra entertaining, leaving you nothing to do but get in and start riding. The bike features hydraulic calipers, which make it easy to stop at a moment's notice. This bike uses lockable suspension forks which make your ride a lot smoother and comfier even on the toughest terrain.
The paint job is very subtle and could have been improved, but don't let that take away from your overall experience cycling on it. Its frame effortlessly accommodates both battery and motor. Both are stored into the downtube for theft prevention, but they do add just a tiny bit of mass. The motor sits in a large clamshell holster which is decked with handsome looking welds.
The only problem with the Centros is a bit on the heavy side at 26 kgs. It will be tough to manually pedal once the battery runs out of charge. To circumvent this problem, the bike features a slacker head angle that keeps the steering stable and makes those sharp turns much easier.
5# QWIC Urban Range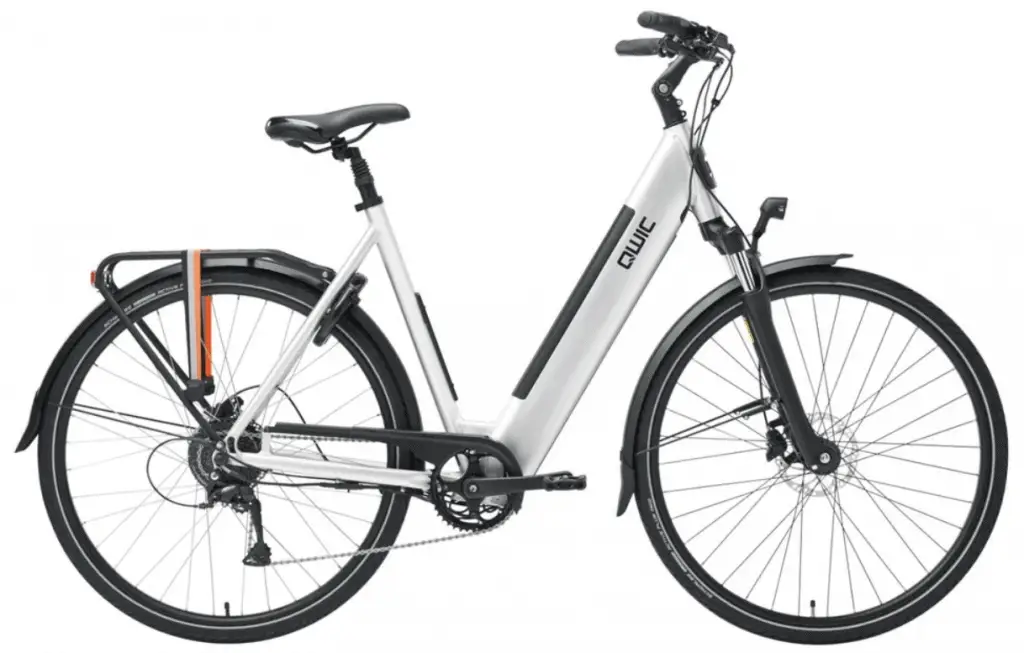 Specifications
Motor: QWIC rear motor
Battery: Integrated NCM LI-ion, from 300Wh to 500Wh
Range: 110 miles in Eco mode
Brakes: MT200 hydraulic disc brakes by Shimano
Tyres: Schwalbe Energizer Life
Lights: Front by Busch & Müller and Rear lights by Spanninga Solo
Display: Bluetooth LCD console
Weight: 24.2 kg
The QWIC Urban range features an upbeat design and has the potential for long-range use up to 110 miles. It is available in 300Wh, 400Wh, and 500Wh – if range is a deal-breaker for you, then make sure to opt for the 500Wh variant. The rather chunky battery is conveniently stored into the downtube, making the QWIC Urban Range look like any regular bike.
Charging the Urban Range is easy because the battery comes with a 3 pin plug socket. This means you can charge it conveniently from home, at work, or at a café while traveling. The battery system can be unlocked with a single and quick release, allowing for easy access  
It also features an impressive kit with Bluetooth capabilities, allowing you to control it over the phone. The built-in console lets you track riding stats, such as the remaining battery, range, time traveled, average speed, and other useful bits of information. The only downside to the Urban Range is that it doesn't let you choose your choice of tyres.
The standard Schwalbe tyres are a little more fragile than you would expect a bike of this price. We highly recommend purchasing something chunkier with a plentiful spoke count if you plan on taking the bike on rough terrain.
The bike features powerful front (Busch & Muller Upp 30 Lux) and rear (Spanninga Solo) lights to light up your way at night.
With the top 5 contenders out of the way, let's delve deeper into how you can get more juice out of your electric bikes.
How Far Can an Electric Bike Go?
How Far Can an Electric Bike Go? The exact range on your electric bike depends on various factors, but the most important of these boils down to the battery your e-bike has compared to the energy needed to cover a single mile. So the number of miles we quoted above for each ebike represents an 'ideal' scenario where everything goes right.
So for instance, a heavier adult will consume more energy per mile than a lighter adult. Riding over steep, rugged terrain will take more energy per mile than traveling on flat tarmac.
Most standard e-bikes that come with 400 to 500 watts of power should help you cover 124 miles.  A less powerful option, let's say, under 250 watts, will cover only 30-40 miles on a single charge. But as we mentioned earlier, the exact range depends on several factors including:
Level of pedal assistance provided to the e-bike
Terrain
Weather, temperature, and wind condition
Tyre pressure
Weight of the rider
Amount of items you the rider carries
Age of the battery
Motor size
Relationship between the motor and the battery
How much throttle is being used
Level of Assistance
Generally speaking, you can get more range out of your bike if you don't use any assist. Most e-bike models come with at least three assists, which is standard fare for most models:
Low assist: Provides very little pedal assistance. Use this when you have more energy.
Medium assist: Provides moderate assistance with pedaling.
High assist: Provides the highest level of assistance available. Used when you want to get somewhere fast.
Alternatively, most e-bikes also offer throttle assist. This is used to propel the bike forward at the press of a button. The throttle is usually mounted on the handlebar and for easier access. The harder you press the throttle, the faster the electric bike goes. You can disengage the throttle if you want to only the pedal going forward.
For obvious reasons, a pedal-assist has a longer range on it than a throttle assist.
Tips to Maximize the Range on Your Electric Bike
Considering that there are so many factors beyond just the battery that decide the range of your bike, here are a few tips to increase your range.
Use the Throttle Moderately
While the throttle can be very fun to use, it also costs a tremendous amount of energy. This is why you should only use it when you plan on not traveling very far. So, instead of relying on the throttle, consider pedal-assist to conserve the battery.
Pump Up Your Tyres
Inflating your tyres helps keep your battery running at its best. Riding on flat tyres takes up more energy. This is a relatively easy 'hack' to do for most cyclists.
Plan Your Route
It's not always possible to change routes, but choosing a route with less steep and rugged terrain can make all the difference. In general, steeper terrains will affect the range of your ebike since they drain your battery a lot faster. On the other hand, flatter roads don't consume as much power.
So, make sure to always research your route before you go hiking. This will save more energy provided you don't encounter steeper hills.
Use Low Power Mode
You can save more battery by using the lowest power mode available. As tempting as it is to let the battery to do all the work, it's better to use a power efficiency mode so you can ride for a longer time.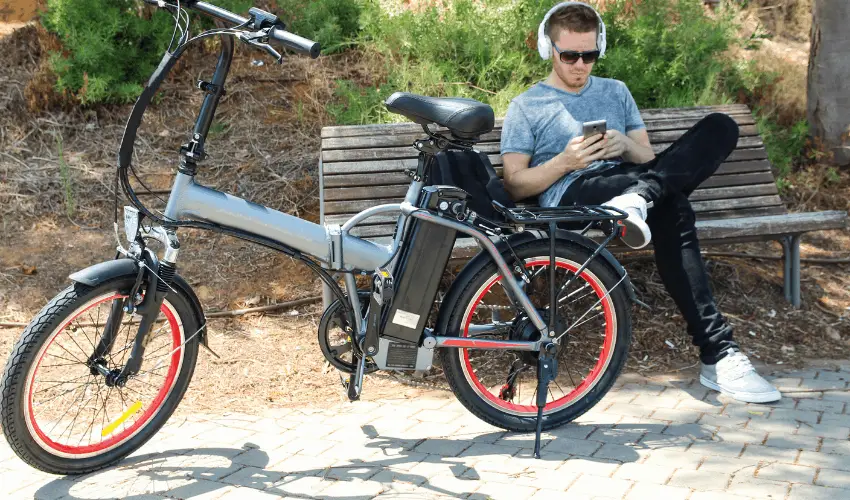 Tips to Keep Your Battery Healthy
It's harder to replace your e-bike's lithium-ion battery than it is to treat it right in the first place. It is worth pointing out that the battery costs nearly 1/3rd of the bike itself. This is why you should try to prolong its life. Here are a few tips to consider:
Store the bike in a cool and dry place when not in use. Do not leave it under direct sunlight.
Before storing your electric bike, make sure the battery still has some charge left. Ideally, it should be somewhere between 30% to 80%.
If your ebike was recently stored in a cold spot, make sure to warm up the battery before charging it.
Charge the battery only when you need to use the electric bike, instead of doing it after every trip.
Only use the charger that came with the electric bike. If you lost the original charger, get in touch with the original manufacturer for a replacement.
If you take the above precautions, you can add several years to your battery.
You may like the following e-bike blogs:
Bottom Line
So which electric bike has the longest range? As we mentioned at the beginning of the article, we feel that Delfast Prime 2.0 takes the crown. It combines cutting-edge battery and motor technology, with the longest range seen on an ebike in 2021. Of course, different people have different needs. If you're attracted to faster speeds, the BlackTrail might be the right choice. If you're after a budget-friendly option, you may want to look into the Aventon Pace 350.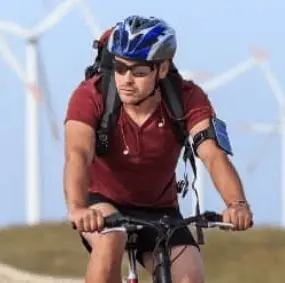 I am Michael, an avid rider and bike expert. I am here to provide, biking tips and expert advice on in-depth bike reviews covering features, capabilities, price range, and much more. Specially on electric bikes, mountain bikes, road bikes, etc. I will provide honest product reviews, along with expert advice on purchasing, training, and maintenance. Check out my complete profile.