Extreme sports are not traditional sports; they characterize high speeds, thrills, critical injuries, and risks to life. Their nature is dangerous and often inaccessible to medical care in case of serious accidents.
A person needs to be physically fit, mentally strong, and brazenly bold to attempt these kinds of sports.
The participants experience the thrill and excitement of the sport, and for these pleasurable feelings, the risks of considerable danger that might ensue are ignored.
These sportspeople, just for the fun of it, live dangerously to conquer their insane desires, to test their limits.
Mountain biking is an extreme sport. It involves riding special bikes, specifically designed for the purpose of off-the-road natural or manmade tracks and paths over rough and uneven terrain.
Mountain Biking Essentials
You need to take the necessary steps and be prepared for the worst while aiming for the best. We have curated this life this list of mountain biking essentials that are a must-have for any mountain biking adventure.
Mountain bike
Of course, the first thing you will need is a mountain bike. A well-maintained and correctly fitting mountain bike is what you will need.
Choose your mountain bike, keeping in mind what kind of terrain you will be riding on. Riding style, body size, and many other factors should be considered before you purchase your mountain bike!
There are thousands of choices in the market like standard mountain bikes, trail bikes, and wide tired bikes.
Before leaving for a mountain bike ride, please make sure you have some prior experience or training with properly handling a mountain bike.
Read How to Climb Faster on a Mountain Bike?
Helmet
A good helmet is a must if you don't want to break your head when and if you fall. Studies show that helmet use reduces the risks of injuries to your head by almost 50% and to the neck by 30%.
Go for a helmet that is the correct size for your head and is suitable for the kind of ride you will be taking. In addition, it should cover the whole of your face, from the head all the way down to your chin.
Nowadays, there are so many choices available to you, from lightweight half-shell helmets that protect just your head to full-face helmets that will protect everything from your neck to the top of your head.
Helmets these days are lightweight and good-looking, so make sure you always have one on whenever you ride!
Read Should I Mountain Bike Alone?
First Aid Kit
Carrying a handy first aid kit with all the basic necessities like disinfectants, gauze, and bandages is essential.
A first aid kit will only be useful if you have some basic know-how about applying first aid, so make sure you learn some fundamentals before you leave.
If you are riding exposed under the sun's heat and rays, covering yourself with some sunscreen will protect you from getting sunburns and rashes!
Water bottle or Hydration pack
The physical exertion that you will experience while mountain biking will make you lose water through sweat and perspiration very quickly.
With no opportunities of buying or refilling water while on a trail, carrying a couple of water bottles would be very convenient.
As it is very risky to completely take your hands off the handlebars, wearing a hydration pack makes it possible for you to remain hydrated, handsfree while still maneuvering your bike through the rough and rocky trek.
Not only is water essential, but also keep in mind that you will need food. Riding will burn away lots of calories, so you should keep a couple of high-energy bars and snacks to chew upon as you ride.
GPS or a trail map
A map or GPS is not very important if you already know the trail you are biking on very well. However, situations can arise where having a GPS or trail map could very well save your life.
There are hundreds of phone apps that are made for mountain bikers to help them navigate through different trails routes.
Most paths have their own maps at the starting points of the trails, of which you can take a picture of on your phone to carry with you.
Check out, Mountain Bike Tire Pressure
Things to carry for your bike
Here are a few things to carry for your bike.
Air Pump and spare tubes
You need air in your tires to ride your bike! It is always a possibility that your tire will get punctured, and you will have a flat.
There are so many obstacles on a mountain biking trail, from little rocks and sticks to sharp stones and nails, that can ruin your biking journey.
There are many choices you have in pumps, from manual to electric air pumps. Choose the right one for you before trekking.
Spare tubes are another must for long mountain trails. Flats are a very common problem that mountain bikers face, and some flats can ruin not just the outer tire but also the inner tubing of the wheel as well.
Having spare tubes will help you and any other rider with you in any such occurrence.
Small multi-tool
Mountain bikes have advanced greatly in recent years, but that doesn't mean they are now invincible. All bikes require a bit of fixing or adjustments to keep you riding fast through the trails.
A small and efficient multi-tool box is another mountain biking essential to making adjustments and fixing your bike as you ride.
A tool kit with basics like 3 to 5-millimeter hex keys that are used on almost every mountain bike in the market and a tool to fix broken chains should be enough.
For more versatility, most multi-tools have additional equipment to help you in dire times. A more comprehensive tool kit will contain tools like a chain breaker or a chain link remover to fix any problems with your chain.
Read Can a Mountain Bike Fit in to a Car or SUV?
Repair kit
If you are a regular rider, investing in a good repair kit is essential as emergency situations arise quite often.
A decent emergency kit contains adequate supplies and tools to keep you on the road, so you don't have to call and wait for rescue in case things go wrong. An emergency kit doesn't have to be large or complicated.
A lot of tools and spares can be easily attached or taped to your mountain bike using velcro straps or some tape.
A basic repair kit includes essentials like a patch kit, tire levers, mini pump and chain lube, etc.
Light set
Despite the fact that you don't intend to ride after the sun goes down, there is a possibility that things don't go according to plan.
Situations like flat tires, broken gears, loose chains, or simply a ride taking longer than usual will end up in you needing a little bit of good light to help you fix your bike and get you to your car safely.
Read Mountain Bike Sizing
Clothing
Eye protection
If you really are that much of a daredevil and don't mind losing your eyes, you can certainly go on a mountain ride without any sort of eye protection.
However, we strongly recommend getting a helmet with a built-in/snap-on visor or use clear glasses to stop debris, dust, bugs, and dirt from entering your eyes and also prevent your eyes from the suns' harmful UV rays.
You could also substitute with sunglasses, but considering the fact that there will be shaded areas and losing visibility when the sun isn't in your face, it won't be an ideal situation.
Gloves
Gloves are another optional safety clothing item you should have whenever you mountain bike. Jerky vibrations and sweaty palms together make for a guaranteed recipe of disaster.
Furthermore, they protect your hands in case of crashes and also give you a better grip on the handlebars.
In comparison to normal biking gloves that have short fingers and padding for your palm, mountain biking gloves usually have no padding and cover your fingers fully for a better grip and handling.
Backpack or hip pack
While mountain biking, you need something to carry emergency essentials like a phone, wallet, keys, snacks, hydration, tools, and supplies.
A backpack or a hip pack is perfect for carrying these essentials, and many are widely available on the market.
Some backpacks come with straps for your helmets and other essentials, and some are rain and all weather-proof.
You may like the following mountain bike articles:
Final thoughts
People opt for mountain biking for various reasons – to show off their biking skills, prove themselves, challenge themselves, accomplish something, maybe to get some attention, and for money!
Risking breaking bones, head injuries, and other fatal injuries, these bikers are extraordinary people.
They get their inspiration and motivation from the world's best mountain bikers, like Rachel Atherton, who won the downhill mountain biking championships 14 times consecutively, something no one else has been able to do before, or Greg Minnaar, who has 12 Downhill Worldcup wins.
Now that you know all that you will need on your mountain biking adventure, you are ready to hit the trails!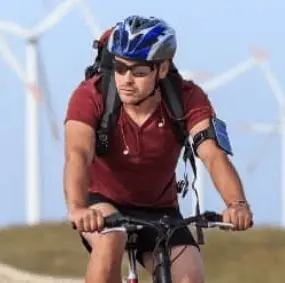 I am Michael, an avid rider and bike expert. I am here to provide, biking tips and expert advice on in-depth bike reviews covering features, capabilities, price range, and much more. Specially on electric bikes, mountain bikes, road bikes, etc. I will provide honest product reviews, along with expert advice on purchasing, training, and maintenance. Check out my complete profile.