Riding a mountain bike can be an incredible experience. Not only can you ride into the mountains, hills, and valleys and experience all the different terrain that nature has to offer, but you get in a lot of good exercise, and fresh air, and you can forget all about your worries for a while.
If you're new to the world of mountain biking or just prefer to ride without knowing too much about how the bikes are configured and all of their different parts, there is so much left to learn! By knowing how your bike works and how different parts of it function, you can guarantee a better riding experience. For example, many people aren't aware that mountain bikes may have tires with tubes or tubeless tires.
Read ahead to learn more about whether or not mountain bike tires are tubeless, how to tell if your bike's tires are tubeless, the advantages and disadvantages of tubeless tires, and how to properly maintain your bike's tire set-up.
Are Mountain Bike Tires Tubeless?
Tires are a very important component of your mountain bike. Your bike would be entirely useless without the tires, and the quality of your ride depends greatly on the quality of the tires.
Being the only part of the bike that actually comes in contact with the ground, the tires affect your acceleration, the bike's grip, the momentum, the braking, and more. A common question regarding mountain bike tires is whether they have tubes or are tubeless.
The answer is that most mountain bikes come with inner tube tires. While purchasing a new mountain bike, many people don't think to ask what kind of tires the bike is equipped with. Inner tube tires can be converted to tubeless tires, and some people think that converting their tires is a good decision.
On the other hand, some mountain bikes come equipped with tubeless tires to begin with. When buying your bike, it would be a good idea to look at different bikes with inner tube tires as well as those with tubeless tires so that you can have a good idea of the differences.
Read How to Change Oil in Mountain Bike Fork
How to Tell If Your Bike's Tires Are Tubeless
IF you've already got a trusted mountain bike that you take out to ride often but haven't ever stopped to consider whether it has inner tube tires or tubeless tires, there are a few ways in which you can find out what kind of tires the bike is equipped with. Here is how to tell if your bike's tires are tubeless:
Ask The Seller
The first thing you should do is ask the person who sold you the bike. You can ask about the model of the bike, all the specs, and about the tires, too. You can also ask the seller what brand of tires is installed on the bike.
If you bought the bike from a registered bike store, then this will be much easier, and they will have records for your bike. If you bought the bike second-hand from someone, it might be difficult to get answers from them.
Check the Valve Stem
The next way to check if your bikes are tubeless is by checking the valve stem. The valve stem is a part of the wheel or the rim, and it keeps the tire inflated and allows you to add in the air or release it as per your requirements.
In most mountain bikes, the valve has an inner body, and the stem, known as a Presta valve, is visible on the rim of the wheel. If the tires on your bike are tubeless, the Presta valve will likely have a proper lock ring to ensure no sealant leaks out. 
Check the Position of the Valve Stem
Another thing you check to figure out whether your tires have tubes or not is the position of the valve stem. In most cases, in tires with inner tubes, the valve is inserted directly into the rubber of the tire. For tubeless tires, the valve is attached to the wheel's rim rather than directly into the tire.
Look Up Different Bike Tires
The next way to check what kind of tires you have is to do a quick google search. If you know the make and model of your bike, you can look up the specs online. Alternatively, you can check the tire's sidewall and see if there is any helpful marking.
You can look up the markings to get an idea of the kind of tire it is. Some tires may have TR (tubeless ready), TL (tubeless), or UST (universal system tubeless) printed along the side walls.
Consider How Often You Get Flat Tires
Lastly, and this isn't the best way to check what kind of tires your bike is equipped with, you can consider how often you get flat tires. If the tires go flat often, they are likely not tubeless.
Read How Do You Clean Sand Off a Mountain Bike?
Advantages of Tubeless Tires for Your Mountain Bike
Many experienced bikers prefer to ride mountain bikes with tubeless tires because of the various advantages. If they have a bike with inner tube tires, they may even have trouble converting the tires to tubeless.
Here are the main advantages you would gain from riding a mountain bike with tubeless tires:
You Get Fewer Flats
If you're sick of getting flat tires almost every time you go out riding, tubeless tires would be a great option for you. Unless you ride over a sharp rock and split open the tire, tubeless tires rarely get flats. As you ride, the sealant inside the tires works to patch up any small holes or cuts that appear in the tires.
Faster Corner Turns
If you have inner tube tires, you must be careful with turns to avoid getting a pinch flat. This is when the tire and the rim squeeze together with too much pressure and creates holes in the inner tube.
With tubeless tires, you don't need to worry about pinch flats, and you can turn corners as fast and with as much pressure as you'd like. This makes for a better, quicker, and more efficient riding experience.
Extra Traction for Riding Uphill
The whole point of mountain bikes compared to regular bikes is that you can ride on different terrain, whether that is hills, mountains, or hiking trails. With different terrain, you may need to do some uphill riding too.
Tubeless tires have a lower tire pressure which increases the contact patch of the tires and makes uphill riding easier. You can gain more traction on steeper hills.
Additionally, there is less bounce when you ride over rocks and bumps on the ground, making for an overall smoother ride.
Reduced Weight of the Tires
Lastly, tubeless tires weigh less and make your bike lighter without the inner tube present and less air pressure in the tires. A lighter bike means an easier ride and less resistance and inertia.
However, just reducing the weight of the tires isn't the best reason for you to switch from inner tube tires to tubeless tires.
Read Can You Ride a Mountain Bike While Being Pregnant?
Disadvantages of Tubeless Tires for Your Mountain Bike
There is a reason many mountain bikes come equipped with inner tube tires rather than tubeless tires. This is because while tubeless tires may be great in some aspects, they offer a number of disadvantages, too. Here are the disadvantages of tubeless tires:
Setting-Up Tubeless Tires is Time-Consuming and Takes Practice
If your bike came equipped with inner tube tires, it might not be worth the trouble trying to convert them to tubeless. This is because setting up tubeless tires takes a lot of time and effort.
You would also have to do quite a bit of research to learn how to carry out the process correctly. Not to mention, you may not get it right on the first try, and you might have to practice before it works out right.
Tubeless Tires Are High Maintenance
To ensure the tires stay up to their best quality and give you a smooth ride, you need to maintain them. This maintenance can be quite annoying for some people. We'll talk more about how to maintain tubeless tires later on in the article.
High Costs Involved with Tubeless Set-Up
If you've already got inner tube tires, why spend money on fixing something that isn't necessarily broken? Small costs of things can add up and be heavy on the wallet. You would have to buy a new valve, a sealant, rim tape, and more.
Have to Carry a Spare Tube While Riding
If you ride into a sharp rock and rip open the rubber of the tire, the sealant won't be able to close up such a big puncture. You would need to carry an extra emergency tube in such a case. Carrying extra equipment on a ride can be irritating and difficult.
Sealant Can Cause a Big Mess
While you get the hang of working with sealant, there will likely be lots of spills and leaks. This is a messy process, and cleaning up can be time-consuming and repetitious.
Read How Do Mountain Bike Clipless Pedals Work?
How to Properly Maintain Your Mountain Bike's Tubeless Set-Up
Now we come up to the part about tire maintenance. The tires being one of the most important components of your mountain bike means that they need to be properly maintained. If you do make the decision to get tubeless tires, here is everything that needs to be done to keep them properly maintained:
Check the Inflation Pressure
Tubeless tires do not require as much inflation pressure as inner tube tires. So, this means that your tubeless tires would have 10 to 15 pounds lower pressure than regular tires. In order to make the most of your tires, you have to check inflation pressure regularly and ensure that it is at the correct level.
Check Tire Pressure and the Valve Core Regularly
Before each ride, you need to check the tire pressure and the valve core. This is because air can leak out of a tire at any time. The internal valve core on some tubeless valves can become loose and start to release air pressure, resulting in a flat tire.
Top Up the Sealant
Over time, maybe in a year or two, the sealant in the tire can dry up. When this happens, you will have to remove the tire and the valve, clean out the whole system, and then add in fresh sealant. For this reason, it is a good idea to keep spare sealant on hand.
Spin the Tires Regularly if the Bike Is Not Being Used
If you do not use your mountain bike very often and it is kept in storage most of the time, the tubeless tires can deflate, or the seal between the tire and the rim can become worn out. To avoid this, you should spin the tires on the bike often.
Carry a Spare Tube
And lastly, you need to always have a spare tube on hand in case of a big puncture that the sealant cannot fix.
You may like the following mountain bike articles:
Our Final Thoughts
If you are an avid biker or just beginning, it would be quite helpful for you to become familiar with the different components of your bike so that you can find the perfect bike for yourself that will fit all of your requirements.
The tires are a very important part of the bike, and knowing how they work, what kind of tires you have, and how to keep them properly maintained will ensure a better riding experience for you.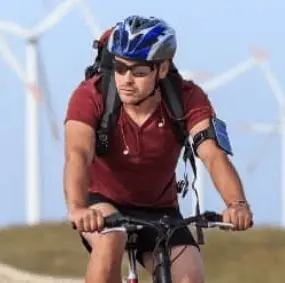 I am Michael, an avid rider and bike expert. I am here to provide, biking tips and expert advice on in-depth bike reviews covering features, capabilities, price range, and much more. Specially on electric bikes, mountain bikes, road bikes, etc. I will provide honest product reviews, along with expert advice on purchasing, training, and maintenance. Check out my complete profile.