Bikes are the best way to stay fit and experience the areas we would otherwise never explore. Unlike road bikes or other touring bikes, which are inexpensive to find, mountain bikes are a completely different story.
What are the best mountain bikes under $2,000? Here is the list of top 12 best mountain bikes under $2,000.
Chameleon from Santa Cruz (Price: $1,700)
Embolden 2 from Liv (Price: $1,530)
Cinder Cone from Kona (Price: $1,199)
Trek Roscoe 8 Mountain Bike (Price: $1,260)
Women's Rockhopper from Specialized (Price: $925)
Fat Caad 2 by Cannondale (Price: $1,900)
DRT 1.3 from Co-Op Cycles (Price: $935)
Catch 1 from Diamondback (Price: $1,700)
Scott Spark 970 (Price: $1,800)
Marin Rift Zone 27.5 1 (Price: $1,679)
Timberjack SLX 29 from Salsa (Price: $1,799)
Fuse Comp 29 from Specialized (Price: $1,900)
Mountain bikes allow you to conquer mountains, stay put while riding through singletracks and stop instantaneously using the premium braking technology. We will go over some full suspension and hardtail models that offer great performance without breaking the bank.
Why Are Mountain Bikes So Costly?
Mountain bikes are steeply-priced, but there is a value attached to this high price tag. Even the elementary models in this category of bikes have intricate suspension and braking setups that must deliver at exceptionally low weights.
The scale of manufacturing for these mountain bikes is also small, which pushes up the price for top-of-the-line models.
There are multiple reasons that can rack up the price of a mountain bike. Firstly, the materials required must conform to the extreme riding conditions they have to face on the mountain trails.
Secondly, adding marketing expenses, warranties and, other government requirements drive up the prices significantly.
Many bikes are in the $3,000 range with essential components, whereas the best models can reach costs of $8,000 or more.
Also, you may like, How to Remove a Speed Limiter on an Electric Bike.
Are Budget Bikes Any Good?
Although you won't be able to get your hands on the newest, best-performing models, there are still some great alternatives available in the sub $2,000 price range when it comes to mountain bikes.
Many of the bicycles we have included on this list are hardtails, although you will find a few full-suspension options if you prefer a smoother riding experience.
When buying a mountain bike, the components used to matter a lot. Shifters and brakes are dealing with a lot more pressure on trails and mountains than on everyday roads, alongside wheels that have to counter the impacts, you may experience on singletracks.
Read Best Mountain Bikes for Women
Best mountain bikes under $2,000
Considering everything mentioned above, now let's look at the best mountain bikes under $2,000.
1. Chameleon from Santa Cruz (Price: $1,700)
Santa Cruz's Chameleon is the one-stop solution to all your biking needs. It will enable you to go around town, tackle mountain trails, or ride on challenging gravel or dirt. It even accommodates two different wheel sizes, 29er and 27.5, catering to various people's needs.
Other bike manufacturers have also made bike models giving you a choice to interchange 27.5-plus and 29er wheels. However, none of those bikes come close to the design and spec of the Chameleon, which makes the cycle a one-for-all solution.
When ordering the Chameleon, you would need to decide between the 29er and 27.5-plus wheels and buy the other wheelset, which could be installed easily by making a few minor adjustments.
Weighing less than 30 pounds, the bike is shockingly light when considering the features it offers.
The color palette of the bike is unique as well, allowing you to distinguish yourself from the crowd.
Check out, Bike Chain Skips When Pedaling Hard
2. Embolden 2 from Liv (Price: $1,530)
Boasting 27.5-inch wheels, the Liv Embolden 2 is for the women ready to get sassy on the singletrack. The color of the bike is more ladylike than other unisex or men's models, but the bike doesn't go all out to feature a pink color.
The bike was made taking into account three facets of mountain biking: form, function, and fit. It has been designed primarily for a woman's body, even incorporating shock absorbers that suit women's riding needs. The looks and performance of this bike are unparalleled by most other options.
The bike has 120mm of travel distance in the front fork by SR Suntour and the rear shock. The aluminum build makes the bike lightweight making it corner like nothing else, while brakes will do dead stop as soon as you push that lever.
All these factors make the rider feel comfortable around the steep landscape. It is also available with tubeless tires.
Note: any of the bikes present on this list can be ridden by women. Yet, if you are looking for something that supports women's body types with certain geometries and saddle styles, the Liv Embolden 2 is a perfect choice. 
3. Cinder Cone from Kona (Price: $1,199)
Kona is one of the oldest mountain bike brands in the United States. The Cinder Cone commemorates the company's early days by replicating one of the oldest and most successful models.
The company's history dates to the time when 26-inch wheels and steel frames were the norms.
Kona has transformed the models to conform to the current standards while maintaining some of the bike's design heritage.
The bike features 27.5-inch wheels, a solitary chainring in the front, and 11 gears or cogs in the back. Everything combined makes the bike ready for the harshest terrains.
The cycle is pretty much immune to breakdowns owing to its SRAM NX shifting equipment and hydraulic Shimano MT500 brakes. So, don't be afraid when you find yourself on a difficult trail. The Kona is built for it. 
Other elements that make the bike quick and nimble around the countryside are its Schwalbe Nobby Nic tires and the front suspension – RockShox 30 Gold RL Solo Air – which provides a 100mm travel.
Also, check out, What Is A BMX Bike? and What is a Touring Bike?
4. Trek Roscoe 8 Mountain Bike (Price: $1,260)
The Roscoe 8 is one of those bikes that will stand out in the crowd whether you want it or not due to the spirited orange color.
Not just that, the bike has great handling and offers great traction control, making it one of the best hardtail bikes because of the hardtail frame, 120-mm fork suspension, and 27.5-plus tires.
The wide and dense tires give the bike traction and dampening power to the rear shock. In conjunction with broad handlebars, the RockShox Judy TK Solo Air fork makes the bike ride like a full suspension minus maintenance costs.
You won't win most of your track races, though you get some serious bike for your money for just a little bit over $1,000.
Shifters in the bicycle are SRAM NX 1×11 requiring no front derailleur maintenance and less wear down of the teeth due to logs and rocks.
Check out, How Long Do Bike Tires Last and When to Replace A Bike Tire.
5. Women's Rockhopper from Specialized (Price: $925)
The Specialized Rockhopper is designed to be fast and agile due to the aluminum frame and full suspension. It is one of the most popular bikes of the last decade and is great for riding around town, trails, or racing off-road.
The bike's price is also great for those looking to get their first mountain bike as it only comes in at $925. It is one of the bikes people keep even after they upgrade to more hard-wearing and high-performance bikes as it a great daily driver.
The bike's performance is great while going up the side of a hill, and 100-mm suspension makes your travels back exciting as well.
The colors available with the Rockhopper Expert are green accents on a majority grey frame that are much more distinct than the purple and black bikes commonly found in women's bikes.
The gears in the bike are Shimano Deore offering consistent shifts alongside the Shimano BR-M315 hydraulic brakes providing instantaneous stopping power.
While the Deore brakes are usually found on budget-friendly bikes, their performance is decent enough to take you on some serious rides.
6. Fat Caad 2 by Cannondale (Price: $1,900)
Some bikers prefer the fatter tire as it allows them to take their bike for a spin in all seasons, even if it means that they must deal with a heavier bike.
This is why I think The Fat Caad 2 is the best mountain bike under $2,000 for an all-around experience on this list.
The answer to their prayers is Cannondale's Fat Caad 2. The bike flaunts its Shimano and SRAM components that provide ruggedness and performance. So, don't worry about being stuck in the cold with jammed hydraulic brakes.
The frame is made from aluminum, though it is not very heavy for the type of bike in question. The bike is available in five sizes that cater to people with different body structures.
It also has 26-inch Sun Ringle Mulefüt 80 SL wheels, which feature tubeless technology to reduce your fears of a flattened tire.
Check out, Where to Put Bike Lock While Riding.
7. DRT 1.3 from Co-Op Cycles (Price: $935)
Co-Op Cycles is an in-house bike company by REI, which manufactures the DRT 1.3 hardtail bike. It suits those wishing to add a touring bike to their collection.
The DRT 1.3 is in the minority of bikes below $1,000 on this list, although it still features some solid components. The Shimano Deore gearing system and hydraulic brakes are plenty for rougher riding conditions when the trails become a little tricky.
Also, the bike has a 120-mm travel suspension and a lockout for your climbing needs. 
The best thing about the DRT 1.3 is its ability to be packed with stuff using the rack mounts and fenders for all your fun trips. Plus, you can avail of REI's free tune-up if you run into any problems with the bike.
This is another best mountain bike under $2,000.
8. Catch 1 from Diamondback (Price: $1,700)
Gone are the days when Diamondback had that big-box brand persona around two decades ago.
Now the company is offering some excellent bikes at a great value, which you can order online from the comfort of your home. Then within a few days, Diamondback will ship the bike directly to your home.
A full suspension is hard to find in a bike below the $2,000 range. Yet, Diamondback manufacturers, the Catch 1 for both men and women, offer a full suspension.
The only difference between the two models is the touchpoints and the smaller size of women's bicycles. The 3-inch thick tires coupled with 27.5 wheels are pretty much guaranteed to go over most obstacles in the way though they might be a little slow.
The Catch 1 has the largest suspension of all the bikes in the list, with 130-mm travel using the RockShox Yari RC 27-plus for the front and RockShox Monarch shock for the rear side.
The suspension used alongside the wider tires provides enough traction to the bike for traveling over rough obstacles and trails. The shifters used in the bike are SRAM NX 1×11, which have consistent and reliable shifting.
Furthermore, the one ring ensures that you do not bang your chainring against logs or rocks. The brakes on the bike are SRAM's hydraulics which has pretty decent stopping force.
In case you buy the bike online and assemble it yourself, getting the bike checked to ensure assembly has been done correctly is a good idea.
Also, check out, What Is a Cyclocross bike and Why You Should Buy One!
9. Scott Spark 970 (Price: $1,800)
If you are a fan of tricky and challenging trails and would like to have a full suspension for a smooth riding experience, the Scott Spark 970 is the bike for you offering the whole package for $1,800 only.
The Scott Spark has a 120-mm Rock Shox front suspension and an X-Fusion RL shock absorber in the back, providing the rider with a smooth ride. It does also allow you to lock both the suspension if you need to go on climbs.
The Scott Spark 970 has Syncros X25 TR wheels that house the Maxxis Forekaster 29er tires. The bigger tires are the reason you can easily go over any landscape. The bike's frame is slightly bulky, although it is based on the carbon frames in the same group of bikes.
10. Marin Rift Zone 27.5 1 (Price: $1,679)
Finding a full suspension bike with great build quality and performance is not an easy task under the budget of $2,000, but the Rift Zone 27.5 from Marin is a contender for the top performer in this domain.
Their debutant to the range of Rift Zone bikes is the "1", which possesses a top-quality aluminum frame that is not only strong but also has a great geometry that makes it easy to descend and ascend on your mountain rides.
It also has an 11-gear Shimano Deore drivetrain alongside tubeless tires and wheels. Coming in at $1,679 is a great bang for your buck.
The 1 has 120-mm of rear suspension travel and 130-mm upfront, making it appropriate cross-country travel as well as mildly technical trails. It is correct that a hardtail will be faster and more agile for the same price, but the difference between the two will be evident whenever you go over rocks and roots.
Things that can be improved upon to make this already good deal a great one is more powerful brakes and dropper post. Both these concerns are taken care of in the "2" model of the bike, although it pushes the price up to $2,189.
You may also like, What To Look For When Buying A Used Bike.
11. Timberjack SLX 29 from Salsa (Price: $1,799)
One of the most impressive hardtail bikes under the $2,000 range (Best mountain bikes under $2000) is the Timberjack from Salsa which follows the original model that the company made.
It includes a 12-gear Shimano SLX drivetrain that provides great shifting speed and consistency when put against the SRAM SX normally found in the price range we are discussing.
Other features that make this bike a great deal are the RockShox 35 Silver fork additions, Shimano MT401 braking system, and TranzX dropper post, which deliver much better performance than most other bikes in the hardtail range.
Its wheels are 29er combined with 2.6-inch tick tires, making the bike great for riding over difficult terrains and technical trails. You can also utilize the bike for bike packing, just like most other Salsa bike designs.
The quality parts used in the Timberjack allow the riders to be a little rough around the trails giving off a sense of superiority to most other rides.
Although a 130-mm bike struggles while descending from heights, something such as the Marin will beat it hands down. If you wish to descend from dangerous trails, your best option would be to get a full suspension bicycle such as the Marin we have listed above.
Though you are looking for a hardtail with all the bells and whistles one can ask for, the Timberjack SLX 29 is the way to go.
Read: What is a Spin Bike
12. Fuse Comp 29 from Specialized (Price: $1,900)
Specialized's Fuze is the answer from the well-known company for the growing demand of hardtails which deliver excellent performance.
The bike is available in 29er and 27.5-Plus wheel sizes. However, the one we recommend is the 29er due to the superb rollover from the bigger wheels and tires and the sturdy frame, which delivers reliable performance off-road.
The frame also comes with Specialized's lifetime warranty that many other brands offer on this list. The Comp 29 also has a forceful stance and great welds, making the bike a customer favorite.
You may also like:
Wrapping Up
The joy of riding a mountain bike on a technical trail is something everyone should experience once in their lifetime. It is both challenging and exciting at the same time.
As we discussed earlier, it is not that easy to find a mountain bike that lasts a long time while delivering consistent performance. We hope that this list of best mountain bikes under $2,000 will help you out in your endeavors to find the perfect bike for yourself.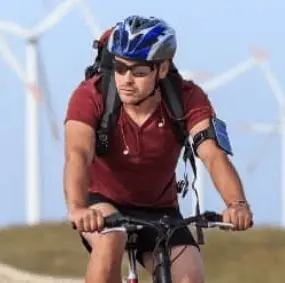 I am Michael, an avid rider and bike expert. I am here to provide, biking tips and expert advice on in-depth bike reviews covering features, capabilities, price range, and much more. Specially on electric bikes, mountain bikes, road bikes, etc. I will provide honest product reviews, along with expert advice on purchasing, training, and maintenance. Check out my complete profile.