Ignoring and putting off changing your mountain bike tires due to laziness is not the best idea. Riding your bike with a damaged tire is not only dangerous, but it can also leave you stranded during a challenging trek.
To prevent the above scenario, check your mountain bike tires every week, especially before riding. This article will talk about everything you need to know about mountain bike tires, like why it's important to change damaged tires, when to get new tires, how to change them (for beginners), and how to increase the lifespan of your bike tires.
When Should I Replace My Mountain Bike Tires?
Inspect your tires almost every week and check for these signs if they are wearing out;
If you see threads through the rubber of the tires, you'll likely need some new ones.
If the tire is bulging, thin, or looks irregular, you'll most definitely need a new tire for your bike.
If you see any tears from road debris or cracking along the sidewalls, you'll probably need to invest in new tires this season.
A professional or a consistent rider will know the tires are not performing their best when taking their mountain bike out for a ride.
If you're not satisfied with the way your bike is performing, invest in new mountain or road tires to fix this problem. Trust your instinct if it doesn't feel right.
Read How to Raise Handlebars on A Mountain Bike
Why Is It Important To Change Your Mountain Bike Tires?
Reason #1 – Safety
Mountain bike tires wear with age. Usually, bike tires last anywhere from 3,000 to 7,000 miles, which lasts two years if maintained properly. The most common sign you should replace your bicycle tires is flat tires.
If your tires are cracking, it is best not to ride your tires until you replace them. Make sure you are also replacing the inner tubes when you replace your road or mountain tires.
Spot a tear by checking your tire for bulges. If you see something growing like a tire tumor, know it's only a matter of time before your tire tears and your tube suffers a blowout. Not changing would be unsafe for you.
For example, what if the tire tears during the ride and leaves you stranded in the middle of nowhere? Keep a spare tire with you for emergency cases, or it's best to change your tire before you take it out for a ride.
Read Best mountain bike helmets under $100
Reason #2 – Control
You can control your bike better when you have the right size and perfectly new tires. It is very easy to lose control of your bikes and brakes with a flat tire, which becomes dangerous if you are riding in a high-traffic area or on the mountain terrain.
To prevent injuries, make sure your change your tires when they need a change. Please don't ignore them because any injuries you sustain would cost you a lot more than a pair of tires.
You can even change the width of the new tires you buy to have a smoother, more controlled ride. If you were suffering frequent flats and a rough ride on narrow tires that came with the bike, you'd benefit by switching to wider tires for more control and comfort.
Read Mountain Bike Sizing
Reason #3 – Peace of Mind
How will you enjoy the scenic ride if you keep worrying about your tires? If you ride your mountain bike regularly, your tires will probably start wearing out soon, and you will need new ones.
Check your tires regularly and change them as soon as you see signs of wear and tear for your peace of mind.
Pay closer attention to the rear tire as they are likely to wear at a much higher rate because most of your weight is on the back wheel, and it's responsible for your acceleration and drive. That means you'll probably need a new rear tire long before you need a new front tire.
What Is the Average Cost for Bicycle Tires?
Usually, mountain bike tires range between $30 and $99. The prices differ due to the differences in tread patterns, widths, wheel size, etc. You should know they will be worth every penny.
How to Change Bike Tires?
Having a flat tire can leave you stranded. Here is how you can learn to change your tire successfully without anyone's help.
You would only need to change the tube inside the tire most of the time. However, if the tire is too worn out due to negligence, you would need a new one. Keep a spare one with you in such cases of emergency.
Read How to Know My Mountain Bike Size
How to Maintain Mountain Bike Tires?
Mountain bikes are versatile and are suited to different terrains. However, mountains bikes have some costly parts, such as the tires that need to be maintained. They can easily be clogged by mud, grime, and grease after the ride.
If the tires are maintained properly, they can last for around 3,000 to 7,000 miles. However, if you ride weekly, they should last around two years. These are the following factors that determine the tires' lifespan:
Frequency of use and riding style
Proper maintenance
Quality of the tires
Terrain
The Lifespan of a Mountain Bike Tires
Every biker wants to increase the lifespan of mountain bike tires. However, here is what determines how long your bike tires would last you before you need to invest in new ones.
Quality of the Tires
We all know authentic and genuine bike tires are what bike riders need. You need to invest in good-quality tires made from materials; they include reinforced rubber and are durable.
High-quality tires can withstand the stress associated with the rough terrains that mountain bikes are historically known for.
In addition, high quality can last longer and support more pressure without the danger of bursting or wear and tear. On the other hand, low-quality tires have a short lifespan as they are more prone to bursting and wearing, and tearing.
Poor quality tires can rarely withstand the various rough terrains, such as stony mountains and trails common when mountain biking. If you're an avid and regular mountain biker, purchase good quality tires, so they last you longer.
Riding on a bike with poor quality tires will always keep you on edge and take away all the fun from experience.
Terrain
Mountains are known for rugged terrains, and mountain bikes are perfect for such roads. However, that doesn't make them invulnerable to the dangers associated with these areas.
Mountains have all kinds of things that can puncture your bike tires easily, such as sharp stones, big boulders, and sometimes spiky vegetation, such as thorns and broken tree branches.
Punctures in tires can happen when you ride your mountain bike in such risky areas. Keep a toolbox at hand; it can be a lifesaver, especially when the puncture occurs in difficult areas. If the damage is beyond repair, the bike owner needs to purchase a new tire.
Even when your bike tires are of higher quality, regular travel on such terrain can reduce your mountain bike tires' lifespan to minutes and even hours upon purchase.
To keep your tires puncture-free for a long, visit areas, such as parks or muddy areas with fewer sticks and stones. They are softer and smoother rides as compared to rough terrains.
Proper Maintenance
For a mountain bike to run smoothly, you need to maintain your bike and its various parts regularly, including the tires. Clean your bike and its tire thoroughly after every bike ride to take all that dirt and gunk off.
Grime can reduce the lifespan of your bike's tires, and if you don't properly maintain them, the chances of the tires wearing out are high.
Grease and grime can also result in corrosion of wheels and rims. Rusted rims can break, and the resulting splinters can puncture and irreparably damage the tires. Moreover, unremoved broken spokes can also damage the tires.
To keep your tires safe from puncture, you also need to maintain brake pads and discs. Please keep them in good working conditions, so the braking system works perfectly.
Chains and drivetrain also need to work perfectly every time you go up the mountains. With all the parts working, you are more likely to navigate your bike and avoid hitting these sharp objects, such as sharp stones and trees.
Furthermore, a rider riding an unmaintained bike may also put other road users in great danger because they may cause accidents that could have been avoided with a properly working tire. Such accidents can be fatal or cause severe injuries to the people involved.
Frequency of Use and Riding Style
If you like to go on bike rides every morning or afternoon with your friends, your tires will have a shorter lifespan eventually than those bike riders who go occasionally.
Therefore, a professional biker who participates in different competitions riding up the mountain terrain would have to change their bike tires frequently. Their bike would often be exposed to bumps and rough terrain, leading to wear and tear easily.
The same goes for those riders who use their bike as a means of daily transport. Such riders will need to purchase new tires within a shorter time compared to occasional riders.
How you ride the bike and with what force also determines the longevity of your bike tires. When you ride soft, your tires will last longer because there is less traction involved.
However, hard riders replace their tires frequently because of increased traction between the tires and the trail. Change up your style depending on where you are riding your bike to. If it's a competition, the pressure is understandable.
Choosing a terrain may not always be a choice, especially for professional riders; the trail for them is already chosen before the competition even starts.
In this case, what can somewhat increase the lifespan of your bike tires is proper and frequent maintenance and investing in high-quality tires.
Bike Tires Maintenance Tips
Learn the basics of how to handle each part of the bike so you can identify what problems your bike is facing easily and how to properly maintain it. If you have no clue about bike parts, you might cause further damage to them. Understand what damage looks like.
Designate a working area in your garage solely for maintaining your bike. Yes, your bike is that important. Keep all the handy tools within reach; this place should be for repair, replacement, and maintenance practices.
Consider spending a few extra dollars on a bike stand; this will make maintaining, inspecting, and cleaning your bike a lot easier and simpler.
Always check your wheel pressure before, during, and after the bike ride. This way, you'll know when it needs repair before the puncture or damage become irreparable. A punctured wheel can result in accidents and compromise your safety or ride. This is an important step in maintaining your bike.
Consider consulting professional help if you are not well aware of the technicalities of bike tires and their maintenance practices. They will be able to repair your bike for you quickly and with ease, even though they can charge a lot at times.
Conclusion
Mountain bikes are a great investment, but like any other bike, they need to be taken care of and maintained regularly to prevent costly repairs. Bike tires are probably the most used part of the bike, and that is why they need extra care. To enjoy your rides smoothly, your tires should be in optimal condition always.
You may like the following bike articles: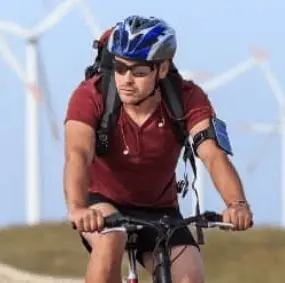 I am Michael, an avid rider and bike expert. I am here to provide, biking tips and expert advice on in-depth bike reviews covering features, capabilities, price range, and much more. Specially on electric bikes, mountain bikes, road bikes, etc. I will provide honest product reviews, along with expert advice on purchasing, training, and maintenance. Check out my complete profile.