Before you purchase a bike, you must ask yourself the question: "how much does a bike weigh?" A bike's weight has a direct impact on how smooth the ride's going to be. A lighter bicycle accelerates faster than a heavier one and is easier to carry around, too.
On the other hand, heavier bikes are more robust and provide better balance, giving you a more confident ride.
With pros and cons associated with both, the decision can be confusing. Let's take a more detailed look at how the bike's weight impacts your riding experience.
Road Bikes
Road bikes can weigh somewhere around 17 to 18 pounds. Their weight can vary depending on the size, components, and frame material. A bike on the heavier side can weigh somewhere around 25 to 27 pounds.
A road bike is supposed to be ridden on paved roads. Whenever anyone thinks of riding a race bike, a road bike is what comes to mind.
Usually, road bikes are one of the lightest options available in the market since they're built for speed. Moreover, they also have smaller tires to reduce their weight.
The Union Cycliste International (UCI) is the governing body for cycling, and it oversees all international cycling events.
According to their regulations, the minimum weight a bike can have is 14.99 pounds or 6.8 KG.
Even if it's the Tour De France, you're not going to see any rider riding a lighter bike. If a bike breaks this limit, the rider may go too fast, which can cause safety issues. However, this rule may change in the future.
Beach Cruisers
Beach cruisers are the perfect bikes for…well, cruising. Before you go on a ride, make sure you get a cup holder installed so that you can sip your drink while you enjoy the immersive experience.
Since a beach cruiser is built for comfort and not speed, it can be heavy. Typically with beach cruisers, the less money you pay, the heavier they're going to be.
A beach cruiser can usually weigh around 35 to 40 pounds, but there are always some exceptions. These bikes have large handlebars so that the rider doesn't have to stoop to reach them, and they also have large tires that give a soft cushiony ride.
Moreover, most of the beach cruisers you'll find will have seats bigger than an average bike so that your butt can have a comfortable resting space.
They can also withstand small crashes!
BMX Bikes
BMX bikes can weigh somewhere around 25 to 28 pounds. These bikes are designed for extreme stunts and races.
While every BMX rider may have a preference when talking about a bike's weight, most riders prefer a lighter bike. Not only does a light bike give them more air under their wheels, but it's also easier to spin the bike.
The lightest bikes you'll find are either made from carbon fiber or titanium, but these can be expensive, too. One unique feature you're going to find often on BMX bikes is grinding pegs.
These pegs allow the rider to grind on curbs and rails, essential for their routine. The weight can increase depending on the number of pegs your bike has (it can go up to 4).
Mountain Bikes
There are several reasons a mountain bike is heavier than a road bike. For starters, a mountain bike has extra gears that let riders travel upwards on steep dirt trails.
These bikes also have large tires and suspensions that combine to form a smooth ride. The extra gears, added suspension, and large tires give the bike a weight range of about 21 to 29 pounds.
Most mountain bikes are built to withstand rough terrain and rugged roads, so they're usually on the heavier side of the spectrum. That said, the weight of a hardtail mountain bike (only frontal suspension) and full suspension mountain bike can also differ.
Electric Bikes
We're sure you didn't expect this category on the list. E-bikes have now gained sufficient traction in the market and have cemented their role as a prominent part of the cycling world.
Not only are these bikes heavy, but they also have a battery attached to them. Depending on the kind of e-bike you're thinking of getting, a bike can weigh as low as 40 pounds, and the heaviest bike can be 80 pounds!
This large variance in weight will depend on the kind of bike you purchase. Foldable e-bikes are lighter, so they can be easily carried from point A to point B.
However, if you're looking for a heavy-duty electric bike that can survive the apocalypse, climb all mountains and give you a long ride, then you're probably looking for an e-bike that weighs around 80 pounds.
Hybrid Bikes
A hybrid bike is heavy because it gives the rider the best of both worlds (mountain biking and road biking). It has an average weight of around 29 pounds because of its design and style.
Road bike-styled hybrid bikes can weigh 26 pounds, while cruiser styled-hybrid bikes can weigh around 32 pounds.
You can use hybrid bikes for going around the community and for casual riding. However, compared to the weight of a road bike, hybrid bikes can be less efficient on unpaved and paved roads. Moreover, you can't use hybrid bikes on tough off-road trails either.
Carbon Fiber Bikes
Carbon fiber bikes can usually weigh around 18 pounds. Like every other category we've listed, the frame's material, size, gears, tire size, and wheels can change the bike's weight.
Carbon fiber frames are stiff and strong and, to everyone's surprise, also incredibly light. As the name may suggest, these frames are built from carbon fiber strands and epoxy resins.
Even though carbon fiber bikes can be expensive, they make up for their expensive price tag by giving riders a smooth and comfortable ride. Moreover, they also have higher strength and durability when compared to the other categories you'll find.
However, despite the proven efficiency of a carbon fiber bike, most riders who can afford them opt for a different bike. But this has changed recently. Improvements in manufacturing techniques and technology have modern carbon fiber bikes affordable.
So if you're looking for a lightweight bike with a strong frame, a carbon fiber bike would be the perfect fit.
Single Speed Bikes
A basic single-speed bike can weigh around 20 pounds. Single-speed bikes have lesser components than other bikes which, is also why they're lighter. The simplicity of these bikes makes them easier to maintain.
However, depending on the material and the size of the frame, you can also find a single-speed bike that can weigh close to 14 pounds.
Fat Bikes
These fat bikes can weigh around 25 to 45 pounds. They're equipped with fat tires which let the rider pedal over unstable and rough terrain. These bikes are perfect if you're trying to ride on sand, mud, and snow.
Some riders enjoy the looks of a fat bike, while some can use them as mountain bikes or for commuting.
What differentiates a fat bike from every other bike on this list is its hefty tires. The fat bike needs to have a large, sturdy frame. As a result, the bike is heavier than most bikes you can find in the market to accommodate these tires.
Folding Bikes
The folding bikes have recently become incredibly famous, and they do a good job of living up to the hype, too! As the name may suggest, these bikes can fold into smaller and more manageable shapes that can be carried around.
Their inherent purpose is to be lightweight so that you won't have to carry them around with your back aching.
Depending on the brand, folding bikes can weigh around 20 to 25 pounds. You can find a few carbon fiber bikes that weigh less than 20 pounds, but they come at a higher price. If you're searching for a folding bike, you must know its exact weight before buying it.
Kid's Bikes
Kid's bikes can weigh around 18 to 26 pounds, which is surprising that a bike made for a 60-pound kid is approximately half of their weight!
The reason kid's bikes can weigh as much as full-sized bikes are two-fold. The first reason is that kids must have a heavy bike so that their ride can be stable.
As kids learn how to ride a bicycle, they must have a bike that helps them stay grounded. A lighter bike can be less stable and flimsier.
Secondly, a kid's bike needs to be heavy and sturdy because it will be abused significantly. While this isn't the case with every kid's bike, most of them are more prone to crashes since kids can toss them around. That is why these bikes are designed to take a beating.
That said, certain manufacturers can sell you lighter bikes for kids. Unless your child is a professional racer, the bike's weight shouldn't matter to them.
Factors Affecting a Bike's Weight
Various factors can influence and impact a bicycle's weight. Here are some of the most important factors that can help you answer the question "how much does a bike weigh?"
The Rider's Weight
Before you buy a bike, you check your weight first. Your weight is going to be a massive factor in determining the manner of your riding. If you're skinny, you should consider getting a heavier bike.
A sturdy bike will keep you more stable and balanced. Heavier bikes complement light riders well since they can distribute weight evenly.
On the other hand, if you have a large body structure, you should consider looking for a bike with an average weight. This way, there's not going to be a lot of gravity pulling you down when you're on the road.
Lighter bikes can also allow you to accelerate better when you're going downhill.
The Materials
The materials that are used to manufacture a bike also directly impact how much a bike weighs. While heavy-duty materials can provide more weight to the bike's structure, there are also few that can keep the weight to a minimum.
Here are some of the most common materials used to build bikes:
Carbon Fiber
As we mentioned earlier, carbon fiber is a strong metal that is used for manufacturing bikes. It's bendable and lightweight, which makes the bike powerful and durable.
Titanium
While this material is expensive, it gives a bike's frame ultimate strength. It's also lightweight, so you don't have to worry about slow speed either.
Aluminum
This material is both affordable and light. Since it doesn't cost too much, it's used to manufacture several bikes. Apart from being light, it can also give you a solid ride.
Carbon Steel
This material is more commonly used than carbon fiber. It's a strong material that is affordable yet very strong. This material is often used to create frames that are supposed to long for a long time. They can also be a bit heavier.
The Accessories You're Using
Another factor that can impact the weight of the bike is the accessories you're using. If you use a lot of accessories, we'd recommend getting lighter tires. Your accessories such as the brakes, suspension, helmet, and rims can also add weight to your bike.
Other Factors
Rack
This depends on the size and material of the rack attached to your bike. A usual rear-mounted rack can weigh 1.5 to 2.5 pounds.
Seat
A narrow seat may not be as comfortable as a larger seat. However, the larger seat comes with an added weight cost.
Tire Size
The tires can weigh around 1.5 to 2.5 pounds per piece, even for a fat tire bike.
Wrapping Up
It is imperative you know the weight of a bike before you take it out in the wilds for those gnarly adventures. That said, your choice of bike shouldn't only depend on the bike's weight. It would be best if you also considered your reason for getting a bike, where you'll be riding it, and several other factors.
If you're a daily commuter, you may want to think about your bike's weight if you're going to take it up a flight of stairs. Lifting a 45-pound bike with a rack can be cumbersome, so it's best you make this consideration before you pay for the bike.
So there you have it! A detailed answer to the question "how much does a bike weigh?" Hopefully, now you'll make an educated purchase that you don't regret in the long run.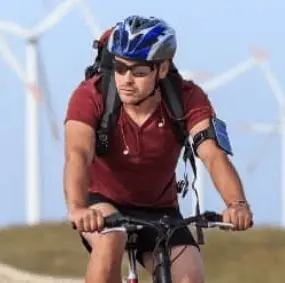 I am Michael, an avid rider and bike expert. I am here to provide, biking tips and expert advice on in-depth bike reviews covering features, capabilities, price range, and much more. Specially on electric bikes, mountain bikes, road bikes, etc. I will provide honest product reviews, along with expert advice on purchasing, training, and maintenance. Check out my complete profile.