Finding the right bike for a heavy and bulky individual can be tough. Over time, it has gotten harder with increasing demand and a consistently low supply of mountain bikes for heavy riders.
Customers are also confronted with weight specifications when checking out the products of different brands. That's because most manufacturers produce cycles according to a person's height only. As a result, bikes for different weight categories are not very common yet.
Mountain Bikes for Heavyset People: Why Are They Needed?
Irrespective of body type and mass, mountain bike riders want a model with a powerful frame that can withstand pressure and won't sag or break under their weight. Just like slim and slender people, big and tall individuals deserve a durable bicycle that they can rely on.
So, if you're on the lookout for mountain bikes for heavy riders, you've come to the right place. This guide includes detailed info on the best bicycle models for bulky and well-built folks.
For those who have ever been told that mountain bikes or any bicycles aren't for them, the models on this list will convince them otherwise.
Read How Do You Clean Sand Off a Mountain Bike?
Which Are the Top Mountain Bikes for Heavy Riders?
1. Mongoose Dolomite
You know what they say about big guys driving big machines, right? The same goes for heavy riders who thrive on bikes with fat tires like the Mongoose Dolomite.
If Amazon reviews are anything to go by, this monster cycle has super-sized 26" X 4" wheels and can withstand a bodyweight of as much as 350 lbs.
It is perfect for riding in all terrains and all conditions. The hydraulic disc brakes further ensure suitability for people with large frames and greater body mass.
Another aspect that will sit well with big and tall people is the sturdy frame. It is highly comfortable with really good geometry for overweight individuals. In fact, this is one of the biggest (no pun intended!) reasons why the Dolomite has been a bestseller among mountain bikes for heavy riders.
You'll be even more surprised at the price. The Mongoose Dolomite will set you back between $400 and $600, which is a steal for a bike of this size and strength.
So, if your search for a hybrid bicycle suitable for your weight doesn't yield many results, think about getting the Dolomite.
Below is a list of the most important specs of the Mongoose Dolomite mountain bike.
| | |
| --- | --- |
| Weight Limit | 350 lbs |
| Hydraulic Disc Brakes | Front & Rear |
| Tire Size | 26" X 4" |
| Top-Notch Frame Geometry | Yes |
| Bicycle Weight | 48 lbs. |
| Cheap Twist Shifters | Yes |
| Rigid Fork | Yes |
| Frame Material | Steel |
| Bike Type | Rigid Fat Bike |
Read What Mountain Bikes Are Made in The USA?
2. Ibis DV9
The Ibis DV9 is one of the finest hardtail bikes on the market. Its demand has been so high among heavyset riders that many stores have already run out of stock a few times. However, you can still buy yours from a reliable online marketplace or a good local outlet in your area.
Concerning features, the Ibis DV9 is one of the best options on this list. It comes with huge 29" wheels – which has become a norm now – and a 1×11 SRAM SX drivetrain.
A 100 mm or 120 mm travel RockShox fork is also part of the package. The frame is made of light carbon fiber but is extremely durable.
Overall, the Ibis DV9 is a great option for those of you who require a quality bike with a wide gear range. You won't have to worry about hitting the rough terrain hard with it.
Following are the main specs of Ibis DV9 mountain bikes.
| | |
| --- | --- |
| Tire Size | 29" |
| Fork | 100 mm/120 mm Travel |
| Frame Sizes | Small (S), Medium (M), Large (L), & Extra-Large (XL) |
| Frame Material | Carbon |
| Bike Type | Hardtail XC Bike |
Read How Do Mountain Bike Hydraulic Disc Brakes Work?
3. Mongoose Impasse
With 2 separate but equally eye-catching color schemes, the Mongoose Impasse is one more excellent option for people weighing more than 300 lbs. Its super-strong frame and 29" wheels (with a single disc brake on both) do a very good job of supporting the rider's weight.
Moreover, assembling this full-suspension bike isn't complicated and shouldn't take you more than a few minutes. The Mongoose Impasse also includes internal cable routing and 21 gears.
The former makes it extra safe on uneven trails where there might otherwise be a chance of the cables getting in your way. With the latter, you can easily navigate steep terrains and maintain total control of your speed when going downhill.
This cycle is a good all-rounder option for bikers with a height between 5'4″ and 6'2″. The adjustable seat is comfy and the handlebars are solid. Below is a summarized list of its prominent features.
Weight Support: Over 300 lbs
Single Disc Brakes (Both Wheels)
Tire Size: 29"
Rigid Fork
Frame Material: Steel
Read Can I Mountain Bike Every Day?
4. Priority Continuum Onyx
The Priority Continuum Onyx has been specifically manufactured for big and tall folks who usually have difficulty finding a sturdy and comfy bike. It is loaded with features, yet you don't have to break the bank to get one for yourself.
The latest Priority Continuum Onyx has been carefully designed to provide the ultimate experience in style, safety, and simplicity to well-built riders. Compared to previous versions, the safety light has been shifted to the handlebars in this edition for easier access.
You can confidently ride through rough mountainous terrain, properly paved roads, and bike paths with the Onyx. Just enable the Enviolo CVT shifter grip and you're good to go with the perfect amount of resistance.
Also, instead of chains, this bike comes with a cable routing system and a Gates Carbon Drive belt. This means that you don't have to deal with rusting chains or slimy agents.
Furthermore, the Tektro Hydraulic brakes, along with the NuVinci hub and belt drive, should win you over. Below is a more comprehensive list of the Onyx's features.
Bike Type: Hybrid Bike
Weight Capacity: 300 lbs.
Frame Material: Aluminum
Ideal Rider Height: From 5'6" to 6'2"
NuVinci N380 CVT Drivetrain
Bicycle Weight: 30.29 lbs
Promax or Tektro Hydraulic Disc Brakes
Integrated Lights & Fenders
No Gear Planning Needed for a Stop Light
Read How to Know My Mountain Bike Size
5. sixthreezero Around The Block
In terms of style and aesthetics, the sixthreezero Around The Block is among the best-looking cycles on this list. However, there's much more going on than just the looks here. The subtle ergonomic frame, super-smooth 2" wheels, and ultra-comfy cushioned saddle provide an enjoyable ride EVERY SINGLE TIME!  
This cruiser comes in various colors, along with 1-speed, 3-speed, 7-speed, and 21-speed variants. You can also choose between a 24-inch and a 26-inch frame. The ergonomic frame can easily support riders with a bodyweight of up to 250 lbs.
At this limit, it is one of the lighter bikes on this list but still a great option unless you're specifically looking for a bold riding or high-speed option.
Below are the most notable features of the sixthreezero Around The Block.
Frame Material: Steel
Bike Type: Beach Cruiser
Weight Capacity: 300 lbs
Ideal Rider Height: 5′ to 6′
Total Riding Comfort with a Unique Cushioned Saddle
1, 3, 7, and 21-speed options
Bike Weight: 35 lbs
Shimano Index Revo Shifter
Read How to Climb Faster on a Mountain Bike?
6. Diamondback Overdrive 1
Heavy and bulky riders usually need relatively lighter bikes. Otherwise, going through rough upward terrain can become extremely difficult. The Diamondback Overdrive 1 has been specifically designed for heavy riders in this scenario. Surprisingly, however, it is one of the lightest bicycles around.
So, whether you're planning a ride through the mountains or just looking to go for a leisurely cruise around town, the Diamondback Overdrive 1 should take care of all your cycling needs with aplomb. It usually comes fully assembled; you just have to take care of a couple of attachments which shouldn't take you more than a few minutes.
A proper budget bike, the Diamondback Overdrive 1 includes an SR Suntour XCT fork with coil spring, a Shimano Altus drivetrain, and 100mm of travel. Moreover, the unique butted aluminum frame makes the cycle lightweight but fairly sturdy at the same time.
For those who enjoy long bike rides, there are few better options out there. Both experienced and novice riders love the Overdrive. It is especially a great choice for beginners feeling their way around the mountain biking scene.
And while this bicycle won't do you much good in a race, you can go around the world on it if you want to!
Following are some important features of the Diamondback Overdrive 1.
Tire Size: 29"
Fork: 100 mm Travel
Frame Sizes: Small (S), Medium (M), Large (L), Extra-Large (XL)
Bike Type: Hardtail XC Bike
Frame Material: Aluminum
Read How to Clean An Electric Mountain Bike?
7. Cannondale Trail 7
The Cannondale Trail 7 is among the best mountain bike options for heavy and well-built individuals weighing in the region of 300 to 350 lbs.
And at around $700, you'll be hard-pressed to find a more suitable option in this price range, especially when you consider the high-quality lightweight aluminum frame accompanied with a bunch of dirt-ready components.
The WTB Ranger Comp tires run quickly and smoothly, while the SR Suntour XCT DS front suspension with 100 millimeters of travel efficiently absorbs shocks and smooths out bumps. All of these combine to give you a super-smooth, comfortable, and zippy ride.
Furthermore, the Cannondale Trail 7 comes with the best-in-class Shimano MT200 hydraulic discs (160/160 mm rotors). This is the finest braking option in a bicycle under the $1,000 range. Other noteworthy features include the Altus/Tourney front/rear derailleur combo and the Shimano EF-505 Rapid Fire shifters.
As for gears, there are 16 of them – certainly enough for both a casual ride in the park as well as an off-road trip through the mountains. Below is a list of the most prominent Cannondale Trail 7 features.
Frame Material: Aluminum
Maximum Weight Support: 330 lbs.
Tektro Hydraulic Disc Brakes
Ideal Rider Height: 4'6" to 6'3"
Bike Weight: 32 lb. 12.8 oz.
Lightweight & Durable SmartForm C3 Alloy Frame
SR Suntour XCT Suspension Fork with 100mm Travel
Read Best mountain biking backpacks
8. Schwinn High Timber Mountain Bike
Schwinn is one of the oldest players in the world of bicycle manufacturing. It's considered one of the pioneers of the industry. And while the company isn't known for making too many changes in its bike models, it provides some of the best budget options for customers who don't have very deep pockets.
The High Timber is another budget cycle from Schwinn. We recommend this model if you're an adventure-seeker with some financial limitations. It can easily traverse any terrain and you won't have to pay through the nose to get one.
Standout features include the Schwinn suspension forks – one of the best suspension options for people on a budget – and twist gear shifters that enable the rider to change gears effortlessly. Furthermore, the 3-speed crank and 7-speed cassette enable you to ride fast and climb the hills without any problems.
The High Timber also has several wheel varieties to choose from. This specialist mountain bike is suitable for children and adults alike. You can experience easy and comfortable rides while passing through rough mountainous terrain and a straight, well-paved road close to home.
Take a look at its major specs below.
Wheel Sizes: 24", 26", 27.5"
Frame Size: Small (S), Medium (M), Large (L), & Extra-Large (XL)
Fork: 80 mm Travel
Frame Material: Aluminum
Bike Type: Hardtail XC
Read Best Electric Mountain Bike with Removable Battery
Some Frequently Asked Questions
Can a Rider Be "Too Heavy" for a Particular Bike Model?
Yes, if the maximum weight capacity of a bike is significantly less than your body weight, then you'll be "too heavy" for that particular bike. However, there are plenty of options around and you'll surely find a model that you like and is sturdy enough to handle your body size and mass.
Are Fat Bikes (Bicycles with Fat Tires) Difficult to Ride?
Not necessarily. On the contrary, mountain bikes with bigger tires can make your ride easier, smoother, and more comfortable.
Final Thoughts
If you're looking for mountain bikes for heavy riders, we recommend picking one that suits your budget and has the features you're looking for. The mountain bike models on this list are popular with many heavy and bulky riders and one of them is bound to fit your needs. Good luck!
Related mountain bike tutorials: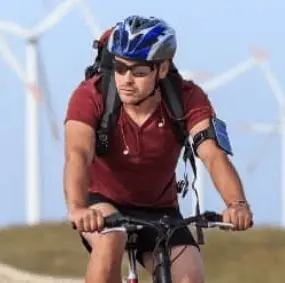 I am Michael, an avid rider and bike expert. I am here to provide, biking tips and expert advice on in-depth bike reviews covering features, capabilities, price range, and much more. Specially on electric bikes, mountain bikes, road bikes, etc. I will provide honest product reviews, along with expert advice on purchasing, training, and maintenance. Check out my complete profile.