So you want a mountain bike? But your budget is not enough to buy a brand new one from the showroom – what do you do? Well, nothing to worry about. There are plenty of second-hand/used bikes available out in the market.
Before buying a second-hand mountain bike, you must check it thoroughly and give it a test ride. In addition, a lot of other things need to be taken into consideration.
Buying a Second-Hand Mountain Bike
What kind of used mountain bike are you looking for? Carbon bikes are the most difficult to assess. The naked eye is unable to find the damage that has been done under the carbon frame surface. Only a carbon repair specialist will be able to do that.
Then you have a choice between downhill and carbon fiber mountain bikes too. The most overwhelming decision is identifying your own bike needs. Once you have done that, you are ready to check out that specific second-hand bike in the market.
First, it's important to begin your checks with the most expensive components, working your way over the bike to its cheaper parts.
Do your research
First and foremost, you need to know your own requirements and how much you are willing to spend. Identify your own riding style – Will you be going on long trail rides? or are you one who only takes out the bike on weekends?
Once you know what you need for yourself, survey the market for different priced models and brands and choose the right one for you.
Make sure you know what size of bike you would be most comfortable on. All brands and models have different sizes.
Make sure it's not stolen
With people out there who are ready to cheat their way into selling illegally stolen bikes, you have to make sure you don't buy a stolen mountain bike.
You can check if a bike is stolen by checking the frame or serial number, which you can find under the bottom bracket stamped onto the metal. On a carbon frame, it is mostly carved into the surface or on a sticker.
You can also do some research on the seller. Check their previous posts on social media or their pictures to see if they are genuine and trustworthy. Ask them for the original documents and receipts of the bike.
Also, if the price is really, really low, it is probably stolen or broken, and a no-go!
What to inspect on the bike
First, it's important to begin your checks with the most expensive components, working your way over the bike to its cheaper parts.
Frame
A good-looking frame shows that the bike has been well looked after and has been regularly serviced. It is normal for a second-hand bike to have a few scratches and dents.
You need to look for those dents and cracks in major and important areas of the bike, such as bottom brackets, chainstays, and shock mounts. If you find too many signs of damage, it means the bike has been very roughly used.
Pay extra attention to the welds and corrosion around the attachments on the bike. Most of these minor problems can be fixed easily, but they will cost you a little extra.
Read 8 Best Mountain Bikes for Heavy Riders
Suspension
Ensure that both the forks and rear shocks are in proper working condition. These both need regular servicing to keep them working efficiently. Ask the seller when was the last time he had the suspension oil changed or replaced the seals.
Normally the forks and shocks get serviced every 50 to 100 hours of riding, but if the seller has not done any maintenance on these parts for more than a year, it's probably not a good idea to purchase that particular bike.
Brakes
Brakes are the part of a bike that suffers the most wear and tear due to the intense pressure on filthy mountain rides.
A usual giveaway sign that the brakes are not in good condition is discoloration and markings on the rotors, or you can check the calipers to see how much life they have left.
Take a test ride and press the brakes to see how strong they are. If you feel that the brakes are soft and mushy, they probably need to be bled.
Bleeding brakes means getting all the air bubbles out of the brake lines. The bubbles hinder the performance of the brakes. If the seller has had the brakes bled, it is a sign that the bike was being taken care of.
Wheels
Wheels get battered on any and every mountain trail, so make sure to inspect the rims, spokes and look for any dents on them.
Check the tension in the spokes, the straightness, and the roundness of the wheel. Give them a spin and see if they run smooth, or are they wobbling?
Fortunately, many problems with the wheels can be spotted before you actually purchase the bike.
Drivetrain
The drive train means the cranks, the cassette, chainring, and the derailleur. Make sure to check all of these for any wear and tear. The chain itself is pretty cheap to replace, but all the other parts of the drivetrain should be checked thoroughly for any damage.
This can be done by shifting through all the gears when you test rides it. A chain wear guide will give you a true picture of the condition of your drivetrain.
Read 27.5 Mountain Bike vs. 29 Inch Mountain Bike
Things to do when meeting the seller
We know it isn't always possible to meet the seller in person before you buy the bike, but it is recommended you do so. Don't hesitate to clear any doubts that you might have in your mind.
Always pay money after you have done a complete inspection of the bike and also taken it for a test run. This will help you in making your decision whether you want to buy it or not.
Consider meeting the seller at a local bike shop and getting the bike checked by a professional.
Some questions you should be asking the seller are:
1. How many miles has the bike been ridden, and if he is the original owner?
Knowing how many miles the bike has gone through is important because no matter how well a bike is maintained, some parts of the bike will wear out and get consumed after a certain point.
It will give you a good idea of how worn out it is and whether the bike is on its last legs or not.
2. What sort of action has the bike seen and where?
You should know if the bike has had a rough or smooth life. Knowing what and how the previous owner used the mountain bike can give a good idea.
If the seller is just a casual rider, the bike is more likely to be in good condition; on the other hand, neglect and abuse will be clearly visible on the bike if the seller has never maintained it.
3. Are all the parts and components original? If they have been changed, ask why.
Replaced components might be just as good or better than the original parts, but you should be aware of the reasons behind the change. Was the bike in a crash? Or were the parts changed to make the bike more optimal for the person?
If the seller has replaced original parts with cheaper ones, make sure the bike is priced accordingly.
4. Is anything currently not working as it should?
Ask the seller for any current problems with the bike and hope the seller is honest. You will get to know what will need fixing and what is already in good condition.
Read Mountain Bike Sizing
Never buy a dirty bike
A dirty bike usually means a neglected bike. Dirt and grime hide cracks and break well, so avoid buying a very dirty bike. A clean bike also shows that the seller was a passionate biker and paid proper attention to its maintenance.
Keep some money aside
Remember, when you are buying a second-hand mountain bike, you are trying to save money. Try not to blow your complete budget on the bike itself. Don't get fooled into buying a really cheap bike as you will spend more on its repairs and maintenance.
You may also like the following mountain bike articles:
A second-hand bike does not come with a warranty, so any expenses on faults and mishaps will be going out of your own pocket!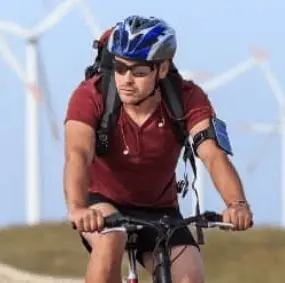 I am Michael, an avid rider and bike expert. I am here to provide, biking tips and expert advice on in-depth bike reviews covering features, capabilities, price range, and much more. Specially on electric bikes, mountain bikes, road bikes, etc. I will provide honest product reviews, along with expert advice on purchasing, training, and maintenance. Check out my complete profile.