Mountain biking is a great recreational activity that seems to be making a comeback, and for good reason. Not only is it a great pastime, but it is also great for your fitness and allows you to spend some time away from the digital screens and in nature.
However, it is possible that you may have tried taking up this activity, but the outrageously priced mountain bike may have turned you away. Some even sell as high as $13,000. You can get a second-hand car in terrific condition for a lower price than that! Understandably, not everyone has that kind of money to spend on a bike.
Why Are Mountain Bikes So Expensive?
Looking at the price tags of some mountain bikes, you may wonder why they are so expensive. Is the price really worth it, or is it just overpriced?
The truth is that there are valid reasons behind the price. Mountain biking is a relatively dangerous sport when you compare it to other similar activities.
In order to ensure that the bike is able to balance and run smoothly on a rocky mountain and uneven terrain, high-quality components and technology are used to build the bike.
To have a safe ride up and down the mountains, you need a bike with parts that are durable, sturdy, and can take a beating. Naturally, it takes more money to build bikes with such precision and technology.
On the other hand, most of the cheap mountain bikes you find in the market are outright dangerous for the rocky trails. The wheels, frames, and handlebars can easily break when ridden in slightly dangerous atmospheres.
This is why it is important to do proper research before buying a mountain bike – especially if you're a beginner.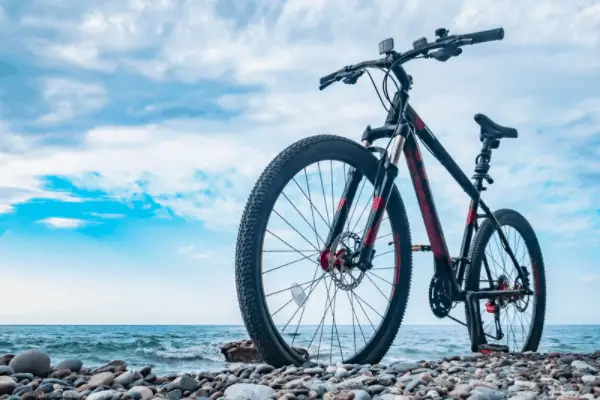 Read Best Mountain Bikes Under $500
Can I Get A Relatively Good Mountain Bike Without Spending Thousands of Dollars?
A lot of people wouldn't be willing to spend thousands of dollars to try a new hobby or sports. So does that mean that they shouldn't consider mountain biking? Well, not exactly.
There are certainly some major benefits of getting the high-end mountain bikes that cost nearly $10,000. And if you are thinking about seriously getting into mountain biking, it will be a better idea to save up the money to get one of the more expensive bikes.
However, if you are just trying to get into a new physical activity or want to spend more time in nature, pelting out thousands of dollars may not be a practical choice. But that doesn't mean you have to completely forget the idea of mountain biking.
If you want to get a new mountain bike for a lower price, there are some great models available for as low as $300. Yes, they won't be as great as the expensive ones, and you will have to sacrifice a few things here in there.
And of course, they might not be suitable for people who want to take up mountain biking as a professional sport.
But if you just want to get out a bike on the mountain to have some fun and sneak in some physical activity into your day, these mountain bikes under $300 would be perfect for you.
Read Tubeless Mountain Bike Tires Maintenance
1. Xspec 26" Folding Mountain Bike – $300
Looking at the usual prices of mountain bikes, it is hard to imagine that you can get anything worthwhile at the price of $300. But the Xspec 26" Folding Mountain Bike shatters this presumption.
Folding bikes are usually rather expensive; which is why this small price tag is even more amazing
The bike is so convenient that you can easily use it for your daily commute, work, exercise, and anything else that you may need a bike for.
At the same time, it is strong and sturdy enough to keep you safe in the mountains without starting to wear and tear too soon.
It is resilient to shocks and vibration, which means that it can be taken on rocky mountains without any fear.
The amazing folding frame is made from premium-quality steel. Not only does this add strength to the bike, but it also prevents corrosion and dirt marks. It also has strong MTB tires, powerful disc brakes, 21-speed gear, and is very easy to transport.
All in all, this is a great mountain bike if you want to pick up a sport or recreational activity.
Read Buying a mountain bike? What to Look For In a Mountain Bike?
2. Roadmaster Granite 24" Mountain Bike – $245
True to its name, the Roadmaster Granite 24" Mountain Bike is the master of the roads and the mountains. Very few bikes offer this kind of quality on such a low budget, including top-notch performance and comfort.
It has an 18-speed gear set that allows you to easily transition between different speeds, which would be better suited to the type of surface you're riding on. You seamlessly shift gears on this bike without any hassle or confusion.
It has a lightweight and durable steel frame, which makes it great to take on the mountains.
The highlight of the bike is its amazing stopping power. Even if you are speeding down a hill, you can easily stop the bike whenever you want without feeling a jerk.
The bike also has a fantastic Suspension that keeps the bike protected from all kinds of vibrations and collisions.
3. Schwinn Women's High Timber Mountain Bike – $270
While most mountain bikes can be driven by any and everyone, certain bikes are specially designed for certain demographics. And the Schwinn Women's High Timber Mountain Bike is one of them.
If you're a woman looking to get into mountain biking but also want to remain under a budget, this may be the best option for you.
It has an amazing and high-quality steel frame that provides the ultimate performance and comfort for women. The high-quality build and enhanced durability provide you with all the safety you need while riding a bike on a mountain.
The tires are very sturdy and are equipped with linear-pull brakes, which allow you to instantly stop anywhere you want.
It is also one of the most aesthetically pleasing mountain bikes that you can get on a budget. This mountain bike has 21-seed derailleurs and shifters, which enhance its performance to higher limits.
Read How to Clean A Mountain Bike Chain
4. Vilano Ridge 1.0 Mountain Bike/ Disc Brakes – $300
If you need your mountain bikes for more than just your adventures in the mountains, you should consider looking into the Vilano Ridge 1.0 Mountain Bike/ Disc Brakes.
Not only is it perfect for mountain biking, but it is also great for your daily commute, weekend fun, or just going to the park.
This bike is perfect for beginners who are just learning to mountain bike and want to start practicing on slightly more difficult trails as they make their way forward. It has a really impressive construction.
The suspension forks ensure that even your ride remains comfortable and smooth even when you're riding on bumpy trails.
The 21-speed gear set allows you to seamlessly adjust your speed in accordance with your trail.
It has a lightweight 061 Aluminum Frame that makes the bike sturdy and comfortable at the same time.
Since it is important to be in absolute control while you're riding on a mountain, the bike has mechanical disc brakes built in to ensure that you can stop whenever needed.
The durability and traction of this bike make it great for people who aren't used to riding bikes.
Read How to Convert a Mountain Bike to a Road Bike
5. Huffy Mountain Bike 24" – $236.99
Sometimes, it can be difficult to find bikes that have a good performance, are comfortable, and are also fun because most bikes only focus on one or two of these components. And when you put a cap on the budget, finding something that good gets even tougher.
But that's not the case with Huffy Mountain Bike 24". This bike always performs seamlessly regardless of the type of surface you're riding on or how bumpy the trail is.
Most of this is thanks to its wide and large tires, which allow you to safely conquer all sorts of parts while you have fun on the way.
Thanks to its 21-speed gear set, you can safely ride up and down any kind of hilly terrain while still enjoying that crisp handling. The rim brakes make it very easy to stop whenever you want.
It has comfortable handle grips, which allow you to focus on your ride instead of worrying about your grip.
Read How to Remove Bike Cranks?
6. Merax Finiss Mountain Bike 26" – $250
This is another great bike that is suitable for all kinds of paths and terrains. Thanks to its hardtails suspension, the Merax Finiss Mountain Bike promise excellent performance and great comfort.
It protects you from different vibrations and shocks and allows you to enjoy the ride without worrying about anything.
The front suspension of the bike is so amazing; it makes you feel like you're taking a ride on the clouds.
It comes with a 24-speed gear set, which is one of the best you'll get in this price range. It allows you to easily alter the speed whenever you want.
The bike also comes with powerful dual disc brakes and smooth gears, which makes your experience even more comfortable and enjoyable.
The brakes are so good that they can easily compete with the high-end mountain bikes with their precision and strength.
So if you plan on getting aggressive with your mountain bike, this one is perfect for you.
Read Can Mountain Bikes Get Wet?
7. Mongoose Mech MTB 24"/26" – $190
Mongoose is one of the most well-known brands when it comes to budget mountain bikes that provide great performance and comfort. This makes perfect sense when you consider that the cheapest bike on this list comes from this brand.
Mongoose Mech MTB is especially great for kids and teenagers, who tend to enjoy this bike more than adults. What's even better is that this bike can grow with your kid. So if they start getting bigger, you don't have to get a new bike; you can just adjust the size of this one.
At the same time, it has everything that an adult would need to enjoy mountain biking. From impressive traction to enhanced stopping power, it has all the essential functions that you need in a mountain bike.
The lightweight and durable aluminum frame make the bike easy to handle. Overall, this is one of the best entry-level mountain bikes you can get your hands on.
Read Why are Mountain Bikes So Expensive?
This bike shares a lot of similarities with the Roadmaster Granite 24" Mountain Bike mentioned above.
However, the Roadmaster Navy Granite 26" Mountain Bike has a different design and a bigger wheelset, which makes the experience significantly different. It also comes with wider handlebars, which promotes a comfortable grip.
The large tires promote aggressive traction, which means you can ride on rougher terrains with this mountain bike. It also has powerful pull-up brakes and an easy and quick gear system, which provides an even smoother ride.
While riding this bike, you won't have to look anywhere else aside from where you're going, as it provides great traction on all kinds of surfaces. And don't go by the name; this bike is available in many different colors, not just navy. So in case you don't like navy, don't let the color put you off from this one.
Read Mountain Bike vs Fat Bike
9. URSTAR 26" Mountain Bike – $250
If you're looking for a bike that will be perfect for traveling, backpacking, outing with friends, or just to explore the world around you, consider getting the URSTAR 26" Mountain Bike. You can basically go all out with this bike if your aim is to just have fun outdoors.
The greatest quality of this bike is that the Saddle is made with top-quality, environment-friendly material that allows you to feel comfort and durability. While you're out having fun with your friends, you don't want to think about the seat being uncomfortable, do you?
It has a strong and durable aluminum frame, which may not be ideal for heavy bikers, but is perfect for the average person looking to explore the outdoors. In addition to that, the aluminum rims offer effective handling.
The 80mm suspension fork promises smooth rides, so you don't have to worry too much about the bike and can just enjoy the moment.
You may also like:
Final Thoughts
As discussed earlier, the high-end bikes are great and provide you with some significant advantages. But they are mostly suitable for professional heavy bikers and don't provide any real benefits for the average mountain biker who wants to get into the practice.
The great thing about these bikes is that they are so low budget that it wouldn't be too difficult to save up the money for them. Even if you plan on eventually getting into heavy-biking but don't have the money to invest in a high-end bike, you can instead start practicing on these budget bikes for the moment.
Not only are they easy on the pocket, but they are also great for starting to learn mountain biking before you can get onto the heavier ones. And by the time you save up for high-end bikes, you will already have better expertise in the sport and a much better idea about what you're looking for. So if you want to get a budget mountain bike, any one of the above options is great for purchase.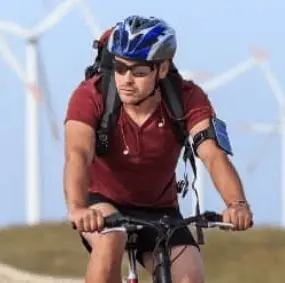 I am Michael, an avid rider and bike expert. I am here to provide, biking tips and expert advice on in-depth bike reviews covering features, capabilities, price range, and much more. Specially on electric bikes, mountain bikes, road bikes, etc. I will provide honest product reviews, along with expert advice on purchasing, training, and maintenance. Check out my complete profile.