So you have finally decided to invest in an electric bike? let us check out the best electric bikes under $1000. You won't regret it!
What are the Best Electric Bikes under $1,000? Here is the list of Best Electric Bikes under $1,000 1. Lectric XP, 2. Ride1Up Roadster V2, 3. Ecotric Starfish, 4. Nakto Camel, 5. Ecotric Fat Tire Portable.
More and more people are inclining towards buying e-bikes – and for good reasons. From morning cycling routine to mountain expeditions on the weekends, electric bikes make things so much easier and enjoyable!
In addition to being environmental-friendly, they are known to offer maximum comfort and convenience without breaking the bank.
Simply put, buying an electric bike is the best bet for you if you're looking for a suitable product to step up your daily commute or exercise routine and switch to a healthier lifestyle.    
When it comes to buying an electric bike, the options out there can be overwhelming. Selecting a cheap electric bike is the best way to jump on the bandwagon but recently, there has been an explosion in the number of affordable e-bikes on the market.
To help you narrow down your options and choose an e-bike that suits your individual needs, we have rounded up the five best electric bikes under $1,000.
Best Electric Bikes under $1,000         
When you're buying an electric bike for the first time, starting with the cheapest options may seem like the right thing to do. However, quality and safety are the first things to be compromised when the prices are too low.
Hence, never fall for offers that seem too good to be true. The key is to look for a great deal that offers a safe, well-made e-bike at an affordable price.
This is where this guide comes in!
We have made a list of the top affordable e-bikes that we have tested and can happily recommend. The best thing is that with these e-bikes, you can rest assured that you'll receive high value for your money.
Offering optimal durability and reliability, they cut down maintenance costs to ensure your peace of mind in the long run.
Without further ado, let's dive in to explore the best electric bikes under $1,000.
Also read, What Is A BMX Bike?
1. Lectric XP – Best Folding Fat Tire e-Bike under $1,000
Specifications:
Battery: 48 V, 10.4 Ah (500 Wh) by LG with Lithium-ion
Charge time: 4-6 hours
Motor: 500 W (800 W max) geared rear hub motor
Weight: 26.7 kg (59 lb)
Range: 45-80 km (the range may vary depending on the pedal assist level, weight load, weather, terrain, etc.) 
Max load capacity: 125 kg (275 lb)
Top speed: 45 km/h (28 mph)
Brakes: Tektro mechanical disc brakes 
Extra features: Large LCD with speedometer, battery meter, wattmeter, odometer, tripmeter, PAS level indicator, 5 pedal assist speed settings, front and rear LED lights, removable and lockable battery, half-twist throttle, and rack included standard
Lectric XP isn't an ordinary folding electric bike. It features extra-wide tires and hits a top speed of 45 km/h. The fat tires make up for the lack of suspension on this e-bike and help ease the load on bumps. They can roll over nearly anything, making the ride fun and exhilarating!
This bike comes with a few extra features that are not often seen on inexpensive e-bikes. This includes fenders, headlights, and racks. Thanks to the powerful motor, it can climb hills and go through rocks, dirt, and grass. Although the battery isn't huge, it can easily get you a minimum range of 45 km on throttle-only riding. With pedal assist, you can enjoy nearly twice the range.
While the Lectric XP isn't as heavy as it looks, it isn't very lightweight either. Nevertheless, you can easily fold and squeeze it into the backseat or trunk. This e-bike is as great for utilitarian purposes as it is for riding off-road. Thanks to the adjustable seat and handlebars, this bike ensures maximum comfort for riders of different sizes.     
Whether you're looking to bring ease into your daily urban commute or want to make beach time more fun, the Lectric XP is an option worth considering!   
The only thing that can be improved in this electric bike is the battery capacity, considering that the fat tires seem to require extra energy to spin and the overall features tend to keep riders on the bike for long.
However, of course, there's only a certain number of battery cells you can stuff inside the frame-enclosed batteries. Anything over 500 Wh would mean a bulky and unsightly battery attached to the frame, which would compromise the overall polished look of the bike.
Check out Top 7 Beach Cruise Electric Bikes You can Buy.
2. Ride1Up Roadster V2 – A Lightweight and Minimalist e-Bike under $1,000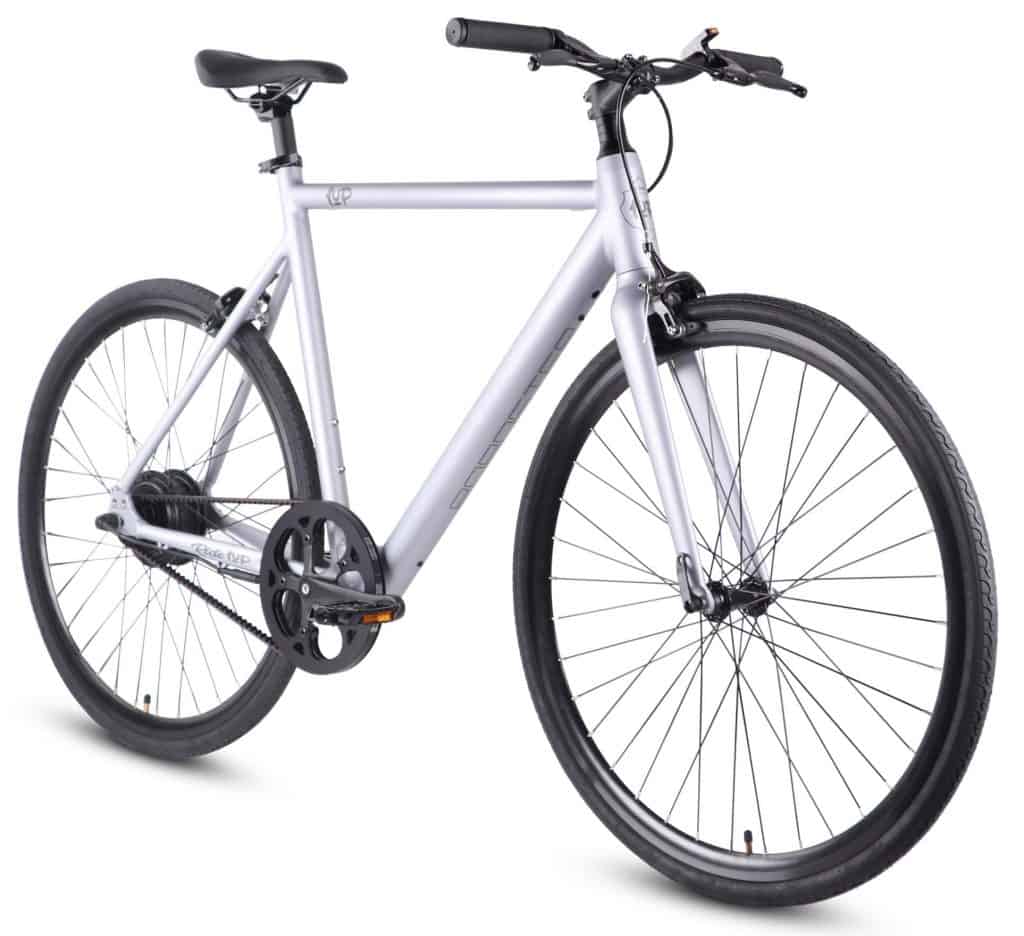 Specifications:
Battery: 36 V, 7.0 ah with Samsung 35e cells battery
Charge time: 2 to 4 hrs (estimate)
Motor: 350 W (nominal) 500 W (peak) Geared Hub Shengyi 
Range: 20 – 35 miles per charge (may vary based on the rider's weight, assist level, terrain, etc.)
Max load capacity: 260 lbs 
Top speed: 25 mph
Bike weight: 32 lbs 
Brakes: Tektro R315 Dual Pivot V-Brakes
If you don't want to compromise on the aesthetics of your first-ever electric bike, the sleek, minimalistic design of the Ride1Up Roadster V2 will appeal to you. The compact battery is well integrated into the frame.
Apart from the decent appearance, this e-bike is considerably lightweight compared to the budget bikes under $1,000. Due to this reason, you can easily haul it onto transport or take it upstairs to your apartment or office.   
The weight of this electric bike, complemented with the high-pressure tires, makes pedal powering super easy and effortless. This is a huge benefit as compared to the bulky models.
Moreover, the Ride1Up Roadster V2 sports a belt drive instead of chains to ensure a smooth and quiet riding experience. Belt drives tend to last longer, require minimal maintenance, and prevent your bottoms from getting all greasy before you go into work.
With this e-bike, you should consider saving the pedal-assist mode for climbing hills and put in a little extra effort while pedaling on flat surfaces.
Although the direct-pull V-brakes are lighter and low maintenance, they don't offer the stopping power of disc brakes. That being said, the V-brakes should work perfectly fine for you as long as you use your bike for gentle commuting at a reasonable speed, especially in wet weather conditions.   
Another thing to note is that the Ride1Up Roadster V2 doesn't come with gears. While this makes it easier to use and maintain, you'll have to put in some extra effort when riding on rough or hilly terrain.
The bottom line is that this electric bike is ideal for gentle commuting and leisurely rides across the streets. If you want to go a step ahead, you'll have to put in extra effort because its range is not so generous.
Read: Do Electric Bikes Save You Money?
3. Ecotric Starfish – Best Portable, Folding Electric Bike under $1000
Specifications:
Battery: 36 V, 10 Ah Lithium-Ion battery 
Charge time: 5 to 8 hrs 
Battery life: 400 – 600 cycles
Motor: 36 V 350 W, Rear Hub
Display: Ecotric smart LED 
Weight with battery: 50.7 lb
Max load capacity: 220 lbs
Top speed: 25 mph
Maximum distance: 35 miles
Frame: Aluminum Alloy
Tires: 20 inches x 1.75 inches
Brakes: Rear disc brakes
The Ecotric Starfish may not be as stylish and sleek-looking as the Ride1Up model reviewed above, but it is considerably inexpensive for beginners in terms of value for money. It is easily one of the best electric bikes under $1,000.
Unlike many cheap e-bikes, this one offers some incredible features and benefits. For starters, this bike can be folded down to a very small size for convenient storage and transportation. It is also fairly easy to carry around if you're okay with carrying a weight of 50 lbs.
This electric bike comes with some fantastic components, including a 7-speed SHIMANO shifter and a mighty motor to take you up to 25 mph. The range is also satisfactory for daily commuting, doing errands, and riding across the streets.    
The design of this electric bike is such that you can ride it easily and comfortably. The step-thru frame is specially designed to ensure a safe and convenient riding experience for people with mobility issues and women wearing skirts and dresses.
Besides this, the fat tires of the bike, when not pumped up too hard, ensure that you ride smoothly over bumpy surfaces. This is a bonus feature since the suspension on this e-bike is almost non-existent.
One of the downsides of buying this electric bike is that you'll have to be extra vigilant and organized with its charging schedule. This bike can take as much as a whopping 8 hours to charge fully. Apart from this, you must note that this bike comes in one frame only. Hence, it doesn't work well for riders taller than 5'10".
4. Nakto Camel – The Most Practical E-Bike under $1,000
Specifications:
Battery: 36 V, 10 Ah
Motor: 250 W rear geared hub motor
Charge time: 6 hours
Top speed: 20 mph
Maximum distance: 15-30 miles
Bike weight: 70 lbs
Weight capacity: 250 lbs
Brakes: Front V-brakes, rear drum brake 
Looking for something simple yet practical?
The Nakto Camel e-bike is the answer!
This electric bike boasts an old-school Dutch-style frame, making mounting and demounting super easy and comfortable for people with mobility issues. This design encourages riders to sit in an upright position, ensuring improved visibility when cycling in traffic.
Although the Nakto Camel isn't designed for off-roading, you get a suspension fork at the front to make sure your ride across rough and bumpy surfaces is as smooth as possible.
That being said, a number of additional features are integrated into this electric bike. These include rear fenders, a rear-wheel rack, kickstand, and a front basket. The basket and rack come in handy when you go out for grocery shopping or carry some work stuff on your commute to the office.
Please note that the Nakto Camel may not be the best choice if you climb hills frequently, especially with a lot of cargo. The 250 W engine isn't suitable to carry heavy loads. Bulky cargo will drain the battery faster and then you'll have to wait 6 hours for the battery to be fully charged again.
Apart from this, keep in mind that this e-bike is quite heavy, so you must avoid hauling it onto public transport or carrying it up multiple flights of stairs.
Considering the weight of this electric bike along with its upright frame, basic features, and acceleration power, it is safe to say that it is best suited for riding on short, flat, smooth surfaces. It may be a good option for you if you don't want anything fast or fancy and are willing to compromise on versatility as a beginner.
5. Ecotric Fat Tire Portable – The Best Fat Tire E-Bike under $1000
Specifications:
Battery: 36 V, 12 Ah
Charge time: 5 – 8 hours
Battery life: 400 – 600 cycles
Motor: 36 V 500 W, Rear hub
Range: 18-23 miles per charge (estimate)
Max load capacity: 220 lbs
Top speed: 15 mph
Weight with battery: 52 lbs
Brakes: Front and rear disc
Tires: 20" x 4" fat bike tires
Gears: Shimano 7-speed
Frame: Aluminum alloy
The Ecotric Fat Tire Portable e-bike features 20-inch tires to ensure that you can ride in most terrains around town comfortably. Think mud, concrete, and snow – this fat tire bike is the perfect all-rounder! You can even ride this bike on the beach. Sounds cool, right?
All you have to do is take out a couple of screws and fold the handlebar before the bike folds and become compact.
Since there's no suspension on this bike, you must not think of serious off-roading but fat tire bikes are always fun to ride. The folding feature of this e-bike adds to its versatility, allowing you to take on the challenges of living and commuting within the city.
The 500 W motor offers a decent driving force to power up hills with ease and convenience. Moreover, you get to choose from three levels of power assist option. Thanks to the slimline controller, it is easy to choose between manual, full electric, and pedal-assist mode. Of course, you can always ride the bike without any power assistance or select full-electric mode, going at a speed of 20 mph.    
Overall, the bike features a sturdy frame that offers maximum durability in the long run. The cruise control button is a unique feature that allows you to set the electric bike to a speed of 3.5 mph and enjoy the ride, letting all your worries drift away.   
That being said, one of the disadvantages of the Ecotric Fat Tire Portable electric bike is its weight. Although it can easily be folded and made compact, it isn't lightweight and hence, can be challenging to carry around.
Apart from this, there are no suspension forks on this e-bike. So, if you plan on riding on it on rough terrain, you must be prepared for a bumpy ride.
Another drawback is that the controller box doesn't have any drainage. Therefore, you'll have to make sure that you modify the box before taking the bike out in damp conditions, like on the beach or in snow or mud. Once the controller box is fixed, you're good to go!
Check out the below e-bike posts:
Final Words
Thanks to the upsurge in demand for an eco-friendly mode of transport, it's now possible to find a wide variety of electric bikes under $1,000. And no, we aren't talking about low-quality vehicles but highly practical and functional bikes!  
With electric bikes, you can get where you want to be faster and climb hills comfortably while reducing your carbon footprint. While the cost of an e-bike may seem a bit high for a beginner, you must know that it pays off in the long run. The price of maintenance will be low and think about all the money you'll save on fuel!  
So, which of the best electric bikes under $1,000 on our list appeals to you the most? Keeping your individual needs in mind when picking a cheap electric bike is the key. You must always select one for the benefits it will bring to you as an individual rider. While all the e-bikes on our list are of good quality and offer high performance, our top pick has to be the Ride1Up Roadster V2. Featuring a slick and minimalist design, this e-bike stands out with its smooth belt drive operation.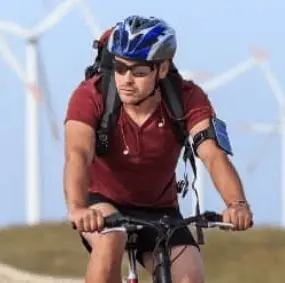 I am Michael, an avid rider and bike expert. I am here to provide, biking tips and expert advice on in-depth bike reviews covering features, capabilities, price range, and much more. Specially on electric bikes, mountain bikes, road bikes, etc. I will provide honest product reviews, along with expert advice on purchasing, training, and maintenance. Check out my complete profile.