Ready to discover some of the best electric bikes for ladies in the USA and the United Kingdom? Keep reading!
What are the list of best Electric Bikes for Women? Here are top 5 best electric bikes for women, 1. Electrica Townie Go! 5i Step-Thru, 2. Cannondale City 4, 3. Blix Aveny Stylish Electric Commuter Bike, 4. Aventon Sinch Foldable Electric Bike, 5. Cyrusher XF690 750W-1500W Folding Hydraulic Electric Bike.
Electric bikes are designed to take the effort out of pedaling and provide a fun, convenient, and eco-friendly way of traveling for both and men and women. These bikes are available in different shapes and sizes and come with varying features. However, while women can ride all kinds of electric bikes, some e-bikes are considered to be more suitable and empowering for lady riders than others.
This brings us to an important question – what makes an electric bike more suitable for women, and how do women's electric bikes differ from regular e-bikes? Truth be told – the main difference lies in the size and construction of the bike.
Bikes with narrow handles and women's saddles are generally deemed more suitable for women. On the other hand, some women prefer foldable bikes as the frame construction allows for easy mounting and dismounting, even when wearing a dress, skirt, etc.
The overall weight of the e-bike also matters as many women opt for lightweight electric bikes that are easy to carry.
Best Electric Bikes for Women
Today, we'll take a look at some of the best electric bikes for women available in the market. Scroll down to check out our top picks.
Some of these bikes are specifically designed for women, while others are simply ordinary e-bikes that are available in a wide variety of sizes and geometry suitable for women.
1. Electrica Townie Go! 5i Step-Thru – Bets Step-Thru Electric Bike for Women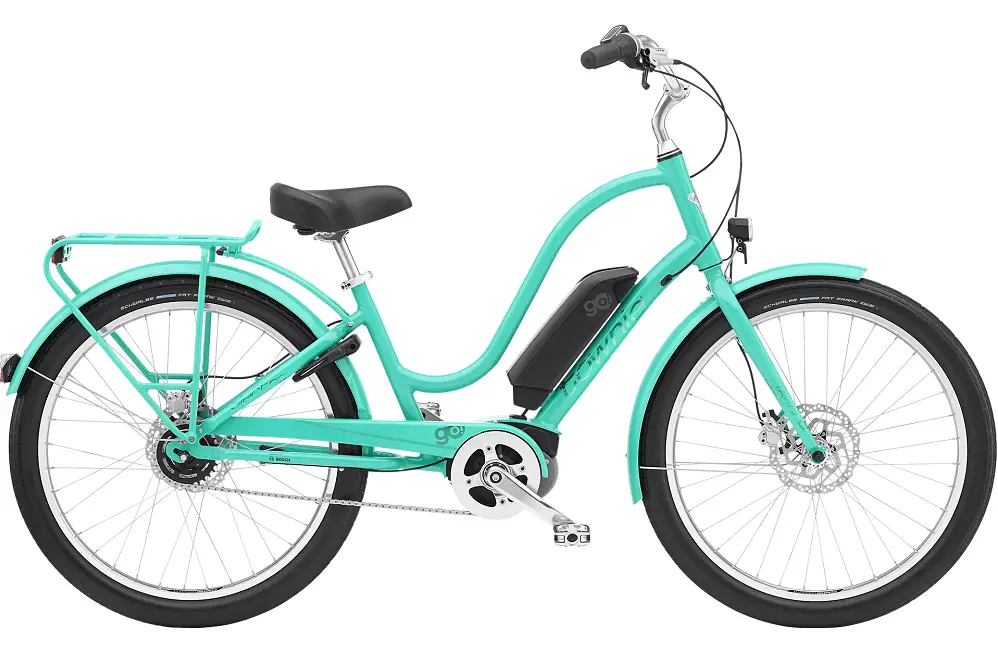 Specifications
Battery: Bosch PowerPack (4AMP charger included)
Motor: 250W, Bosch Active Line Plus
Display: Bosch Purion Display  
Range: 25-45+ miles per charge (estimate)
Weight: 55lbs
Frame: Aluminum frame/ patented Flat Foot Technology® 
Tire: 26″ × 2.35″ Schwalbe Fat Frank tires
Townie Go! 5i is synonymous with high quality and unparalleled craftsmanship. It is a pedal-assist electric bike available in multiple colors, including teal, gray, light blue, light green, and black.
The step-thru construction of the bike makes it an excellent option for women. It is a new and improved version of Townie Path designed to take you faster and farther.  
It is equipped with the powerful 250W Bosch Active Line motor and Bosch PowerPack battery, which means that the e-bike can go long distances and climb hills with ease. The battery charges quickly. It usually takes 1.5 hours to charge 50% and 3 hours to charge completely. It is also easy to remove.
The e-bike features four levels of support – Eco, Tour, Sport, and Turbo.
You can choose the assist mode, depending on the exercise level you require. You can change the mode by manipulating the Bosch Purion display without removing your hands from the handlebars. The display also helps keep a tab on your speed and battery charge.
One of the best parts about this e-bike is that it can be customized. You can add a basket, rack, and bell to customize your electric bike just the way you want it.
It also comes with a MIK compatible rear rack. Whether you are cruising around town or planning an off-road adventure, the sturdy rear rack will help you carry your cargo with ease and style.
Now, let's talk about the tires. Townie Go! 5i features Schwalbe balloon tires that are renowned for their high quality. The 26-inch tires are puncture-resistant and absorb impact to provide a smooth and bump-free ride every time. They are good to go on various kinds of surfaces, including rail tracks, road, gravel, boardwalk, pathways, etc.
While this e-bike has several commendable features, what sets it truly apart from other electric bikes is the Electrica's patented Flat Foot Technology. It is geared towards making the ride as comfortable as possible.
It allows for an upright and relaxed seating position while riding the bike. It also makes sure that you can plant your feet on the ground at any time. The overall benefit is unmatched control and comfort. You go to try it to really feel it!
2. Cannondale City 4 – Best Urban E-bike for Women
Specifications
Battery: 400W Bosch Power Pack 
Motor: 250W, Bosch Active Line Plus
Display: Bosch Purion Display  
Range: Up to 64 miles per charge (estimate)
Brakes: Shimano MT200 hydro disc 
Frame: Smart Form C2 Alloy, Step-Thru
Tire: 27.5″ × 2.0″ Schwalbe Big Ben
If you are looking for an electric bike to go on leisure rides around the town, then look no further. Cannondale City 4 brings forward the perfect combination of comfort, control, sportive speed, and versatility.
It is the ideal city cruiser and is designed to thrive on roads, pathways, and even busy streets. You can use it for the daily commute, running errands, and simply taking pleasure in riding around. It is relatively light in weight, so you can also take it along on a trip to explore new cities and towns.
The reason why it is on our list for the best electric bikes for women is that it is available in a wide range of sizes. In many cases, electric bikes are available only in a standard size, which may or may not be the right fit for women.
However, Cannondale City 4 is available in extra small, small, medium, large, and extra-large sizes, which means you can take your pick and choose the ideally sized electric bike for your city adventures.
It is available in a lovely and eye-catching turquoise color and features a powerful Bosch Active Line Plus motor that ensures a long-range.
The e-bike also ranks high on the comfort and convenience scale. It features a step-thru that allows for easy and convenient mounting and dismounting. The seat is also super comfy to provide premium comfort during your travels. The handlebar is ergonomic (ergo back sweep). It helps maintain the right posture while riding and adds more comfort to the overall riding experience.
The large volume tires roll smoothly to ensure a bump-free ride. Moreover, the tires feature K-guard puncture protection. Sidewalls of the tires are reflective and work to make you visible on the road. The headlights are also bright and strong to allow for easy riding during the night.
Equipped with a rear rack and custom fenders, the electric bike is always ready to roll. If you want to run errands or carry cargo, you can use the rear rack or employ Rear Si dropouts to attach a trailer with ease.
3. Blix Aveny Stylish Electric Commuter Bike – Most Stylish Commuter Electric Bike for Women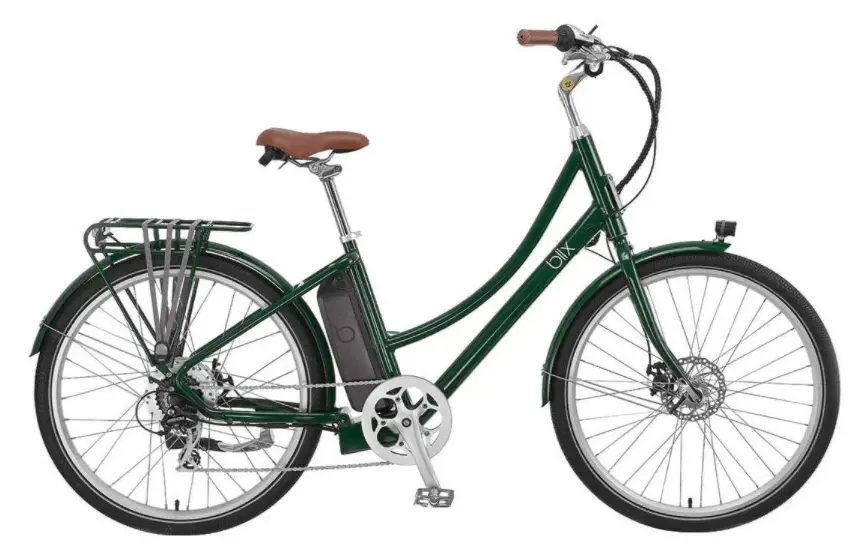 Specifications
Battery: 8V/14Ah Samsung battery
Motor: 500w hub-motor
Display: LCD display with a built-in USB port
Range: 20 – 45 miles per charge (estimate)
Brakes: Disc brakes  
Frame: Aluminum alloy 6061
Tire: 27.5″ x2″ Kevlar technology
Looking for a stylish commuter electric? Blix Aveny is definitely the bike for you! It is chic, trendy, stylish, and perfect for lady riders.
It features a unique combination of comfort and safety features, user-friendly design, modern technology, and some serious aesthetic appeal that stems from its European style.
Let's start with comfort features. First of all, the bike is suitable for a wide range of riders with heights ranging from 5'1″ to 6'2″. The construction of the electric bike allows the riders to sit up straight even on challenging and steep hills.
Plus, the step-thru frame is extremely user-friendly and allows riders to hop on and off with ease. Finally, powerful disc brakes provide excellent control on the e-bike and overall riding experience, even on slippery roads or wet weather conditions.
The e-bike features five pedal assist levels that you can maneuver through the Blix Assist Technology LCD. The LCD comes with a built-in USB port, which means you can charge your phone or other electronic devices on the go.
It shows several other parameters that give you better control and help you stay safe on the road, such as a speedometer, battery life, odometer, trip meter, etc.
Now, let's take a look at the battery and the motor. Blix Aveny features a high-capacity 672Wh Samsung cell battery. The high-quality of the battery is directly related to the high-quality of the riding experience. The battery takes around 5 hours to charge fully and will take you up to 45 miles per charge.
The battery is located right under the seat. Blix doesn't miss anything, which means this location is not selected by chance. The reason why the battery is set under the seat is to provide a low center of gravity, which, in turn, helps enhance stability for the rider.
The 500-watt raw power motor is equally powerful. It can propel the e-bike over steep hills and makes it ideal for delivering cargo, heavy loading, or jump rides. Considering all, Blix Aveny is one of the best girls' electric bikes who are looking for a chic, modern, and trendy electric bike.
4. Aventon Sinch Foldable Electric Bike – The Best Foldable Electric Bike for Women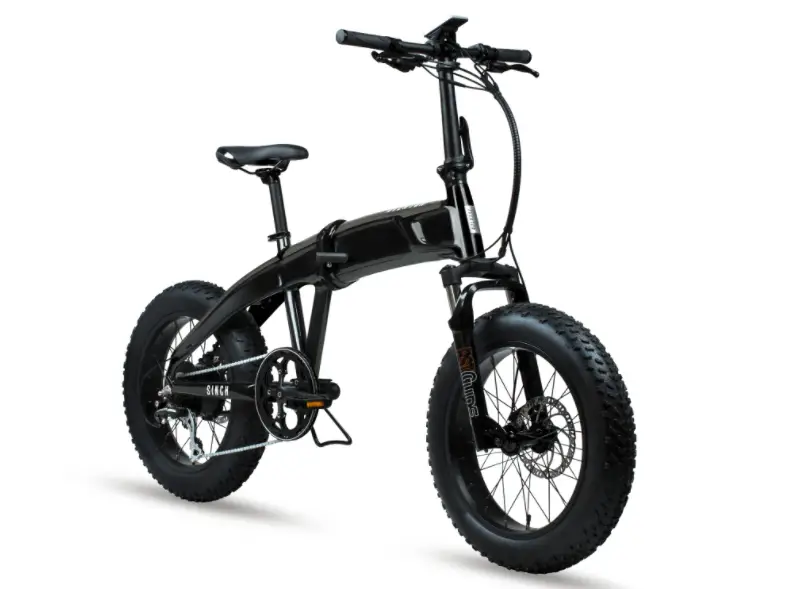 Specifications
Battery: 48 V Lithium-ion battery, removable
Motor: 48V brushless motor
Display: Backlit LCD 
Range: 40 miles per charge (estimate)
Brakes: Tektro disc brake
Frame: Double-butted aluminum frame
Tire: 20″ x4″ Kenda Krusade 
Aventon Sinch is not a gender-specific e-bike. It is simply one of the best electric bikes for women and men! With fat tires and a powerful battery, it is ideal for ladies who look forward to having exciting off-road adventures.
Fat tires, coupled with a suspension fork, means you can traverse all kinds of terrains, including hilly areas, flatlands, mountainous regions, and soft surfaces such as dirt, snow, sand, etc. The fat tire provides more contact surface area with the ground.
As a result, you experience more control and a better riding experience. The tires come with K-Shield puncture resistance, so you can ride your electric bike without worrying about being stopped by a puncture.
All in all, the 4-inch fat tires certainly steal the spotlight. However, what makes this electric bike truly unique is its seamless folding capability.
Sinch is all about convenience and portability, which makes it the ideal option for people with limited storage space. All you have to do is fold the bike from the middle, and it will fit under your desk, in your closet, and even the trunk of your car. Foldable and lightweight, Sinch will be your perfect traveling companion.
Thanks to the high-capacity 14 Ah battery, you can rely on your electric bike to take you long distances with ease. The battery is not only removable but also stealthy. It hides fully inside the folding frame, providing the riders peace of mind and a sense of security when parking the bike.
The e-bike also features an incredibly thin but large LCD display. The LCD is mounted at the front in the middle of the handlebar. It can be manipulated with thumbs without letting go of the handles. It displays a number of parameters, including battery charge, distance covered, speed, etc.
The LCD features backlit capabilities to provide security on the road and make it easier for the rider to keep tabs on the riding experience, even when riding in the dark. You can choose any of the five pedal assist levels to ride your electric bike. The thumb throttle is also integrated on the handlebar to help control speed and have fun-filled rides.
Considering the quality, craftsmanship, and features of the electric bike – Aventon Sinch is easily the best foldable electric bike for women and men, especially in its price range!
5. Cyrusher XF690 750W-1500W Folding Hydraulic Electric Bike – Best Fat Tire Electrical Bike for Women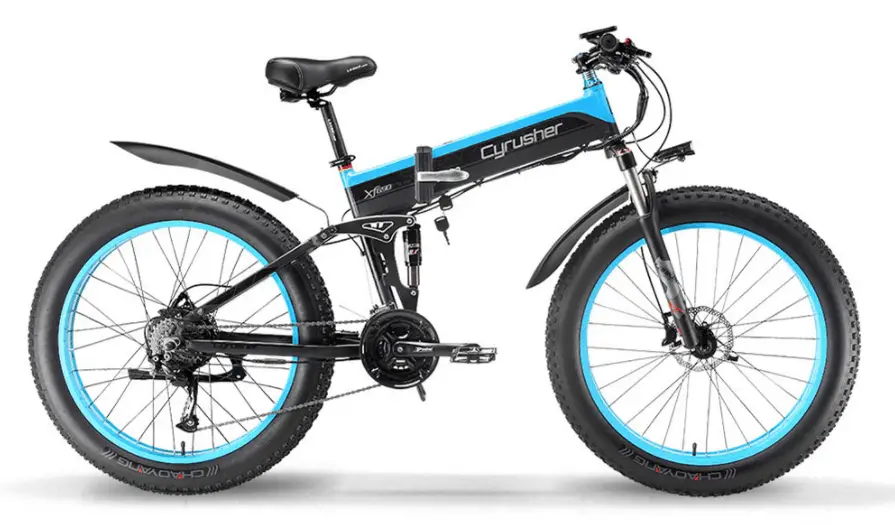 Specifications
Battery: 614.4Wh LG battery 
Motor: 750V brushless motor
Display: LED display 
Range: 40 – 60 miles per charge (estimate)
Brakes: Front and rear disc brake
Frame: 18-inch aluminum frame
Tire: 26″ x4″ 
Cyrusher XF690 750W-1500W Folding Hydraulic Electric Bike has one feature that overshadows all others – the 26″ x 4″ tires. The wheelbase is 172 cm, while the seat tube is 18″. The wheels are fitted with an Oil Spring fork that is not only shockproof but also provides the Lockout feature.
Together, all these specifications work to present the perfect fat tire electric bike that is capable of traversing all kinds of terrain. Be it hills, mud, snow, or sand – this electric bike will not have any difficulty in taking you to your destination.
The e-bike has three working modes, namely throttle twist mode, power-assisted mode, and pedal-only mode. Choose the model that fits your needs the best. While you can enjoy long riding trips with any of the three modes, it is recommended to combine the three modes during your travels to gain the most benefits. Doing so will not only keep you going for a long time but will also double as fun yet healthy exercise. 
Cycrusher XF690 750W-1500W Folding Hydraulic Electric Bike features a high-capacity battery and 1500watts Maxout motor. The battery is removable and hidden securely. It charges quickly and goes a long way to power the motor and keep you moving.
Another commendable feature of this electric bike is its powerful braking system. The e-bike is equipped with front and rear brakes, along with a Shimano 21 speed system. These features help the rider tackle different terrains with ease. Even in busy streets, heavy traffic, or emergency scenarios, the high braking power can play a vital role in keeping you safe on the road.
The electric bike also has a number of security features, such as the integrated LED light and horn that work to increase visibility, especially while riding the electric bike at night or in the dark.
Like most other e-bikes in the range, Cycrusher XF690 750W-1500W features an LED that shows different parameters, including speed, battery capacity, PAS level, distance covered, etc.
Check out the below e-bike options:
The Bottom Line
Electric bikes are equally popular among men and women. We have discussed some of the best electric bikes for women above. However, it certainly does not mean that men can't ride these bikes. It is important to understand that electric bikes are not essentially gender-specific until otherwise specified. So, while both men and women can ride all kinds of electric bikes, some makes and models are better suited to women than men.
Remember, regardless of the model you choose, make sure to check the size specifications carefully before ordering your new electric bike. Also, don't forget to consider the kind of frame while buying an electric bike.
Finally, consider your personal needs and how you plan on using the bike. For example, if you need an electric bike for your daily commute, Cannondale City 4 may be the best option for you. On the other hand, if you enjoy off-road trips and adventures, then choose a fat tire option. If portability is important, Aventon Sinch may be the ideal e-bike for you!
Now that you know all about some of the best electric bikes for ladies currently in the USA and United Kingdom market, which one are you going to get?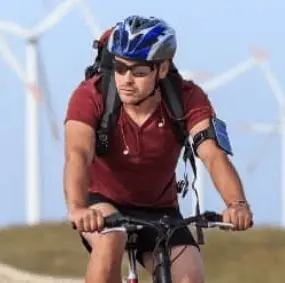 I am Michael, an avid rider and bike expert. I am here to provide, biking tips and expert advice on in-depth bike reviews covering features, capabilities, price range, and much more. Specially on electric bikes, mountain bikes, road bikes, etc. I will provide honest product reviews, along with expert advice on purchasing, training, and maintenance. Check out my complete profile.