The rugged beauty of the great outdoors combined with the power of an off-road electric bike unite people from all walks of life in the United States. Step-through bikes offer a unique experience. Whether you want to enjoy some quality time outdoors or are out hunting for a game, an off-road electric bike makes the whole experience more enjoyable.
The tech for electric bikes has really come a long way and specifically allows for hunting and outdoor trips. It really gives you peace of mind knowing that you can still ride back to camp without pedaling, in case of injury or danger, in comfort.
Best off road electric bikes
We wanted to present what we feel are the best 8 off road electric bikes for off-road adventures in the United States.
1. One of the Most Silent E-bikes on the Market: Quietkat Ranger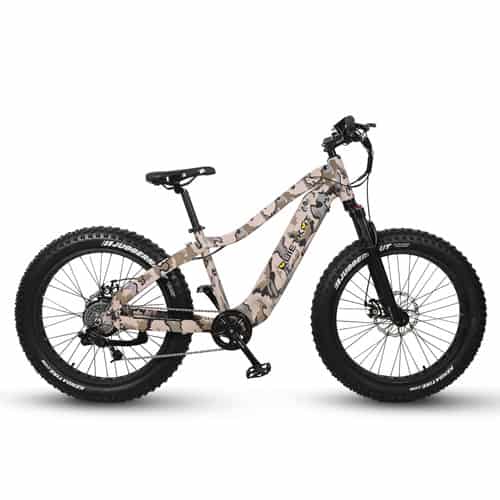 Specifications
Battery: 48v/11.6ah Panasonic
Can travel 40 miles
Feature 180mm rotor mechanical disc
Charging time of 6 hours
Maximum capacity of 325 lbs.
Bike weight at 70 lbs.
The aptly named Quietkat Ranger blends exceptional comfort with rugged capabilities and provides more value for money, which is why we think it's a great contender for the best off road electric bike in 2021.
It comes equipped with a powerful 750 hub-drive motor that will take you anywhere you want to go, with speed and elegance.
The engine is silent, which may be important for hunters who want to venture hundreds of meters away from roads to track game animals.
The Quietkat Ranger lets you put more distance between you and the noisy traffic and greatly increases your chances of success with game animals.
The wheels on the Quietkat Ranger are huge – which gives you lots of traction that makes you feel safer on the mountain. With safety no longer a concern, you can push the pedal to the metal and cruise at a comfortable 12 mph almost instantly.
The big tires give you unmatched stability both on the front tire for making tight turns and climbing a steep hill.
The torque is pretty good at 80 Nm to let you scale up steep terrains comfortably.
There is one downside to these bikes – they are heavy at 70 lbs. and will require at least two adults to comfortably haul them onto your vehicle or pickup truck.
Overall, these bikes are fun to use over hard snow, smooth over mountainous terrain, and stunning over normal ground.
Read Best electric mountain bikes for women
2. For Sheer Power: Electric Motion Epure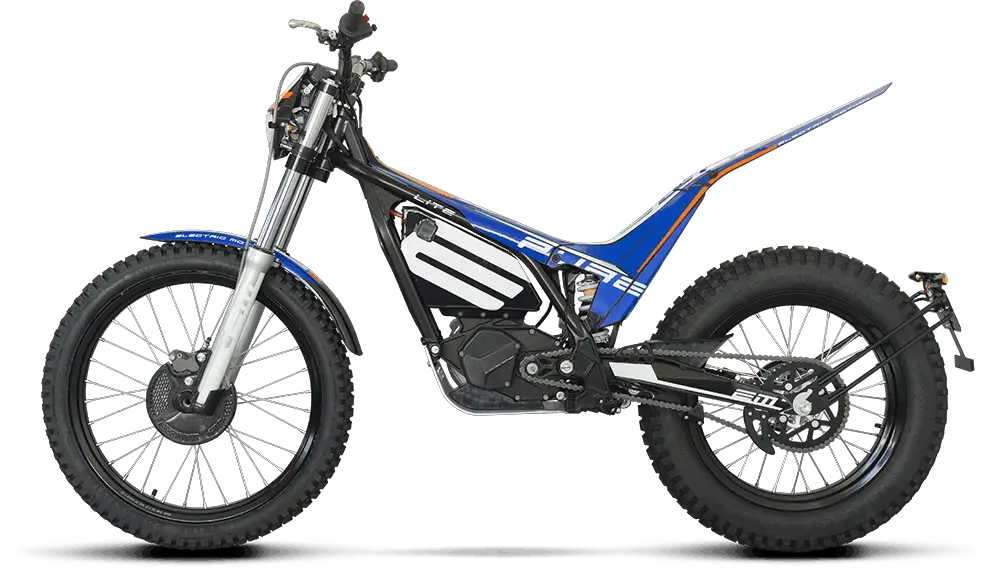 Specifications
50.4V Lithium-Ion
Battery capacity of 1875Wh
Recharging time at 3h 20m
27 miles range
Top speed at 40.4 miles
Weight: 153 pounds
Made of Alloy 15CDV6 for extra durability
Touted as the best electric bike for trials and off-roading alike, the Electric Motion Epure offers everything in a sleek package. From scaling nearly vertical slopes to rolling over the rockiest of terrains and everything in between, this lightweight motorcycle gives you everything you want in a modern electric bike.
It comes with an OEN Electric Motion brushless motor that is capable of a whopping 11kW of power.
This bike boasts an incredible 442.5 pounds of standing torque, which is miles ahead of the Ducati 1199 Panigale V4. It is worth pointing out that all this power and torque does not translate into ultra-top speeds.
The Epure maxes out at a top speed of 41.4 mph – which is fast enough for most off-roading environments – but may seem unimpressive in direct head to head comparisons with other high-end ebikes.
The Epure draws its power from a 1875Wh lithium-ion battery that comes with its own charger. You can comfortably cover a distance of around 26 miles at full throttle with about 240 minutes of casual operating time.
More importantly, you can recharge the bike in just 3h 20m from 0 to full. This beats any other off road electric bike in this range.
The front tire is equipped with a 4 piston caliper disc brake capable of providing more friction and stopping power. The back tire has a 2 piston caliper 150mm disc brake, which isn't underwhelming at all.
For its suspension system, the Epure uses powerful fronts suspension forks with 175mm travel and an R16V rear shock with 170mm travel. This allows you to practice jumping drills with absolute confidence.
All in all, the Epure ticks all the boxes you would expect from the best off-road electric bike, including power, battery, and comfort.
Read 6 Best Electric Mountain Bikes Under $4000
3. The Centurion E-Fire Country F3500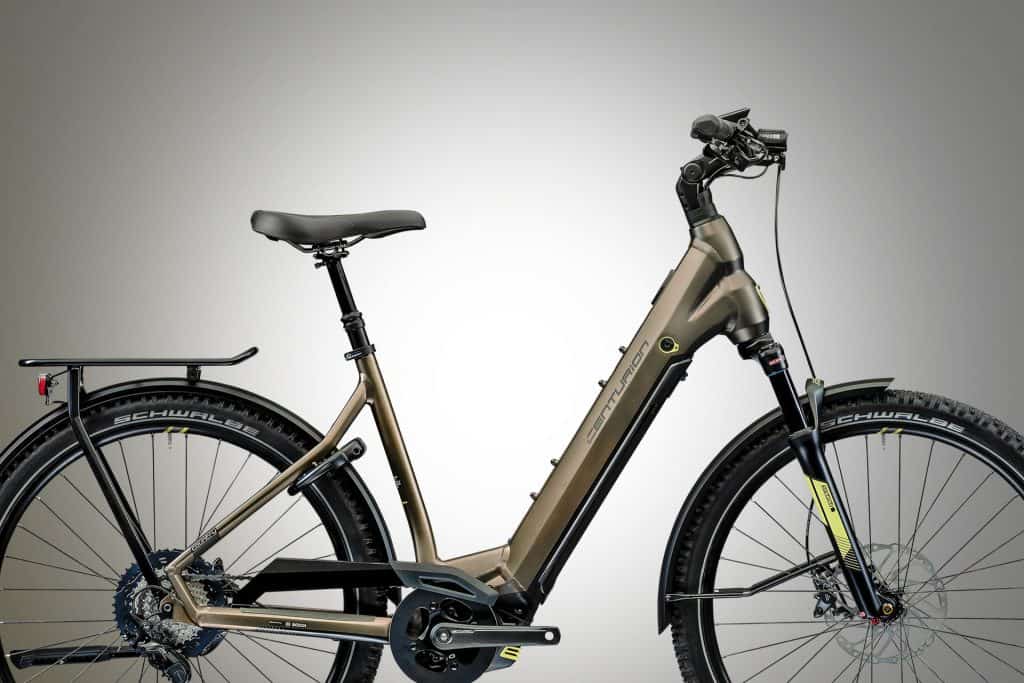 Specifications
Tires: 2.25" wide MAXXIS Crossmark II
Battery: Shimano STEPS 500 Wh
Maximum payload of 126 kg
Suspension: 80 mm dropper seat post with integrated suspension
Brakes: Two-piston calipers and 180mm rotors
First unveiled in 2018, the Centurion E-Fire Country F3500 set a new industry standard for beginner e-bikes when it comes to comfort and functionality. What it lacks in aesthetics, it more than makes up for features useful for a wide range of applications.
For starters, its battery is properly integrated to make the frame as easy to use as possible.
This allows for more precise and predictable handling while giving you more confidence, regardless of the terrain or speed. The F3500 performs just as well in city traffic or on long tours in the forest and woodland paths.
This bike can actually pull a trailer and has a maximum payload of around 126 kg, which means it can be used as an electric bike with dog carrier or an electric bike with child seat.
The integration suspension deserves special mention. It features a very plush adjustable air fork with 80 mm travel and internal cable routing offering you intuitive trail support with the confidence of riding a normal mountain bike.
The powerful knobby tires provide further traction and stability, letting you climb the steepest mountains with relative ease.
For the brakes, the bike features 1 finger brake levels with two-piston calipers and 180 mm rotors, which is more than capable of bringing the bike to a complete stop at a moment's notice.
Read Can You Charge An Electric Bike With Solar Panel?
4. Rambo R750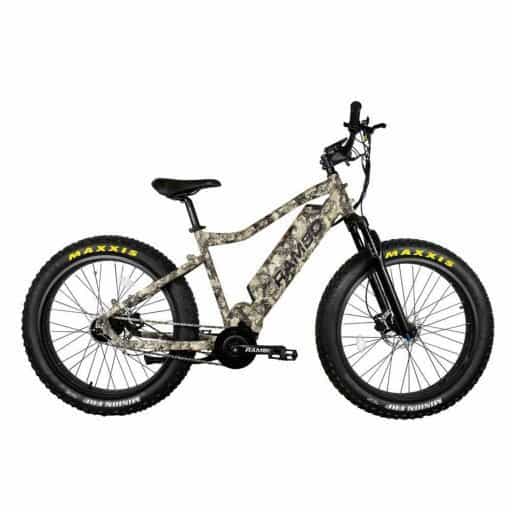 Specifications
Battery: LG 48V 10.4AH
Motor: Bafang 750W BBS02
Top speed: 19 mph
Maximum distance traveled: 19 miles on power and 38 miles with pedal assist
Brakes: Logan HD-E500
Bike weight: 63 lbs. 
Rambo Bikes are known for developing a range of high-end off-road electric bikes for outdoor enthusiasts. The business has garnered a reputation for having some of the best electric bikes in the market and is the go-to choice in the off-roading community.
Since they are familiar with the pain points of outdoor enthusiasts, Rambo Bikes outfitted the R750 G4 with a powerful 750 mid-drive motor that gives you all the power you require to carry your equipment while seamlessly traversing rugged and steep hills with ease.
More importantly, you'll be impressed to learn that the hub motor is very muffled which gives you the edge in terms of stealth.
Furthermore, the wheels are outfitted with large 4-inch tires that provide powerful traction for a comfortable biking experience on the toughest of terrains. The tires are puncture-proof, which is an added layer of protection.
The Rambo has room for a range of practical gear that you can purchase separately. There's also something for users who want to transport gear.
Speaking of accessories, this bike does not come with a rack, which may strain your budget. Despite being meant for off-road enthusiasts, the bikes do not come with lights either, which is standard fare as far as most ebikes are considered.
The bike doesn't have suspension either. This means your bike will take more of a beating on rougher terrains, and that would greatly impact its longevity.
All in all off-road electric bike comes with a full 1-year warranty.
Read Solar Charger for Electric Bike
5. For a Smooth and Powerful Ride: Juiced RipCurrent S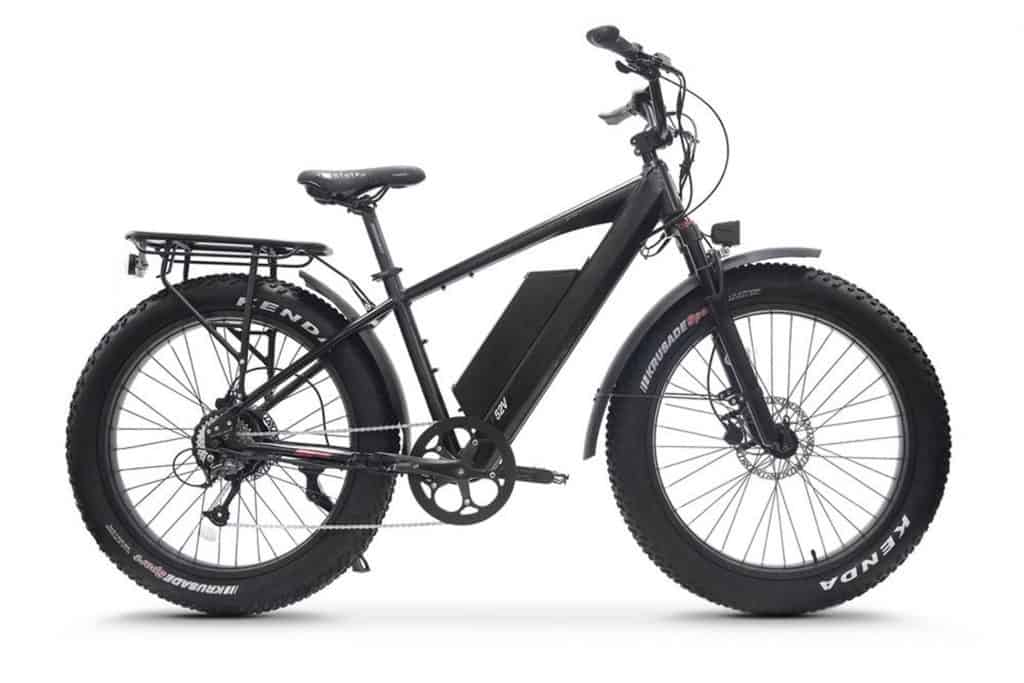 Specifications
Highest battery option: 52 V at 21 Ah
Maximum speed: 28 miles per hour
Motor: 750 Watt Bafang Geared Hub Drive Motor
Brakes: 180 mm Hydraulic Disc Brakes
Maximum Bike Weight: 75.5 lbs.
Construction: Durable non-rust aluminum construction
What we really liked about Juiced Rip Current S are their fat tires – which are their main selling feature. You can travel anywhere, absorb shock damage, and bear all kinds of tough weather.
This is the kind of bike you want to take with you across the sandy dunes, mountainous trails, and even the snow in the winter months. The electric pedal assist lets you overcome extra resistance due to the added traction.
The battery is designed to last long enough – just make sure you don't rely on it too much if you choose the lowest option (which is still very impressive at 13Ah and 48V).
These bikes ship as fully loaded with a total weight of around 66 lbs., complete with a kickstand, a heavy-duty tail rack, air suspension forks, hydraulic brakes, and ergonomic handgrips.
You can run the bike using a thumb throttle along with the torque based pedal sensor that calculates your speed of pedaling and automatically adjusts the power output to the hub motor.
You can check all these numbers in a tidy space on a tidy LCD display. This keeps you rolling at any speeds below 20 mph whether you pedal or not. Moreover, there's also a speed limiter that lets you ride based on the legal limit in your area.
If you don't want to discharge your battery, you can switch on the low voltage limiter to control your battery's rate of discharge. This extends the battery life and lets you travel longer distances.
If you're worried about battery life, you may want to choose the 52V 21Ah option to improve your capacity over a kWh.
The extra voltage grants you more speed and torque out of the motor, and is more than what you can get from other ebikes out there. The battery doesn't come cheap though and will cost you.
Read Fastest Electric Bike in the World
6. Heavy-duty Off-Road E-Bike: Mule Electric Hunting Bike by BAKCOU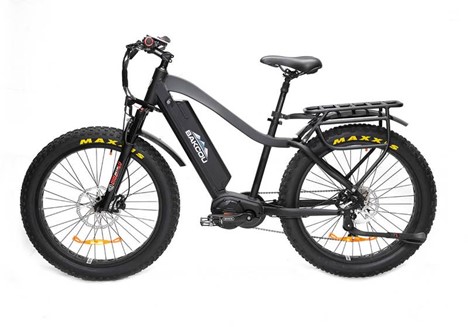 Specifications
Battery: 48v, 15Ah
Brakes: Hydraulic 203mm
Range: 40 miles
Motor: Bafang Ultra 750 or 1000 watts mid-drive
Load capacity: 300 lbs.
Weight: 70 lbs.
BAKCOU is known for spending countless hours in development and research before pushing their product out in the market.
Their hottest selling product is the Mule with its torque-sensing Bafang Ultra mid-drive motor that sets miles better than most ebikes in this range. It comes with both 750 W and 1000 W options, which is enough power for electric bikes.
Thanks to the sturdy aluminum alloy frame that doesn't rust or bend to pressure, these bikes can take lot of abuse without requiring maintenance.
This is important because the trails you'll be venturing into may not even have a beaten path and the rough terrain could devastate bikes of a lesser build quality.
Not only will the Mule help conserve battery but it will help you get into the wilderness with relative ease. This bike can take you where you need to be with minimal roadblocks in the way.
Instead of worrying about getting to your next location, you can let the Bakcou Mule handle everything.
If you want extra power, you should obviously go with the 1000 Watt option. You'll notice it has thicker wiring to accommodate a large amount of amps to flow through compared to the wiring on the 750-watt bike. No matter which option you choose, you'll get plenty of juice to keep you on the road for a long time.
If you plan a long day ahead, you'll want to choose the 48 volts extended distance battery to get you the extra push you need.
The standard Mule has an impressive range of up to 40 miles before having to recharge. This gives the off-roader all the power they need to drive wherever they want.
The Mule also comes with a standard LCD that lets you know your speed and battery life, which is important to anyone who goes off-roading. When you're out in unfamiliar territory, precision control really matters.
The bike comes with a set of powerful hydraulic 203 disc brakes that make it possible to stop when you need to.
Read How to Clean an Electric Bike
7. Best Suspension Off-Road E-Bike: Eunorau Fat-HS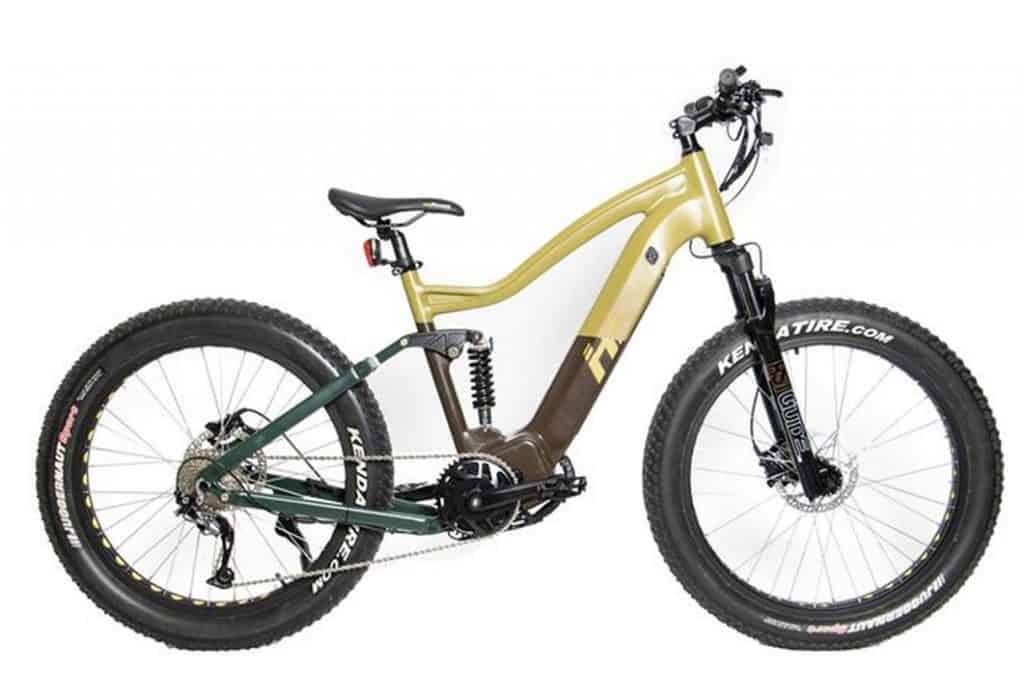 Specifications
Battery: 48v 14Ah
Top speed: 28 miles per hour
Range: 40 miles
Motor: 48V/1000W Bafang BBSHD Mid-Motor capable of outputting 160Nm Torque
Rechargeable time: 4 to hours
Weight: 77 lbs.
If you want to maintain a smooth ride while traversing the terrains with lots of bumps and frequent jumps, then the Eunorau Fat-HS should be your default choice. The tires at an impressive 26 inches by 4 inches by Kenda Krusade, come equipped with K-Shield Protection for maximum flat protection.
What's K-Protection technology you ask? It adds a layer of ceramic and aramid particles that protect the tire from punctures and increases its longevity. 
The Eunorau Fat-HS seamlessly combines the powerful Shimano DEORE 9-speed shutter with the 1000 watt Bafang motor to ensure you stay in control during your journey. The equally confident battery choice at 48V and 14Ah makes this off-road ebike the perfect travel companion if you and your buddies plan to travel long trips.
The Bafang motor offers an impressive 160 Nm of torque that is more than any other mid-drive on the market today. Most models are only capable of reaching 90 Nm, which means that the Eunorau Fat-HS is capable of well over twice the torque of most of its competitors.
This kind of power translates into exciting adventures that most people have never experienced on a bicycle before. 
Read Do Electric Bikes Save You Money?
8. One of the Fastest Off-Road Ebikes Today: Delfast Top 2.0 E-Bike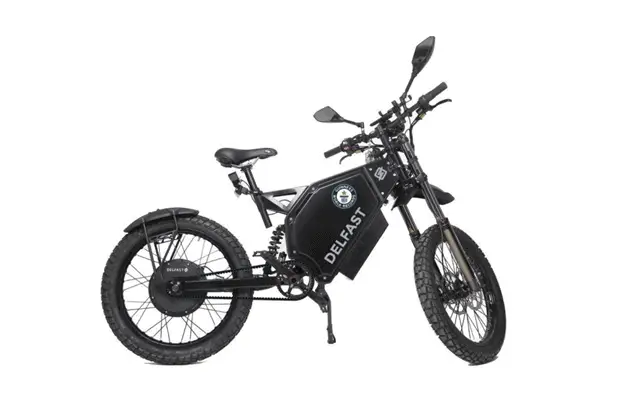 Specifications
Motor: 5kW Copenhagen-style gearless electric motor
Weight: 154 lbs.
Capacity: 300 lbs.
Battery: 72V 48Ah Panasonic battery
Range: 110 miles
The Delfast Top 2.0 E-Bike packs in an impressive 50 mph of speed, making it exceptionally fast when it comes to ebikes. Under the hood, it features a whopping 5kW Copenhagen style gearless electric motor and enough juice to travel at least 110 miles on a single charge.
This is enough to get you where you need to be on the trails. Just as impressive, it features 4 piston hydraulic brakes that will bring the bike to a grinding halt when you want.
There is a large LCD panel that gives you all the information you need at your fingertips, a beefy DNM suspension system with full adjustability, and an extremely bright 20 watt double LED headlight that will light up your journey.
Powering this impressive machination is a massive 72V 48Ah Panasonic battery that virtually dwarfs what is found on most ebikes. It is seamlessly tucked into the mainframe behind the two panels and is not very user-accessible.
The Delfast also serves as a great hunting bike because of its near-silent motor that can render you virtually silent. It could make all the difference in success and failure when it comes to game animals.
It looks good, is fun to use, and very functional. It is worth noting that the pedals are, to put it mildly, essentially useless since it's not going to be easy pedaling the 154 lb. frame without sweating bullets.
You may like:
Wrapping Up
Finding the best off-road electric bike for your outdoor needs doesn't have to be difficult. The bikes we listed above are powerful, quiet, and efficient. They also have room for heavy loads ensuring you always have a place to store your equipment or bring a pet along for the ride. With an off-road electric bike on the road, you won't have to worry about the long hike back to camp.
If you're looking for an upgrade for your next off-roading trip, you can't go wrong with any of the ebikes featured in this article.
If you liked our bike list or have your own recommendations, do let us know in the comments below.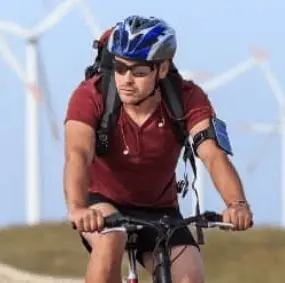 I am Michael, an avid rider and bike expert. I am here to provide, biking tips and expert advice on in-depth bike reviews covering features, capabilities, price range, and much more. Specially on electric bikes, mountain bikes, road bikes, etc. I will provide honest product reviews, along with expert advice on purchasing, training, and maintenance. Check out my complete profile.