It's no breaking news that mountain bikes are taking the world by storm, releasing new models, and offering spectacular features to bike enthusiasts. Every year, it's not only the production and public interest increasing. But you can observe the dollar values boosting day by day. In fact, the price range of mountain bikes crossed well over the big $10k in 2020 already!
Don't worry; the benefits of advanced technologies and features come with a high price point. Some of the costliest mountain bikes certainly offer a plethora of properties that promise a smooth ride anytime and every time.
If you're a fan of these wide-tired bikes and are interested in learning more about the most expensive mountain bike in the world, here's a session dedicated to you. Below, we discuss twelve of the costliest mountain bikes to satisfy your curiosity. Let's get started!
1. Yeti SB5.5 XX1 Eagle Turq ($10,600)
The Yeti SB5.5 XX1 Eagle Turq entered the biking markets in 2018 and, since then, has managed to turn heads. It cost $10,600 and was the most expensive mountain bike in the world that year. However, that wasn't the only reason why the model rose to immediate fame worldwide.
The Yeti SB5.5 XX1 Eagle Turq is made using carbon fiber. And anyone even the slightest interested in mountain bikes would understand how durable and lightweight carbon is. The bike weighs 28 pounds, i.e., around 12.7 kgs- an applause-worthy feat to assist bikers on the steepest and rockiest trails.
Moreover, the design comes with 29" wide wheels, a 140mm rear wheel, and a 160mm fork to help stun crowds with your exemplary performance. If you're worried about forgoing comfort, here's some good news.
Yeti has your back and offers a WTB custom saddle with a FOX Transfer seat post. They do wonders to make your rides comfortable even as you paddle up and down the hill.
Read How to Change Oil in Mountain Bike Fork
2. Switchblade Pro XT/XTR With Fox Live Valve With Carbon Wheels ($10,949)
The Switchblade Pro XT/XTR is among the most successful developments of Pivot Cycles, offering rear travel of 142 mm. The mountain bike provides an extensive range of specifications that make this expensive mountain bike a worthy valuable to possess and use.
The carbon switchblade frame promises smooth performance like the 29" carbon wheels, ensuring awe-worthy control. You can ride the mountain bike over whatever trail you prefer and experience top-class usage because of the contemporary and effective features.
Because the model was created and launched in 2021, it includes highly versatile and advanced plays of technology. Be it the styles or proficiency. The Switchblade Pro XT/XTR is there to be the dream mountain bike of all bikers. 
Read How Do You Clean Sand Off a Mountain Bike?
3. Bianchi Methanol 9.1 CV ($11,500)
The Bianchi Methanol 9.1 CV costs $11,500 and is undoubtedly a significant investment related to mountain bikes. The bike is manufactured specifically for bikers who prefer riding on rugged trails.
Everything is designed to boost firm control- from the suspension to the outclass brakes and help the riders travel across the rockiest and most uneven pathways without a hitch.
Moreover, the Methanol 9.1 CV contains a well-reputed carbon frame for its excellent robustness. With a 160mm rear rotor, FSA Orbit C-40 headset, and Formula R1 racing brakes, this mountain bike is a vital asset even with its expensive price tag.
Read Can You Ride a Mountain Bike While Being Pregnant?
4. Scalpel – SI Black Inc. By Cannondale ($12,790)
Cannondale is among the pioneers in the bike manufacturing industry. So, it's not surprising to see them lunching an absolute beauty in the form of their Cannondale Scalpel- SI Black Inc. It costs $12,790 and is the most expensive mountain bike globally manufactured by Cannondale.
The bike offers a range of specifications to make the model worth your investment. From the phenomenal suspension and sleek handlebars to 29"/27.5" wheel size and a frame made from Ballistec Hi-MOD Carbon. The Scalpel- SI Black Inc. has an impressive build- hence the edgier price point.
The highlight of this model is its power-effectiveness. Add them with a light yet robust frame. And you've got yourself the perfect package of practicality and durability for even the roughest and rockiest trails.
5. Pivot Switchblade Team XX1 AXS ($19,999)
The bright and blue-colored Pivot Switchblade Team XX1 AXS was launched in 2020. What amazed people was that this mountain bike offered three motors- one in the rear shock, seat post, and derailleur each.
Furthermore, the bike also comes with excellent suspension to help you control the brakes and maneuver through whatever trails and paths you follow.
You can pedal faster without straining your leg muscles because of the reduced tension of this bike. That's one crucial reason for the XX1 AXS being a favorite for most bikers worldwide.
Moreover, the mountain bike is made using carbon fiber materials and incorporated with Pivot's signature technology to make it even more lightweight. As a result, it offers an ideal stiffness-to-weight ratio that pro bikers love and prefer.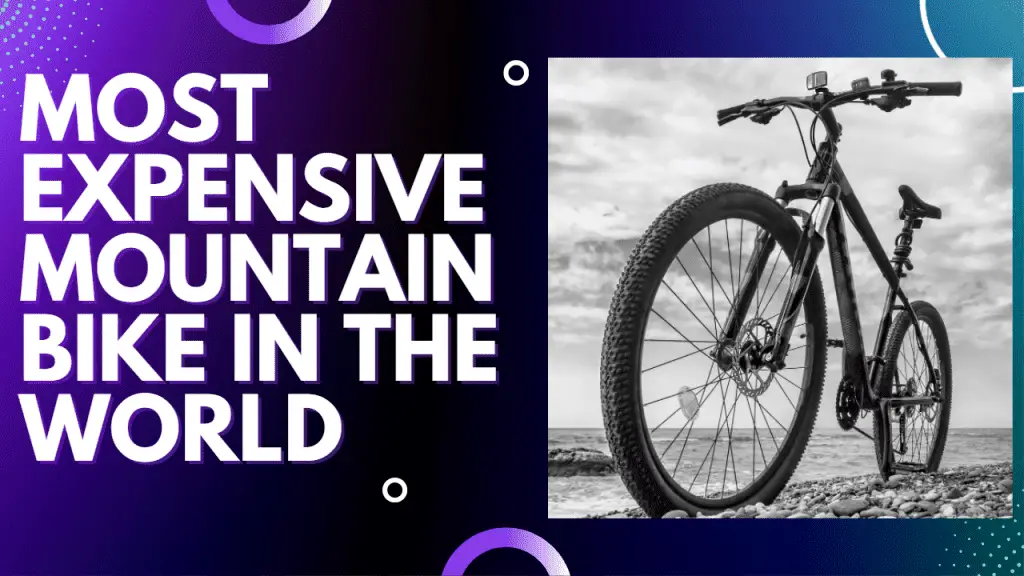 Read How Do Mountain Bike Clipless Pedals Work?
6. Specialized Levo SL Founder's Edition ($26,500)
The Specialized Levo SL Founder's Edition is an impressively striking model, and what's more- there are only 250 of the model available worldwide. There are several differences between the Founder's edition and the regular model.
Firstly, the limited edition comes with a few additional premium-quality parts. And second, you can request personalized paint jobs, chic gold-leaf-pattered graphics, and an embellished saddle. In short, the design is ultra-suave and undoubtedly grand.
The Specialized Levo Founder's Edition was invented and introduced in the markets in 2020 and quickly became one of the famous and most durable electric mountain bikes of the year.
The model is still trending and one of the vital choices of e-MTB fans even today. With exceptional battery life, advanced features, and a remarkable lightweight (of less than 17kg), the Founder's Edition is one of the dreamiest e-MTBs of all time.   
Read How to Climb Rocks on a Mountain Bike
7. M55 Bike ($35,200)
M55 Bike is a massive-budgeted bike, even if not the most expensive mountain bike in the world, costing $35,200. It combines contemporary elegance and a sleek interior. The mountain bike has features, aesthetics, specifications, and benefits.
M55 offers floating disk brakes and air shock at the rear to make the bike more flexible due to its excellent suspension.
In addition, the frame is made from high-quality aluminum to guarantee you a durable and lasting use. M55 even comes with a customized double crown White Brothers fork made by Mountain Racing Products to notch up the looks.
The stunning electric bike even contains an extensive battery to ensure you can cover vast rides without panicking about deteriorating charging. In short, the model is a speedy and lightweight electric mountain bike that was first launched in 2012.
Read Can a Mountain Bike Fit in to a Car or SUV?
8. Chrome Hearts X Cervelo Mountain Bike ($60,000)
Limited editions are always showstoppers- and the same's the case for the Chrome Hearts X Cervelo Mountain Bike.
The bike costs $60,000 and is a magnificent collaboration between Casa de Chrome and Cervelo- two of the leading manufacturers of triathlon and time trial bikes of 2010.
Be it the leather seats, motif plugs, or rhinestones over the frame. Everything about the model is the epitome of luxurious appeal and ultra-functionality worth $60,000.
9. Kaws Trek Madone ($160,000)
Whenever your eyes stumble across the brand "Kaws," you know it's something high-scale. And same can be said for the Kaws Trek Madone. Kaws launched this mountain bike to be the ideal combination of trendy style, sophistication, and, most importantly: utmost comfort.
The bike was endorsed and designed for Lance Armstrong, a reputable bicycle rider loved and known worldwide. The mountain bike offers an incredible balance with flexible and sleek handlebars for a firmer grip.
In addition, it also comes with a soft seat to encourage the maximum possible comfort. The Kaws Trek Madone is even made using an extremely lightweight material to promote utmost and optimal speed while maneuvering through the roughest trails.
Read How to Adjust Front Shocks on a Mountain Bike?
10. Trek Yoshimoto Nara ($200,000)
The Trek Yoshimoto Nara was yet another mountain bike used by Lance Armstrong and was sold for $200,000 in Sotheby's charity auction back in 2010. The bike is decorated with cartoon themes and a Livestrong logo.
Designed by Yoshmito Nara, the model is unique because of its bright yellow and blue colors. The funky model is also well-appreciated by youth because of its vivid color theme.
However, it's not only about attractive looks. Trek Madone Yoshimoto Nara is undoubtedly a work of innovation and art. The mountain bike is made from carbon fiber- a material that can last you YEARS, even if it's, albeit, costlier than other alternatives.
11. Butterfly Trek Madone ($500,000)
The Butterfly Trek Madone for valued at $500,000 and is a personalized design for Lance Armstrong. Armstrong used it for his Tour de France back in 2009 and sold it for half a million dollars in 2019.
The mountain bike was a congratulatory gift designed by Damien Hirst to celebrate Armstrong's successful battle with cancer. Armstrong had to put his cycling career on hold while he underwent treatment and when he resumed his touring, the Butterfly Trek Madone was launched to honor his strength and health.
To further enhance the distinct aesthetics of the mountain bike, Hirst even put real butterfly wings on the bike's rim and frame. It's not unjust to call this model the most expensive mountain bike. The bike offers luxurious and durable cycling circuits, promising an upscale and smooth performance.
Read Should I Mountain Bike Alone?
12. House Of Solid Gold 24k Gold Extreme ($500,000)
Also referred to as the "Golden Bike," the masterpiece was invented in 2013 and cost 1 million dollars at its release! Even after several years of development, the bike is still valued at half a million dollars because of its making.
The House of Solid Gold contains a gold plaiting and is one of the first customized models in the industry. Even the fixed gear is plated with 24k gold Swarovski crystal embellishment.
At the time of its launch, the Golden Bike was limited to thirteen pieces but allowed the flexibility of personalized touches based on the owners' requirements. How spectacular, indeed!
Read 8 Best Mountain Bikes for Heavy Riders
Final Thoughts
That concludes our session of discussing the most expensive mountain bike in the world. Were your minds blown away by some of these pricy mountain bikes you read about? We know our eyes did pop out when discovering a few of these models!
We hope you got the information you were looking for. And who knows, if you've got some cash in your bank account or win a lottery, you can even consider treating yourself to one of these luxurious models.
If you see a mountain bike- regardless of being an electric or traditional one- with such a high value, you know there are high chances it's worth it. It will contain an incredibly durable frame or offer the latest technological features with outstanding comfort and versatility.
And if you're interested in buying one of these models, you're sure to experience lasting returns because of the high-class durability and performance.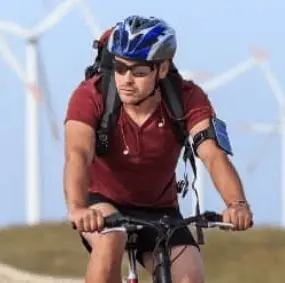 I am Michael, an avid rider and bike expert. I am here to provide, biking tips and expert advice on in-depth bike reviews covering features, capabilities, price range, and much more. Specially on electric bikes, mountain bikes, road bikes, etc. I will provide honest product reviews, along with expert advice on purchasing, training, and maintenance. Check out my complete profile.