Are you looking for the best electric bike under $2000 in the United States of America? Then you have come to the right place! 
An electric bike is a complete package. It is eco-friendly and offers comfort and convenience without putting a dent in your wallet. As technology is becoming advanced and affordable, high-quality yet reasonably priced e-bike models are now available in the market. Today, we will take a look at some of the best electric bikes under $2,000.
What are the best electric bikes under $2000? Below is the list of the top 7 best electric bikes under $2000.
RadRunner 1
Magnum Pathfinder
Bintelli Florence
Schwinn eVoyageur Hub-Drive
NAKTO 26″
EAHORA X7 Plus
IGo Electric Aspire Vendome
Many people would argue that $2,000 is still a significant amount. However, the good news is that many vendors offer flexible payment plans, which means when you buy one of the best electric bikes under $2,000, you may be able to spread the payment over a span of several months.
Moreover, these electric bikes offer high value for money and are worth every single penny. They are durable and reliable, so you won't have to worry about high maintenance costs. Typically, e-bikes do not require any more maintenance than a regular bike.
All in all, if you are looking for a convenient, healthier, and eco-friendly option to upgrade your daily commute or exercise regime, then electric bikes are your best bet!
Best Electric Bike Under $2,000: Top 7 Picks
An e-bike will prove to be a worthwhile investment for years to come. Without further ado – let's take a look at some of the best electric bikes under $2,000 that you can purchase today to switch to a healthier and eco-friendly lifestyle!
1# RadRunner 1 – Best Single-Speed E-Bike Under $2000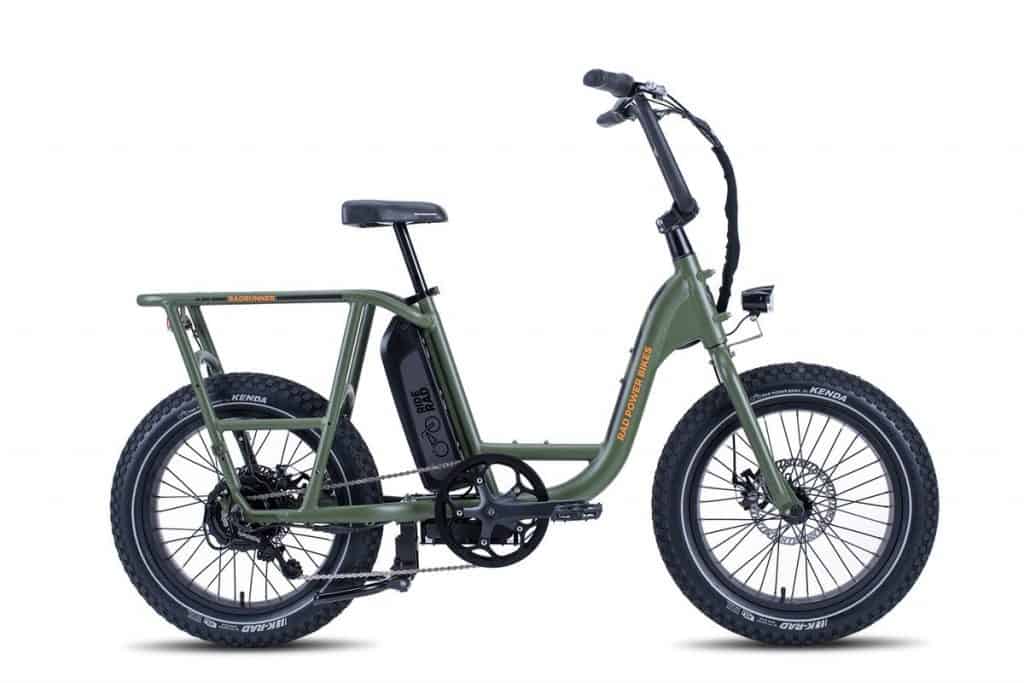 Specifications
Battery: 48V, 14 Ah (672 Wh) with Lithium NMC Samsung 35E cells
Charger: 48V, 2 Amp Rad Power Bikes smart charger,
Motor: brushless 750W Bafang geared hub motor; 80 Nm of torque
Display: Intuitive Led Display 
Range: 25-45+ miles per charge (estimate)
Max load capacity: 300lbs
Frame: 18 inch 
Tire: Puncture-resistant, 3.3 inch
RadRunner 1 is built for convenience and designed for customization. With over 330 accessory combinations, you can customize your electric bike to perfectly fit your needs and requirements.
It features a single-speed drivetrain, which makes it the perfect option for beginners and electric bike pros alike. 
It comes with an integrated rear rack. Meaning, you can attach platforms and backset to move around cargo on your e-bike. The e-bike also has a dual leg kickstand to provide increased stability when loading the cargo or mounting on the bike. 
You can also mount a child seat to enjoy fun rides with your little ones. The simplified LED controller on the handle will allow you to start or turn off your electric bike with a simple push of the button.
Additional buttons are also included to manipulate LED lights and pedal assistance. Battery and assist levels are displayed on the LED screen to give you a real-time overview of your ride at all times. 
Boasting a 750W Bafang geared hub motor, RadRunner 1 is built to traverse hills and loose terrain.
The electric bike also features Twist Grip throttle, which will give you a 750W boost on demand. Moreover, a rigid front fork works to provide ultimate control while cruising around. 
Considering the features, material, and quality of RadRunner1, it is easily one of the best options when it comes to choosing the best electric bikes under $2,000. Keep in mind that the e-bike arrives 85% assembled.
An additional fee is required to get a 100% assembled RadRunner 1 delivered at your doorstep. You can choose a flexible payment option to buy this e-bike.
2# Magnum Pathfinder – Best Fat Tire E-Bike Under $2000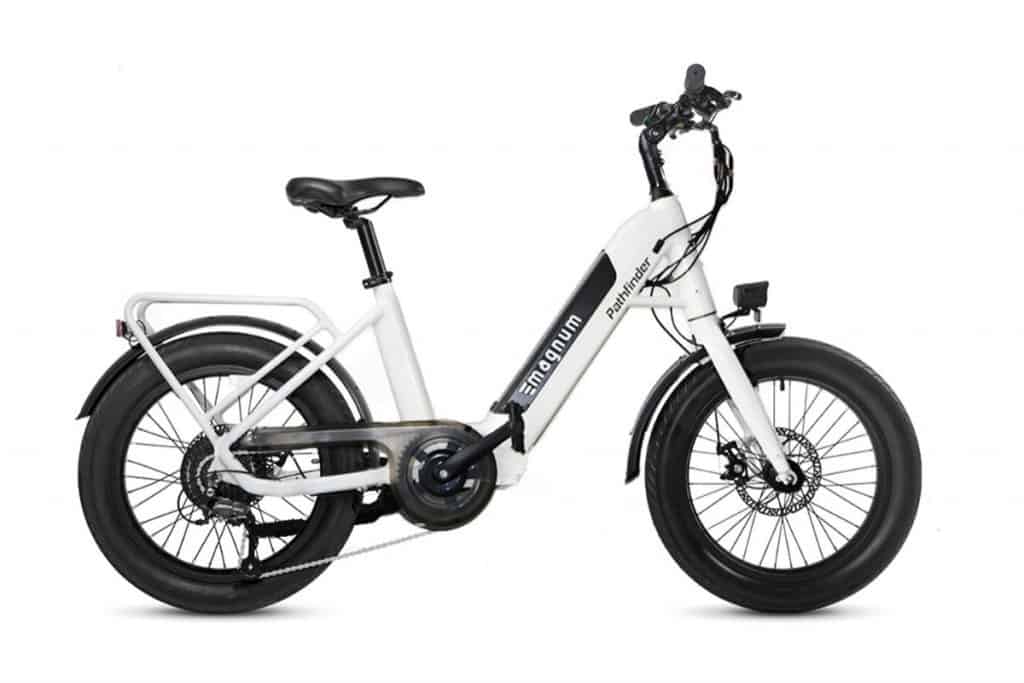 Specifications
Battery: 36v / 12.5ah /450wh with Lithium Nickel Cobalt Manganese
Charge time: 4 to 4.5 hrs (estimate)
Motor: 36v 350w Rear Geared Hub Motor 
Display: Bigstone H102 Display
Range: 20 miles per charge (estimate)
Max load capacity: 265lbs 
Frame: Low step 66 inch 
Tire: Innova 20″ fat tire, 20" x 3"
Magnum Pathfinder is created with a focus on design and quality to provide a high-value electric bike for the most affordable rates.
It stands out in the Magnum lineup due to its 20-inch fat tires, which means that your electric bike can traverse snow, sand, and even mud without any difficulty.
They work well on pavements, too, so you can use it to cruise around the town or go on off-the-road adventures.
Moreover, the low-pressure tires double as shock absorbers to deliver a smooth, comfortable, and bump-free ride, regardless of the terrain.
The electric bike is also fast, reaching the top average speed of 18 mph. Lights are integrated into the front and rear and are controlled by the display, which also shows other readings, including speed in mph or kph, assist level (0 to 3), battery level, trip distance, estimated remaining mileage, etc.
The e-bike is available in matte white and grey colors with minimalistic decals. Featuring a sleek, modern design, Magnum Pathfinder ranks high when it comes to aesthetics as well.
Furthermore, it comes with a 1-year comprehensive warranty. Magnum Bikes also offer easy monthly payment options, starting as low as $74/ month.
3# Bintelli Florence – Best Low Step Thru Electric Bike Under $2000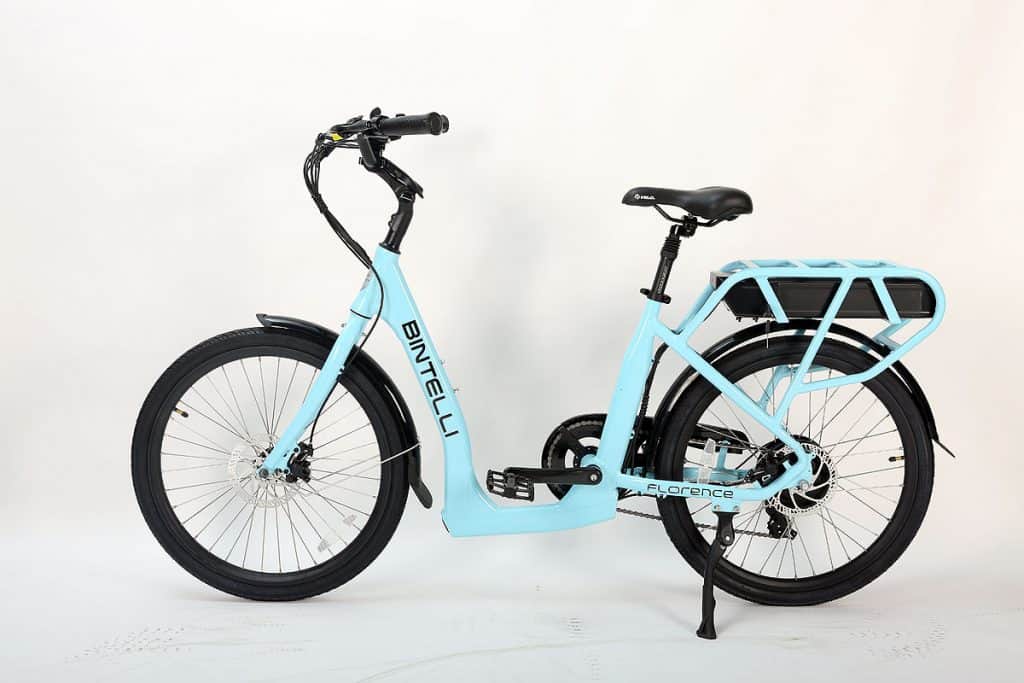 Specifications
Battery: 48V, 12.5 Ah Lithium-Ion battery 
Charge time: 4 to 6 hrs 
Motor: 48V 500w, Rear-Mounted Brushless Hub
Display: LCD screen 
Range: 20-30+ miles per charge (estimate)
Max load capacity: 300lbs
Frame: 6061 Aluminum Alloy
Tire: 24-inch
Super chic and stylish – Bintelli Florence Electric Step-Thru is one of the best electric bikes under $2,000, especially if you are particularly interested in buying an electric bike with a low step thru frame. The frame is designed to ensure an upright riding position.
Plus, the curved frame makes it easier for riders to mount and dismount from the e-bike. The low step thru design is also great for commuting to work, especially for people who prefer wearing more formal attire to work, such as women's skirts or men's suits.
Bintelli Florence also doubles as the ideal utility electric bike to transfer cargo and even comes with a rear rack to offer added convenience to commuters.
It runs on a 12.5 Ah lithium-ion battery and features a powerful motor that can ensure a whopping speed of 20mphs.
Other features include headlights, taillight, Tektro Disc with 160 mm Rotors brakes, rim reflectors, seat post suspension, a UL-approved charger, and an aluminum kickstand.
The e-bike is available in white and silver colors.
4# Schwinn eVoyageur Hub-Drive – The Best 5-Level Assist Electric Bike Under $2,000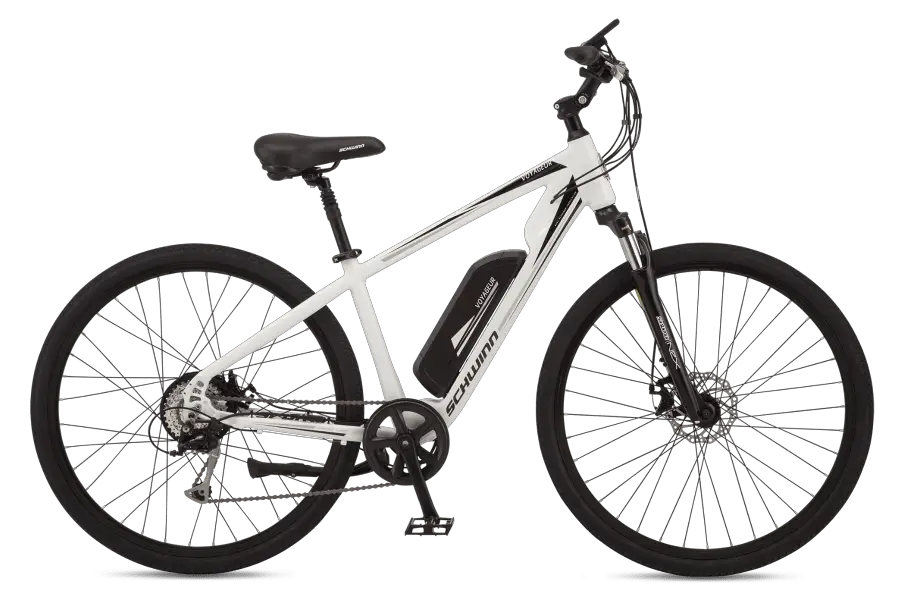 Specifications
Fork: SR Suntour NEX, 700c, steel steerer, hydraulic lockout, 100 mm QR, QR, 63 mm travel
Motor: 250-watt Bafang hub drive
Display: LCD Display 
Brakes: Mechanical disc, aluminum, 160 mm rotor
Frame: 6061 aluminum, internal cable routing, 10 mm x 135 mm dropout
Tire: Urban road, 700c x 35c, wire bead
Seat post: Aluminum, 300 mm, 20 mm offset, 31.6 mm
Are you in the mood for a workout or want to reach your destination without breaking a sweat? Featuring five levels of pedal assist, Schwinn Bikes eVoyageur Hub-Drive allows you to do both.
You can choose the level of assist from the LCD center-mounted on the handlebar. At different levels, the motor places just the right amount of power to each pedal stroke, adding extra oomph to your journey.
Apart from the assist level, the LCD display shows several other readings, such as battery life, to help you keep track of your ride info and cruise along without a worry.
8 Speed Shimano Drivetrain takes things to the next level and keeps the wheels spinning around efficiently at all speeds regardless of the terrain.
Moreover, the SR Suntour NEX suspension fork with lockout allows the rider to tune the e-bike to enhance comfort level while riding and offers supreme control.
The grips also feature a semi-ergo design, which means you can rely on Schwinn eVoyageur Hub-Drive to deliver a comfortable ride every time whether you cruise the town, climb hill, or travel long distances!
5# NAKTO 26″ – The Best High-Value E-Bike Under $2000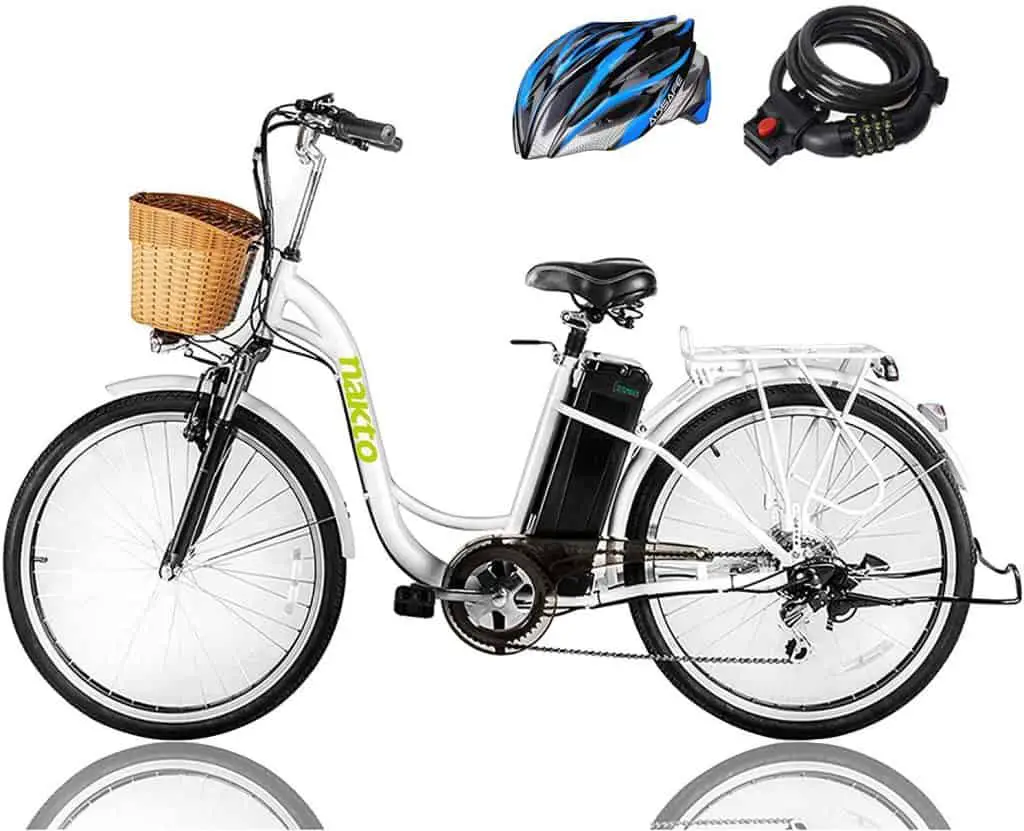 Specifications
Battery: 36V, 10AH lithium battery
Charger: smart lithium battery charger
Motor: 250W High-Speed Brushless gear motors
Display: Intuitive Led Display 
Range: 22- 28miles per charge (estimate)
Max load capacity: 250-300Lbs
Frame: High-strength Carbon Steel Frame
Tire: Anti-slip wear-resistant tire
High-quality finishing and material, high standard features, and affordable price – Natko 26″ has so much to offer.
The reason why Natko bikes are often available for less than half the price of comparable e-bikes is that Natko offers Direct-to-Consumer Pricing. 
Meaning, the company sells electric bikes directly from the factory to make sure you get the best deals. This allows Natko to provide high-quality bikes at highly affordable rates.
So, if you want the most value for your money, then Natko 26″ is one of the best electric bikes under $2,000 that you can buy.
The e-bike features a sturdy, high-strength carbon steel frame that ensures durability.
The front forks are also made of high-strength carbon and are packed with shock absorption abilities to make sure you experience premium comfort every time you take out your e-bike.
Front V brakes and rear expansion brake give you complete control over the e-bike and offer maximum safety on the road. 
Other safety features, such as an LED headlamp and horn, are also integrated to make the bike safe for night riding. The 360-degree lighting system provides wide-angle illumination and saves up to 15% of energy consumption.   
Natko 26″ comes with a removable battery and lithium battery charger that will keep you going on the road for 22 to 28 miles per charge.
The battery comes with several protection features, including electrical protection, overcharge protection, balanced protection, disconnection protection, temperature protection, short circuit protection, and over-current protection. 
You can also switch between the three cycling modes to enjoy long cycling hours and exercise. The three cycling modes include the electric mode, assisted mode, and human mode.
The e-bike and the battery come with a 1-year warranty, and the e-bike is delivered 95% assembled.
6# EAHORA X7 Plus – The Best Folding E-Bike Under $2000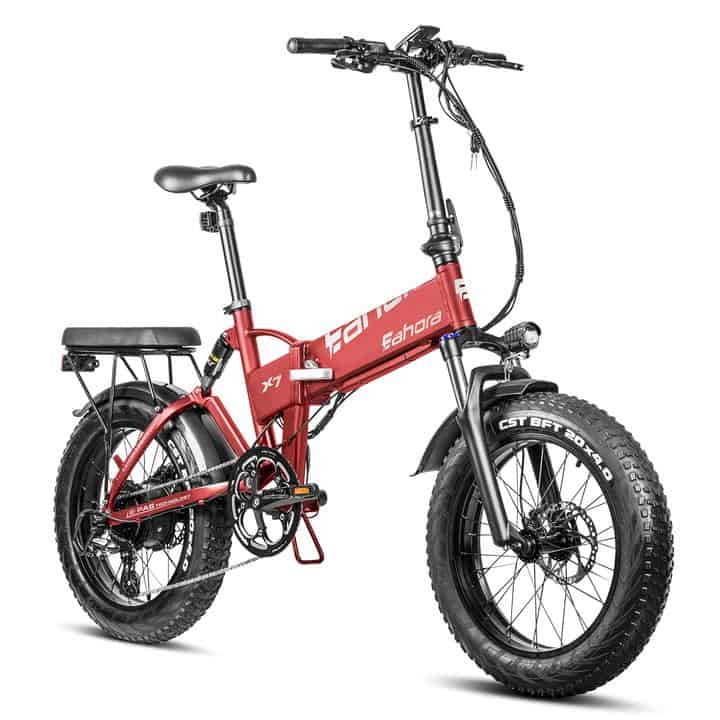 Specifications
Battery: 48V/10.4AH Samsung lithium battery
Charger: US standard 2.0 A smart charger
Motor: 750W high-speed brushless motor
Display: 4.3 inch multi-function digital display
Range: 30 – 42 miles per charge (estimate)
Max load capacity: 350lbs
Frame: 17.5 inch high-grade rust-proof aluminum alloy frame, foldable
Tire: 20* 4-inch tires for flat, highway, urban areas
If you are interested in purchasing the best foldable electric bike under $2,000, then consider EAHORA X7 Plus. One of the most interesting things about this e-bike is that it is equipped with Eahora's Patented E-Pas regenerative electrical motor.
The motor is designed to charge the battery while gliding or traveling downhill. This feature drastically improves the range of the e-bike. Moreover, the motor is powerful enough to help you reach a speed of up to 30 mph in 10 seconds!
Combined with a Samsung cell battery, the e-bike gives an excellent performance. The battery is removable and hidden safely in the frame.
It comes with a 1-year warranty and gives you a range of around 30 to 42 miles per charge (depending on terrain and level of assist).
The e-bike also comes with Shimano 8 speed gearshift system, which makes EAHORA X7 Plus ideal for tricky terrains. It also features lockable front fork shock absorbers and rear alloy shock absorbers to ensure a smooth and steady drive in cycling experience.
7# IGo Electric Aspire Vendome – Best Electric Bike with 50+ Range Under $2000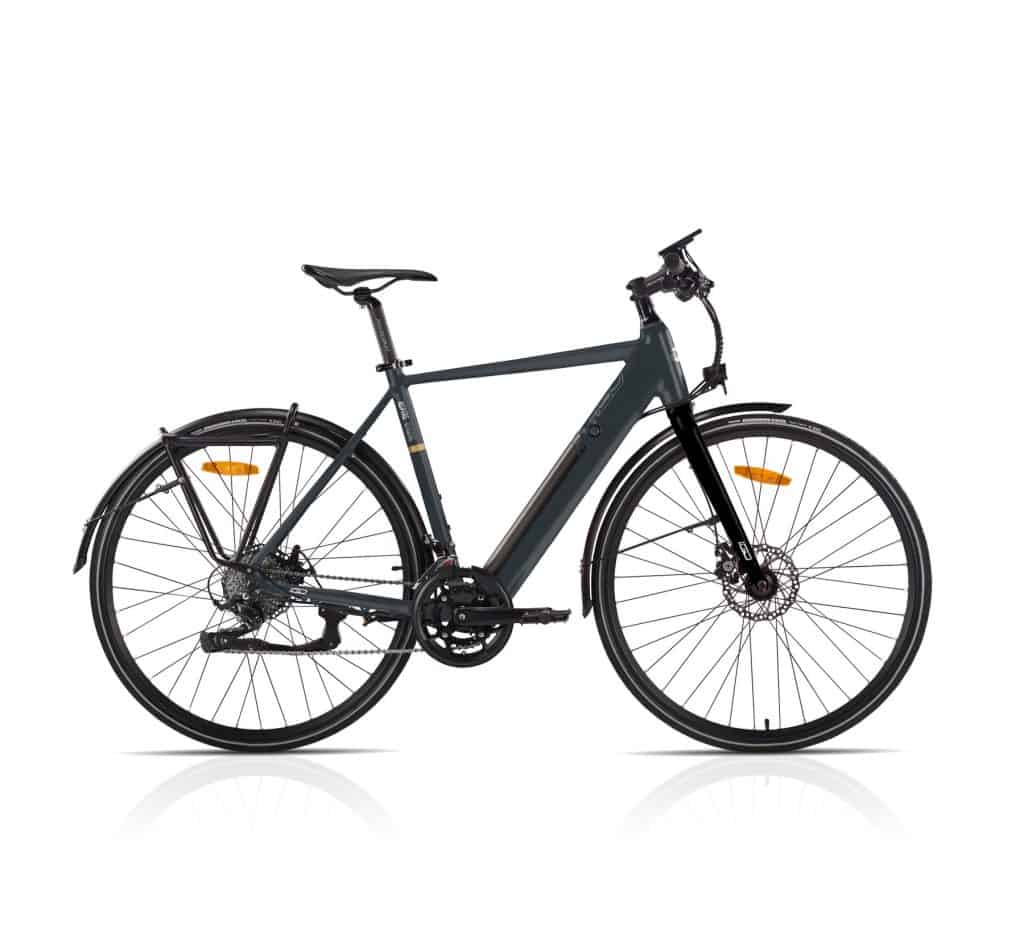 Specifications
Battery: 36V/375Wh/10.4Ah SAMSUNG 18650 Removable in Frame Lithium Battery
Charger: 48V, 2 Amp Rad Power Bikes smart charger,
Motor: BAFANG 250W Geared Rear Hub Drive
Display: iGO TFT Color Backlit
Range: 56 miles per charge (estimate)
Max load capacity: 300lbs
Frame: iGO Alloy 6061 700, with internal cable routing
Tire: MAXXIS Overdrive Excel 700×32 with Silk Shield puncture protection
IGo Electric Aspire Vendome is for people who want to travel long distances without spending too much on a costly e-bike.
With an estimated range of 56 miles, this e-bike is the best electric bike under $2,000 that will give you a range of 50+ miles.
The bike is not only comfortable enough to cruise to work and back but also sporty enough to take you on adventurous, off-the-road excursions.
It is powered by an efficient 250W geared brushless motor. It employs torque-sensing technology to provide maximum control on the road and help you power through trails and hills with confidence.
The lithium-ion battery is also high-performing. It is removable, which allows for added security while charging.
While IGo Electric Aspire Vendome has many commendable features, the IGO CONNECT app is what sets it apart from other bikes in the same range. You can download the iGo Connect App on your phone to get amazing insights and enjoy rides customized to meet your mood and needs. 
For example, you can engage the "off-road mode" to access the maximum speed of up to 42 kph. You can also set your custom filing profile or choose to go with pre-installed configurations.
However, keep in mind that just because the iGo Connect App gives you updates on your phone, doesn't mean the display unit is not enough by any means.
In other words, the display unit is just as classy and functional as the rest of the features.
It displays the battery status, BMS voltage, and other diagnostics. It also contains a speedometer, odometer, trip timer, light switch, main power switch, and power-assist switch.
Talking about power-assist, the e-bike has nine levels of assisted pedaling, which gives you a higher level of control over the cycling experience.
Lastly, the high-quality 700 x 32 tires are puncture-protected. Alloy P23D Black 700c rims are installed on the wheels and A Hydroformed Alloy 700C, Quick Release fork system is used.
Check out the below biking posts:
Conclusion
Considering the health and environmental benefits of riding an electric bike, it is no surprise that e-bikes have become a popular choice of transport for daily commute in the last few years.
However, one of the biggest reasons for the rising popularity of electric bikes is that they are much more affordable than cars and other electric alternatives.
Regardless, some electric bikes can be costly, costing up to several thousand dollars. But that doesn't mean you have to spend excessively to buy a high-quality e-bike. As discussed above, there are many options that you can consider to get one of the best electric bikes under $2,000. 
While all the options are super reliable and offer great performance, after careful consideration and comparison, our top choice for the best electric bike under $2,000 is IGo Electric Aspire Vendome. It is fast, sleek, modern, and has a commendable range in all types of terrains.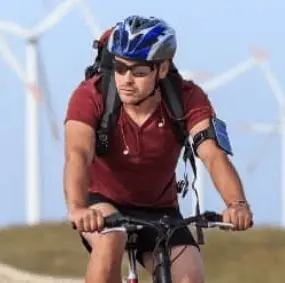 I am Michael, an avid rider and bike expert. I am here to provide, biking tips and expert advice on in-depth bike reviews covering features, capabilities, price range, and much more. Specially on electric bikes, mountain bikes, road bikes, etc. I will provide honest product reviews, along with expert advice on purchasing, training, and maintenance. Check out my complete profile.