For several years, a mountain bike's wheel size wasn't something bikers were too concerned about. After all, can one and a half inches make that much of a difference? Before 27.5-inch wheels and 29-inch wheels became popular, bikers used 26-inch wheels.
The first wheel on the scene was the 29-inch, and a few years later, the 27.5-inch wheel was introduced by several manufacturers. The right-sized wheel depends largely on what you're looking for in a mountain bike and the terrain you want to ride it on.
27.5 Mountain Bike vs 29 Inch Mountain Bike: At a Glance
| | | |
| --- | --- | --- |
|   | 27.5-inch mountain bike | 29-inch mountain bike |
| Attack angle | Good | Better |
| Fit | Good for short riders | Good for tall riders |
| Weight | Light | Heavy |
| Traction | Good | Better |
| Maneuverability | Better | Good |
| Acceleration | Better | Good |
When you're considering 27.5 and 29-inch wheels, always remember that the best way of understanding the differences between them is by taking a test ride. Swing by a local bike shop and take each of these beauties for a test ride.
Read How to Raise Handlebars on A Mountain Bike
27.5 Inch Bikes: Light, Better Maneuverability, and a Playful Ride
Even though 27.5-inch wheels are still new, they instantly gained traction in the mountain biking world. Quickly, they proved to be a good middle ground between 26-inch wheels and larger 29-inch wheels.
Their manufacturers were keen on ensuring buyers that these bikes would be just as playful while maintaining the characteristics of a 29-inch wheel.
They weren't lying! There are certain benefits of this tweener bike, but unfortunately, we can't call it the holy grail of mountain bike wheels – we're still looking for that size. No matter how impactful the benefits may be, their cons also make their presence felt.
The Pros and Cons
Compared to 29-inch mountain biking wheels, 27.5 bikes are typically quicker, mainly due to less weight. Less weight requires decreased effort, which is why speeding up on a 27.5-inch bike is relatively easier.
This can be a great feature for you if the trails you ride daily require you to slow down and accelerate on tight turns and uphill sections.
As we said earlier, 27.5-inch bikes can also perform on trails where you don't have a lot of space. That said, 27.5-inch wheels can usually be slower in straightaways, whereas a 29-inch wheel can maintain momentum easily.
When you consider climbing, however, there are several elements to consider. 27.5 wheels can be better for punchy and short climbs since they require lesser turns and are easier to maneuver. Since they're lighter, they can also deliver better acceleration on these climbs.
However, if you're trying to ascend on gravel roads or a single straight track, then we'd recommend the 29er to you. Its ability to maintain speed is unparalleled.
Riding Experience
All other things aside, a bike with 27.5-inch wheels is usually easier to ride than a bike with 29-inch wheels. Since 27.5-inch wheels have a smaller diameter, one can navigate them through tricky trails.
They respond well, which is incredibly important for novice riders who may find it harder to control a 29-inch bike.
Furthermore, because of their lightweight, 27.5-inch bikes typically have a more enjoyable ride. You'll often hear people calling them fun since they allow you to change directions quickly, meaning you can easily shift from one trail to the other.
Read Replacing Mountain Bike Tires
29-Inch Bike: Better Stability and a Confident Ride
After reading the last paragraph, you may be thinking: "why would anyone want a 29-inch bike if 27-inch bikes deliver everything?" But one may only say that if they aren't aware of the 29-inch experience.
Some people may enjoy the playful experience that 27.5-inch bikes offer, but for a rider who has a true need for speed, a 29-inch bike is their ticket to paradise.
Niner bicycles have been committed to 29-inch bikes for a long time, and they continue to push the wheel size to its maximum potential. 
Since a 29-inch wheel has a larger diameter, the wheel has a larger patch coming in contact with the ground. Even at peak speed, the tire has excellent grip. While a 29er may accelerate slower than a 27-inch bike, it can maintain its speed because of its advanced rollover capability.
This trait is also beneficial when a rider is on a technical terrain since the larger patch creates a stronger grip.
With all of these benefits accumulated, the 29er proves to be a brilliant mountain bike. Whether you're racing on an off-roading track or using it for your daily commute, an increasing number of manufacturers have started to understand the value behind these bikes.
Read How to Know My Mountain Bike Size
The Pros and Cons
One of the most prominent benefits of 29-inch bikes is their ability to sustain momentum, which usually translates into higher speeds.
This is particularly true when a trail is straight and has few turns to interrupt your flow, and no, we're not only talking about the downhill bits.
A 29er can also keep momentum on a difficult climb (once you've built some of it, that is). This is mainly because of bikes' improved grip. That said, the improved grip is only discernible to experienced riders, which is why you'll mostly see professional mountain bikers using 29-inch wheels for competition.
All in all, even though 29-inch wheels do a great job of maintaining speed, they aren't great at building it. Quite simply, a heavy object is hard to accelerate, and a 29-inch wheel isn't an exception to this theory.
So even though the allure of high speed may seem inviting, if your trails require you to slow down a lot, you're better off getting a 27.5-inch wheel.
Riding Experience
Mostly because of the low attack angle, a 29er can roll over obstacles a lot more easily than a 27.5-inch bike. This means that you have a smoother ride, and you require lesser effort to keep going.
People often equate 29-inch wheels to monster trucks, which is a compliment when facing slippery or rocky terrains. These features also make the bike stable at all speeds and a lot more confidence-inspiring.
That said, the added benefits do come with certain drawbacks. Due to added size and weight, a 29-inch bike can be tricky to maneuver on twisty and tight trails. This can be particularly harder for shorter riders.
Moreover, even though manufacturers have gone to extensive lengths to ensure a 29-inch bike can fit all riders, these rigs are still big. In the end, while a 29-inch bike can be highly stable, they aren't fit for short people.
Read How Fast a Mountain Bike Can go?
Is Height A Deal-Breaking Factor?
All too often, mountain bikers attribute a category (27.5-inch or 29-inch) based on how tall they are. While this can be useful for outliers (exceptionally tall or short), it isn't a fair way to associate a bike with a person who has an average height.
You may read online that if you're 5'6 or under, you should stick to a 27.5-inch wheel bike. While it may have been like this for as long as you can remember, it doesn't mean it's true.
Several people under the 5'6 range can now find well-fitting 29-inch bikes. However, it all comes down to the feel and fit of the bike.
Generally, a 27.5-inch wheel can feel less cumbersome while you're on the trail than a 29-inch bike, while a tall biker may prefer the features of a 29-inch bike.
Check out, Best Time to Buy a Mountain Bike
27.5 Mountain Bike vs. 29 Inch Mountain Bike: Considering Every Factor
Maneuverability
A 27.5-inch bike is more maneuverable than a 29.5-inch bike. A 29-inch bike, on the other hand, is more flexible due to the elongated frame. But this elongated frame also means that the bike is harder to control in tight turns.
If you regularly ride your bike on a twisty trail, you may prefer a 27.5-inch bike. They retain the snappy feel of the 26-inch wheel while also giving you the benefits of a 29er. 29ers, however, go over obstacles easier, so there may not be the need to ride around an obstacle when you can ride over it.
Weight
A 27.5-inch bike has lighter wheels.
There's no other way of putting it. A large wheel is heavy due to the amount of material used to put it together. However, whether the wheel's weight matters or not depends on the riding you're into.
If you're a casual rider who uses a bike to commute to work, this difference won't be noticeable. You may care more about attack angle and traction.
However, if you prefer long cross-country riding and race competitively, you may look for ways to shed off the weight.
Choosing a small wheel is one way to lose weight from your bike; however, it's not the only way. You can also get a carbon fiber frame, seat posts, handlebars, and rims.
Moreover, you can also get tubeless tires to reduce the weight of your bike. Tubeless tires reduce weight and enable you to accelerate faster since they have a reduced rotational mass. They can also run at a lower tire pressure which provides them better traction.
Read What Mountain Bikes Are Made in The USA?
Attack Angle
29-inch wheels can roll over objects a lot more easily.    
The attack angle forms when a tire touches a four-sided object. A shallow angle is preferred because it lets the wheel roll over the object more easily. A 27.5-inch wheel does rollover wheels as easily, but they're still quite capable.
Again, this depends on where you're going to ride the bike. If it's a smooth trail, the 27.5-inch wheel will do fine.
29ers have a better attack angle which makes them roll over the rocks, logs, and roots you'll encounter on your trail. This is also why several riders feel more confident with larger wheels. 
Acceleration
A 27.5-inch wheel can accelerate faster, while a 29-inch bike is more suited to longer rides. A small wheel accelerates faster than a larger wheel. Since a larger wheel has tubes, spokes, rims and is farther from the center, the wheel has a higher rotational mass which translates into slower acceleration.
When you reduce the rotational mass of a wheel, it rolls faster and a lot more easily.
For a 27.5-inch bike, acceleration is often the biggest benefit. This ability makes the bike more responsive. While 29-inch bikes can feel unresponsive, their wheels can prove to be more efficient when they reach a high speed.
Since you've already invested in creating momentum for a 29-inch bike, the momentum sticks around for a longer time.
Traction
As we've mentioned, 29-inch wheels have better traction because a larger patch comes in contact with the ground. That said, this doesn't mean 27-inch wheels do a bad job. A 27.5-inch wheel can also provide ample traction for most purposes.
Fit
29ers often have the best fit for tall riders, and 27.5-inches are usually more suited towards shorter riders. However, generalizing is a bad idea in this case.
The bigger wheel usually has a more drastic impact on the bike's frame than a 27.5-inch wheel. This makes it tricky for shorter riders to find a 29-inch bike that fulfills their requirements.
All in all, even though there are still certain generalizations, ensure you take a test ride before you select the bike you want.
Read Buying an MTB: What Mountain Bike Brands are the Best?
Who Should Get Which One?
Get a 27.5-inch Bike If:
You prefer riding your bike in the park,
You prefer riding on easy trails rather than technical trails,
You aren't a rider who prefers long rides but rather a rider who prefers bike rides just for fun,
You aren't willing to sacrifice the handling benefits for increased rollover capabilities
Get a 29-inch Bike If:
You're an enduro racer,
You prefer riding on those fast and technical trails since those are the only rides that bring you enjoyment
You like to ride on rugged terrains,
You're willing to sacrifice the handling capabilities for increased rollover capabilities
Wrapping Up
So there you have it! A satisfying conclusion to the 27.5 mountain bike vs. 29-inch mountain bike debate. What matters more is that you have your priorities set. What kind of terrain do you prefer? What do you aim to achieve from your bike rides? Once you know what you want, the answer becomes a lot more obvious.
Related Posts: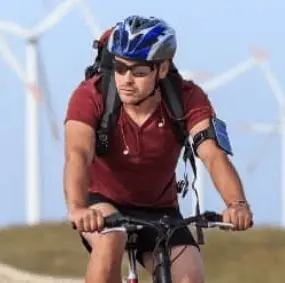 I am Michael, an avid rider and bike expert. I am here to provide, biking tips and expert advice on in-depth bike reviews covering features, capabilities, price range, and much more. Specially on electric bikes, mountain bikes, road bikes, etc. I will provide honest product reviews, along with expert advice on purchasing, training, and maintenance. Check out my complete profile.