So, you gained a bit of weight and are considering biking for weight loss?
Well, you're not alone. Many people consider biking as a form of exercise because it helps you work your muscles and does so at a less intense pace than other forms of cardio.
It is also much more effective than other forms of cardio like running and jogging. Not to mention, you are losing weight and exploring different places all at the same time.
However, you will not notice any weight loss if you are not using the right bike or doing it correctly. The two best bikes for weight loss that most people prefer include mountain bikes and road bikes. Though both are ideal if you want to build muscle or lose weight, they might not be for everyone.
Your decision on which to get depends on several factors. For example, your geographical location; if you live in the city, a mountain bike might not be suitable for you.
This guide will provide you with all these factors and more information to help you decide whether a mountain bike or road bike is beneficial for you as you start your weight loss journey.
What Is A Mountain Bike?
Before we dive into our analysis of the best bike for weight loss, let's take a closer look at what exactly the mountain bike and the road bike is.
As the name suggests, a mountain bike is designed for riding on mountains and hills. It is a bike that has a wider frame and is much heavier than other bikes, including road bikes.
It has a much tougher and wider handlebar and bigger knobs on its thick tires to handle the rough and bumpy terrain.
Moreover, it also has more powerful suspension and gears to allow for easier and more comfortable biking. Mountain bikes have the sort of frame that will allow you to maintain a more upright posture throughout your ride.
It's also great for beginners since they are more stable and make the rider feel safe.
| | |
| --- | --- |
| Advantages   | Disadvantages   |
|  Best for long-distance riding   | It is expensive |
| You can travel at a much higher speed   | Not as durable for the longer term |
| It requires less maintenance   | They are not as comfortable as mountain bikes |
| Lightweight   |   |
Read: Mountain Biking For Weight Loss
What Is A Road Bike?
A road bike is also commonly known as a touring bike, and it is essentially used for riding on paved roads and flat surfaces.
The entire design of a road bike allows the rider to bike at the greatest speeds, which is why this bike is often used for cross-country races. The weight also allows for traveling at larger distances.
The road bike is much lightweight since the tires are quite narrow and filled with high pressure so that there is less friction between the tire and road. This also allows the rider to have more control over the bike without putting much effort into it.
However, a road bike is not as stable as other bikes like mountain bikes. You will also need to lean slightly forward, which is not suitable for people with back problems or bad posture.
| | |
| --- | --- |
| Advantages | Disadvantages   |
| It can help you burn lots of calories in less time because of the terrain   | Only suitable for short-distance riding |
| Has a sturdy frame   | Heavyweight might not be suitable for a lot of people   |
| Resistant to different kinds of rough terrains   | Requires more effort when riding |
Read Replacing Mountain Bike Tires
Difference Between Mountain Bikes and Road Bikes
Knowing the difference between the two bikes will help you understand their performance better and help you decide which is more suitable for you.
| | |
| --- | --- |
| Mountain Bikes   | Road Bikes |
| They are more durable   | Comparatively less durable |
| Not as fast as road bikes | Faster   |
| They are not as dangerous   | More dangerous   |
| You burn more calories with mountain bikes | You burn fewer calories   |
| Mountain bikes are much heavier   | Road bikes are less heavy and have more narrow tires   |
| Not as easy to carry because of the weight | Easier to carry because of lightweight   |
| You cannot find good places to ride a mountain bike   | It is much easier to find places to ride road bikes |
| They are comparatively cheaper | They are more expensive than mountain bikes   |
Mountain Bikes vs Road Bikes
Read: Buying a mountain bike? What to Look For In a Mountain Bike?
Which Is The Best Bike For Weight Loss?
Riding any kind of bike will enhance your endurance, build muscle, and burn fat. In fact, you will probably be burning 400-500 calories.
Though both mountain bikes and road bikes can both be used for weight loss, it depends on a few factors that only you can understand in order to decide which is better for you.
Let's look at some facts about these bikes to help figure out which is more superior when it comes to biking for weight loss.
1. Cardio on These Bikes
Biking, in general, regardless of the type of bike, is great for cardio because it works for all your major muscle groups. The more the bike engages your cardiovascular system and makes you require more oxygen, the better it is for weight loss.
Since mountain biking requires you to bike in rough and bumpy terrains, it involves more than just pedaling. Your engaging so many more muscles than it might seem like you are running uphill or climbing a mountain.
This is not the case with road bikes since you are pedaling at the same speed and intensity. Therefore, compared to a road bike, a mountain bike provides a better cardio workout.
However, this is not to say that road bikes don't provide any cardio exercise because they do. But they don't do it at the same intensity or even that interesting compared to mountain biking.
The latter is not constant or standard on a plain surface; it has lots of bumps, rocks, etc., which also keeps your mind engaged.
Read How to Raise Handlebars on A Mountain Bike
2. The intensity of These Bikes
Essentially how far a bike pushes you determines how much weight you can lose and the kind of progress you have made.
However, for the most part, this does not depend much on the bike but rather the terrain and where you ride the bike. For this reason, mountain bikes can offer a much more intense workout.
All of this is because mountain biking requires you to go through several obstacles like logs, trees, and rocks. It also involves steep descents and tough climbs.
All in all, with the combination of ups and downs and bumpy terrain, you are essentially working all of your body to keep up. As a result, you are burning more amount of fat.
When you compare this to the terrain offered in road bikes, it doesn't take long to understand that biking on paved surfaces is not as intense of a workout. Since it does not also involve any obstacles, it also means that your ride is slightly more boring after a while.
Most people who prefer road biking for weight loss like it because it is safer, cleaner, and requires you to ride at a constant speed.
3. Focus and Boredom
When you are biking on a plain terrain with a road bike, it's much easier to know your starting and ending points. You just need to get from point A to point B. You can therefore carry out your workout easily each day.
However, such is not the case with mountain bikes. The mountain biking terrain is not as simple and does not typically involve the same path each time. And because of the obstacles on the biking trail, you have to stay alert and watch where you're going.
Because of these factors, biking with mountain bikes requires more focus and is also less boring compared to biking on a road bike.
Moreover, it is also not as monotonous. You will thus be biking to push yourself with mountain bikes, rather than just completing a boring workout with road biking.
Read 27.5 Mountain Bike vs. 29 Inch Mountain Bike
4. Versatility
Of course, mountain bikes do great with bumpy terrains and mountains, while road bikes do great for plain surfaces and roads. Their versatility is noted only when they are taken out of these domains.
It's good to have a bike that lets you travel through different kinds of terrains so that when you are biking for weight loss, you don't get bored of the monotony.
Hybrid bikes are great for these purposes because you can use them on bumpy trails and paved roads. To some extent, you can do that with mountain bikes as well.
If they have front suspension, you can lock it out, increase tire pressure, and ride on paved roads. When you reach the hills or bumpy terrains, you can release some pressure from the tires and unlock the front suspension.
However, you cannot do the same with road bikes since they can only be ridden on paved surfaces and roads.
Because of their narrow tires and lack of suspension, you won't have much control over the bike, and it will be difficult and dangerous for you to ride it on bumpy terrains.
Read: Mountain Bike vs Gravel Bike: What's the difference?
Factors To Consider When Choosing Your Bike for weight loss
Besides considering the road and mountain bikes, you should also consider your individual factors when choosing the best bike for weight loss.
Since both bikes perform well for weight loss, you must look at your level of experience, geographical location, goals, and preferences to decide which is more suitable for you.
Read Best Time to Buy a Mountain Bike
1. Your Level of Experience  
You should also be considering your level of experience when choosing a bike for yourself. This is because mountain bikes are not suitable for beginners to cycling or have not biked for a while.
You not only have to carry your own weight on the mountain bike but also on the bike itself while you traverse through bumpy terrains and a number of obstacles.
This is why a road bike is more suitable for beginners. It also helps you have more control and travel at a consistent speed, even though you will not be burning as many calories as you would with a mountain bike.
2. Your Geographical Location
we have already established how not just the type of bike but also the type of terrain is also important when deciding which bike is more suitable for your weight loss journey. For this reason, it's important for you to consider your geographical location.
If you live in a city with no access to hills or mountains, you will need to get a road bike. However, if you have a nearby bike part with hills or live near mountains, it will be easier for you to get a mountain bike for your weight loss.  
3. Your Budget
A budget is likely to be a considerable factor for you, and rightly so. Bikes are quite expensive, but road bikes are significantly much more expensive than mountain bikes.
This is because they are made from expensive parts and materials. You can also find a cheaper road bike, but it is likely to still be much more expensive than mountain bikes.
Read: Best mountain bikes for the money
FAQs On Biking For Weight Loss
Here are some common questions that people have when considering which is the best bike for weight loss.
1. Are Road Bikes Good for Exercise?
Road bikes are great for exercise. In fact, all types of bikes are good for exercise, but it largely depends on your duration of exercise and intensity of training.
2. Can I Ride My Mountain Bike On The Road?
Yes, you can ride a mountain bike on the road. The large tires on the bike might not allow you to go long distances or at a higher speed.
Moreover, the heavyweight of the bike will also tire you out on the road. For this reason, riding on paved roads is much easier.
3. How Far Should I Ride?
This entirely depends on your weight loss goals. The duration of how long you are riding your bike is quite important when it comes to biking for weight loss.
You should time yourself and see how far you travel in a certain amount of time. Then, build on this by increasing your speed to cover the same amount of distance in a comparatively lesser time.
4. How Much Should I Bike To Lose Weight?
Again, how much time you spend biking for weight loss depends on your weight loss goals. At the minimum, you should spend two hours a week biking. Depending on your level of experience and endurance, you can bike for longer during the week.
If you want to lose more weight or less time, you can also increase this time. It really depends on what you are comfortable with and what your goals are.
Read Mountain Bike Sizing
Essential Gear You Will Need for Biking
You have probably figured out which bike is the best bike for weight loss for you. If so, then it's also important that you buy the right gear. Doing so will allow you to be comfortable and safe when you are riding your bike.
The essential gear to get for your biking adventures includes the following:
Helmet
Water Bottle
Glasses
Cycling Shoes
Cycling Shorts
Saddle pack
GPS
Read Best Road Bike Tires
Things To Keep In Mind When Biking for Weight Loss
You have decided which bike to get by now, and you are all set to begin your weight loss journey through biking.
However, knowing which the best bike for weight loss is is only part of what is required to lose weight. The other part includes staying consistent, watching where you are going, and keeping your diet in check.
Here are some things to remember when you are biking for weight loss:
Add Hills
This is required if you are biking on a mountain bike. Adding more amounts of hills will help you build your lower body strength and muscles. It will also help you burn more amounts of calories. You can look for larger inclines or ride through the same hill several times to achieve this.
Add Speed Intervals
High-Intensity Interval Training (HIIT) is an excellent way to burn more calories when you are exercising. It can also be incorporated in every type of cardio workout you do, including biking.
This involves biking at an intensely high speed, the maximum you can for a set amount of time. Then, it involves slowly decreasing. Repeat this cycle.
Add Other Types of Exercises
You can do other forms of exercise in conjunction with biking to burn more calories and have a more toned physique. This can include weight training.
Watch Your Diet
The most important thing for you to remember is that your diet plays a significant role in your weight loss journey. Cut back on sugar, processed food, sugary drinks, and alcohol. Instead, opt for whole grains, vegetables, and fruits. You should also increase your protein intake.
You may also like:
Final Words
The best bike for weight loss entirely comes down to your preferences, needs, budget, and biking style. For most people, mountain bikes are the better type to maximize weight loss, but for others who prefer to incorporate their daily commute with biking, road bikes are superior.
Hence the answer to which is better can only be answered by you since both bikes are great for weight loss.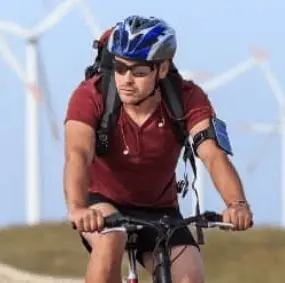 I am Michael, an avid rider and bike expert. I am here to provide, biking tips and expert advice on in-depth bike reviews covering features, capabilities, price range, and much more. Specially on electric bikes, mountain bikes, road bikes, etc. I will provide honest product reviews, along with expert advice on purchasing, training, and maintenance. Check out my complete profile.