When you're starting your mountain biking journey for the first time, knowing which mountain bike to get is crucial. You need one that is sturdy, will last you a long time, and give you the most out of your money.
However, at the same time, find such a mountain bike can also be quite challenging considering how there are so many features and types to look at when buying a mountain bike.
These machines are powerful, versatile, and robust, which is why having adequate knowledge of them is extremely important. If you want to buy a mountain bike that you can take to hit the trails or even to use for work commute as well, we've got you covered.
In this mountain bike buying guide, we will break it all down for you, so you know precisely which type of mountain bike to get according to your needs, preferences, and budget.
We will also be looking at which accessories you actually need to accompany your mountain bike adventures. Keep reading to find out more!
How To Find The Best Mountain Bike: Features To Consider
Mountain bikes come in all shapes, sizes, and types with varying features. You have to make sure that your mountain bike fits you perfectly. Knowing each key feature will help you decide which bike is right for you according to your body, riding style, and where you plan to ride.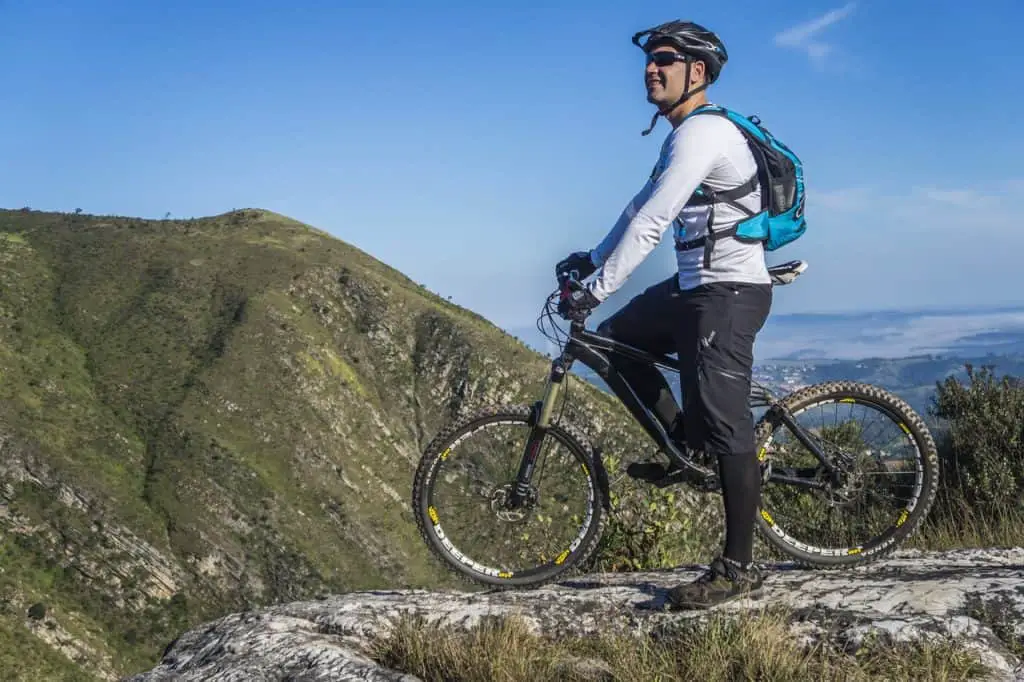 Read: Mountain Bikes vs. Hybrid Bikes
1. Mountain Bike Type and Style
There are four main types of mountain bikes you can find at the market:
1# Trail Bikes
This is the most common mountain bike that people buy because it allows you to ride effortlessly on a range of different trails that include lots of climbs and descents. You can easily use this bike for any track or even for your regular commute throughout the city.
Typically, trail bikes have suspension travel of 120-140mm and a head angle of 67 degrees.
2# Cross Country Bikes
These types of mountain bikes are ideal for fast riding on long distances, with a special emphasis on climbing power. They may be hard to manage when traveling descents, but they are perfect for climbing uphill.
These bikes are highly efficient and lightweight, which is why they are great if you plan to participate in competitive mountain bike racing across distances and trails. They have suspension travel of 80-100mm designed to provide maximum forward momentum and a head angle of 70-71 degrees.
3# Fat-Tire Bikes
As the name suggests, these mountain bikes are characterized by fat tires with excellent traction on different terrains, including sand and snow. If you are a beginner at mountain biking, these should be the perfect bike for you.
Their fat tires allow you to have more control and balance over tricky stones, logs, and other materials.
4# All-Mountain Bikes
All-mountain bike riding involves challenging terrains that have tiring and challenging climb with longer and trickier descents.
These bikes are typically for expert riders who participate in mountain bike racing and have to travel large distances that are different from the typical trails. They have a head angle of 65-66 degrees combined with suspension travel of 140-170mm.  
5# Downhill Bikes
Also known as DH bikes or park bikes, these are mainly used for bike parks. These are not recommended for beginners because they are pretty big and can be slightly hard to manage.
Riders must wear large helmets and full body armor when they come across jumps, rocks, logs, and ladders. These have a typical suspension travel of 170-220mm and a head angle of 63 to 65 degrees.
Read: Mountain Biking For Weight Loss
2. Mountain Bike Frame Type
The frame of the mountain bike influences its weight, durability, and longevity. This is why it's essential to understand which frame type would be suitable for your needs and budget.
Aluminum Alloy: This is one of the most popular materials used for mountain bikes because it is lightweight and high quality. More expensive bikes have a lighter aluminum frame and greater design features. Going with this material will likely be your best bet, given that you have the budget to afford it.
Steel: This is tough, durable, and relatively cheap. However, it is not lightweight, so bikes with this frame tend to be much heavier than others.
Titanium: This is an ideal material for mountain bike frames because it is rugged but lightweight. However, since it's expensive, it's only available in high-quality mountain bikes.
Carbon-fiber: This material is found in all types of mountain bikes because of how sturdy and lightweight it is. However, this too is expensive since carbon fiber frames are more labor-intensive and tricky to manufacture. You should consider this material if you have a larger budget and if you plan to travel large distances with minimal climbs.
Read How Do Mountain Bike Clipless Pedals Work?
3. Mountain Bike Suspension Type
A key feature to consider when you are buying a mountain bike is the suspension type on it. It determines what kind of trail and terrain the bike is most suitable for. These are the suspension types you can choose from:
Rigid Suspension Type
Rigid suspension-type mountain bikes are those that have no suspension at all, such as in the case of fat-tire bikes. These are thus less expensive and easier to maintain but don't provide much comfort to the rider.
Hardtail Suspension Type
These bikes feature a suspension fork in the front of the bike that provides more control and absorbs shocks from the handles and front wheel. However, they don't have suspension on the back wheels.
These are typically less expensive and easier to maintain than complete suspension mountain bikes. The most common types of hardtail suspension bikes are cross country and all-mountain bikes.
Full Suspension Type
These feature suspensions at the front and rear of the bike to easily absorb any shocks from the terrain. This is why it is perfect and safer for tough and bumpy terrains as riders have more traction while simultaneously having an enjoyable ride.
Since having full suspension is not suitable for climbing uphill, most of these full suspension bikes tend to have the ability to lock up the suspension at the rear end.
Read: Is it OK to mountain bike in the rain?
4. Mountain Bike Wheel Size
There are three main mountain bike wheel sizes to consider if you are wondering how to find the best mountain bike:
29″ Wheels
This is the biggest size of wheels you can find. They provide more momentum, especially over rough terrains. However, they also tend to be much heavier because of their size, adding weight to the bike. You cannot bike fast with these wheels, but you can easily travel large distances.
27.5″ or 650b Wheels
These offer more control than 29″ wheels and are much faster. However, they don't roll over rugged terrain as quickly. Still, these wheels tend to be the most popular, especially for trail riding.
26″ Wheels
This used to be the most common type of wheel for adult bikes. But not anymore as such, considering there are other types now.
27.5+" Wheels
These are also known as plus-sized wheels that are just like 27.5″ wheels but have a wider rim and slightly bigger diameter size. Due to this, the riders are offered more traction, and they can easily glide over snow or muddy terrains.
24″ Wheels
Kids mountain bikes contain this wheel size to accommodate their shorter legs. They are typically suitable for 13-14-year-olds, but it largely depends on the child's size as they could also opt for 20″ wheels.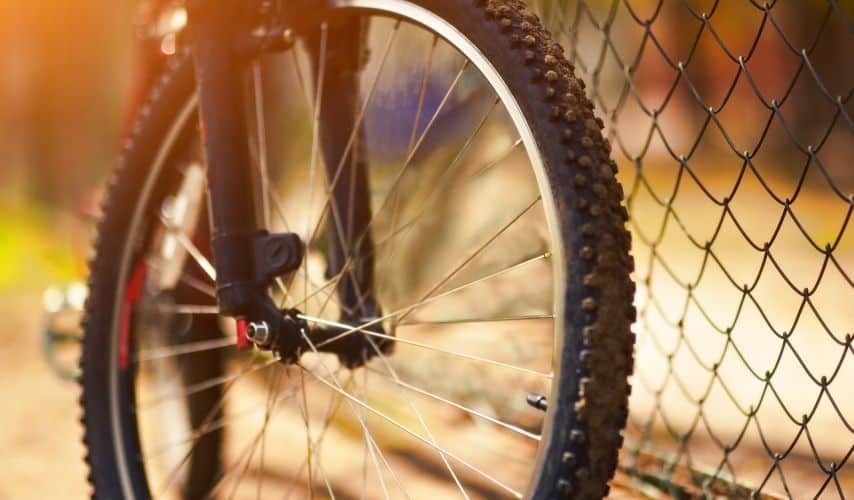 5. Mountain Bike Brakes
These are some of the brake options you can choose from depending on where and how you will be riding your mountain bike:
1. Disc Brakes
These are the most common choice of brakes in mountain bikes because of their superior performance and cost-effectiveness. They also happen to be much more reliable than other types of brakes, especially in rough weather conditions. They come in two versions:
Hydraulic Brakes: They are much stronger and require less effort. They also self-adjust themselves. However, hydraulic brakes are more expensive compared to other brake options.
Cable-Activated: These offer much the same features as hydraulic, except for the fact that they do not self-adjust and require manual adjusting.
2. Rim Brakes
Very few mountain bikes contain this type of brakes. These are called rim brakes because they grip onto the rim of the wheels. They are less expensive, and you can easily spot wear and tear and adjust them.
However, they also wear out the wheel rim they are attached to. Hence you will have to replace the wheel rim as well. They are also not as strong as disc brakes and require more finger effort. It's not recommended to get these brakes if you plan to ride on muddy or snowy terrains.
Read: Mountain Bike vs Gravel Bike
6. Mountain Bike Shock Type
Shocks are typically located at the rear end of the suspension system of a mountain bike and help to absorb any impact when you ride over bumps and rough terrain.
If you get a full-suspension mountain bike, you will also need to decide which shock type to get. There are two to choose from:
Air Shocks
These are a common choice because they tend to be lightweight and easier to install and maintain. You can also make adjustments to the shock system if your weight changes frequently.
However, they can be slightly dangerous in uncertain and extreme weather conditions such as humidity, heat, and altitude. This is why you will be required to check and make adjustments to it frequently.
Coil Shocks
These are the common choice only for mountain bikers that tend to come across more descents as they provide greater control and absorb shocks easily. They also tend to be easier to maintain compared to air shocks.
However, you will not be able to make many adjustments to i. Hence this is not the recommended type if your weight tends to fluctuate a lot.
7. Mountain Bike Gears
You can calculate the number of gears in a mountain bike by multiplying the number of front chaining with the number of sprockets on the cassette. The number of gears will significantly impact how smooth your journey will be, which is why it is essential to consider when you are buying a mountain bike.  
Most mountain bikes for beginners tend to feature triple cassettes, allowing access to many gears that you can use when riding. However, the number of gears should depend on your fitness level and where you will be riding your mountain bike.
You will need a wider range of gears if you plan to traverse through tough terrain with climbs and descents and if you are not as a fitter.
If you are strong and will be riding on flat terrains, then you won't need a wide range of gears. You can easily adjust the gear later and add more chaining or cassettes to it, depending on your riding style and needs.   
Read Bike Tire Pump
Tips To Remember When Buying A Mountain Bike
Now that you know how to find the best mountain bike that is the ideal type for you and has all your preferred features, it is time to consider the following tips that will help you further in your search for the perfect mountain bike:
1. Go To The Bike Store
If you can, it's best to go to the bike store to buy your mountain bike yourself rather than to buy it online. This will allow you to see all the features in person before buying and try out the bike. This is the best way to get a mountain bike.
2. Go For A Test Ride
Even if you find the right mountain bike that has all the required features, you might want to give it a test ride before actually buying it. If you are confused between different bikes, then taking them out for a ride would be helpful.
Check to see whether you feel comfortable riding it if you can take it up a hill, and descent down a hill, and whatnot.
3. Look At The Sizing Guide
Mountain bikes come in small, medium, or large sizes. Brands generally make these sizes based on the rider's height. When you go to the shop, or even if you buy a bike online, you will come across this sizing guide.
If you are in between two sizes, it's best to go with the one that is a smaller size as it will allow you greater control than a larger-sized mountain bike.
4. Consider Where You Will Ride Your Mountain Bike
Consider where exactly and what type of terrain you will be riding on, and then decide which type of mountain bike is suitable for it.
5. Don't Worry About Weight
When buying a mountain bike, you should not worry too much about the weight. More than that, your strength is essential. It all comes down to that and your technique and finesse at riding.
6. How Much Traveling You Will Be Doing
This is an important consideration to make when deciding on the shocks and gears. If you travel more, then you will need more absorbent shocks. Similarly, you will also need more gears, especially if you travel on rough terrains
7. Set Aside An Amount From Your Budget for Accessories
It is crucial to consider the fact that you will need a few essential accessories alongside your mountain bike that will make the entire riding journey even better. Keep reading to find out what options you can consider.
Read How to Make A Mountain Bike Faster
Accessories And Gear To Get Alongside Mountain Bike
1. The Bare Necessities
There are some accessories that you need to be getting with your mountain bike because they are essential. These include:
Portable midsize pump
Floor pump for home
Chain lube
Multitool kit for making adjustments while on the go
Cycling shoes with a durable rubber outsole
Helmet 
Padded shorts
2. Additional Gear
You can opt to buy some additional gears if you want to go the extra mile and if your budget allows. These include:
Apparel
Sunglasses
Tools
New tires
Bag pack
Heart rate monitor
Power meters
GPS
You may like:
The Bottom Line
And with that, we conclude our mountain bike buying guide. Consider the features and tips mentioned above when you walk into the bike shop. Riding the bike before buying it is always preferable because you can see what's comfortable for you. Remember, your mountain bike should feel like an extension of you.
Moreover, be realistic about how far you can travel and your riding level. When you buy the perfect mountain bike, make sure you keep checking it for adjustments, tune-ups, and repairs.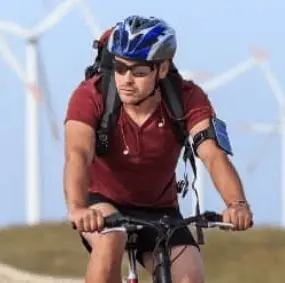 I am Michael, an avid rider and bike expert. I am here to provide, biking tips and expert advice on in-depth bike reviews covering features, capabilities, price range, and much more. Specially on electric bikes, mountain bikes, road bikes, etc. I will provide honest product reviews, along with expert advice on purchasing, training, and maintenance. Check out my complete profile.