So you've found yourself in a road bike store scouring through the several options at your perusal. At this point, you're asking yourself, "How does one select the best road bike tires?" Your struggle is understandable.
There are several options, countless prices, and quite frankly, one can also make the argument they all look the same, too. That said, the subtle differences change how a bike ride feels in terms of speed and comfort.
If that wasn't causing enough confusion, now riders must make another choice: tube or tubeless?
So for this buyer's guide for the best road bike tires, we've split our suggestions between tubeless and tube-type tire categories.
Schwalbe Pro OneThis is often considered to be the most supple road bike tire in the market. People can also use it to commute or riding for fun.
It is particularly designed to be a tubeless tire which means it's easy to set up, which isn't a surprise for seasoned riders.
Schwalbe was one of the first companies worldwide to offer a lightweight and high-performance tubeless tire that people could use to race at a higher pressure.
The company claims that this tire is their highest performing road bike tire. For them, it even outperforms the tubular tires that their professional riders were riding.
The Schwalbe is rated highly in almost every category, whether the rolling resistance, grip, weight, or durability. The tire also has a 14mm belt that protects it from punctures, pokes, and cuts. Riders can get this tire with sidewalls tanned or all-black.
Specialized Turbo Cotton
Looking at this tire, you're not going to have any confusion thinking about the purpose it was designed for. It's a racing tire that was designed for high speed and intense grip.
It was launched back in 2016, and it immediately gained attention from racers because of its relentless grip, which lets a road biker push a bike to its limits.
More recently, several popular riders have selected this tire to be their number one option for the World Tour Races.
However, that's not all. Turbo Cotton is still that one tire the company will give to its state-of-the-art bikes due to the outright speed it gives to a bike.
Even though Specialized has been around for years, they recently introduced a 28mm version and a Hell of the North edition, which gives the bike a bit more grip.
Also read, How To Pick a Good Road Bike
Pirelli Zero Velo S
While Pirelli is one of the oldest tire companies worldwide, it's more renowned for the high-quality rubber it produces for cars.
However, few people know that this Italian company produced state-of-the-art tires until it decided to leave the world of leg strength for internal combustion back in the 1980s.
Recently, they returned to the world of cycling. Their portfolio, as of now, not only has options for mountain bikers, but it also has a few for gravel grinders too.
This tire tops its range every year and is an all-around bike tire that claims to do everything. It has a 127tpi casting which helps it maintain a balance between rolling efficiency and puncture protection.
It looks good, too! It has blue accents, and in terms of performance, this tire offers high water displacement, grip, and speed, making it the perfect option for riding in tough weather conditions.
The tire comes in three different sizes: 23, 25, and 28mm. These tires are not configurable for a tubeless application.
Read Can Road Bikes Go on Grass
Specialized S-Work: Turbo RapidAir
These tires have persuaded professional bike riders to ditch tubular tires since they give riders the performance level that they need.
They have a low rolling resistance and ample cut and puncture protection, giving riders peace of mind during the competition.
These tires have an extremely comfortable and soft feel because of a thinner sidewall, 120tpi casting, and a flexible center. The rubber these tires have textured sides that add confidence and give the biker a smooth feeling ride.
Vittoria Corsa's Graphene 2.0
Vittoria Corsa's Graphene 2.0 tire falls under Vittoria's "performance range" and is available in tubular and clincher variants.
Vittoria claims that they have improved the tire's rolling resistance, durability, puncture protection, and grip over the older models thanks to an updated four-layer compound of Graphene.
This tire is also part of the three-part tire range with the Corsa Control and the Corsa Speed.
The Corsa Speed has been a consistent high performer in all rolling resistance tests and is often considered the go-to tire for all-time triallists looking for high-performance levels within this range.
On the other hand, the Control is a durable tire that is designed for fast rides in the winter. The Corsa Graphene sits in the middle as a balance between these two tires. All of these tires are available in tubeless or tubed construction.
We can easily say that the Corsa Graphene is easily a contender for the best road bike tire because of its all-around usage capabilities.
Read How to Clean and Lube Your Road Bike Chain
Specialized Turbo: RapidAir
This is easily the fastest feeling road tire you're going to use, and it also does well in extreme weather conditions and is easy to maintain.
Available in 26" and 28" sizes, these tires were built after years of testing in their factory in an attempt to create the best tires. Specialized has been creating this tire for the last three years.
Despite the tire's large size, its ride isn't as warm or comfortable as you'd imagine. It's certainly not harsh, it's more purposeful than comfortable, but it was also built to be a race tire.
For now, this tire is a high-volume and high-speed option, and it is also surprisingly easy to ride with.
Read How to Put a Bike on a Bike Rack
Goodyear Eagle Tubeless
You're going to love this tire's speed and dry grip. This is possible due to the advanced silica and graphene-containing compound used to build these beautiful wheels. Moreover, this tire also has a 120 TIP casting and puncture protection belt from Goodyear.
Straight-line speed is easily retained through corners because of the tire's immaculate grip. It also outperforms on rough surfaces because of its suppleness and high air volume.
It is available in tubeless and clincher formats, and both of these formats perform brilliantly while you're on the road. The tubeless variant is easy to set up since you won't need a tubeless inflator.
Read How to Clean Disk Brakes on a Road Bike
WTB Exposure
While this may not be the fastest road bike tire that you can get, it can still excel on kinds of roads. Be it light gravel or rocky terrain, you'll have immense Control everywhere.
While the 60 TPI castings don't suggest brilliant ride quality, we can gladly say that numbers can lie. These tires also have high clearance, which lets them squeeze on those harsh trails, and this keeps your ride comfortable.
You'll find the initial setup easy. Despite your best attempts to abuse the tire in harsh conditions, getting this tire punctured isn't easy!
Challenge Strada
Soft-feeling yet sturdy in nature, the challenge strada tire is available in both tubular and clincher formats. The Strada has a retro yet elegant look because of the tanned sidewalls and the bold graphics.
At 240 grams, these tires are on the lighter end of a weighing scale, but they still provide a controlled yet compliant ride. You'll notice this a lot more when you're on bumpy terrain.
It's only available in the 25mm size, and it can also be used in a tubeless setup that further improves its reputation as the jack of all trades.
Read How Fast Can a Road Bike Go?
Pirelli Zero Race
Pirelli's fast clincher is easy to set up on a tubeless rim. It has a traditional 26mm size, and it weighs in at 205g, which gives it great traction and makes it surprisingly resistant to punctures and cuts.
According to the company, it took three years to design this tire after working with the male and female world champions.
After intense testing, they designed this tire with the TechBelt technology and the SmartEVO compound. You're going to be impressed with the tire resistance to bruises.
Even after a decent number of miles, you'll find the tire to be as good as new which is also hard to wrap your head around since it's robust and lightweight at the same time.
Since the trend of choosing tubes and clinches over tubeless tires is still emerging at higher pressure levels, this tire can be a great choice.
Even though they're fit enough to compete in the world tour, they're priced lower than other competitors in this space.
So be it grip, weight, or speed, these tires nail every aspect of a good bike ride.
Read How To Clean a Road Bike After Riding in the Rain
Bontrager R3 Lite TLR
After extensive experimentation with tread patterns, width, and rubber compounds, Bontrager has finally found the sweet spot with these tires. Their 32mm size has a weight well below its stated 340g (310g).
The company also claims that the tire has 7 percent less rolling resistance than the older variant, and you won't have any trouble believing this claim since the tire performs brilliantly while on the road.
Their tubeless setup won't be too much of a problem either. While Bontrager only offers these tires in a 32mm tubeless size for demos, they also have 25mm and 28mm options meaning every rider is covered.
Continental GP5000
If you're looking for an all-season, all-weather pair of tires, Continental GP5000 might be the right choice for you! Like its predecessor, Continental GP4000, the Grand Prix also received the Cycling Weekly Editor's Choice Award.
While the GP5000 tires may not be the fastest ones on the market, they surely are a go-to-pair for road bike enthusiasts. Along with building on existing technology, Continental also threw in some of the most advanced features when creating this product.
While the Vectran Breaker layer helps prevent punctures, the advanced LazerGrip and BlackChili Compound feature maximizes grip. These safety features help boost the rider's confidence, which ultimately encourages speed.
The Active Comfort layer is constructed using elastomer to provide additional comfort and is believed to be 20% tougher and 12% quicker than the previous tire model.
The Continental GP5000 surely passes as an all-rounder and is also available in tubeless.
Read Best Road Bikes Under $500
Challenge Elite XP
While the Challenge Elite XP tires are known for their robust form and immense comfort, one feature that helps them stand out among peers is their unique construction.
These tires are manufactured using more natural fibers relatively, and therefore, they have lower rolling drag and are more flexible.
If you plan to go on long rides, especially on irregular terrains, the Challenge Elite XP might be the most suitable option.
Not only do these tires offer a solid grip, even on wet floors, but having a form of 27mm and weight of less than 300gms, they are extremely lightweight and easy-to-handle too.
The advanced puncture-protection features mean more riding time and less time worrying about puncture by the roadside. When comparing performances, the Challenge XP can easily be at the same level as the Continental GP5000.
However, you may be able to buy the former at a lower cost.
Read How to Remove Bike Cranks?
Specialized Roubaix Pro Tire
When listing the best road bike tires, the Specialized Roubaix Pro Tire deserves a place. It comes with weather-proofing and puncture-protection properties that help boost ride quality.
While the exact material of the tire's central tread depends on the application, the shoulders are constructed using a high-hysteresis compound. This helps the rider benefit from faster rolling friction, a solid grip, and ideal surface adaption.
The puncture-protection properties come from bead-to-bead Endurant Casing, much lighter than the widely-used Kevlar and Nylon. The Endurant Casing comes paired with a strip of tightly-woven material and runs under the tread – known as the Blackbelt Technology.
The Specialized Roubaix Pro tires offer a great display with the parabolic shape that road bikers often crave. Moreover, they allow for sufficient road to rubber contact that helps riders gain cornering confidence.
With their impressive rolling resistance, these tires are known to remain intact on both wet and dry terrains, So, give them a go today!
Veloflex Master SPS
If you are a weight weenie and lightweight, supple tires are your thing; then the Veloflex Master SPS might be what you need! Weighing only 220gms, these Italian tires are held in high regard.
These are described as all-purpose open tabular and offer quality rides along with a classic display.
While the rigidity of the bead isn't ideal, when combined with a flexible, high-quality casing, this tire can be held quite firmly. The performance of these tires, including their rolling resistance and malleability, is commendable.
These tires come with decent puncture protection. However, racers and experienced bikers may not find them very reliable.
As for aesthetics, the Veloflex Master SPS, featuring a Veloflex moniker and a trademark tan-wall outline, is quite hard to beat.
Read How to Remove Rust from Bikes
Hutchinson Fusion Performance
Fast, lightweight, and available in both tubeless-ready and clincher versions, there's a lot you can admire about Hutchinson's Fusion Performance wheels.
They have been designed for racing and training. They inspire confidence and feel sturdy on the road when you're pushing the tire to its absolute limit.
However, the tanned-wall variant is only available in the 25mm size, a clincher version. So if you prefer a tubeless tire, you'll have to settle for the all-black version.
What Should Be the Width of a Road Bike Tire?
There are certain things you should consider before you dive in for an in-depth analysis. A standard road wheel has a 700cc size, and the more common options are 23, 25, and 28mm.
Traditionally, 23mm sized road bike tires are used for racing bikes, 25mm are used for training, and 28mm tires can be used for a mixture of rough and hard roads.
Since modern technology has allowed tire manufacturers to improve their tire construction procedures, there has been a definite shift in how different widths are used in varying scenarios.
For instance, several road bikers nowadays prefer 25mm tires since they handle corners better and offer low rolling resistance. They can also soften uneven surfaces.
Generally, narrower tires are less comfortable since they have a reduced rolling resistance to provide a fast ride for summer cycling.
Wider tires, on the other hand, can deliver puncture protection, grip, and comfort. That said, they also weigh more and are generally used in the winter.         
You may like the following road bike articles:
Wrapping Up
There's no defined rule which dictates when you have to replace a tire. Some tires and can show wear and tear indications.
Usually, a groove or dot will wear away from the tread, which will reduce your tire's life bit by bit. In many cases, these indicators are a great way of knowing how much life your tire has, but you can't rely solely on these factors.
If your tire doesn't have any of these markers, keep your eye out for cuts and gashes in the sidewalls and tread.
A "squared-off" tread, a flat area in the middle of a tire, or any odd lumps are usually bad signs. If the gashes or cuts are so deep that you can see the fabric under the tire, it's time to get a new tire.
Luckily, you have a list of the best road bike tires you can get! So before your two-wheeled friends give up on you mid-trail, replace them and make your life easy.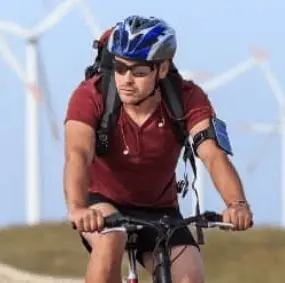 I am Michael, an avid rider and bike expert. I am here to provide, biking tips and expert advice on in-depth bike reviews covering features, capabilities, price range, and much more. Specially on electric bikes, mountain bikes, road bikes, etc. I will provide honest product reviews, along with expert advice on purchasing, training, and maintenance. Check out my complete profile.