In 2021, the market holds an incredible selection of mountain bikes, given the latest technology and components coming out each year. Depending on your cycling needs, you can choose from several styles and price points. Here is a complete guide to know what are the best mountain bikes for the money.
What are the best mountain bikes for the money? Here is the list of the 10 best mountain bikes for the money for 2021.
Co-op Cycles – DRT 1.2
Devinci – Riff Deore 2021
Diamondback – Lux 2
Diamondback – Atroz 1
Rocky Mountain – Fusion 30 2021
Mongoose – Tyax Comp, Expert, and Sport Version
Marin – Wildcat Trail WFG 5
Cannondale – Trail 5 2021
Norco – Storm 4
Whether you are training to become an endurance athlete or a recreational cyclist, everyone likes to get a good deal. Trying out with a good entry-level bike can give you the gist of what mountain biking will be like.
If you are looking for an efficient mountain bike that fits your budget, this list is for you:
Let's look at the best mountain bikes under the $1000 price point because that seems like the amount of money anyone would be willing to invest in a high-quality mountain bike.
Best Mountain Bike Components to Look Out for
No matter what price bracket you go for, these components will help you have a smooth mountain biking experience. These features and components are relatively new, as they did not exist in mountain bikes at least half a decade ago. Hence, choose wisely!
What you're looking for is:
A robust aluminum frame
Wheels should be at least 27'' (shorter riders) going up to 29'' (taller riders) depending on the model and frame size
Modern, appealing design
Coil fork suspension – 100-120mm travel
Hydraulic Disc Brakes because mechanical brakes are pretty old school
Read: Buying a mountain bike? What to Look For In a Mountain Bike?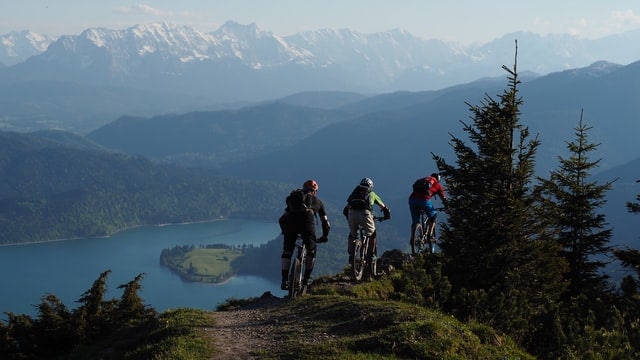 Best Mountain Bikes for the Money
Here is a list of the 9 best Mountain Bikes for the Money!
1. Co-op Cycles – DRT 1.2
Price: $999
The Co-op Cycle is an excellent choice, especially when it comes to racing models and high-intensity grips. The DRT Family also offers other exclusive trail bikes that are super affordable while giving you more than what you pay for.
This bang for a buck mountain bike features a robust design, with efficient tires and several latest components enhancing its performance. Not only does this mountain bike give you a smooth ride, but it is also equipped with wide-ranging gears.
This can allow you to have superior speed on climbs as well as flat surfaces. However, the Co-op Cycles DRT 1.2 does not come with a dropper post.
The WTB Trail Boss tires are one of the best features that make this mountain bike worth it. The 2.4'' wide tires give you a good grip while riding on loose or tight surfaces. The 27.5" and 29'' on Small and Large frames respectively give cyclists options to consider their body types.
The dual-piston SR Suntour XCR suspension gives 120mm travel which is one of the best rollouts from Suntour's collection. The overall design is incredibly neat, and the DRT 1.2 has its cables routed internally.
The DRT 1.2 also has 18 gears that are perfect for different kinds of terrains. The gears are paired with the Shimano Altus and Alivio braking sets with Tektro hydraulic discs. If you are looking for an efficient performance-oriented bike, then look no further than the DRT 1.2.
Lightweight Aluminum Frame
Shimano 2×9 Altus and Alivio
27.5'' and 29'' Wheels
Tektro Hydraulics Brakes
120mm Sr Suntour XCR Front Suspension
Check out, Buying a Second-Hand Mountain Bike – What to Look For
2. Devinci – Riff Deore 2021
Price: $999
The Devinci Riff Deore 2021 was given the best women's 29er MTB title, and of course, the specifications live up to the name. It is tough to find such good bikes in the market now, especially under this price point.
The Devinci, apart from its good looks, manages to give you a 1x drivetrain, hydraulic disc brakes, along with an air fork. These components are excellent for both serious mountain biking and recreation cycling.
If you're looking for a bike that can work well on terrains such as hills, ascents, and descents, then this bike is a good fit for you. Instead of a coil fork, the air fork gives this bike a superior feel, while the MT200 brakes help it stay solid on the tracks,
Of course, the 1×10 drivetrain is what makes this mountain even more special – mainly because it is not as common as the 1×12 or 1×11 drivetrains.
These rear derailleurs and chains improve the longevity of the individual components found on the bike and give it a stress-free ride. Moreover, the 11-46tooth cassette is a nice touch, especially for female mountain bikers.
Excellent Choice for Female MTB Riders
1×10 Drivetrain
Air Fork SR Suntour 100mm
11-46tooth Cassette
MT200 Hydraulic Disc Brakes
Good for Uphill & Downhill
3. Diamondback – Lux 2
Price: $1000
Another great option for women, the Diamondback Lux 2 is excellent for every trail and is a good fit for female mountain bike riders. It has solid components and geometry that can be a good long-term investment.
It has a lightweight aluminum body with a superior quality RockShox 30 Silver TK suspension 100mm travel. In addition, the 2×9 Shimano drivetrain paired with hydraulic disc brakes makes it perfect for XC trails.
Even if you are looking for a good bike to explore some off-road paths or ride around areas of the city, the Diamondback Lux 2 is a great way to go.
Apart from its high-quality components, the Diamondback brand is trendy and has always rolled out reliable and affordable bikes.
Excellent for Female Mountain Bike Riders
2×9 Shimano Alivio
27.5'' Wheels
RockShox 30 Silver TK Front Suspension
Trusted Brand
Good for Fitness & Exploring
Hydraulic Disc Brakes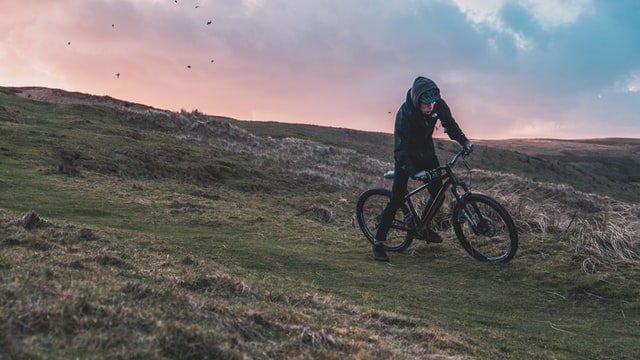 4. Diamondback – Atroz 1
Price: $1000
The Diamondback Atroz 1 is an unbelievable option, especially with the full suspension at such a low price. The 6061-T6 aluminum frame is lightweight and robust, along with a front and rear 120mm travel.
The fact that this popular brand rolled out a mountain bike with full suspension at this price point is a reason alone to get your hands on it. The high-quality components can help you explore several trail types, even if you are just a beginner in mountain biking.
Powered with Tektro Mechanical Disc Brakes, the bike also houses 180mm rotors that allow you to have a powerful hold on the brakes. Additionally, it comes with the Shimano Alivio drivetrain coupled with 18 gears.
Moreover, the 36T x 22T granny gear gives it an additional power boost that enables the rider to face challenging hill slopes.
120 mm rear and front
Shimano Alivio Drivetrain
Full-Suspension
Best for Single Trails
27.5'' Wheels
Robust Aluminum Frame
36T x 22T Granny Gear
5. Rocky Mountain – Fusion 30 2021
Price: $899
The Rocky Mountain Fusion 30 2021 is the latest mountain bike release, perfect for anyone looking for a reliable mountain bike. The components on this particular bike an excellent choice for recreational cyclists or urban commuters built with the highest quality components.
The Fusion 30 can enable you to track light trails with comfort. Moreover, you can also explore rough trails if that is more your forte. A good hardtail bike that can perform well on both kinds of trails can easily cost more than $200, but the Fusion 30 does a good job in the price point it has.
For less than $100, the Fusion 30 is the best in the market because it is equipped with everything you need for a smooth and fun ride. Even though this may not be a good option for endurance athletes, it a great choice for those looking for recreational cyclic on different terrains.
The bike houses tubeless wheels and tires along with the Deore 1×10 drivetrain. The drivetrain alone is better than most mountain bikes in the market for this price.
Instead of a standard coil fork, the Fusion 30 comes with an air-sprung fork with 100mm travel, making it even more efficient. The 100mm suspension also keeps it in the running for one of the most affordable mountain bikes among its other competitors.
Shimano 1×10 Drivetrain by Deore
6061 Aluminum Body
Tubeless Tires 29'' x 2.4''
MT200 Hydraulic Disc Brakes
100mm Air Forks by Suntour
Perfect for Recreational Cyclists
Comfortable Ride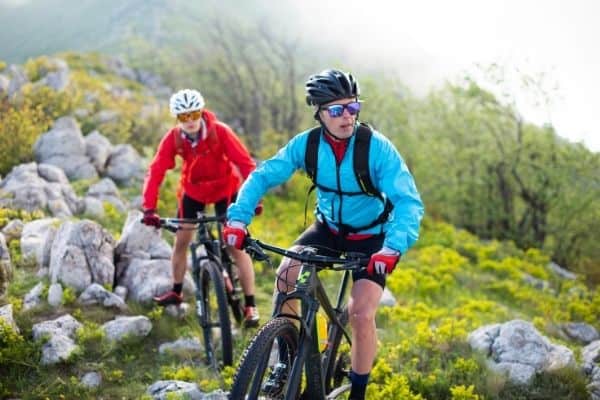 6. Mongoose – Tyax Comp, Expert, and Sport Version
Price: $799
The Mongoose Tyax Comp is a good way to go, especially if you are a beginner. This particular bike is reliable and can teach you the basics of mountain biking. With a high-quality aluminum frame and Shimano drivetrain, this bike is great for the price point.
In addition, there are several other cool features that the Mongoose Tyax offers, such as 100mm fork travel, hydraulic brakes, and comfortable handles. This bike is affordable and versatile for anyone who wants to learn mountain bike riding. For the price, this bike can go a long way!
Aluminum Body
Hydraulic Disc Brakes
Shimano Drivetrain
100mm Fork Travel
29'' Wheelset
Vibrant Colours
Great for Beginners  
7. Marin – Wildcat Trail WFG 5
Price: $799
Marin is one of the latest releases in Mountain Bikes and is excellent for recreational cyclists. The superior Marin Eldridge Grade 2 is also a similar model for you to look into.
If you look closely at the bike specifications, you can see that they have done well in giving new riders the latest technology that makes mountain bike performance worthwhile.
The Marin Wildcat Trail is a great choice for beginner mountain bikers because it can offer a smooth ride on both urban and hilly areas – giving you enough room to experiment with what you like.
The Marin Wildcat WFG 5 can give you a super lightweight aluminum frame with hydraulic disc brakes and 29er wheels. The 2×9 Shimano Altus drivetrain is not as best as it could have been at this price point, but it's still more advanced than the common Shimano Tourney. Overall, for the price tag, this mountain bike packs punch, especially for beginner riders.
New 2021 Release
Best Entry Level Mountain Bike
100mm SR Suntour Fork
29×2.25'' Wheels
Shimano Altus Drivetrain
6061 Aluminum Body
You can also look into the Marin Eldridge Grade 1 (29'') that is ideal for faster routes and taller riders, or the Marin Palisades Trail 2 (27.5'') that is perfect for shorter cyclists and technical tracks.
8. Cannondale – Trail 5 2021
Price: $875
The Cannondale Trail 5 2021 is a tried and tested mountain bike that guarantees satisfaction for casual off-roaders or even beginners. This particular mountain bike is excellent for aggressive rides because it can do well on downhills while giving you a good climb.
The design and geometry of the bike make it a great choice considering the price point that it's at. Undeniably, the Cannondale Trail 5 is incredible for the price tag.
The Cannondale MTB range has been in the market for quite some time now, which is why the components and designs on each model know how to give a smooth ride and perform amazingly on XC routes and trails.
The head tube angles on this mountain bike are 68 degrees on the small frame, while the larger frame has a 68.5-degree angle. This slacking angle allows you to approach your obstacles as aggressively as you want.
Additionally, Trail 5 houses a long stem that allows the rider to have a good view of the trail in front of him. Equipped with Shimano hydraulic disk brakes and ten gears with micro shift derailleurs, this mountain bike is a choice worth the price tag.
Each version comes with 2.25'' tires and varying wheel sizes between 275'' and 29''. Not only is this a well-known bike brand, but their line has also rarely ever been a disappointment.
27.5'' in XS and S or 29'' Wheels in M, L, and XL
Shimano Hydraulic Disc Brakes
68 Degree Head Tube Angle
2.25'' Wide Tires
MicroSHIFT Derailleurs
160mm Rotors
Alloy Frame
100mm Travel Fork
9. Norco – Storm 4
Price: $719
A great value mountain bike, the Storm 4 is more than just its looks. This under $1000 mountain bike is equipped with the latest components to get you through several terrains, no matter how bumpy! It comes with the Shimano Tourney and Altus derailleurs along with a 100mm travel SR Suntour XC front suspension.
The 27.5'' or 29'' wheelsets depending on the frame size, give you an option to choose from depending on your trail of choice.
In Addition, the Norco Storm 4 is a multipurpose bike that can be used for joyriding, commuting, as well as mountain biking on rougher surfaces. It cannot get better than this if you are looking for a multipurpose bike in this price range.
However, the Norco Storm 4 has one major disadvantage – the 3×7 drivetrain may not be the best as the 2×8 or 1×10 drivetrains in other mountain bikes.
Great Value
Shimano Altus Derailleurs
27.5'' in XS, S, and M or 29'' Wheels in L and XL
Multipurpose
100mm SR Suntour XC Front Suspension
3×7 drivetrain
Is a $1000 Budget Enough for MTB?
Most entry-level mountain bikes can be as low as $500 an exciting mountain bike ride that you are hoping for. Even though several hardtail mountain bikes are available online under the $600 price point, this is the best option.
However, if you up the ante to at least $1000, there are many good mountain bikes equipped with the latest components and flexible designs to help you conquer various trails, ascents, as well as descents.
As mentioned earlier, the bike you choose should have components like hydraulic disc brakes and high-quality front chainrings.
Therefore, having a $1000 budget for a good mountain bike will help you explore more options regardless of purpose. These bikes can be great for several trails, recreational riding, and race competitions.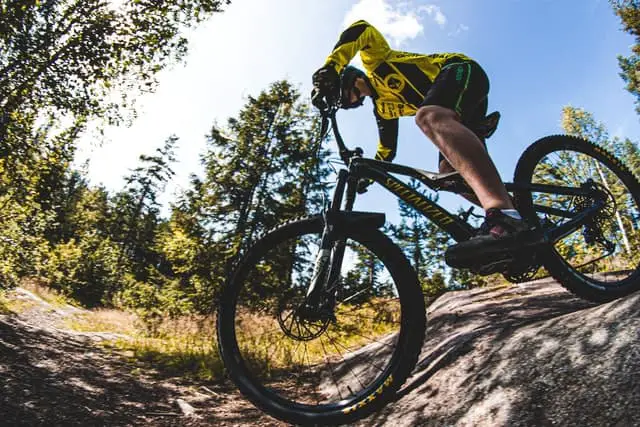 A Few Words of Advice
Always do your research before going out to buy a new bike. You should evaluate the amount of money you have according to your skills.
If you already know that you won't be using the bike for more than recreational purposes, there is no sense in investing in an expensive mountain bike meant for endurance athletes.
Just like your research, make sure you are aware of your size to pick out the correct bike size.
You may like the following mountain bike articles:
The Bottom Line
It is not wise to rush while choosing a new mountain bike. Think of it as an investment rather than a simple shopping trip because a goodbye can last you for years. If you take your time in choosing the right bike for your needs, it can end up giving you more satisfaction than an impulse buy.
Moreover, mountain bikes in good condition have good resale value as well. Hence, take your time in choosing the mountain bike that fits your needs perfectly. I hope this will help you to choose your mountain bike from the list of best mountain bikes for the money.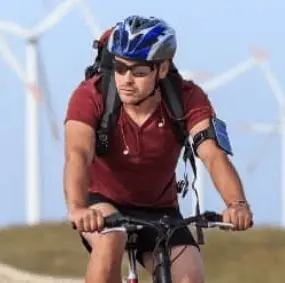 I am Michael, an avid rider and bike expert. I am here to provide, biking tips and expert advice on in-depth bike reviews covering features, capabilities, price range, and much more. Specially on electric bikes, mountain bikes, road bikes, etc. I will provide honest product reviews, along with expert advice on purchasing, training, and maintenance. Check out my complete profile.