Some of the most general questions that come to mind while buying a touring bike could be what makes a good touring bike? What materials should I look out for? And of course, what is the essential purpose of owning a touring bike? Or, if you're new, you could be wondering what is a touring bike?
What is a touring bike?
A touring bike is a specific type of bicycle which by design, is made for long rides. A modifying feature of a touring bike is the type of handlebars it has. Manufacturers install handlebars, so they ensure less pressure on your hands as you tend to use a touring bike for multiday trips.
Other than the design, the frame, saddle, and bike components need to be extremely comfortable, robust, and durable.
Another feature of a touring bike is that it is capable of carrying heavy luggage loads. This is possible due to several mounting points and heavy-duty wheels.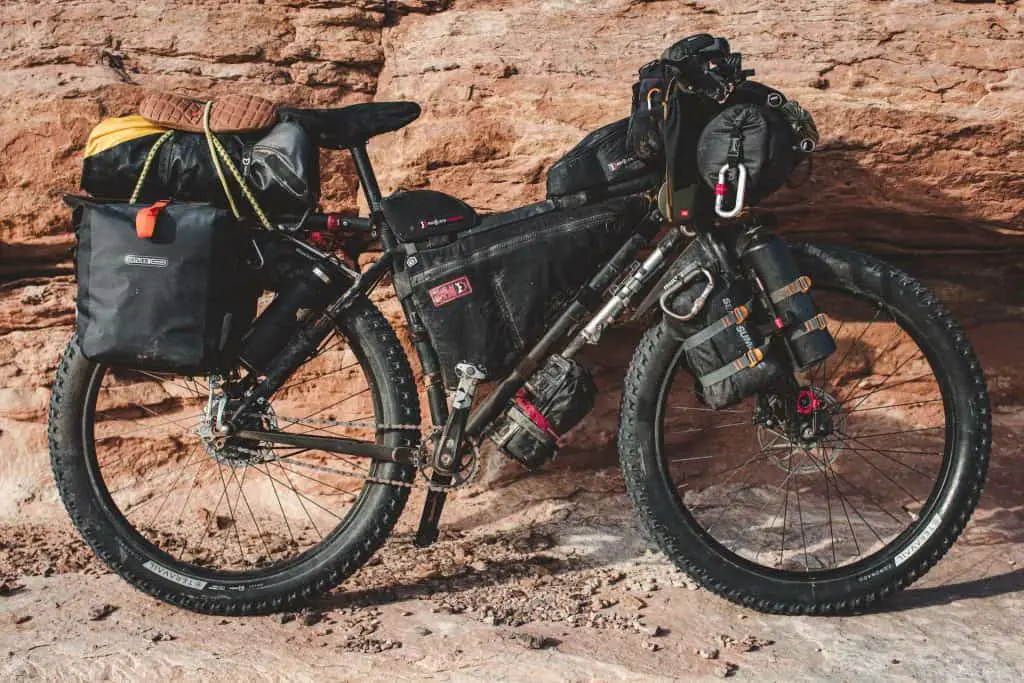 What does a touring bike look like?
Compared to mountain bikes or other latest bike designs, a touring bike can seem like a contraption from the past. With its mudguards, steel frame, and long wheelbase, a touring bike has an undeniable retro vibe.
What is the essential purpose of a touring bike?
Apart from its appearance, a touring bike is versatile, and above all, durable so that people can use it for long day rides or multiple day trips. The idea of a touring bike is to use it as a vehicle that can carry you as well as everything you need for an adventure.
However, a good touring bike is not only made for longer adventures or a week's worth trip; it is a good essential daily use bike as well.
Now let's talk about the different components that make up a touring bike
Long-lasting frame material
A superior quality frame material is crucial for a good touring bike. Even though you can tour on a bike made of any material, metal or steel are the ideal material choices that you should be looking for.
Steel is long-lasting, strong, and capable of handling a heavy load. A great feature that comes with a steel bike is that it can be heavily equipped with mounting points.
You may like, What is the Cheapest Electric Bike Conversion Kit on the Market?
Why is a steel frame touring bike an ideal option?
Additional to its strong structure, it is easy to find replacement components for a steel bike compared to other materials. The easily replaceable material also makes it simple to repair and maintain.
While touring, it is crucial for you to have a bike that is easy to maintain but stop if you ever hit a road bump. A bike that needs specialty parts or parts that may not be locally available can put you in a snag. Steel bikes are extremely common, which is why they are ideal for touring.
A worst-case scenario is if your steel touring bike breaks, a welder can always fix it. Even though it won't be a permanent solution, you will be able to carry on with your bike for a couple of more days or at least until you return home.
A bike made of any other material cannot withstand major accidents, neither can they be easily welded. Even if you are not planning to travel far, it is always a good choice to invest in something durable, even if it is for a small adventure.
At the end of the day, you don't want a broken bike frame to ruin your trip.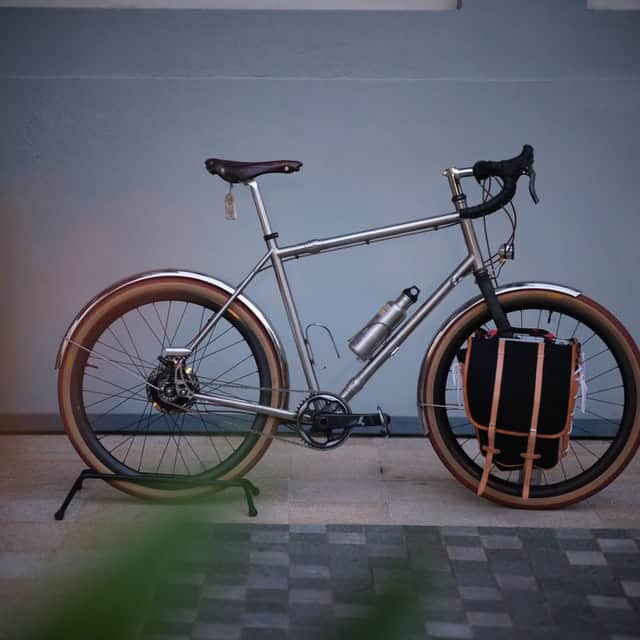 Robust bike components
Like a durable frame, a touring bike needs to have robust components even if it adds a few extra weight units to a bike. This is necessary because you never know when you might hit rugged terrain.
Always opt for a bike that has ultra-rugged tires with a high spoke count and triple alloy rims. Well-sealed hubs are also a huge plus. At the same time, tubeless tire running can help you ride in comfort while touring.
Pro Tip: Always carry a tire boot and puncture repair kit with you if you are going touring on a bike for long distances.
You may also like, Best 750 Watt Electric Bike
Mudguards
If your goal is a multiday tour, it is always better to prepare for unpredictable weather. A touring bike has mounting points for you to insert a full mudguard. Full mudguards can help you stay more comfortable and cleaner if you are touring on your bike on wet or rainy days.
Moreover, mudguards and fenders can help you protect your luggage as well as your feet.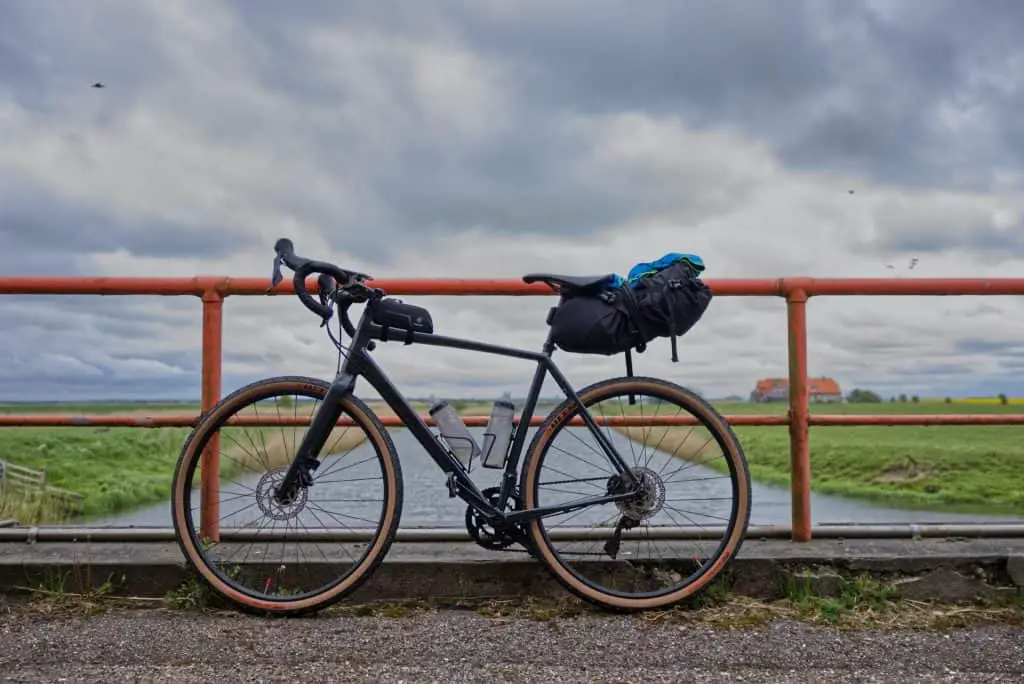 Touring bike brakes
A touring bike comes with disc brakes instead of a regular v-break. A disc brake can offer stronger braking even if your bike is heavy with a lot of luggage. Regardless of the weather, disc brakes are much more superior to the old-school v-brakes.
However, disc brakes are not widely available like the traditional rim brakes, which can be a potential issue if you ever need a spare.
However, you must understand that the reliability of disc brakes or hydraulic disc brakes is exceedingly high, so there might be a very minute chance of you running into a break related issue
Wheelbase geometry
A touring bike's geometry needs to favor stability along with comfort. An upright, comfortable riding position should be your ideal position for riding long distances. A typical touring bike will have a long wheelbase and chainstay.
A longer wheelbase can provide separation between your pedal stroke and front mudguard. It also means that any luggage you mount onto your touring bike will also not get in the way.
Another important aspect of a touring bike's geometry is its drop bars. A drop bar can allow you to vary your hand position and lower the pressure off your frontal body on extremely windy days. Some touring bikes come with flat bars or butterfly bars as well.
Also, you may like, Best Self-Charging Electric Bikes On the Market
Riding Position
With a touring bike, you can look forward to an upright riding position. Most road and mountain bikes have a slight leaning forward position compared to a touring bike. The purpose of this positioning is for the rider to enjoy the view.
If you are going on a trip on your touring bike, you are interested in living and breathing your surroundings. The upright position can help you focus on what is going around you while you automatically pedal.
If you use a mountain bike or a road bike for touring purposes, you will find that you have to put in a lot more effort to soak in the surrounding because most of your focus is on maintaining a crouched body position.
Additionally, a touring bike comes with a wider saddle seat because the upright riding position puts a lot of pressure on your lower body.
Hence, the correct adjustment and alignment are key. Like the one found in mountain bikes, a narrow saddle can be extremely uncomfortable for long touring rides.
Lights & GPS System
If you've decided to get yourself a touring bike, a Dynamo light can be a great addition. It is always a wise choice to have lights on your bike, even if your trip is during the day.
Bike Dynamos come with a frontal hub that acts as a constant source of power independent of a main electrical source. The Dynamo lights cable runs through the fork leg keeping it out of the way.
Through a dynamo light, you can use GPS or illuminate the road as you ride. Even though these items are not part of a traditional touring bike, they are some useful gadgets that you should invest in to make your touring trip easier and safer.
Touring bike gears
A traditional touring bike comes with a wide gear range that can help you ride on steep hills or sloppy roads even if you have a heavy luggage load. Basic top-end gears can help you keep a fast pace on a flatter road.
It is important to note that some folding bikes come with double ring group set gears, while a triple chainset gear can give you the same quality range while riding.
Now that we've discussed a touring bike's components, let's look at a few other factors and comparisons:
Also, read, How to Remove a Speed Limiter on an Electric Bike?
Is a touring bike heavy duty?
A touring bike is befitting for riders that take long rides that may last multiple days, rides where you carry a significant amount of luggage. Not only does the touring bike need to be comfortable for a long ride, but it also needs to be sturdy to carry your weight along with the luggage.
A touring bike aims to be heavy-duty so that it can carry large loads comfortably. The load depends on the ride that you have planned out. Your luggage can include a change of clothes, cooking items, safety gear, tent, and food.
If you are a wise or experienced traveler, you probably have wet and cold weather gear as well to protect you from any unexpected twists and turns.
The bike's heavy-duty capacity essentially means how strong its panniers are. Panniers are mounted either in the front or the back rack of a touring bike to carry luggage.
You can also further increase the luggage capacity by adding a saddlebag rack or a bar bag to your touring bike.
As mentioned earlier, a steel bike comes with more space for you to equip any mounting needs for carrying luggage.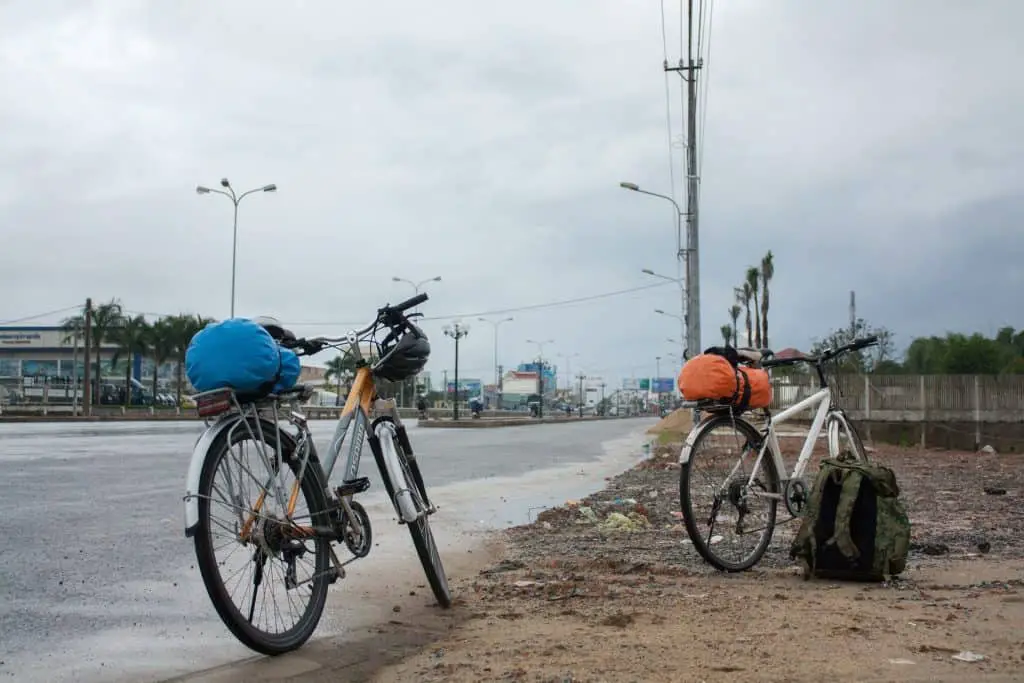 Also, read, Bike Chain Skips When Pedaling Hard
Should you use panniers or a bike-packing bag on your touring bike?
Panniers can be advantageous when it comes to long touring trips on a bike. They can help in keeping the center of gravity low compared to bike-packing bags. They can also firmly secure themselves against the bike and give you a more stable ride.
If you have panniers attached at the rear end of the bike, they are completely out of the way and are less likely to bother you while you pedal. Through their simple locking mechanism, they are easy to get on and off your bike.
Therefore, you don't have to deal with several straps that need to be tightened if you use a bike-packing bag.
However, pannier bag racks are pretty heavy. They will work perfectly on a heavy frame, such as a steel bike with mounting points. Bike-packing bags, on the other hand, are lighter and can be strapped onto anything.
Check out, Mountain Bike vs Gravel Bike
How is a touring bike any different from a gravel bike?
The latest touring bikes in the market have wide tires that can go up to 38 mm. Large tires ensure no limit to how wide you can go while touring with a touring bike. Wide tires are comfortable and stable, something you will find in both touring and gravel bikes.
However, a gravel bike is more suitable for off-road riding. In contrast, traditional touring bikes are suitable for tarmac, leveled roads, or concrete.
Gravel bikes have more generous clearances compared to a touring bike which can help with the mud buildup while riding.
Similar to touring bikes, gravel bikes can also mount mudguards and panniers if needed, but this isn't true for every gravel bike model.
Check out, Best Dog Carriers for Electric Bikes
Should you invest in a touring bike if you already have a road bike?
If you are thinking of saving money and using your road bike for your trip instead of investing in a touring bike, here are a few things that you should consider:
Even though this is a good way to save money, it is not necessarily the best way to go on a trip. The problem with road bikes or mountain bikes is that they aren't designed for long hours. Riding for a day or two on a road bike saddle can be extremely painful.
A road bike by design makes you lean forward, which can cause pain in your shoulders, back, and neck even after a few hours. Mountain bikes, on the other hand, have flat handlebars that can be painful for your fingers if you rode with them for even a day.
Manufacturers design touring bikes for long hours with comfort in mind. The saddle, handlebars, and overall geometry of a touring bike are different from other bikes, so that you can use them for your longer journeys.
Other than this, not every bike can support a pannier or a luggage rack which is a very crucial thing to consider while you go touring.
However, rest assured that your touring bike investment will not go to waste. Several touring bike models available in the market can be just as good for daily activities as they are for your adventures.
Read How Far Can You Bike in A Day
Best touring Bikes
Here are a few latest touring bikes for you to consider:
Surly Disc Trucker Touring Bike – $1675
The Surly Disc Trucker is a spinoff of the Long Haul Trucker with a versatile body and mechanical disc brakes. The Surly Disc Trucker is capable of carrying full-coverage fenders, front and rear bags, a pump bag, find even water bottles.
Perfect for any adventure that you choose, the disc trucker had room for 42 MM tires. With a whopping weight limit of 161 KG, the surly disc trucker chooses power over everything.
Cube Travel Pro Trapeze Touring Bike – $879
The Cube Travel Pro Trapeze Touring Bike comes with a robust aluminum frame with extra-wide tires. The mounting process with the Cube Travel Pro is simple and convenient.
Equipped with the Shimano Nexus hub gear system, you can look forward to great pedaling efficiency and powerful brakes.
The full-length fenders, front and rear lights, as well as integrated pannier bags are perfect for any touring adventure.
You may also like:
Final Thoughts
A touring bike is not just for multi-day adventures. Riders can use it for day-to-day cycling or even shopping trips. The bike design is weatherproof and has a lot of potential for carrying heavy loads. Anyone who invests in a touring bike for a single adventure can use the bike all year round.
Besides the bike, the installed panniers are great for shopping trips as they can carry a lot of loads if you are on your way to the supermarket. Panniers are pretty easy to install or take out, which makes them an ideal touring bike accessory.
Besides chores and shopping trips, you can use your touring bike for a ride in the park or even use it while you go for a picnic. All the durable features of a touring bike can work incredibly well on roads; hence, it is a good investment for the long run.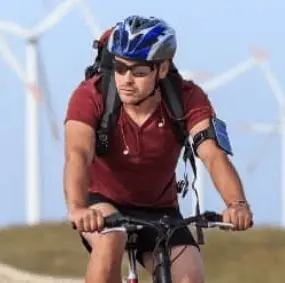 I am Michael, an avid rider and bike expert. I am here to provide, biking tips and expert advice on in-depth bike reviews covering features, capabilities, price range, and much more. Specially on electric bikes, mountain bikes, road bikes, etc. I will provide honest product reviews, along with expert advice on purchasing, training, and maintenance. Check out my complete profile.