Are you looking out for a new spin bike for your home gym? In this article, we will discuss What is a spin bike? Spin Bike Specifications etc.
What is a Spin Bike?
If you've ever been to a gym, training center, or spin class, you know what a spin bike is. It's a stationary bike that can provide a full-body workout in the form of indoor training and weight loss. Typically, one can use a spin bike to strengthen the ties, hips, shoulders, and abs.
Read: What to eat before a bike ride
How is a Spin Bike different from a regular bike?
A spin bike is an indoor bike, while all other regular bikes are made for the outdoors. A stationary spin bike is for people who want the feel of a road bike but do not have the time or the place to enjoy one outdoors.
1. Spin Bikes are flexible
Not everyone resides in an area where they can simply whip out their bike and ride it across town. Carrying and storing a bike is another hassle you do not have to face with a spin bike.
People who tend to have longer days at work can use spin bikes at work (if they have their own space) or keep one at home for some quick exercise before or after work. This is a great solution for people with professions or commitments that do not get a big enough window to go to the gym or a real bike ride.
2. Spin Bikes are stronger
Another major difference between the two is strength. With larger frames and reinforced pedals, spin bikes are designed to hold more than 300 pounds.
Most spin bike exercises involve the user lifting themselves off the seat while pedaling, which means that the body weight hits the pedals more than it does on a regular road bike. Outdoor bikes have slimmer frames. Although they are strong, they aren't designed for the same purpose.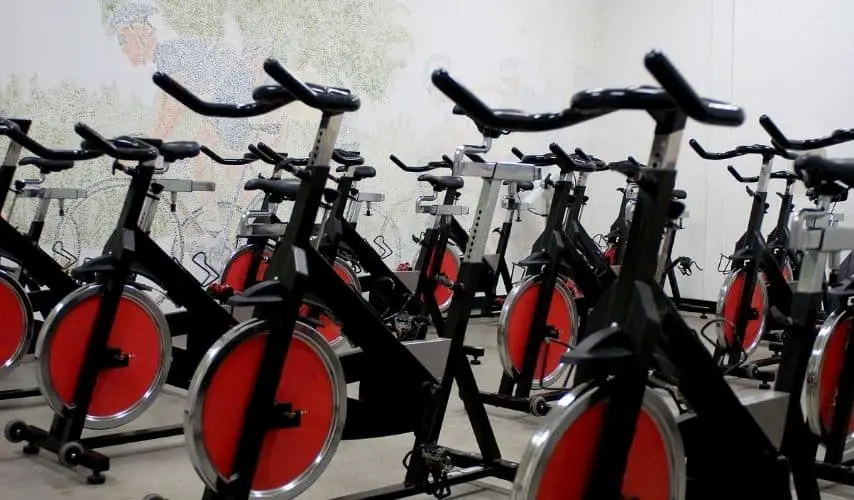 Read: What is a Road Bike
What is a Spin Bike used for?
Spin bikes are ideal for exercising and cardio workouts. Indoor cycling on a spin bike is one of the fastest and most effective methods to get in shape. The spin cycle movements provide an intense cardio workout, especially when you pedal while standing.
Some people invest in spin bikes for their homes, and some like to visit gyms or specialized spin cycle classes to get their dose of exercise. Even if you are already in shape, a spin bike is a great way to keep yourself active without having to go outdoors.
Spin bikes are also great for interval training. They allow you to combine low and high-intensity workouts to improve your general strength and metabolism. Interval training also allows your body to burn more calories even if you are not religiously training.
Read: What is a Tandem Bike?
Let's talk Spin Bike Specifications
Spin bikes are robust by design. Unlike other narrow and slender bikes, a spin bike needs to be solid in order to hold weight up to 350 pounds.
Large Frames
Their large solid frames keep them from wobbling as people use them for vigorous exercise. Most workout routines require the person to pedal while standing. In this case, the absence of a large frame would topple the bike over pretty easily.
Reinforced Pedals
A spin bike comes with reinforced pedals to support people of different weights and heights. Much like its solid frame, the pedals need to have enough strength to bear the user's full weight.
Regular pedals are not a good choice in spin bikes. They are designed to only manage the weight of a bike rider's feet while most pressure is on the saddle. However, while using a spin bike for a proper workout session, the user's body weight shifts from the seat to the pedals repeatedly, depending on the type.
Adjustable Saddles
The seats or saddles on a spin bike are not padded like a regular bike. This motivates people to stand up while pedaling, which is an essential part of using spinning bikes. Extra comfortable padded seats on a spin bike can hinder a user's workout goals.
The flat surface of the seat ensures rapid leg cycling movements, which otherwise would be slower if cushioned.
Textured Handlebars
Textured handlebars maximize the user's comfort in terms of protecting the fingers and palms from harm. Smooth handlebars in such energetic exercises can cause sores and blisters, while textured handlebars give room for air and moisture. This protects the delicate skin on the inner side of the hand.
Other than this, texture handlebars provide a better grip compared to smooth handlebars, which is necessary as it stops the user's hand from slipping during vigorous exercise.
Mounts
Since users need to hydrate while exercising, almost all spin bike models come with water bottle mounts. This keeps your water bottle or even your face towel within reach.
Display Consoles
Users can easily track their fitness-related data such as the number of pedal strokes, burned calories, time duration, as well as distance on a display console. Spin bikes have different types of display consoles available right in the middle of the handlebars.
Some spin bikes also allow media playback and video options on their display console. This helps the person stay engaged while exercising.
Resistance
Indoor bikes such as spin bikes can feature one of the two types of resistance systems, magnetic or physical.
Physical Resistance
Physical resistance systems give the spin bike resistance by squeezing its pads against the wheel. It is a spring-driven double caliper system much like a regular bicycle. This particular type of spin bike gives a real road feel which is why it is a terrific option for people who want to experience an outdoor bike in an indoor setting on a budget.
Though spin bike with physical resistance isn't a wise choice for the long term as they aren't durable. Spin bikes are primarily made for exercising every day, which is something that physical resistance is not able to handle for long.
Magnetic Resistance
Magnetic resistance gives the spin bike longevity for the simple fact that there are no parts rubbing together. The bike's magnetic resistance is more consistent compared to physical resistance and has a greater ability to adjust according to the user's need.
The magnetic resistance is ideal for a high-speed workout, even though it costs a bit more. However, due to its durability and low maintenance requirements, it is a way better long-term investment compared to physical resistance spin bike mechanisms.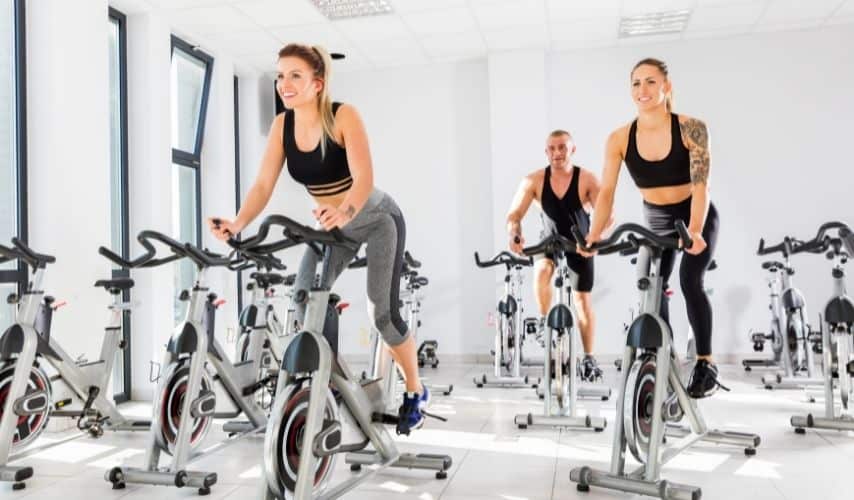 Are Spin Bikes adjustable?
Even though earlier models did not have adjustable handle positions or seats, the modern versions being rolled out today are an entirely different game. High-end spin bikes allow users to adjust their seat height, handlebar height, resistance level, as well as seat and handlebar angle. You can pull the hand bars towards you or away from you, depending on the length of your arms.
Some brands also provide universal adjustment, giving you the option of placing your seat anywhere, depending on the posture you are most comfortable with. As time goes on, spin bikes have started to become more ergonomic than they were before.
With the increased need for exercise on a daily basis, especially in this fast-paced workaholic society, newer models are really trying to keep up in providing ease and adjustability for the users.
Read: What Is an Adventure Bike
Benefits of using a Spin Bike
Using a spin bike has tons of benefits for your body and overall health. Indoor cycling can show you improvements when you look at yourself in the mirror. You can see your body reacting to the movement. Spin bikes give you a challenging yet innovative workout.
Even if you are just looking for a fun way to exercise with no strings attached, spin bike benefits go on and on:
1. Burn Calories
Regardless of age, gender, or lifestyle, a spin bike helps you burn calories. The dynamic spin bike experience helps you drop pounds and get into a fitness lifestyle that is both fun and accommodating
2. Not Space Bound
With a spin bike, you can practically ride anywhere. Indoor cycling is available to you wherever you need it. If you invest in a spin bike, you can exercise at any time of the day. This is perfect for homebodies or people who do not have time to go to the gym. With a spin bike, they can ride with little concern as they have their own equipment available easily.
The best part about a spin bike is that it can let you experience spin cycling on your own terms. You can spend it at home or even mix it up by trying both a spin class and a spin bike fitness routine in the comfort of your house.
3. Healthy Heart
Using a spin bike has aerobic and anaerobic exercise benefits. It exercises both your endurance and gives you cardiovascular training. As you ride harder on a spin bike, you can learn to control your breathing and your lung capacity.
This can essentially help lower your heart rate, manage anxiety, and breathlessness in the long run. Overall, using a spin bike is great for improving your cardio and overall stamina.
4. Personal Pace
A spin bike lets you ride at a pace that you are happy with. If you prefer high resistance, you can crank up the speed easily. However, if you are new to using a spin bike, you can always start with something that makes you comfortable.
High-end spin bikes come with adaptive ride profiles that allow new riders to experiment with diverse experience levels.
Since you are stationary, nobody really cares how fast you are pedaling, which can help you unleash your superior pedaling game. Other than this, if you do not enjoy a gym, you can always find a place that you are comfortable in order to create a personal space. This can be your office, your room, or any training center of your choice
5. Lean Muscle Definition
When you start using a spin bike, you will begin to see some physical changes in your body. A great benefit is a lean muscular definition. This is a great sign because it means that you are losing the unwanted body fat that you've always wanted to drop.
You might suffer from some post-workout soreness, but it will eventually go away. The muscular definition can be in your legs, core muscles, or even in your upper body. Lean muscle definition is likely to show up quicker if you join a spin bike class. Whichever you choose, you are on the path to a fitter and stronger body.
6. Core Strength
Correct posture while using a spin bike can essentially lead you to strengthen your core. In some cases, you can even start building a six-pack if that is something that you are after. There are several techniques you can use to exercise your abdominal muscles along with your major leg muscles while you spin.
While you are on a spin bike, the upper body rhythm is important in helping you exercise your abdominal muscles. This can be achieved if you ride the spin bike in a slightly bent position.
Abdominal results might not show up immediately, but it is one of the benefits of indoor cycling that build over time. Just like muscle definition, your body soon begins to strengthen and tone up just the way you want it.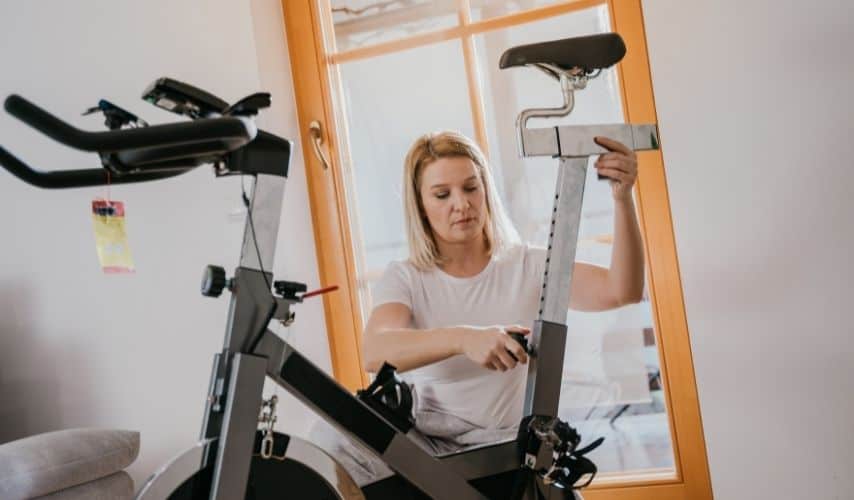 You may like:
The Bottom Line
Undoubtedly, indoor cycling on spin bikes continues to be one of the most popular fitness trends for sports enthusiasts, amateur trainers, and home fitness buffs alike. Even if you just love the feel of riding a bike, a spin bike is a great investment for you.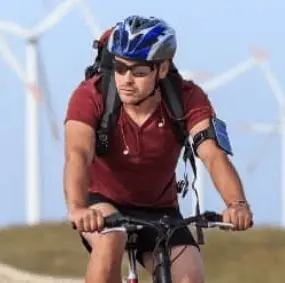 I am Michael, an avid rider and bike expert. I am here to provide, biking tips and expert advice on in-depth bike reviews covering features, capabilities, price range, and much more. Specially on electric bikes, mountain bikes, road bikes, etc. I will provide honest product reviews, along with expert advice on purchasing, training, and maintenance. Check out my complete profile.