What you eat before a bike ride can make or break your performance. There are several types of food that you can incorporate into your daily meals to help you perform better while you ride your bike.
What to eat before a bike ride? Here is a list of foods that you should eat before a bike that can give you the energy boost.
Pasta
Bread
Granola
Quinoa
Porridge
Energy Bars
Bagels
Peanut Butter
Chia Seeds
Bananas
Chicken
Chocolate Milkshake
Nuts and Dry Fruits
Sweet Potatoes
Salmon
What to eat before a bike ride
It doesn't matter if you ride your bike casually or participate in vigorous bike sports and races. These foods will help you fuel your body for a great bike ride every time:
Most of the foods on this list are high in carbs because carbohydrates are essential for cyclists and endurance athletes. The reason behind promoting a rich carb diet for cyclists is because it can be broken down much quicker and supply efficient amounts of glucose to the body.
This ensures a steady source of fuel needed for anyone who wants to ride a bike. It is essential to understand that riding a bike needs a lot of energy, especially the endurance required for peddling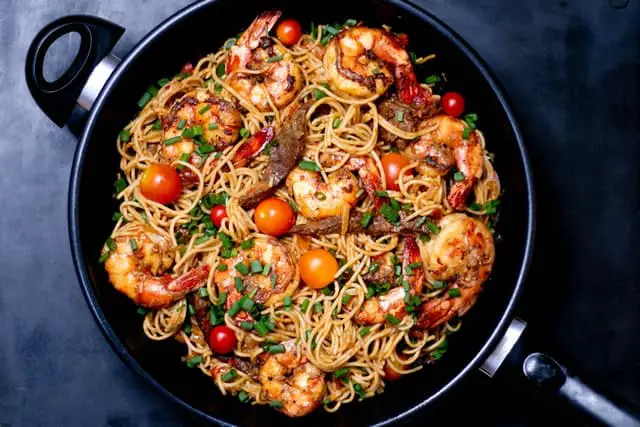 1. Pasta
This rich staple diet product has been an energy solution, especially in endurance athletes. This go-to food does not only taste amazing but gives you the satisfaction of a full meal. The ideal time to have pasta is at least three hours before your bike ride.
This gives the carbohydrates in the pasta to properly digest and slowly release energy. Your body then consumes the energy when you ride your bike. Endurance athletes can also use pasta to increase their glycogen storage to perform well in a big race coming up.
Read: Mountain Bike Or Road Bike: Which Is Better For Weight Loss?
2. Bread
Another carb-packed food that gives you energy throughout the day. There are many types of bread you can choose from, with rye bread being a healthy choice. White bread can give you a boost of energy, but it might not last all day.
Rye bread releases energy more slowly, which helps you maintain it throughout the day. If you are only seeking a quick energy hit before a ride, then a white bread sandwich is an excellent way to go. However, if having energy for a longer period in a day is your end goal, then opt for healthier bread alternatives.
3. Granola
Granola provides a good energy source for a long bike ride because it is a great source of carbs. Since granola is a whole grain, the energy from it releases slowly into the body, providing you with enough fuel to perform well on a bike ride.
Since granola is not as refined as other cereals, it is also a healthy choice, especially in breakfast. You can dress a cup or bowl of granola  with fresh fruits, basil seeds, flaxseeds, and yogurt for a perfect meal. Some people recommend baking granola into an energy bar that endurance athletes can quickly have before going for a bike ride.
Read: What is a Spin Bike: Everything You Need to Know
4. Quinoa
Quinoa is an excellent alternative for couscous or rice. It has twice as much energy and protein as regular cereals, which becomes a great energy source for a cyclist. Even though quinoa is bland in taste, you can replace it with cooked rice.
Just like granola, quinoa can also be baked into an energy bar for quick consumption. It is both nutritious and versatile as you can use it for both savory and sweet dishes. A quinoa bowl with some grilled chicken and vegetables is a great chicken and rice alternative if that is something that you regularly like to eat.
5. Porridge
Porridge is perfect for breakfast, especially before you go for your bike ride. Several athletes use porridge as a snack before their races. Ideally, it would help if you had a bowl of porridge a few hours before you go for a ride to not ride with a full stomach.
If your body does not have time to digest the food, it can lead to bloating and not give you the energy impact you are looking for. A bowl of porridge does not have to be boring. You can always add some fun ingredients such as jam, berries, dried fruits, or even a banana.
Read: How to Charge an Electric Bike Battery
6. Energy Bars
An energy bar is a cheap, easy, and convenient option for you to consume before going for your bike ride. Several kinds of energy bars are available in the market, depending on the amount of protein and carbs they provide. Some energy bars are just grain, while some include nuts, fruits, and even chocolate.
You can either have this on your way when you go for your bike ride or right before starting. The ingredients in an energy bar do not cause bloating and provide enough energy to perform well during your bike ride. They are ideal for topping up your glycogen levels and fulfill your energy capacity.
With several consistency and flavors to choose from, you can easily find an energy bar that suits you. The fact that there is no preparation involved, an energy bar is a go-to snack for endurance athletes daily.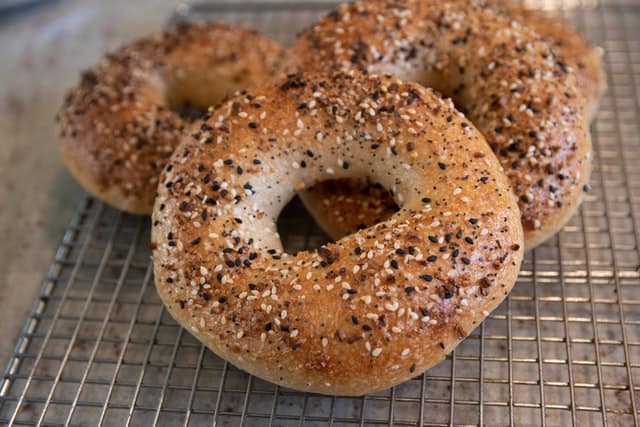 7. Bagels
A bagel is a great source of carbs for people who do not enjoy cereal-based items before they go riding. It is a good source of carbs and can provide up to 300 calories making it a fuel-boosting food for endurance athletes and cyclists.
You can choose different kinds of bagels and their toppings depending on what you like. However, more fatty toppings such as cream cheese can affect how quickly the bagel is broken down into energy by your body.
A multigrain bagel is healthier than a standard bagel as it is high in fiber. Furthermore, wheat and multigrain products generally break down much quicker and easier, providing long-lasting energy throughout the day.
Read: Mountain Biking For Weight Loss
8. Peanut Butter
Peanut butter is an excellent source of protein for endurance athletes and cyclists. It is also affordable as you can buy bulk-size containers to spread on your bagels, bread, and even crackers.
Other protein types such as meat, eggs, and fish can be more costly compared to the amount of protein that peanut butter gives you at the same price.
Other than spreading it, you can always use peanut butter as a dip for bananas and breadsticks. Granola bowls also pair well with peanut butter as a topping because of their salty, sweet, and nutty flavor.
Thai and Pan Asian cuisines also use peanut butter as a base for their noodle dishes, which you can take inspiration from while making your protein-packed meals.
9. Chia Seeds
Chia seeds are flavorless seeds that can provide an energy boost for cyclists and athletes. Since they do not have a flavor of their own, they can be eaten on their own or you can add them to different dishes such as soups, puddings, salads, and even rice bowls.
Another way to consume chia seeds is to grind them into a fine powder and add them to your drinks or shakes for an added boost.
10. Bananas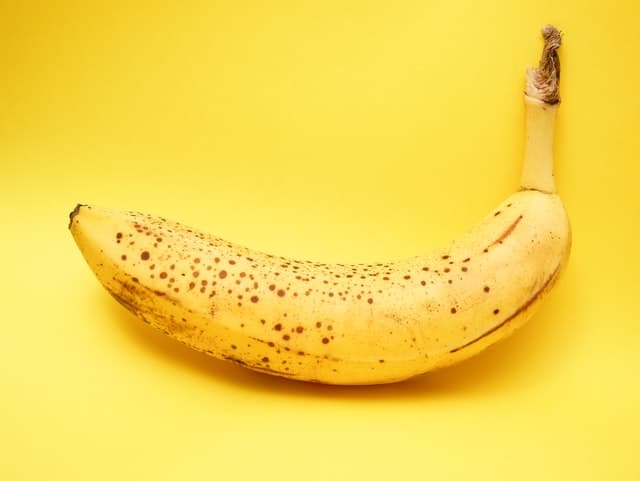 Rich in potassium, a banana is an excellent option to have a few minutes before your bike ride. A ripe banana can give you more energy than a green one as it can be digested quicker. Bananas can provide quick energy hits, which is why you can have them on their own or with a bowl of granola.
Some people like to have frozen bananas because they end up tasting like dairy ice cream. You can place your bananas on wooden skewers and put them in the freezer for a few hours. You can pop one out before you leave for your bike ride for a delicious energy boost.
There will be days where even after eating right, you will not be able to perform as well as you hoped. This is normal body behavior because sometimes the body needs a bit more relaxation and time to replenish. This is when you should decide to go into recovery mode and generate the glucose needed for a high-performance ride the next day.
In addition to glucose, you need more protein-packed foods to repair any muscle damage caused by hard bike riding. Excessive broken down muscles can also cause fatigue and make it difficult for you to perform the next day
Here are more foods that you can have before going to ride your bike if you have had a rough couple of days and want to recover:
Read: What is the Cheapest Electric Bike Conversion Kit on the Market?
11. Chicken
Big and grilled chicken breast can provide you with a good amount of protein and amino acids. The anti-inflammatory properties found in lean chicken meat help convert protein into the muscle, solving your muscle pain issues.
You can combine a high-carb food item with chicken for a wholesome meal that will have you recovering in no time for your bike ride.
12. Chocolate Milkshake
A chocolate milkshake is another great combination of carbohydrates and proteins. Not only is it an incredibly delicious drink it can help you feel better if you are exhausted. Pairing the chocolate milkshake with a portion of fruit can give you an additional burst of energy and reimburse your body is glucose.
Other than this, a chocolate milkshake is a great alternative, especially if you are not in the mood to eat solid food. Sipping on a cold chocolate milkshake can be therapeutic as well!
13. Nuts and Dry Fruits
Nuts and dry fruits are an ideal choice for endurance athletes and cyclists to have on hand. Popping a few nuts or dried fruits like candy can instantly boost energy and replenish glycogen levels.
Nuts and dry fruits are simple carbs which is why your stomach can digest them easily to give you a quick boost for your bike ride.
14. Sweet Potatoes
Sweet potatoes are complex carbs that help restore glucose levels in the body. Cyclists and endurance athletes can rely on sweet potatoes as they are rich in carbs.
Besides carbs, sweet potatoes also have beta carotene, vitamin C, fiber, potassium, and manganese, making them a power-packed food to include in your diet.
15. Salmon
Salmon is an excellent option for muscle inflammation because it contains omega-3 fatty acids. Lean salmon meat can help with rapid recovery in terms of muscle pain and fatigue. This can get you ready for your next bike ride in no time.
Equipped with vitamin B6, vitamin D, and vitamin B12, a good salmon dinner can give you a boost of energy that will last you throughout the day.
What foods should you avoid before a bike ride?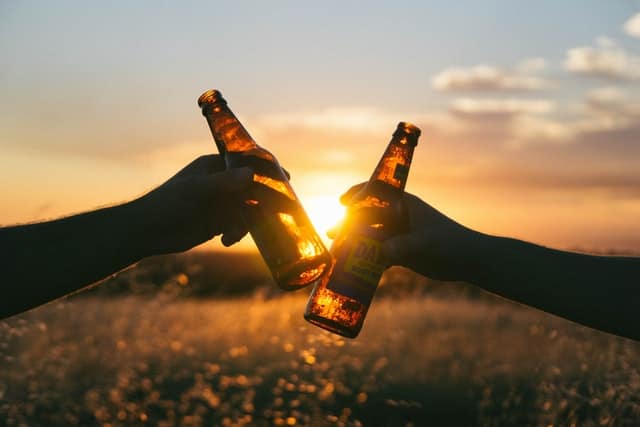 Although carbs are an essential part of your pre-ride diet, you should not take this as a free reign to consume just about anything.
Any food that upsets your digestive system in any way should be kept aside. A few hours before you decide to ride your bike, your food consumption should not have excessive spice, fat, or fiber.
Other than this, it would be best if you steered clear of alcohol and high amounts of caffeine. This can mess with your judgment while riding your bike and can be dangerous for your health.
Your entire focus should be on meals that can be easily digested and processed by your body so that they can give you the energy you need to ride your bike.
You may also like:
The Bottom Line
The food items mentioned in the list above will help you refuel your tank to perform well in your bike ride. Even if you don't have any energy left, these carbs and protein-packed foods can be a great energy source to boost performance.
You do not have to be a professional cyclist or endurance athlete to consume these foods. If you enjoy casual bike riding, these meals can help you have a fun and fulfilling bike ride where you do not excessively tire yourself out.
Do you think it solve the below queries of yours?
What to eat before a bike ride
What to eat before a long bike ride
What to eat before a bike ride to lose weight
What to eat before a mountain bike ride
What to eat before a morning bike ride
What not to eat before a bike ride
What to eat before a road bike ride
What to eat before a century bike ride
What to eat before a 100 mile bike ride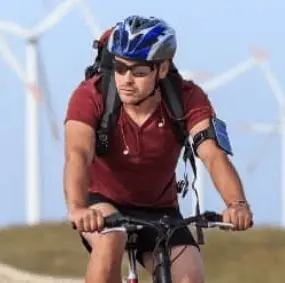 I am Michael, an avid rider and bike expert. I am here to provide, biking tips and expert advice on in-depth bike reviews covering features, capabilities, price range, and much more. Specially on electric bikes, mountain bikes, road bikes, etc. I will provide honest product reviews, along with expert advice on purchasing, training, and maintenance. Check out my complete profile.