If you're a biker, you're likely very aware of the different types of bikes we have available to us in this day and age. Biking is an interesting and versatile sport. Anyone can pick it up and use it to make themselves better.
Biking is one of the most common ways that people get their exercise routine going, and it also provides an opportunity for people to commute without harming the environment.
The bike you opt for has much to do with the kind of biker you are, your priorities, and your biking goals.
Keep in mind, your priorities determine the bike you should use and carry. Manufacturers also design different bikes for different cyclist types and terrains.
One of these bikes is the mountain bike. As the name suggests, the mountain bike is for mountains, off-roading, and rougher terrain.
Mountain bikes can be ridden on roads; however, they're designed for off-roading instead of smooth roads. Hence, it may be a bit difficult for you to ride them in a place they are not made for.
Road bikes are well-suited for the road as they have the design for it. We'll be looking into whether mountain bikes can be used on the road and whether they should be.
Why Would You Use a Mountain Bike on a Road?
If you're someone who wants to ride your bike on the road but only owns a mountain bike, you might not want to spend money on a new road bike. You should rest assured that you can ride a mountain bike on the road.
However, it depends on what kind of mountain bike you have. A cross country bike may do wonderfully on the road; however, trail bikes would require you to put in a significant amount of effort.
However, when you think about how roads nowadays have a significant amount of potholes and obstacles. Mountain bikes could be used on the road.
Mountain bikes have strong suspensions that can make it easy for you to handle obstacles on the road.
Instead of feeling the bumps, the aspects of a mountain bike can make your ride smoother on the road. You should also consider your route and see if it involves any dirt roads.
If you want to ride your bike on the road but its texture is rough, you can use a mountain bike to get through the road.
Also, if the alternative to riding your mountain bike is sitting in your car in traffic, it's better to use your road bike to make your way to your destination. You'll get to witness the city while getting all the exercise you need.
So one reason why you would use a mountain bike on the road is that you don't have another option, you don't want to sit in traffic, and your route supports you using a mountain bike. It also makes sense for you to use a mountain bike when it's the only bike you own.
Buying a road bike just because you feel like riding on the road is slightly excessive. If you don't own a road bike, you're likely not someone who enjoys biking on the road to a great degree.
Is it Difficult to Ride a Mountain Bike on a Road?
So far, we know you can ride a mountain bike on the road. However, we also know that riding a mountain bike on a road is not the easiest or most convenient thing to do.
This fact makes sense because mountain bikes are designed in a particular way, and they have features that support harder and rougher terrain. It means that mountain bikes can't be the most efficient rides out there.
The common disadvantages of riding a mountain bike on the road are as follows:
Mountain bikes have wider tires, and these bikes have great rolling resistance. This can be great if you're on rougher terrain. However, on the road, it means you'll have to push harder for the bikes to gain traction. It will be a more significant workout, and you may find your energy depleted. You can have 2 sets of wheels and tires and switch them if one seems to bust.
All mountain bikes are generally heavier regardless of their type —cross country, trail, or BMX. This weight means they're not the easiest bikes to carry around. These bikes can protect you against any jumps or shocks, which are there due to the road conditions. The frames of such a bike are also heavier. So, if you accidentally lose your balance and get caught underneath the bike, the heaviness is likely to cause more significant injuries than road bikes, which are lighter.
Mountain bikes have very robust features which add to their weight, and this is good in mountainous regions as it helps in the protection of both the bike and the person. However, if you're trying to climb an ascent with the mountain bike, you'll find yourself struggling a bit as these bikes can be heavier. You'll have to employ more energy and effort so you can make your way to your destination.
You should consider all of these factors before you take your mountain bike on the road.
Mountain Bikes vs. Road Bikes: What's the Difference?
Mountain bikes are designed by manufacturers to give bikers mobility on unconventional, difficult surfaces. It can easily handle all the bumps and craters on the road. These bikes are designed to absorb shocks so you can have a smooth ride on uneven terrain.
On the other hand, manufacturers have designed road bikes to be ridden on smooth surfaces, and hence, these bikes are not used to any bumps or rough roads.
Road bikes are also light compared to mountain bikes as they don't require any reinforced polymer to be used in the parts. The reinforcements and material used in mountain bikes make them heavier.
However, this is necessary since these heavy parts make the mountain bike secure enough to be ridden in treacherous regions.
| Road Bikes | Mountain Bikes |
| --- | --- |
| Designed for speed – very light and easy to maneuver | Extremely durable frames can take a lot of abuse |
| Posture puts your torso over the handlebar for lots of power | Offer tons of traction so climbing is easy – even on steep uphill climbs |
| The riding position is ideal for maximizing your leg speed and power | Wheels can handle potholes and rocks |
| Components are easy to maintain | Easier to control, thanks to the extra suspension |
| Light frame and thin tires minimize friction | Much more comfortable to ride |
| Lots of choices based on your budget from under $1,000 to nicer ones under $2,000 | |
Precautions You Must Take to Safely Ride Your Mountain Bike on the Road
When you're riding a mountain bike, you need to take necessary precautions so you don't harm yourself or anyone else. You may find riding your mountain bike down the street strange.
However, we will give you some tips so you know when you may be in danger and when you are just feeling strange because of the background or because you are driving a mountain bike on the road. Some of our tips are stated below:
1. Analyze your body position
This tip is one of the most important ones we give to any beginner. As someone who's starting on your mountain bike on the road, you should be careful how your body is positioned.
The bike will likely travel on some roots and rocks, and even on speed bumps, you must look out for how you need to change your body's position to match the change of terrain.
If you remain seated on a speed bump, the mountain bike may not react the way you want it to.
You must understand all the different positions you may assume when you're riding the mountain bike.
The most prominent ones are: neutral and right. If you take the neutral position, you'll notice you can roll around obstacles easily. Furthermore, you can also transition easily in this position.
You will also note that, in the neutral position, the bike's pedals are at the same height. It means your knees will be slightly bent along with your elbows when you're in this position.
When you're preparing for an ascent, you have to go into a power mode where you're ready to track on even as challenges appear in front of you. Your positioning on the bike prepares your body for what's to come in the journey.
Read Best Mountain Bikes for Women
2. Pick the right path
One of the most important aspects you should consider when riding your mountain bike is the route you're going to take as well as the path you choose.
If you're riding on a road, don't stick to looking at the spots you want to avoid. Rather, look at the path where you want to ride.
Sometimes, when you're busy trying to avoid the negatives, you crash right into them. Hence, it's better to look at your destination. Pick your path and then continue onwards on it; this is how you're a successful biker regardless of the bike you're on.
If you have less experience with mountain bikes, you might be deterred by a rock or deep ridges on the road.
However, remember that mountain bikes perform the best in these conditions, so you don't have to avoid these when selecting a path.
The best thing you can do is, scan your path for obstacles and try to avoid these as they'll likely slow you down.
Read Mountain Bike Tire Pressure
3. Focus on your Shifting Skills
Mountain bikes have a lot of gears, which provide you with a significant amount of advantage compared to road bikes. You should know when you'll need to shift gears so that you can proceed on your road.
However, you must also know how to shift your gears as only timing isn't enough. Gears help you reduce the wear and tear to your bike.
So, even if you're biking on the road, you should move and shift correctly so you can avoid wear and tear repairs. If you're someone with experience, shifting your gears will be muscle memory at this point. Ensure you're listening to your body on how to proceed.
4. Be Comfortable on the saddle
When you're riding your bike, you're more than likely to be in your seat. You must ensure your comfort. If you plan on riding your mountain bike for a very long journey, you may even go as far as carrying an extra seat just so your butt doesn't cramp from being in the same position for too long.
A change in the shape of your saddle or seat will help you feel better once you've upgraded it.
Final Thoughts
A mountain bike can be used on a road. However, it's not an easy task by any means. Manufacturers have not designed mountain bikes for the road; thus, there are some key differences in mountain bikes compared to road bikes.
However, regardless of these differences, you can still ride a mountain bike on the road, especially if the road has potholes or uneven terrain.
You may find riding a mountain bike on the road difficult since this bike requires you to push harder to gain more traction. However, it is entirely possible to ride your bike on the road.
You may reach your destination after a while since the bike is heavier. This feature will slow down your speed; however, you'll get there in due time. If you don't want to spend money on a new bike to ride down the road, using a mountain bike on the road is okay.
Related Posts: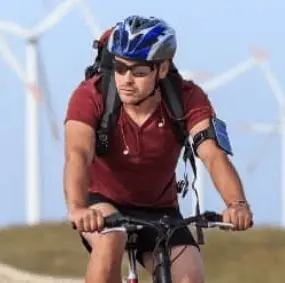 I am Michael, an avid rider and bike expert. I am here to provide, biking tips and expert advice on in-depth bike reviews covering features, capabilities, price range, and much more. Specially on electric bikes, mountain bikes, road bikes, etc. I will provide honest product reviews, along with expert advice on purchasing, training, and maintenance. Check out my complete profile.