Can you ride an electric bike if banned from driving? You may be asking this question if you have a DUI.
The short answer is that each state has its own laws with respect to e-bikes. Hence you will have to check up on your respective state laws to find out whether it is legal to ride an ebike if you are banned from driving.
If you ever get arrested for driving under the influence, then your license could be suspended. The driving license can be suspended two times for DUI. The first suspension will be imposed if you refuse to blow or if you get a reading over .08. The court will give you the second suspension if you have a DUI conviction.
Can You Ride an Ebike if Your Driving License is Suspended?
Ebikes are the latest innovation in transport. Under Florida rules, e-bikes are classified as motorized bikes.
The key point in these rules is that e-bikes are not allowed to go beyond a speed of 20 miles per hour.
If the speed of the ebike is higher than this speed limit, then the vehicle will be deemed a moped for which a license is required.
In California, anyone who has a DUI can expect to have their driving license suspended for a substantial time period.
Hence, getting to their place of work or school may be difficult for these people if they are not allowed to drive.
Those with suspended driving licenses will want to consider the feasibility of riding bikes.
Such options may be worthwhile if the average daily distance they must travel is no more than 5 to 10 miles.
In California, you are allowed to ride an ebike if you are banned from driving. However, the vehicle that they are riding must be classified as a motorized scooter or electric bicycle. And operators must also fulfill the following requirements.
They should be at least 16 years old.
Must be wearing an appropriately fastened and fitted bike helmet.
If operators of motorized scooters or electric bikes fulfill these requirements and the vehicle that they are riding is classified as a motorized scooter or electric bicycle, then they can ride these vehicles even if their driving license is suspended.
Under the California Vehicle Code, an electric bicycle is a 2 or 3 wheeled vehicle that travels at no more than 20 miles per hour.
Electric bicycles have pedals for propulsion by humans and an electric motor (under 1,000 watts) with which the vehicle may not travel faster than 20 mph even with human propulsion.
So depending on the state where you are currently residing, you may or may not be allowed to operate an ebike if your driving license is suspended.
However, if you can ride an ebike when your license is suspended, you can choose from one of the following bikes.
Fiido X
Many good features stand out in this exceptionally stylish ebike. One of its prime features is that it is foldable, which will give you a lot of conveniences if you need to stow it when it is not in use.
The innovative gel seat feels particularly comfortable. The handlebar is also designed to be ergonomically gripped so that you feel perfectly natural while riding this ebike.
When riding the Fiido X, you might feel that you are riding a BMX bike. However, it has gears, and it can handle bumps along the way very well.
You can choose from 3 levels of power assistance. There are also seven gears that you can select.
The bike is equipped with a torque sensor that regulates pedal assist. The bike can go up to a maximum speed of 20 mph.
The Fiido X is powered by a 350-watt motor and 11.6 Ah 36 volt battery that can provide 418-watt hours of power. The rear and front brakes are hydraulic.
If you ride it every day for around 3 to 6 miles, you will have to charge this bike only around twice a week.
The battery will not discharge completely at this rate provided you are not using the highest level of pedal assistance. The ebike takes around 6 hours to charge.
An innovative feature of the ebike is the location of the battery. The bike has been creatively placed in the seat post so that no extra frame is necessary to house it.
The weight of the bike is also shifted into the center so that less strain is involved in going around tight corners.
Niner RLT e9 RDO Gravel Bike
The Niner RLT e9 RD0 looks very much like a conventional bicycle. This can be a good thing if you favor the traditional look in your ebike.
Another advantage of this ebike is that it is very easy to ride. The bike is also relatively light weighing 40 pounds. And without the battery, its weight goes down to 34 pounds.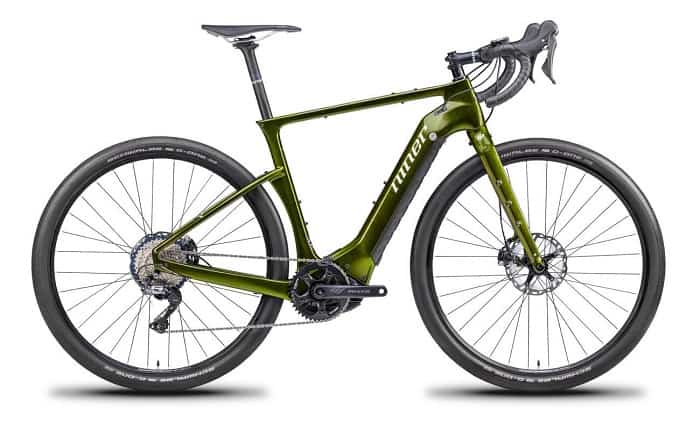 The Bosch Line CX Gen 4 motor powers the bike up to a speed of 28 mph.
The removable battery is placed discretely in its frame. The battery charges fully in around 6 hours and depending on the riding mode you have selected, it can work for 75 miles.
Carbon fiber is used for the frame. The bike has a number of high-quality parts. The finish is exceptionally good. The ebike handles well and rides effortlessly with its pedal assistance feature.
You can select from 11 different speeds. The mid-drive motor of Bosch gives you 4 levels for pedal assistance – Turbo, Sport, Tour, and Eco.
With the Turbo speed setting, you can reach 35 mph. The disc brakes are hydraulic and well designed.
The seat is also comfortable. There is a display screen that can be seen easily even in direct sunlight. It shows you the battery level, traveling speed, pedal-assist mode, and other information.
This is an ebike that you will really enjoy riding. Since the bike is quite light, pedal assistance is necessary only on hills. The bike is very well designed since it looks very much like a conventional bike.
Read Where to Put Bike Lock While Riding
Priority Current Ebike
If you favor the traditional look in bikes, then you will like the Priority Current Ebike since it appears virtually indistinguishable from ordinary bikes.
You can ride the bike even its 500-watt motor is powered off. This is a major plus point since a lot of e-bikes are very hard to ride if the motor is shut off. There is no motor resistance with this ebike model.
The model has Gates Carbon Drive CDX and the Envolio NuVinci gear mechanism to ensure a comfortably smooth ride. These high-end components require minimal upkeep.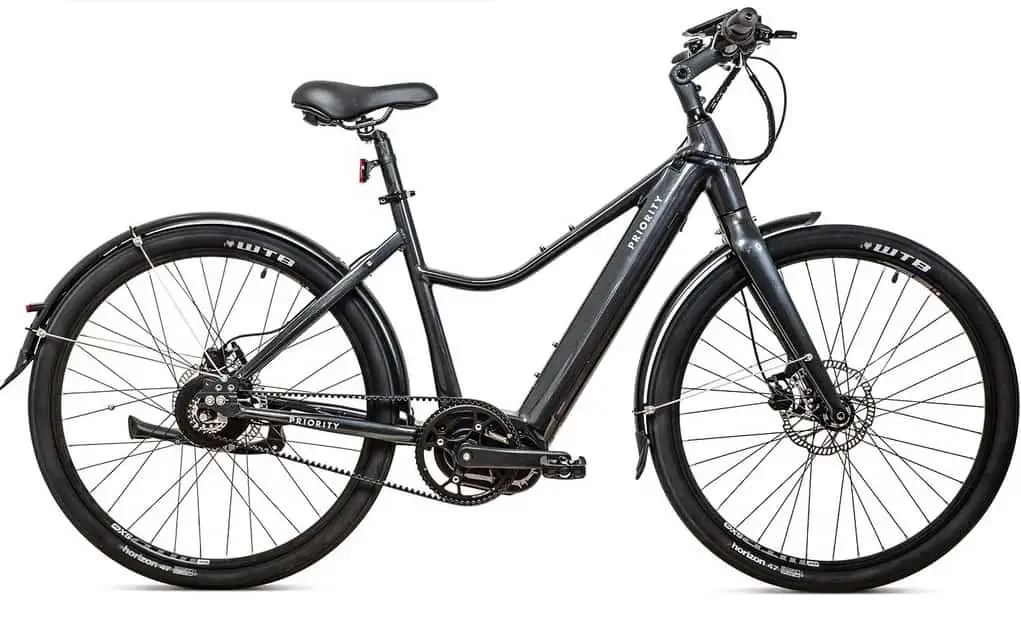 Thanks to the rear gearing and the mid-drive motor, you will have to do less work while shifting. Gear changes are silent and effortless, even on inclines.
If you haven't yet tried out the Envolio system, you should go to your local bike shop to see how it works.
The disk brakes are hydraulic and are operated by a dual-piston system. Brake cables pass within the frame so that the bike has a clean appearance.
The part of the cable that is external to the frame has a protective wrap covering it to avoid damage.
The 48V 500 watt-hour battery is seamlessly connected to the frame. You can charge the battery is around 5 to 6 hours.
This is a Class 1 ebike since it can go up to 20 mph with pedal assist. You can easily change it to Class 3 using the bike console whereupon it can travel at a 28 mile per hour maximum speed with pedal assistance.
The bike has a range between 30 and 60 miles which depends on what pedal-assist mode you select.
The console display measures 4 inches which is a decent size for e-bikes. It can be read clearly even in direct sunlight as well as nighttime.
The screen shows data like assist level, traveling speed, and battery level. A USB port is also available to charge your mobile devices.
The frame is optimally designed so that you can mount and dismount the bike with ease.
The wide handlebars have an ergonomic grip and a stem that can be adjusted for height to gain maximum comfort. The weight of the bike is around 45 pounds.
There are rear and front fenders to keep you free of dirt. Even the seat is filled with gel for riding comfort. In short, the bike is well designed in all aspects.
Read How Fast is a 125cc Dirt Bike?
VanMoof S3
At first glance, the VanMoof S3 may not look like an ebike. The battery and wires pass within the frame. It looks immaculate and sleek with its integrated lights.
Taking the bike out of its package and putting it together is also a user-friendly experience. There is a pull tab so that you can open the box easily.
All necessary tools are kept inside so that you can assemble it with ease. This is much like unpacking an Apple product.
Besides its good looks and packing, there are several other positive aspects. There is an antitheft system. A button is placed towards the back wheel to lock the bike and to stop it from rolling.
If someone tries to lift the bike in this state, the alarm is triggered and its lights flash.
If someone manages to get away with your VanMoof S3 ebike, there is also a Bluetooth and GSM tracking system that will help you find it.
For an added price, the brand offers to find your bike if it is missing. If you cannot find the ebike yourself, you can request bike hunters from VanMoof to find it for you. If the team cannot find your ebike, you will be given another ebike for the same price.
The display screen is connected to the upper tube; it shows warning messages, battery level, whether your bike is locked or not, and the current speed. Seeing the screen in direct sunlight is a bit hard.
If you are planning to take a longer trip on your ebike, you can use the mobile app to keep track of the battery level.
The app is available for both Android and iOS, and it allows you to do many different things.
For example, it will let you unlock and lock the bike. You can also change horn sounds with it. You can also track your rides, control the lights and specify the speeds at which gears change.
The ebike model has automatic gear change and is thus a premium high-end model.
Related ebike articles:
Bottom Line
Now that you know your answer, always check laws in your state to find out whether you can ride an electric bike if banned from driving.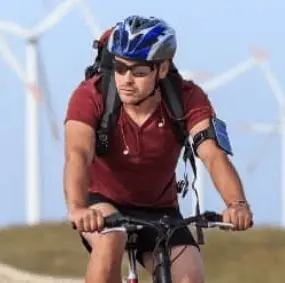 I am Michael, an avid rider and bike expert. I am here to provide, biking tips and expert advice on in-depth bike reviews covering features, capabilities, price range, and much more. Specially on electric bikes, mountain bikes, road bikes, etc. I will provide honest product reviews, along with expert advice on purchasing, training, and maintenance. Check out my complete profile.