The electric mountain biking industry keeps expanding and improving rapidly as more and more people realize the value of electric bikes. And just as mountain bikes keep improving, new electric mountain bikes keep getting released that are more affordable and better than ever. In this article, we will be talking about some of those great and affordable electric mountain bikes under $4000.
Nowadays, even electric mountain bikes under $4000 have all the specs and features you could ever want on your electric bike. With these electric mountain bikes, everything is easier but just as rewarding!
Long climbs are much easier due to their pedal assisting technology, all kinds of terrains are simpler to approach with electric motors, and going back downhill is always just as fun and tricky as ever.
E-bikes are the new, fun, and sustainable way to move around; they are eco-friendly, pocket-friendly, and easy to maintain.
According to a Facts and Factors market research report, the Electric Bike industry's size & share revenue is projected to grow from $40.21 Billion in 2020 to $67.96 Billion by 2026.
If you are reading this article, you have probably made up your mind about purchasing your first e-bike.
With so many choices available in the market, first, you need to go through and evaluate your options before making your first purchase.
This article slash guide will help you choose the right electric mountain bike under $4000 for your needs.
6 Best Electric Mountain bikes under $4000
1. Response by Diamondback $4100
Motor: Bosch Performance Line Speed, 85Nm Torque, 28mph
Battery: Bosch PowerTube 500
Bike Weight: 33.5lb
The Diamondback Response runs on a 500Wh PowerTube battery and a Bosch Performance Speed motor, making it lightning quick. You can pedal up to 28 miles per hour on this Class 3 electric bike with this motor.
As a result of its mountain bike heritage, the Response is well-suited to harsher terrain and other off-road settings.
The 500Wh PowerTube battery offers a good range, and the motor responds smoothly to your pedaling without being overbearing.
It's also one of the most extensively serviced drive systems on the market, so if anything goes wrong with your drive system, the chances are strong that your local bike shop will be able to help.
For people whose commuting involves curbs, bumps, and rolling up and downstairs, the Diamondback Response is perfect for them.
Alternatively, if you want a steady, well-handling e-bike that can comfortably travel at 28 mph, it is still a great bike for you.
Even though it is just above our $4,000 range, the Response is a great mix of off-roading technology and smooth electric biking that can get you to work quickly without making you sweat and can also do wheelies and other crazy stunts along the way!
Read Which Mountain Bike Tires Are the Best?
2. PowerFly 4 by Trek $3,799
Motor: Bosch Performance CX, magnesium motor body, 250 watts, 85 Nm
Battery: Bosch PowerTube 500Wh
Bike Weight: 52.2 lbs
Trek's Powerfly 4 electric mountain bike is their affordable, entry-level electric bike. The Powerfly 4 has a Shimano 9-speed transmission and a Bosch Performance CX motor that supports riders up to 15.5 mph with smooth shifting and dependability.
It also has a user-friendly RIB (Removable Integrated Battery) technology that is fully encased in the frame but does not require tools to remove the battery.
The Purion controller features Walk Assist and an intelligent E-mountain biking mode that adjusts the power levels delivered depending on the kind of terrain you're riding on.
The top-notch Bosch system on this bike allows it to be used for commuting, pleasure, and a phenomenally good time on hills and trails at the same time.
Read How to Put a Motor on a Mountain Bike
3. Aspen Plus Fat Electric Bike by NCM $2,299
Motor: Das-Kit, X15F, 48V 250W, 25km/h
Battery: i5-4816P, 48V 16Ah, 768Wh
Bike Weight: 67 lbs
As with their other models, the NCM Aspen fat tire electric bike appears to offer outstanding value without making sacrifices on the construction quality.
The Das-Kit 500w geared rear hub motor of the NCM Aspen is paired with a respectable 48v 13Ah lithium battery pack on this bike.
Despite the 500w stated output, this rear hub motor has a maximum output of nearly 700w, which is more than enough power for tough and wet terrain. Das-Kit is NCM's in-house brand.
The 13Ah battery provides a realistic range of 25-35 miles, depending on how often you use the throttle.
Increasing your reliance on the throttle can restrict your driving range further. If you use the e-assist sparingly, you can get over 50 kilometers of range on a single charge.
Even though it's a decently large and weighty bike, the electric motor has plenty of power to handle the slick, muddy terrain it'll be riding through.
Read Buying a Second-Hand Mountain Bike – What to Look For
4. Turbo Vado SL 4.0 EQ by Specialized $3,500
Motor: Specialized SL 1.1, custom lightweight motor
Battery: Specialized SL1-320, fully integrated, 320Wh
Bike Weight: 36.9lbs
The new Specialized SL (Super Light) 1.1 motor system is incredibly light and compact while still delivering good torque and pleasing power.
It is a class 3 motor meaning it has a maximum speed of 28 mph and a maximum rotational speed of over 120 RPM, allowing you to pedal rapidly in lower gears without losing traction.
You will have a driving range of 35 to 75 miles depending on how hard you pedal with the Specialized 320Wh down-tube battery. However, a 160Wh range extender battery ($430) is available as an add-on.
This e-bike is incredibly light! Weighing in at only 36.9lbs even with the additional weights of added fenders, a rear rack, and lights.
This lightweight makes it much easier to load into cars and bus racks, to maintain, and to start from a standstill and cycle around without the pedal assistance turned on.
Also, read, Can a Mountain Bike Be as Fast as a Road Bike?
5. Kathmandu Hybrid Pro 625 by CUBE $3,999
Motor: Bosch Drive Unit Performance CX Generation 4, 85 nm, Cruise 250 Watt
Battery: Bosch PowerTube 625
Bike Weight: 58 lbs
The Cube Kathmandu Hybrid Exc 625 is a fantastic powerhouse of an electric bike. As the name implies, it is an electric bike that will be at home on your daily commutes and going downhill on a light trek or trail.
Like all Cube e-bikes, it uses a Bosch mid-drive motor that is engineered to provide the best value for money.
Because of its huge 625Wh battery, the Kathmandu Hybrid should keep most riders out all day, even while carrying heavy loads along the way, as long as they pay close attention to the power level settings on the bike.
The Cube Kathmandu Hybrid has forks that are air-suspended and seat posts suspended in a parallelogram shape.
These bikes have a wide range of derailleur gears, and they include a kickstand, chain guards, mudguards, and bright LED lights. The tires they come in are puncture-resistant as well.
Read Mountain Bike Tire Pressure
6. Ride1UP – Prodigy XC $2,295.00
Motor: Brose TF Sprinter German-made mid-drive motor with 90 nm torque
Battery: 36V14ah Phylion BN21, Samsung Cells, Smart BMS
Bike Weight: 48 lbs
Ride1UP always makes bikes with affordability in mind, and the Prodigy XC is no exception. It features a Brose TF Sprinter German-made mid-drive motor with 90nm torque, which is unreal considering the price point.
The great Brose motor is paired with a 36V Phylion BN21 battery pack that will let you ride for over 50 miles on a single charge.
The Prodigy XC has a max speed of 28 miles per hour with its powerful pedal assist and can go up to 20 miles per hour on just throttle alone! All these speeds are great for a mid-drive motor at a sub $2500 price.
Also featured on the Prodigy XC is a 9-speed Shimano transmission. With this Shimano transmission, you will have 9 different pedal assist levels to help you ride all kinds of terrain.
Using and switching between these 9 pedal assistance levels is made easy due to the small Brose display that comes with the bike.
This display also shows you different information while you are on your ride, like the battery level, your speed, and of course, the pedal assistance levels.
The Prodigy XC comes with a great comfortable Selle Royal Viento saddle and pre-installed front lights.
It is a great bike for recreational mountain biking on not-so-extreme trails and is great for everyday commuting too.
Related Posts:
Conclusion
Before buying an electric mountain bike, check if their parts are readily available in your area and if the local bike shops actually work on them.
Know your requirements, if you want a daily commuter, or if you want to go hard and fast downhill? After you have checked out everything you need and know what kind of electric bike you require, go ahead and start riding!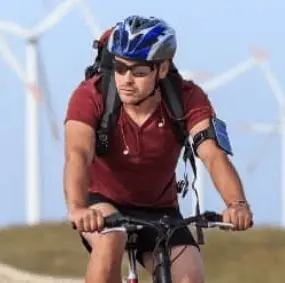 I am Michael, an avid rider and bike expert. I am here to provide, biking tips and expert advice on in-depth bike reviews covering features, capabilities, price range, and much more. Specially on electric bikes, mountain bikes, road bikes, etc. I will provide honest product reviews, along with expert advice on purchasing, training, and maintenance. Check out my complete profile.