The popularity of electric bikes has been increasing day by day among children as well as adults. So, why should seniors miss out on all the fun and exercise?
What are the Best Electric Trikes for Seniors? Here is the list of top 5 best electric trikes for seniors, 1. TerraTrike Rambler E.V.O., 2. Roleigh Tristar IE , 3. Addmotor Motan Electric Tricycle, 4. Emojo Electric Fat Tire Tricycle, 5. MotoTec Electric Trike.
Thanks to electric trikes, older men and women don't have to worry about balancing on two wheels anymore. The extra stability is also great for people with mobility issues or a disability.
Like any regular electric bike, electric trikes can offer much-needed assistance to riders alongside or instead of the normal pedal power. Hence, people with limited capacity or pedaling challenges can easily ride on one.
Apart from this, these e-bikes are more suitable for riding in heavy traffic, as you don't have to put your foot down to balance the bike every time you come to a halt.
Most importantly, e-trikes are quite safe to ride on in the winter season. It is much easier and safer to cross a patch of ice on a trike as compared to a regular electric bike. Lastly, electric trikes are also eco-friendly, of course.     
When it comes to buying an electric trike, you can find a wide range of bikes on the market. In this article, we'll review the top five electric trikes for seniors and discuss the factors you need to keep in mind while buying one.
Let's get started!
Best Electric Trikes for Seniors
Electric trikes serve as a convenient, flexible, and independent mode of transport for adults and seniors. They combine the speed and comfort of a motor-assisted bike and the stability of an adult tricycle, providing the most cost-effective option for seniors.
These benefits have encouraged more and more people to ditch traditional bicycles and tricycles and choose electric trikes for everyday use.
Since there are a lot of decent options out there, you may get confused as to which trike will suit your requirements best. But no worries, we have prepared this detailed guide to help you make the right decision.
Without further ado, let's dive in to explore the best electric trikes for seniors.
1. TerraTrike Rambler E.V.O. – Best Electric Trike for Speed and Comfort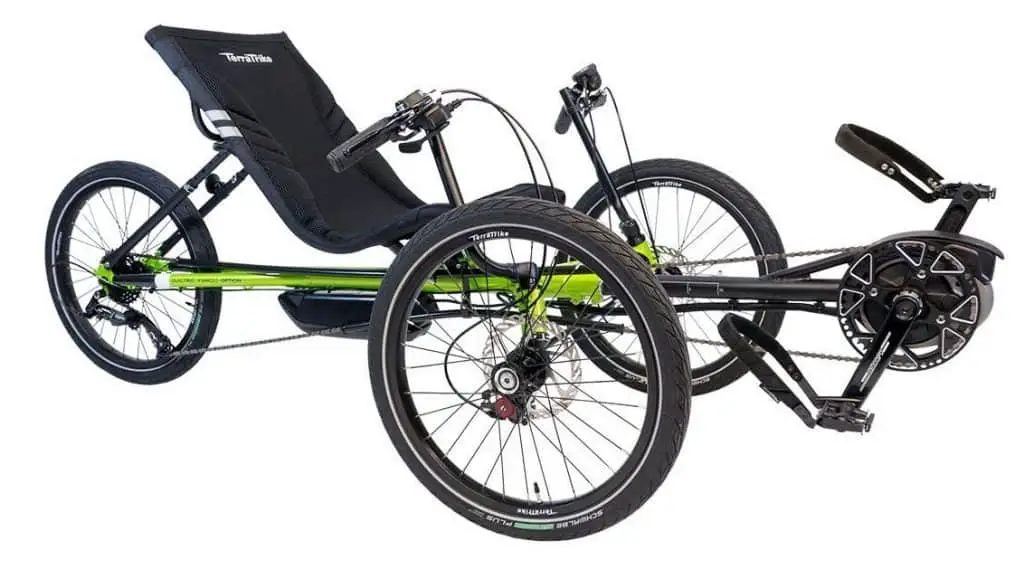 Specifications
Battery: Panasonic 36 V, 11.6 Ah (417 Wh) lithium-ion battery
Charge time: 4-5 hours
Motor: 5-phase Falco 750 W motor
Weight: 64 lbs
Range: 60 miles 
Max load capacity: 300 lbs
Top speed:  20 mph
Brakes: Avid BB7 mechanical disc brakes 
Drive train: microSHIFT 12-32 8-speed
The TerraTrike Rambler E.V.O. has a powerful motor and is an ideal option for adults and seniors who travel long-distance on roads or smooth terrains. Thanks to the recumbent style, it offers maximum riding comfort throughout. It also ensures full back support while boasting a maximum speed of 60 miles.
The mighty motor along with an 8-speed drive shift allows seniors to ride on steep ascents with utmost ease and safety. The best thing is that the trike is amazingly quiet even with all that power!
Since there is no suspension system on this electric trike, the body experiences added pressure on rough terrain. Before you buy this trike, please know that it is primarily designed for road use. The low-profile road tires are not meant to give great performance for extreme trail riding.
The low riding position can also make it challenging to view the surrounding traffic. This problem is universal for all recumbent trikes though. While this electric trike is quite stable and comfortable, care should be taken when turning corners in order to prevent the wheels from lifting, especially when you press the brakes hard.
It is important to note that the TerraTrike Rambler E.V.O. only works on the pedal-assist mode. You don't get an option for throttling. Hence, it is ideal for seniors who intend to use it for gentle rides or to step up their fitness game. It may not be a great option for people with mobility issues who often require full power help.
If you decide to go for the TerraTrike Rambler E.V.O., you can rest assured that you'll get a fully assembled bike designed to be durable with reliable parts.
2. Roleigh Tristar IE – A Stylish Electric Trike for Seniors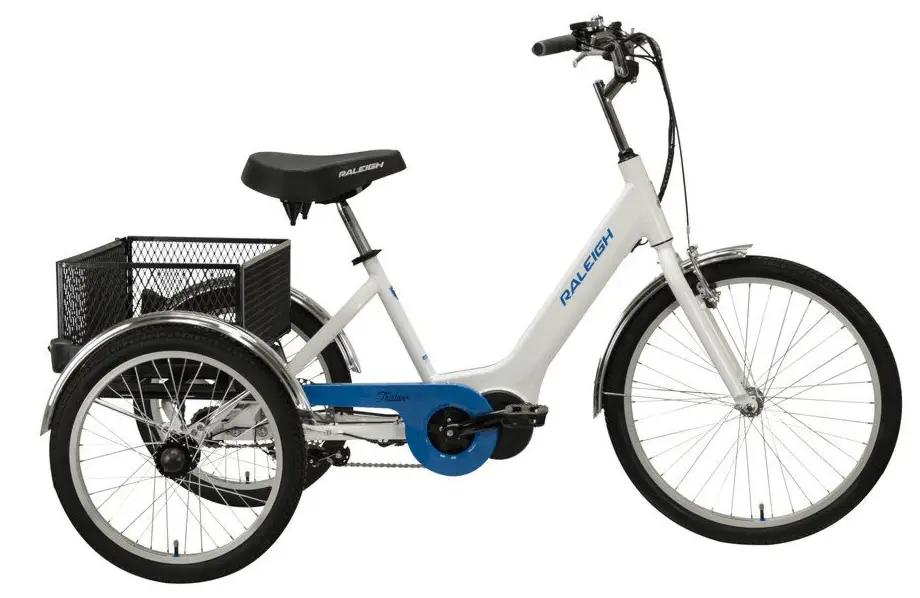 Specifications
Battery: 48 V, 8.7 Ah lithium battery
Charge time: 4-6 hours (estimate)
Motor: TranzX 350 W mid-drive motor
Range: 35 miles per charge (may vary based on the rider's weight, assist level, terrain, etc.)
Top speed: 15 mph
Bike weight: 85 lbs 
Brakes: Front v-brake and rear mechanical disc brake
Drive train: Sturmey Archer 3-speed internally geared rear hub
The Roleigh Tristar IE is a class 1 pedal-assist electric trike that ensures maximum comfort and maneuverability for adults and seniors. Offering a top speed of 15 mph, it is a suitable option for daily commutes and leisurely riding.
It has a powerful mid-drive motor that makes it easy to climb hills. You also get extra space to add a secondary battery if you plan on riding long distances so that you don't have to worry about recharging. The motor is a little noisy though, so you'll have to keep that in mind.
Made of high-grade aluminum, the frame of this electric trike is exceptionally lightweight, making it easy for seniors to move the bike around after dismounting. The trike has a low step-through frame for easy mounting and dismounting. The trike also comes with a large rear basket for carrying cargo.
While the accelerating capacity of this adult-friendly electric trike is fantastic, gear shifting can be a challenge when powering. Therefore, it is best to pause the pedaling for the anticipated gear change. Apart from this, the mechanical disc brakes are more responsive than hydraulic brakes.
Just be careful when pressing brakes on corners to avoid toppling. Also, please keep in mind that this electric trike is not suitable for serious off-roaders and those looking for full throttle assistance.
The ideal customers are those adults and seniors who want a comfortable, lightweight bike for daily commutes and for running errands in the neighborhood.
3. Addmotor Motan Electric Tricycle – Best All-Road Electric Trike for Seniors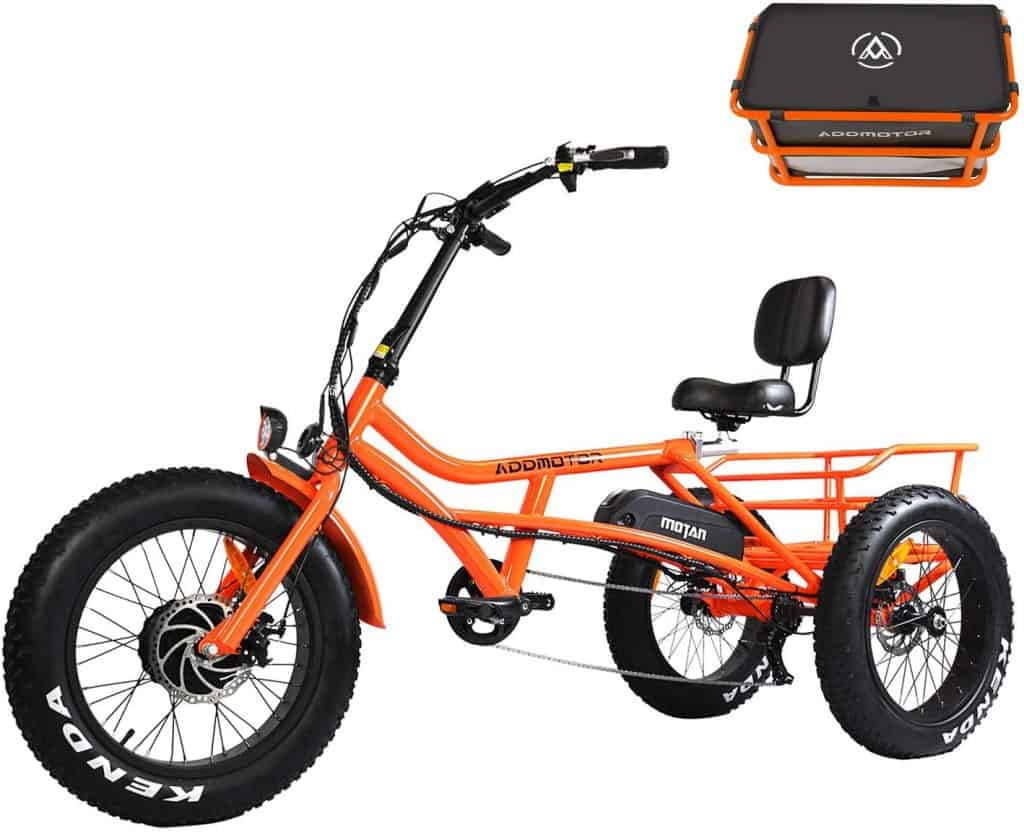 Specifications
Battery: 48 V, 16 Ah removable Panasonic battery
Motor: 750 W brushless motor
Max load capacity: 350 lbs
Top speed: 23 mph
Maximum distance: 55 miles in pedal-assist mode
Frame: Aluminum Alloy
The Addmotor Motan Electric Tricycle is a heavy-duty cargo electric trike ideal for adults and seniors looking for extra support while riding. Riders with a height of 5'6" to 6'6" and a maximum weight of 350 lbs can ride on it comfortably.
This well-designed, high-end trike is made to mimic the power and features of electric mountain bikes. It just has an added wheel for extra stability and support. The first thing that gets your attention when you look at this electric trike is the set of oversized wheels.
Each wheel has a width of four inches that allows them to cross potholes and rough trails without slipping or flatting. You can expect the wheels to provide extremely stable handling throughout the ride.
Thanks to the high spoke count of the three wheels, you get to enjoy maximum durability. Moreover, the front wheel has a disc brake to ensure excellent stopping power for added safety.
The Addmotor Motan Electric Tricycle also boasts a full suspension system on the front fork and spring underneath the seat to reduce vibrations when you ride on rough roads and off-road surfaces.
Furthermore, the frame of the trike is made of durable 6061 aluminum alloy. This maximizes its durability while keeping the trike's weight to a minimum.
This electric trike also has two average-sized hard plastic cargo boxes, one on the rear of the bike's frame and the other in front of the handlebars. In addition to this, the trike features an exceptional 750-watt motor complemented with a removable 48-volt battery. These work together to provide a full speed of 23 mph and a range of up to 55 miles.
Another thing that helps the Addmotor Motan Electric Tricycle stand out is the five-inch LED built into the handlebars to help you track your speed and the trike's battery life. Lastly, the twist-throttle is easy to control even on bumpy trails.
Although a little expensive, this electric trike offers great value for money. So, if you have a flexible budget, you should definitely consider buying this trike.
4. Emojo Electric Fat Tire Tricycle – An Urban Electric Tricycle for Seniors
Specifications
Battery: 48 V lithium rechargeable battery
Motor: 500 W
Top speed: 15 mph
Maximum distance: up to 35 miles
Bike weight: 70 lbs
Weight capacity: 320 lbs
Frame: Aluminum
Brakes: Front disc brake
Looking for something simple and low maintenance?
The Emojo Electric Fat Tire Tricycle is the answer!
This e-trike for seniors boasts an elegant, stylish design. It is ideal for daily urban commutes, grocery shopping, and moving supplies around town.
It has a comparatively small battery and motor, which means you get a maximum speed of 15 mph and an average range of 15 miles only. For this reason, this trike is suitable for interurban rides.
That being said, the pedal-assist mechanism on this trike is carefully designed to make up for the low range. There is a twist-throttle system on the handlebars to make it easy for you to add or remove motor power with each pedal strokes.
Additionally, this electric trike only has a single gear in the medium power range, which is a convenient option for many riders looking for a low-maintenance bike. The tricycle also features ultra-durable hybrid wheels that can speed through potholed urban surfaces. The front wheel, however, is only 20 inches in size, which means it can be challenging to ride over larger potholes.
The front wheel has a disc brake for improved stopping ability, considering the heavy frame of the trike. Another great thing about this electric tricycle is that it has a step-through design to make it easy for adults and seniors to get on and off the trike.
This trike also comes with a large wireframe rack for storing cargo. You can easily go for grocery runs and even carry your pet in the provided space.
5. MotoTec Electric Trike – A Convenient Electric Trike for Adults and Seniors
Specifications
Battery: Four 48 V, 12 Ah batteries
Charge time: 4 – 8 hours
Motor: 500 W front wheel hub motor
Range: 25 miles per charge (estimate)
Max load capacity: 240 lbs
Top speed: 22 mph
Weight with battery: 93 lbs
Brakes: Left handle front drum brake system
The MotoTec Electric Trike is like a combination of mobility electric scooter, trike, and Segway. It does not have any pedals; you only get the throttle option. Quite interestingly, you can ride this tricycle in a standing or standing position depending on your convenience and comfort.
This electric tricycle is a top choice for seniors and people with mobility issues or disabilities. It is easy to maneuver in congested spaces and allows you to travel speed, comfort, and convenience without overexerting yourself.
Despite being powerful, the 500-watt motor is quiet and allows you to travel up to 25 miles on one charge. The throttle, on the other hand, can be jerky and it might take some time before you can enjoy smooth and controlled acceleration.
Please bear in mind that this adult-friendly electric tricycle is not designed to run on rough, uneven terrain. If you ride on it on gravel, grass, or bumpy trails, you could risk toppling.
One of the best things about the MotoTec Electric Tricycle is that it is very budget-friendly and perhaps one of the most inexpensive electric trikes out there. For this reason, you should expect a basic tricycle that will get you from one point to another with considerable comfort and ease.
Another thing to note is that this electric tricycle is narrower than most other trikes. You will see a noticeable difference in the handlebars of this model. This makes it an excellent choice for people who want to save space and enjoy optimal maneuverability.
Lastly, you get an instruction manual with the trike to help you with the assembly. Make sure you have enough time and patience to do it on your own.
All in all, this e-trike for seniors is a great low-cost option, especially for those with mobility issues. Its powerful motor can generate an impressive pace to ensure a smooth ride, given that you ride it on clean, non-bumpy surfaces only.
It is important to note that this electric trike is not designed to carry a lot of weight. If it is your first time buying an electric trike and you have a limited budget, the MotoTec Electric Tricycle can be a good starting point.
You may like the following electric bikes:
Final Words
Electric trikes and tricycles are becoming increasingly popular among adults and seniors because they make it easy to move around quickly without worrying about balancing on two wheels or stability challenges. You can expect trikes to run smoothly even if they are loaded with groceries or cargo or if there are small hills on your way.
Besides, an electric motor feels quite natural on a tricycle or trike. In most trikes, the motor is attached to the drivetrain only. This is to ensure that you don't feel being pulled by the motor and you can enjoy a much faster speed than what you get under leg power alone.
Thanks to the ever-growing demand for adult-friendly electric trikes, you can find a wide variety of options in the market. You can use this guide to make a well-informed decision that pays you off in the long run. 
So, which of the models did you like best on our list of electric trikes for seniors? Our favorite has to be the mighty TerraTrike Rambler E.V.O. Featuring a slick, stylish design, this e-trike for seniors stands out with its ability to travel long distances while offering optimal speed, comfort, and convenience.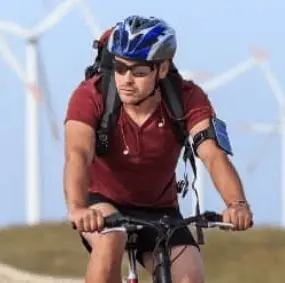 I am Michael, an avid rider and bike expert. I am here to provide, biking tips and expert advice on in-depth bike reviews covering features, capabilities, price range, and much more. Specially on electric bikes, mountain bikes, road bikes, etc. I will provide honest product reviews, along with expert advice on purchasing, training, and maintenance. Check out my complete profile.