Electric bikes have become very popular these days. They're different from electric cars that have taken the automobile market by storm. While they both use electricity to run, however, there are significant differences between the two.
Obviously, it's because a bike works differently from a car. In fact, electric bikes are different from electric motorbikes as well. While the principle of all electric vehicles may be the same (to run on electric power), each is different and has its own unique features. We'll be keeping our focus solely on electric bikes here.
We're sure there must be thousands of questions racing through your mind, like, can you charge an electric bike with a solar panel? Or how long does it take to charge an electric bike? You'll have the answers to all your questions, but first, let's understand what electric bikes are and how they work.
What are Electric Bikes?
Electric bikes don't look much different from regular bicycles; however, there is a major difference.
Electric bikes are powered through batteries which require electricity for charging. These batteries are connected to a small motor that assists you in pedaling your bike.
The pedals of an electric bike are called pedelecs. The only difference you might notice is that electric bikes have sturdier tires and are cooler to look at. Most electric bikes have a lightning bolt symbol on them that signifies that they're electric cars
If you still have to pedal, how is it different from a conventional bicycle? This is a question that many ponder over. Once you ride an electric bike, you'll be able to understand the difference.
An electric bike's pedaling is much smoother and effortless. You don't feel exerted after riding an electric bike as you would after riding a conventional bike.
The bike's pedals allow you to control your speed just like in any ordinary bike; however, your pedals are accelerated with more power and ease. This is a part of what makes electric bikes more desirable.
But you should understand that electric bikes aren't motorcycles, so they speed up to a specific limit only. The motor will stop you from propelling when you reach the 20-28 miles per hour mark.
Most electric bikes have the feature of switching modes. Two modes come in electric bikes, and these are eco mode and turbo mode. The eco mode is for low-speed trips on your electric bike, but when you encounter a steep slope, you can switch to turbo mode to speed up your bike.
This will help you in crossing slopes without over-exerting yourself. Plus, mountain riding becomes a lot more fun and simple with the turbo mode on.
Check out, How Fast Does a 1000W Electric Bike Go?
Can You Charge an Electric Bike with Solar Panel?
Now that you're aware of what electric bikes are, it's now time to understand how electric bikes are charged and whether they can be charged using a solar panel or not.
Electric bikes come with different battery capacities. Four voltages are most commonly available in electric bikes; these range from 24V, 36V, and 48V. The battery that has a higher voltage has more power.
Electric bikes are sold on a cost to power ratio; that's why knowing the battery's voltage is important.
If you want to opt for an electric bike with high speed, you should go for a 48V battery.
Some manufacturers can make an electric bike with a 72-volt battery as well on customized orders. But a 72-volt battery comes with its own set of risks. Users may experience electric shocks while riding a 72-volt electric bike. This is a serious safety concern.
The average time for charging an electric bike is approximately 6 hours. However, depending on the amp-hours, your battery may be fully charged in 2.5 to 3 hours. Amp-hour is a unit used to measure how much current your electric bike's battery can produce in an hour. This determines the time required for fully charging your electric bike.
Coming over to the main part, can you charge an electric bike with a solar panel? The answer would be yes. You can very easily charge an electric bike with a solar panel.
This is one of the most effective methods of saving money in the long run. You won't have to pay for electricity because it would be generated from solar energy.
While solar panels are expensive, many people are turning towards using them in their homes. If you already have a solar panel at home, you have nothing to worry about. You can just plug in your electric bike charger to an outlet and let it charge.
But if you don't have a solar panel, you can always get one installed. It is costly, but it will only benefit you if you look at long-term costs. It's very easy to recuperate the installation cost of solar panels.
Check out, Solar Charger for Electric Bike
DIY Solar Charger
If you don't have solar panels installed at your home, you can always make a DIY solar charger. They're a bit complex, but it is possible to create a solar charger.
But once you successfully make a solar charger, you'll find it a sustainable and pocket-friendly option than using a regular electric bike charger.
There are three things that you'll need for a DIY solar charger, these are:
Solar charge controller
Adapter cables
Your electric bike comes with its own charger that's plugged-in in any socket, and it charges your bike. You can use that charger and plug it into a solar panel instead of any other electrical outlet to charge your electric bike's battery.
A standard electric bike charger comes with two pins, and these are positive and negative pins. However, some electric bike chargers have a third pin at the top of the two pins. This pin is called a data pin.
If your charger does not have a data pin, consider yourself lucky, you can easily attach your charger to a solar panel. But if there is a data pin, you'll have to use a different power pin.
Now the next step is to use adapter cables and your electric bike charger and connect the terminals. Keep the solar charge controller in the center and connect both its positive and negative terminals to the positive and negative terminals of the solar panel and the electric bike's battery, respectively.
Now that everything is connected place your solar panel (along with your electric bike) in the sun. Choose a spot where there's a lot of sunlight and let your bike charge.
Check out, Can an Electric Bike Get Wet?
Can Electric Bikes Replace Driving?
Yes! An electric bike can replace driving. According to stats, the sales for electric bikes have soared in the past 2-3 years. The net worth of the electric bike industry is approximately $244 billion, and it continues to grow with each passing day.
While they're a bit on the expensive side, electric bikes have many benefits to offer, so people are using them even more.
According to a survey, approximately 55% of people said they would ride their bikes daily or weekly. However, after purchasing an electric bike, this number soared from 55 to a whopping 91%.
People are more inclined towards riding an electric bike because it offers more speed and easy acceleration. Moreover, you're don't feel as tired as you would after covering the same distance on a conventional bike.
The best part is that electric bikes are available in different styles to cater to many. You can carry 400 pounds worth of cargo on an electric bike at a speed of 15 miles per hour.
If you love to put on a street show with your bike, there's an electric bike for that as well. Basically, there's an electric bike for everything. This is why many believe that electric bikes could replace driving.
Riding a bike is easier and hassle-free. Plus, you get to save fuel money. Electricity rates are more stable than fuel rates, so it's a win-win situation, and even with electricity, you always have the option of using a solar panel to cut back on electricity costs.
So if you look at the bigger picture, it's just the cost of buying an electric bike, which can be recuperated in the long run.
Also, check out, Can You Pedal an Electric Bike With a Dead Battery?
Our Final Thoughts
Now you know everything about electric bikes, including how to charge an electric bike with a solar panel. Electric bikes are so much better than regular bikes in terms of speed and mobility. You don't feel like it's a chore to ride a bike with an electric bike.
The sales of electric bikes are skyrocketing because of all the benefits they have to offer. If you already didn't know, let us enlighten you that riding an electric bike has many health benefits as well.
Research has found that individuals who ride an electric bike daily for 40 minutes showed improved cardiovascular fitness and blood sugar.
Even if you don't follow an intense workout routine, you can still get some exercise by riding an electric bike. Only with an electric bike, you'll feel less tired, and it's more fun.
With newer models being released every day, the battery performance of electric bikes is increasing every day. Like we mentioned before, there are two modes in electric bikes, turbo, and eco.
Turbo mode can juice up your electric bike's speed, but you're more likely to run out of power quickly if you're on turbo all the time. So make sure you keep switching between the two modes.
On an ending note, we would just like to say that choosing electric bikes as a means of commute is the wiser and more sustainable choice. You can cut back on fuel usage, which is safer for the environment.
Moreover, using solar panels to charge an electric bike will be a complete "green" option. If you're an environmental enthusiast, this is the perfect opportunity for you to show your support to the green movement.
Related Posts: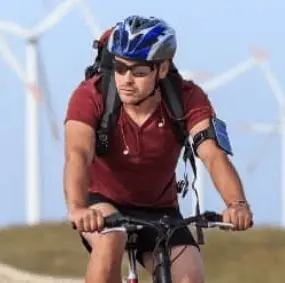 I am Michael, an avid rider and bike expert. I am here to provide, biking tips and expert advice on in-depth bike reviews covering features, capabilities, price range, and much more. Specially on electric bikes, mountain bikes, road bikes, etc. I will provide honest product reviews, along with expert advice on purchasing, training, and maintenance. Check out my complete profile.