Electric bikes have become a popular choice of transport for urban commuters and adrenaline junkies alike. They are environmentally friendly and are equipped with features that facilitate off-road adventures.
For those of you who are big fans of outdoor adventures, an electric bike with fat tires might be the perfect choice for you.
These durable and chic looking rides are versatile and practical for just about every weather and terrain combination. Aside from giving you great performance on off-road terrains, electric bikes are ideal for daily riding.
Most fat tire electric bikes come outfitted with 1000W motors to ensure that riders won't have to worry about performance issues.
But fat tire electric bike with 1000W motors aren't just for adventure seekers. If your daily commute means having to cycle over rough roads with lots of potholes, you'll find fat tire electric bikes perfect for the occasion.
Your only real challenge is to identify the ideal fat tire electric bike with a 1000W motor that suits your specific needs. There are so many models out there, that you're probably spoilt for choice.
Best fat tire electric bike 1000w
To help you make an informed decision, we've identified 7 fat tire electric bikes with 1000W motors that are affordable and come with various options.
Eunorau Fat HD 1000W Mountain Electric Bike
Specifications
Motor: 1000W Bafang BBSHD
Battery: 48V/15.6Ah
Weight: 62 lbs.
Charge time: 5 hours
Range: 45 miles
Eunorau is no stranger to good looking electric bikes that boast durable designs and lots of powerful components. The Fat HD holds up to Eunorau's reputation pretty well.
The Fat HD comes with a 1000W mid-drive motor courtesy of Bafang, one of the most powerful motors that also happens to be quiet. The motor draws its power from a 48V/15.6Ah battery source.
The battery can be easily removed to enable remote charging and is particularly useful when you don't want to lug around the entire frame of the bike with you.
On the list of features, we have a two height pannier rack with wide plates and spring-tensioned arms to hold small items.
The torque and size of the system are perfectly suited to the strong 13ga spokes. It's equipped with mechanical disc brakes that are only suited to lower speeds.
If you plan on cycling at higher speeds, we would encourage you to get bike upgrades (either directly from Eunorau or elsewhere).
The FAT-HD comes with a front headlight that draws its power directly from the battery. This is useful during regular commutes as well as traveling in the dark.
Meanwhile, the rear light on the FAT HD is detachable and is powered by two AAA batteries – not exactly as convenient but we're not complaining.
At 1000W of power, you'll face no problems climbing up steep hills even with moderate luggage. The FAT HD boasts a 48V battery that allows the bike to reach high torque and also has 15Ah to cover a longer range.
The display is neatly installed on the left side of the handlebars and shows you all the information you need. It comes with two buttons to co-activate pedal assist.
These buttons buzz when they're pressed; indicating that pedal-assist has been activated. While the display is quite a bit small, it comes with a full-color screen and a very recognizable automobile UI.
Overall, the Fat HD is a nice introduction for anyone who is new to fat tire electric bikes in USA. 
Click here to check prices.
Rungu Dualie Wheel Fat Tire Electric Bike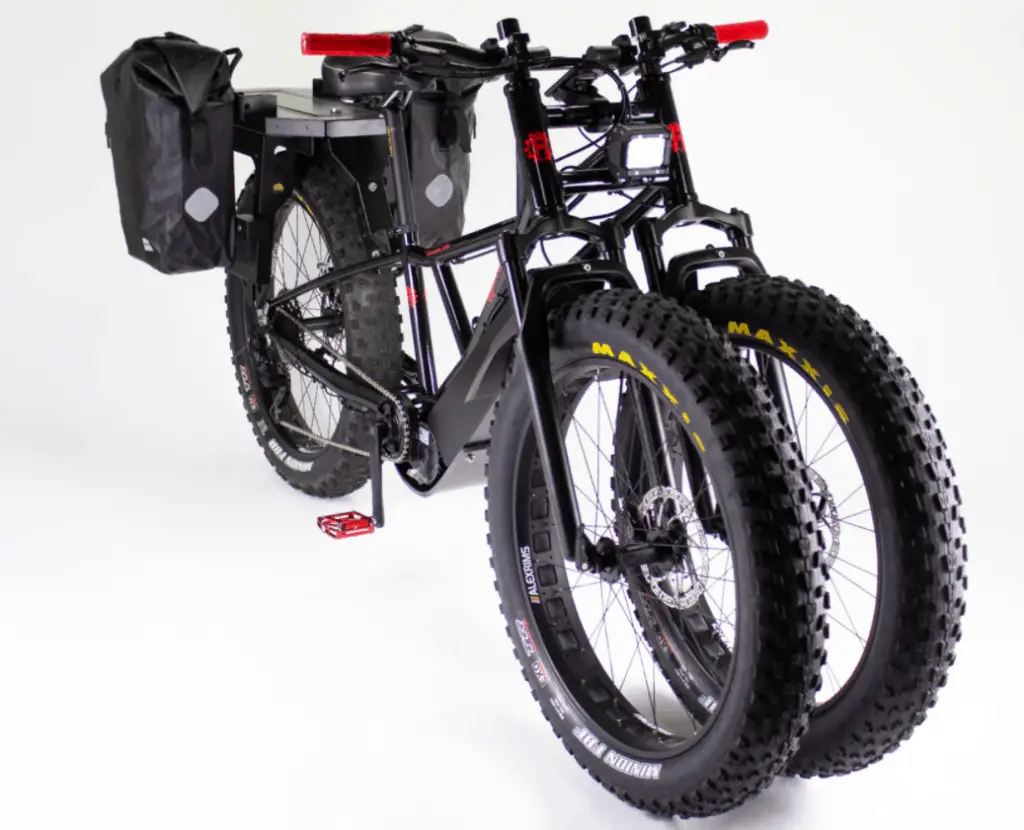 Specifications
Motor: Bafang 1000 Watt Mid Drive
Battery: 52V 15ah
Range: 20 miles on one charge
Weight: 115lbs.
With double front fat wheels, the Rungu isn't your average electric bike in the USA. It's easy to dismiss the Rungu as just another gimmick, but it's far from a marketing ploy to get attention.
The double front fat wheels on the Rungu are designed to solve a rider's biggest pain point: rough terrain. This electric bike fares better than most standard fat tire electric bikes with a 1000 W motor.
Rungu tried solving one of the most difficult engineering challenges facing electric bike companies in the USA today: how to build an ATV using bicycle parts?
The end goal was to make the Rungu as capable as an ATV but light and more controllable as a bicycle.
They've come pretty close to this plan.
By the way, this electric bike isn't like most tadpole tricycles – the two front wheels are spaced fairly close together. The small gap between the two front wheels allows the electric bike to mimic the handling properties of regular bicycles.
All you have to do is lean over on the inside wheel when turning, treating it much like a bicycle. The front double wheels mean you also get more stability, especially on uneven terrain.  
It features a 1000 watt motor with dual 52V, 15Ah removable lithium-ion batteries. This allows the Rungu to cover over 50 miles on one charge. Now that's just impressive.
The Rungu can also serve a utilitarian purpose beyond just recreation thanks to its towing capacity. You can pull a trailer carrying 300 lbs. of cargo with the Rungu.
All in all, the Rungu is generally well build and specifically designed to tackle these types of terrains. The only problem with this model is the price range at nearly $3,000 from some retailers.
However, the powerful motor and high capacity battery probably justify this price tag. 
Click here to learn more.
Check out How to Determine E-Bike Battery Amp Hours and Can You Pedal an Electric Bike With a Dead Battery?
Mule Fat Tire Electric Bike by Bakcou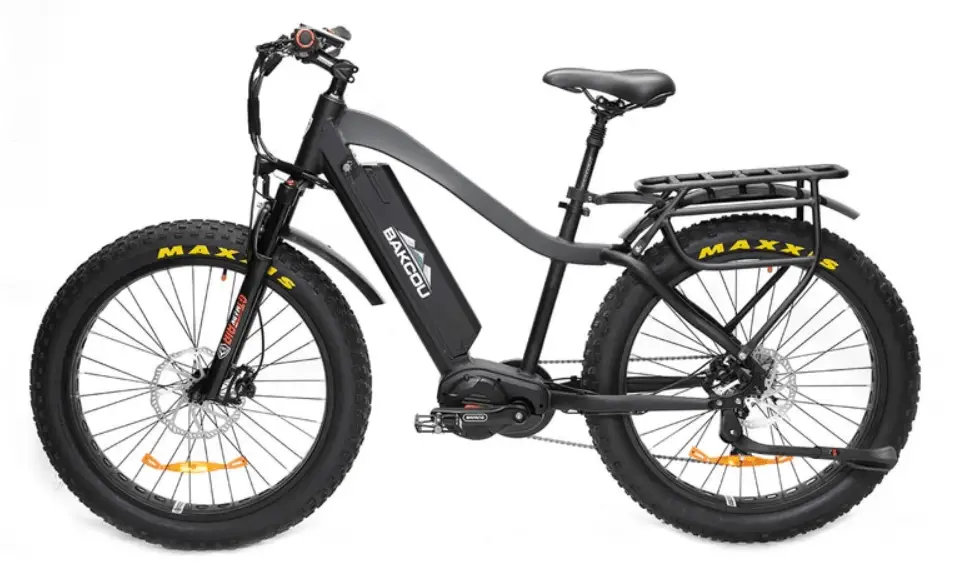 Specifications
Motor: Bafang ULTRA 1000W mid-drive motor
Battery: 48V 14.5Ah
Weight: 68 lbs.
Range: 40 miles
Mule is Bakcou's entry for outdoor enthusiasts who like climbing, exploring, and off-roading. It's designed to handle rough terrain and extreme weather conditions effortlessly, no matter where your next hunting trip takes you.
Designed for hunters, the Bakcou Mule lets you travel further and faster without compromising stealth, stability, or safety. This stellar combination of high performance and durability puts the Bakcou in a category of its own
It features a durable 6061 aluminum alloy frame made with extreme trails that are up to the task. The fat tires by Maxxis Minion measure 26 by 4 inches and can absorb all the shocks and bumps on most trails.
It boasts a powerful mid-drive by Bafang with options for 750W and 1000W. Furthermore, bringing this beast of an ebike to a full stop is easy thanks to the Tektro dual-piston hydraulic brakes. The motor allows you to reach speeds of up to 35 mph even on the roughest scenarios.
Besides offering unadulterated power, the heavy-duty ebike is paired with an integrated torque sensor. The sensors provide continuous feedback to the motor so you can control the level of performance at any given moment.
There's one bonus feature worth discussing: the walk-assist mode. This reduces the speed to 3 mph so you can walk with your Mule.
The Mule comes paired with a 48V battery available in three sizes: 14.5Ah, 17.4Ah, and 21Ah. All three options provide your bike with plenty of power.
And here's the best part: you can travel up to 40 miles on a single charge. The Mule is engineered to make efficient use of the battery – more so than the competition. 
All in all, the Mule Fat Electric Bike by Bakcou more than delivers on its promises.
Click here to check out prices.
The Storm by Bakcou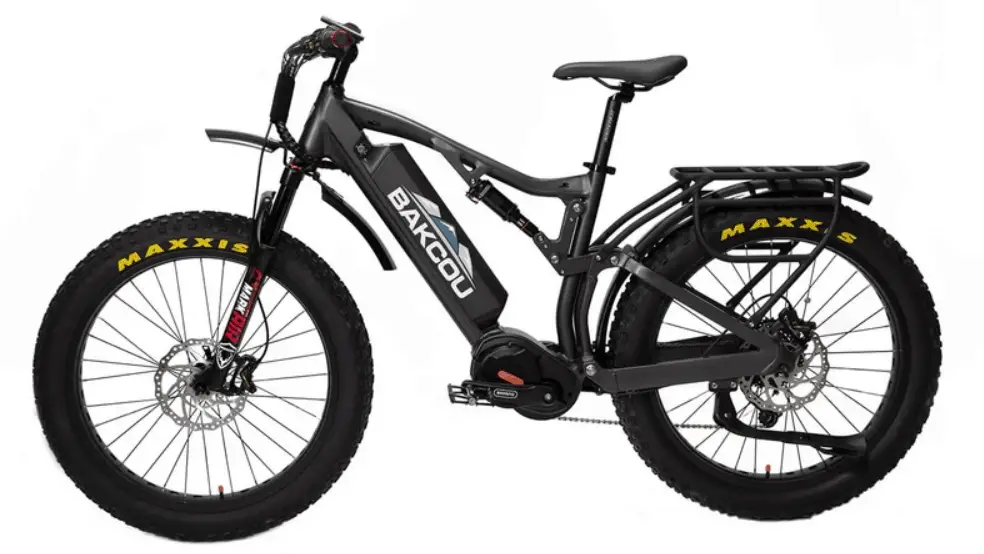 Specifications
Motor: 1000W Bafang Ultra Mid-Drive Engine
Battery: 48V/17.4Ah
Frame: 6061 Aluminum
Charge time: 6 hours
Range: 40 miles per charge
For those of you who are truly passionate about mountain fat tire electric bikes, Bakcou has something just in store for you: The Storm.
Like most Bakcou electric bikes, this one has been designed for hunters who spend a lot of time in the wilderness. A powerful electric bike that also happens to be quiet makes all the difference, and the Storm helps you do exactly that
This fat tire electric bike can be purchased in two different variants: 750W and 1000W. It is equipped with a mid-drive motor by Bafang with a torque sensor. You can easily reach top speeds of up to 40 mph.
The 9-speed gearing system courtesy of Shimano allows you to effortlessly climb up steep hills. Bakcou paired the Storm with a suitable battery that can provide enough juice to the motor. You can choose two variants of the battery: 48V 17.4Ah or 48V 21Ah.
Both options will comfortably cover a distance of at least 40 miles.
Thanks to the Tektro HD E750 Quad Piston Hydraulic disc brake system, it's relatively easy to bring the electric bike to a full stop.
It also features RockShox Monarch rear suspension Forks and BCEB GF MRK 120m Air front forks to fully control the 4" fat tires – regardless of the terrain.
A 6061 aluminum frame gives you the confidence you need to take the Storm on outdoor adventures.. The LCD is relatively easy to use and read too, giving you basic information such as battery level, speed, and the distance you've already covered.
Click here to check out prices.
AddMotor Motan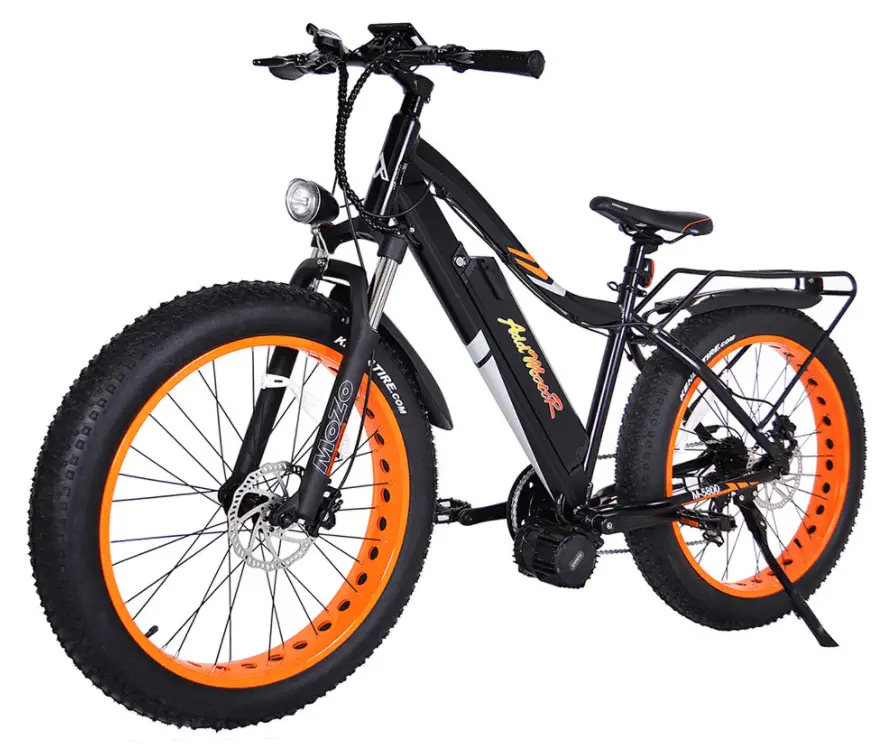 Specifications
Motor: M-5800 1000W Bafang Motor
Battery: 48V 17.5Ah
Charge: 7 hours
Range: 50 to 70 miles on a single charge
Weight: 73.5 lbs.
AddMotor is making waves in the electric bike industry with its popular entries. Among their most renowned ebikes is the Motan.
The Motan is an engineering marvel that features powerful components geared for off-road use. The 1000W motor lets you catapult into the wind and overcome just about every off-road obstacle you can think of.
It uses a sturdy 6061 aluminum alloy frame that weighs in at just 67 lbs., an unusual feat for fat tire electric bikes in the USA. The compact alloy frame has a curved top tube that slopes at a downward angle.
This allows the ebike to effortlessly overcome difficult trails and enables the rider to comfortably rest when the bike is at a stop.
AddMotor outfitted a 30cm quick release seat post that makes the ebike appropriate for individuals in the height ranges of 5'6" to 6'9".
The powerful 1000W brushless Bafang motor runs on a 48V 10.4Ah lithium battery. You can cover a distance of at least 40 miles under ideal conditions.
The Bafang motor is capable of scaling steep slopes and climb trails with up to 60-degree gradients. You can easily conserve your energy when it matters the most.
Like most electric bikes on this list, the Motan comes with a Tektro Auriga hydraulic braking system that is capable of bringing the ebike to a full stop. The braking system ensures that you can maintain control of the Motan at all times, even during muddy and wet conditions.
Given its durability and powerful components, the AddMotor Motan easily deserves a spot on our list.
Click here to learn more about this fat tire electric bike.
Cyrusher XF650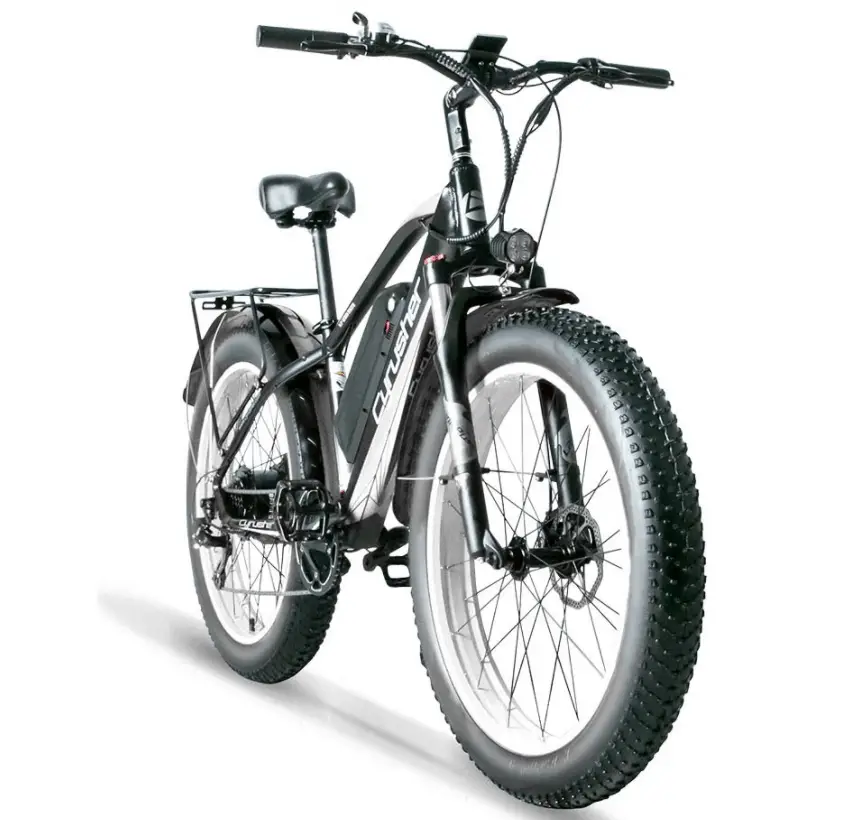 Specifications
Motor: 700W rear hub motor, 1000W peak
Battery: 48V 13Ah
Weight: 62 lbs.
Charge time: 6 hours
Range: 40 km
The Cyrusher XF650 is a powerful fat tire electric bike that can handle it all: from friendly bike lanes to relentless off-road trails.
The term 'Cyrusher' is derived from "cycling" and "rusher" – an apt name that Harry Xie chose to found the company. A 48V battery system is coupled with durable fat tires that result in an unusually fast ebike with no limits
A 1000W rear hub motor allows the Cyrusher XF650 to cruise along at decent speeds. What's more, this ebike is also very quiet, which is ideal for exploring the great outdoors without creating any local disturbances.
By default, the electric bike comes with a limiting 15.5 mph speed limiter. For off-road usage, you can easily remove this to achieve 26 mph.
Simply change the P08 setting to '50' and you're good to go.
However, you'll be trading off range for speed.
When it comes to components, the Cyrusher XF650 tries to go above and beyond with top-shelf items. The brakes are Zoom hybrid hydraulic disc brakes that use a cable system.
While the 7-speed Shimano shifter and derailleur leave a lot to be desired, it's good enough for recreational use. An integrated headlight runs directly off of the main battery and will illuminate your pathway.
The 4" wide fat Kenda tires get the torque down to the asphalt or dirt and make it easy to ride the bike through corners. The only problem with this bike is the braking system which may not be powerful enough at high speeds.
In terms of affordability, the Cyrusher XF650 is quite a bit affordable at only $1,800. At this cost, you're getting a high peak power, hybrid hydraulic brakes, higher tops speeds, and lots of variety.
If you want your electric bikes in America to have more speed and power, then the Cyrusher XF650 might be the perfect option for you. 
Click here to check out prices.
QuietKat Jeep e-Bike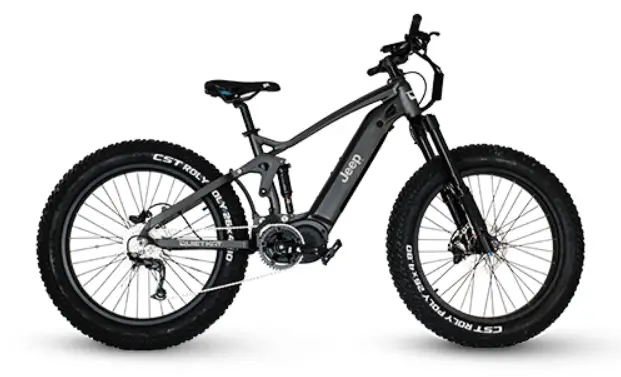 Specifications
Motor: 750W motor with upgrade option for 1000W motor
Battery: 48V 14.5Ah battery by Panasonic
Weight: 80 lbs.
Range: Up to 50 miles on a single charge
Charge time: 6 hours
QuietKat has made quite a name for itself over the years as the leading ebike manufacturer in the market. They specialize in making all-terrain ebikes that are suitable for off-roading.
Among their most popular entries is the Jeep e-bike, an intricate machine that features a stunning combination of technology and performance.
It is a full suspension ebike designed to easily explore rough trails and terrains. It is paired with a fire link suspension system and a four-bar linkage that greatly improves traction.
The four-piston hydraulic disc brake system is designed to give you full control on the road. This is extremely important when traversing challenging terrain where any tiny slips could result in accidents.
The Jeep e-Bike comes with fat tires measuring 26 by 4.8", which is perfect for traversing through various depths of snow, rocks, and sand. The thickness of the tires ensures that your ride remains comfortable through and through.
The ultra-drive 750-watt Bafang motor can deliver over 1000 watts of high performance at nearly 160nm, torque. What's more, is that you can easily switch the bike from class 1 through 3 ebikes.
The battery lets you travel up to 40 miles on a single charge, thanks to the careful use of the motor, Do keep in mind that you will have to recharge the bike for at least 6 hours.
For those of you who want more power, you can upgrade to the 1000W unrestricted motor kit that squeezes in more power.
This electric bike can be purchased in 17" and 19" sizes. It has a low standover height and geometry that keeps you balanced, which is perfect for scaling up steep hills. The Jeep makes it easier than ever before to traverse through the rough terrain.
This electric bike can carry weights of up to 300 lbs. ensuring that you don't run into problems with gear storage.
Click here to learn more about the Jeep.
You may like the following electric bike articles:
Bottom Line
The above 7 fat tire electric bikes with 1000 watt motors have all the features you need for off-road adventures. If you are looking for an all-around electric bike in the USA for every occasion, then the Rungu Dualie 3 Wheel will be worth the investment. It uses the perfect combination of technology and functionality to provide you with a superior riding experience.
Truth be told, any 1000W fat tire electric bike on this list will do you just fine.
Let us know if you want to see more listicles like this.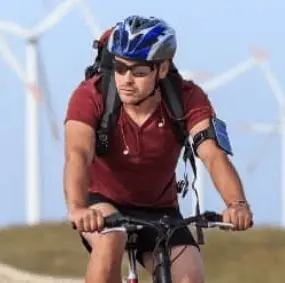 I am Michael, an avid rider and bike expert. I am here to provide, biking tips and expert advice on in-depth bike reviews covering features, capabilities, price range, and much more. Specially on electric bikes, mountain bikes, road bikes, etc. I will provide honest product reviews, along with expert advice on purchasing, training, and maintenance. Check out my complete profile.