'Electric bikes are the new secret to having fun, staying fit, and commuting to work or college. They are relatively budget-friendly, come in several designs, colors, and particularly require low maintenance.'
We are sure you must have read and heard these few things about electric bikes everywhere before you went out to purchase yours. And we will not lie; we ourselves have sung many praises about electric bikes, including how eco-friendly and versatile they are.
While electric bikes are surely much lower maintenance than, say, maintaining a car – cleaning an electric bike can still be a boring job, if not a tedious one.
But like most other things in life, keeping your electric bike clean and maintained gives it not only extra life and durability but also makes your riding experience pleasant.
However, just in case you didn't know – cleaning an e-bike is not just a matter of riding a tidy bike but is also extremely for you and your electric bike's safety. Accumulated dirt and grit can cause damage to the e-bike and even lead to accidents on the road.
This is why making sure that your electric bike is cleaned as frequently as needed is crucial. Listed below are all the pertinent questions and their answers that you may have about how to clean an electric bike.
How Often Should You Clean an Electric Bike?
This is a question that we get a lot, and to be fair, it is a very valid question, given how you can feel very lazy or bored whenever the idea of cleaning your e-bike passes your mind.
The correct answer to the question is that there is no fixed number of times you can wash your electric bike and how often you clean it will depend on several factors.
Also read, How to Clean and Lube Your Road Bike Chain
1. Usage – How Much do You Ride it
How frequently you should be cleaning an electric bike will largely depend on how much it is used over a certain period.
So, for example, if you take your electric bike out every day to work or college, you will obviously need to clean it more often (every 2-3 weeks) than only taking it out on weekends for a fun ride in the neighborhood.
So, look at how much you use your electric bike and then move onto the next factor.
2. Terrain – Where are You Riding it
This is another very important factor because the terrain directly affects the bike's chain, brakes, and suspension.
Even if you ride your electric bike every day to work, but it's a smooth, straight road to and from home, then your e-bike will not need cleaning as frequently.
On the other hand, if you went off-road on a muddy, dusty trail, even if only on the weekend, you would want to wash your e-bike as soon as you get back home.
Read How to Clean Disk Brakes on a Road Bike
3. Season – What's It Like in Your Region
Apart from usage frequency and the terrain, how often you are required to clean the bike will also depend on the weather conditions.
So, for example, if it is currently the rainy season where puddles of water are a common sight, you will want to clean the e-bike every week. Similarly, if you are riding in the snow – clean more frequently.
In short, a combination of all these factors will help you determine the exact number of times you should be cleaning an electric bike. What we can give you is a range.
So, if you have light to moderate usage on an even, smooth terrain is perfectly regular weather – you can procrastinate for up to 2 months.
However, if you have heavy usage, on muddy, dusty terrain, you must wash your electric bike at least once a week in severe weather conditions.
Just keep this golden rule in mind: the more frequently you clean your e-bike, the lesser time you will have to spend cleaning it each time.
If you clean it after a long break of, say, 2 months, the more thorough and rigorous your cleaning process will be to cut down on all the girt and dirt it has accumulated during all that time.
How to Clean an Electric Bike – Getting Your Hands Dirty
So, let the preparations begin, shall we? Like any process, cleaning an electric bike is also executed best when you lay out everything you will need and plan everything out before diving straight into work.
You do not want to remember in the middle of scrubbing your electric bike that you do not have any chain lube left. We share below a comprehensive list of all the items you may require, depending on what you already have.
Read How To Clean a Road Bike After Riding in the Rain
Things You May Need
Consider this to be your electric bike cleaning checklist. Layout everything you have and purchase the items that are missing.
Bike Cleaner solution or soap.
Sponge and brushes.
Bike degreaser
Disc brake cleaner
Chain lube
A water hose or bucket full of water (of course)
Your e-bike's user manual!
Getting Started
Now that you have all the cleaning supplies at hand, here are a few cleaning tips for e-bike to consider. Make sure you have checked for all of these before dowsing your electric bike in water.
1. Check your bike's IP value
This is what you will need your electric bike's user manual for. The number written under 'IP' will tell you how water-resistant your e-bike is. The higher the number, the more waterproof your bike is.
This is extremely important because if your bike has low water resistance, say an IP of 38 or less, then cleaning it with high water pressure can damage the bike. Using a bucket of water instead of a hose will work best in this situation.
2. Cover/remove the display
Make sure to remove the display to avoid any internal and electrical damage to the screen. As some electric bikes have their displays attached to the wheels, you can cover the display with a poly-film to ensure its protection from water.
Read A Step-By-Step Guide: 8 Steps To Clean Your Bike
3. Remove the battery
Most electric bike batteries are safely attached to prevent any arcing incidence. They have been built to withstand tough weather conditions like rain and snow.
However, electricity and water do not go well together, and so, to remain on the safe side, it is best not to test the waters (with the battery). Therefore, remove your e-bike's battery before starting to clean it.
4. Set the position of your e-bike to ease cleaning
While using a crank bar to rest your electric bike in an easily clean-able position is good enough, for better reach to every corner and crevice of your wheels, we suggest you place your electric bike upside down on its handlebars and seat.
You can further cover them in poly-film to avoid dirty water from running over them.
Read Mid-Drive Electric Bike Kit
Cleaning an electric bike
Now you are fully ready to start cleaning your e-bike. Follow the steps mentioned below to ensure thorough cleaning.
Step 1: Wet the electric bike
Use a water hose to wet the electric bike gently. You can use a glass to throw water on the bike from a bucket.
Whichever option you choose to go with, make sure the water pressure is not high. You do not water seeping into unwanted places – after all, it is an electric bike, and you have to be more careful.
While using a water hose get the job done faster, using a bucket of water gives you more control over which areas you want more water in and which will do just fine even with a little bit of water. Places like your battery compartment are best left dry altogether.
Also, read, How to Clean Dirt Bike Air Filter
Step 2: Scrub with bike cleaner or dishwashing soap
With a cloth or cleaning sponge, gently scrub the bike's frame with a bike cleaner or (if you do not have one) a dishwashing soap. Neither is hard to find, and both are easily available in the market.
Pay extra attention to crevices between pedals, tires, and brakes, as dirt can be tricky to clean from these places.
Step 3: Apply the bike degreaser to clean the drivetrain
Now comes your drivetrain's turn to get squeaky clean. This includes the chain, derailleurs, chainrings, and cassette. Apply the bike degreaser and let it stay on for 5 minutes. Once it has properly settled in the corners, wipe it off with a wet cloth.
Do not hurry with this step; take your time wiping the grit off from the sneaky places – your electric bike may look clean on the outside, but it's not properly done until you have taken care of those spots.
Make sure to never apply a bike degreaser to the brake callipers or brake pads! This will contaminate the brakes in a way that they are unable to function as brakes. This is why you have a separate product altogether to clean the brakes of your electric bike.
Read How to Clean A Mountain Bike Chain
Step 4: Scrub the brakes with a disc brake cleaner
Finally, you can clean the brakes now. Use your trusted disc brake cleaner to scrub the brakes gently but thoroughly with it.
We recommend using a good quality disc brake cleaner because the brakes' functionality can easily decline with the wrong product.
Stay away from any homemade cleaners because they can end up limiting the brakes' functionality. You obviously do not want to damage the bike in the process of cleaning it.
Read How to Clean A Rusty Bike Chain?
Post Scrubbing and Washing Protocol
As much as you want it, the cleaning process is not yet complete. You want to take care of a few important things after cleaning an e-bike to seal the job. And to be honest, it looks longer than theory than it will be in practice!
1. Dry your electric bike completely
No, even if it is a nice sunny day outside, do not leave for your electric bike to dry in the sun. Always dry it thoroughly with a cloth, making sure no excess water is left anywhere on the surface.
If any area stays wet, dust and dirt will accumulate on the bike much faster, and you do not want that after spending all this time cleaning it.
2. Check the battery compartment twice!
Out of other tips for cleaning an e-bike, this one is extremely important to prevent electrical damage.
Even though the battery compartment of any electric bike is specially designed to be waterproof, you do not want any moisture in the compartment before reinstalling the battery your previously removed.
Read How To Clean a Bike Chain with Household Products
3. Apply the chain lube if needed
Finally, only perform this additional step if you think the electric bike's chain needs some lubrication.
If you clean your electric bike very frequently, you need not use any chain lube – however, if you are cleaning after a long time, there is no harm in lubricating your bike's chain for better performance.
One f the tips for cleaning an e-bike is to use a spray lube instead of a liquid one, as it is easier to apply.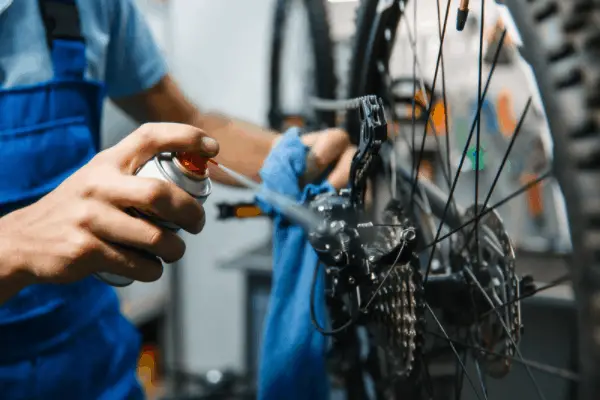 You may like the following electric bike articles:
In a Nutshell
How to clean an electric bike is a pressing concern in many new e-bikers' minds, and it is perfectly natural to feel a little overwhelmed at the start.
But once you have lain out all your cleaning supplies and outlined the whole process in mind, doing the actual cleaning is pretty simple and can even become an enjoyable experience if you plug in your favorite songs.
Regardless of how long it takes to get your electric bike all squeaky clean, the result is always rewarding! We hope that our effective tips for e-bike help you begin, execute, and complete the whole cleaning process flawlessly.
If you are considering buying a second electric bike for someone in the family, do not forget to check our post on the best electric bikes under $3000.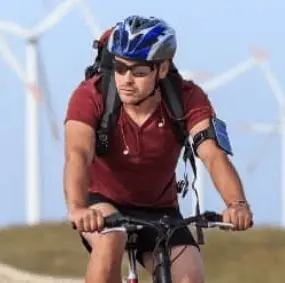 I am Michael, an avid rider and bike expert. I am here to provide, biking tips and expert advice on in-depth bike reviews covering features, capabilities, price range, and much more. Specially on electric bikes, mountain bikes, road bikes, etc. I will provide honest product reviews, along with expert advice on purchasing, training, and maintenance. Check out my complete profile.