There's a common assumption that tricycles are for children who haven't learned how to ride 2-wheel bikes. However, that's wholly untrue as there are many trikes for adults that provide a more stable ride when you have trouble balancing. Therefore, trikes are an excellent mode of transportation for people with disabilities and senior citizens.
What are the best 3-Wheel Electric Bikes? Here is the list of best 3-Wheel Electric Bikes, 1. Raleigh Tristar 3-Speed, 2. Addmotor Step-Thru Electric Fat Tricycle, 3. EWheels EW-29 Electric Trike, 4. TopMate ES31 Electric Foldable Tricycle, 5. Belize Bike Twin Tri-Rider.
Electric 3-wheel bikes improve accessibility even further. These trikes allow people to travel by putting in little to no power for pedaling. Thus, it makes this mode of transportation efficient, comfortable, and fast.
What's more, many of them have storage compartments that allow you to carry things without much effort. Also, because the trike is powered by electricity, you won't feel the burden of lugging around that additional weight!
In addition to better stability and convenience, electric 3-wheel bikes are also a safe mode of travel. They have a lower chance of skidding on ice than 2-wheelers, and if you lose balance, it won't topple, making it great for New York winters.
Considering the attributes of electric trikes and the fact that they're eco-friendly, many people are choosing these devices to travel in this day and age.
Best 3-Wheel Electric Bikes: Top 5 Picks 
There are several advantages of investing in an electric trike, as discussed above. That said, there are many 3-wheel electric bikes in the market, each with its pros and cons. So, it's best to know what your options are before you make your decision.
Here are our top picks for some of the best 3-wheel electric bikes out there. Take a look at the specifications and features of each and pick one that best suits your needs and budget.
Check out, How to Remove a Speed Limiter on an Electric Bike.
1. Raleigh Tristar 3-Speed – Best Simple 3-Wheel Electric Bike for Daily Commute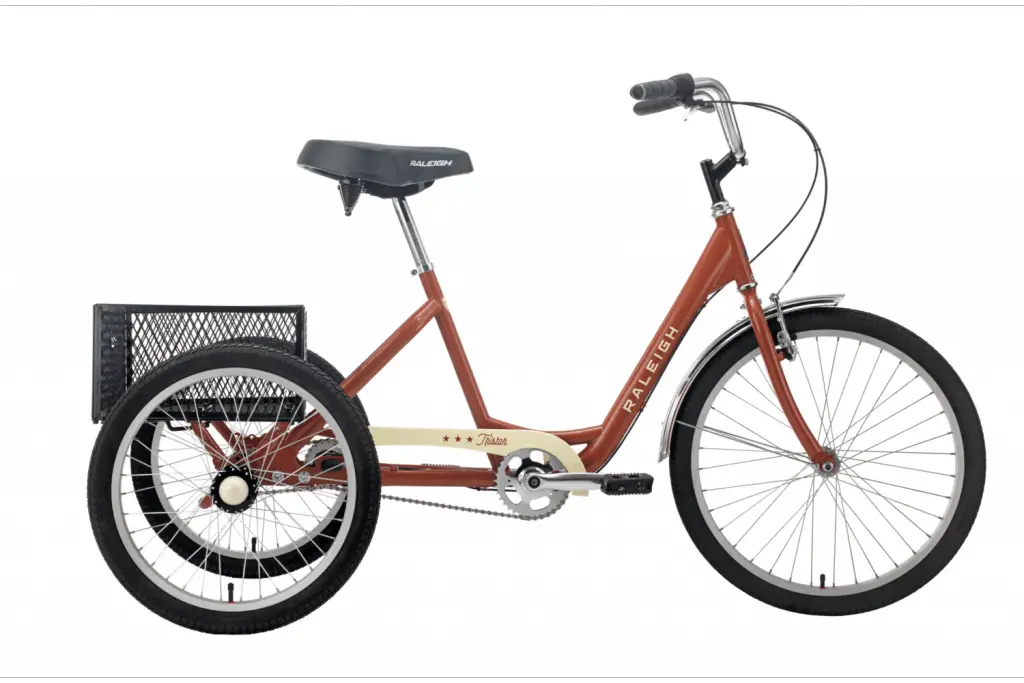 Specifications
Front wheel diameter: 24 inches
Rear wheels diameter: 20 inches
Transmission gear: 3-speed
Brakes: Front AlloyV-Brake, Rear Coaster Brake
Maximum speed: 15 mph
Battery: 48V 8.7ah lithium battery (417Wh)
Motor: TranzX 350W mid-drive motor
Charging time: 4 to 6 hours
The Raleigh Tristar 3-Speed is the best 3-wheel electric bike for people who want a simple and reliable way for daily commuting. This trike has a steel frame, making it exceptionally lightweight yet sturdy.
It weighs about 53lbs, allowing you to move it around easily after you dismount it. Stepping off of the trike is also comfortable as it has a low step-through frame.
The bike also comes with a basket at the rear of it so that you can transport your things with ease. Thus, this trike is perfect for grocery runs and daily commuting, as you can keep your bag in the basket when going to and returning home from work.
The trike's 350W motor ensures a smooth ride, and shifting gears should be no problem. The motor is also capable of good acceleration and enough power to get you over inclines with ease. When coming down inclines, the responsive brakes will keep your vehicle steady.
While the motor on the trikeis good for getting to places comfortably, it won't help you get somewhere quickly. With a top speed of 15mph, it is on the slower side of most 3-wheel electric bikes.
You should note that this trike is not a full throttle assistance vehicle. So, you will need to pedal to engage the motors. Also, the trike is not built for offroad, so it's not the best option if you tend to traverse on offroad terrain a lot.
In short, this trike is not built for speed or various types of terrain. It's a comfortable, simple, and convenient trike that you can use to travel within your town or city with ease and on your own. It's also reasonably-priced, so it won't put a dent in your finances.
Also, read, What Is A BMX Bike?
2. Addmotor Step-Thru Electric Fat Tricycle – Best 3-Wheel Electric Bike for Trail Riding and Long Distances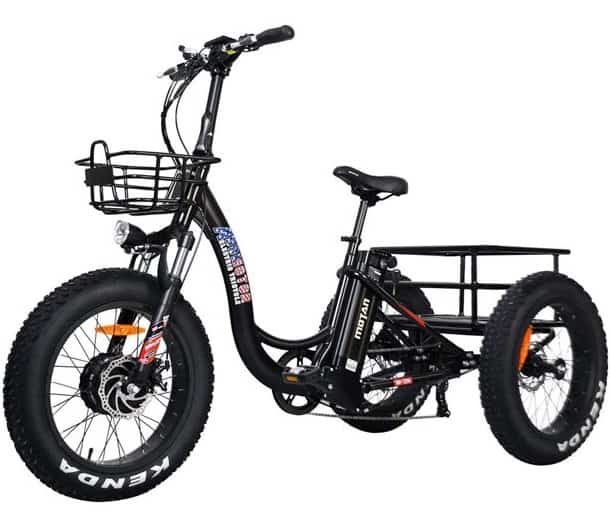 Specifications
Wheel diameter: 20 inches
Transmission gear: 7-speed
Maximum load weight: 350lbs
Maximum speed: 22 to 23 mph
Battery: Removable 48V*16Ah Lithium Panasonic Batteries
Motor: Front-mounted brushless geared hub motor 48V*750W
Charging time: 5 to 6 hours
Range on a single charge: 45 to 55 miles
The Addmotor Electric Fat Tricycle is the best 3-wheel electric bike for trail riding and traveling long distances. It's 750W, 7-speed motor is great for getting through various terrains with ease and over inclines comfortably.
In addition to that, its fat tires (20" x 4")make for an overall comfortable ride where you go. That, coupled with its excellent suspension system (including additional suspension in the seat post), can cushion even the harshest bumps on your trail.
Therefore, this trike is great for offroad riding. However, slow down on sharp turns to avoid toppling over. So, this bike is ideal if you want to ride it under the Texas sun.
The 48V battery enables you to travel long distances on a single charge. You can travel approximately 45 to 55 miles without needing to charge it. Of course, the exact distance will depend on your commute and the amount of weight you load onto the trike.
The trike also comes with two baskets for you to store and transport your things in. There's a small basket at the front, just above the front wheel, and a large basket at the rear, behind the seat. With a maximum load capacity of 350lbs, you can easily stop for some grocery shopping during your daily commute and still travel home comfortably.
The 3-wheel electric bike also comes with a 5-inch LCD screen that provides details about your travel distance, charge levels, and other important things related to your bike. This way, you'll know exactly when you should switch pedal assistance or use full throttle.
Yes, this trike does have a twist throttle, providing extra accessibility for those who cannot afford to pedal consistently.
While the Addmotor Electric Fat Tricycle has some interesting features, it does come at a high cost. This trike comes under the mid-range category and can be purchased for a little under $3,000. Thus, you must consider what you're looking to use your trike for and determine if this price point is worth it.
Read: What is a Tandem Bike?
3. EWheels EW-29 Electric Trike – Best 3-Wheel Electric Bike for Every Type of Rider and Offering Great Value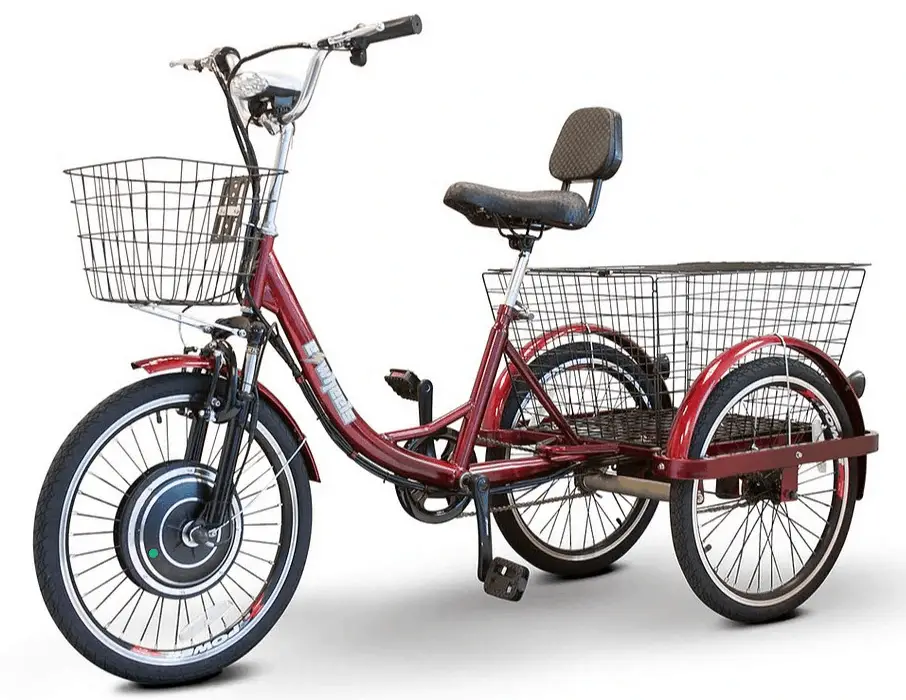 Specifications
Front wheel diameter: 22 inches
Rear wheels diameter: 20 inches
Maximum load weight: 400lbs
Brakes: Front brake disc braking, rear expansion brake
Maximum speed: 15 mph
Battery: Sealed lead-acid maintenance-free battery48V (4) 12V
Motor: 500W direct-drive hub motor
The EWheels EW-29 Electric Trike is the best 3-wheel electric bike for every type of rider that wants to commute with ease and shop to their heart's content. This trike offers users a variety of features at an affordable price point, making it a great value proposition for users.
First off, the 500W motor will provide you with good acceleration and relative ease while climbing inclines. The front and rear braking systems will also keep the vehicle steady when descending steep slopes and turning sharp corners.
Whether you're driving in the day or night, you'll be comfortable riding the EWheels EW-29. This is because the seat has an oversized seat allowing you to sit comfortably for longer periods.
In addition to that, the seat also has a backrest, allowing you to lean back and ride. You can surely limit lower back pain with this electric trike.
Also, this trike has an LED headlight that'll light up the road at night for better visibility. This feature can be quite useful in places like Canada or other places where the sun sets relatively early.
Another feature that improves comfort when riding this trike is that it has full throttle assistance with twist throttle support. So, if you don't feel like pedaling, you can rely solely on the motor for moving you around. However, if you want to conserve battery, you also have the option of pedaling it as well.
The EWheels EW-29 comes with two baskets, both of which are relatively large. There is a smaller basket at the front of the trike and a large one at the rear of the trike, just behind the driver's seat. With both of these baskets present on the trike, the vehicle can allow you to load it with a maximum weight of 400lbs.
This trike is priced at $2,000, but it is available for $1,600 as well. While that is considerably more expensive than Raleigh Tristar 3-Speed (which costs about $650), it does provide quite a few more features than the more affordable Raleigh Tristar 3-Speed.
That said, this trike also has a similar top speed to the Raleigh Tristar 3-Speed (15mph), which can be a problem for people who are looking for something a little faster.
4. TopMate ES31 Electric Foldable Tricycle – Best Foldable 3-Wheel Electric Bike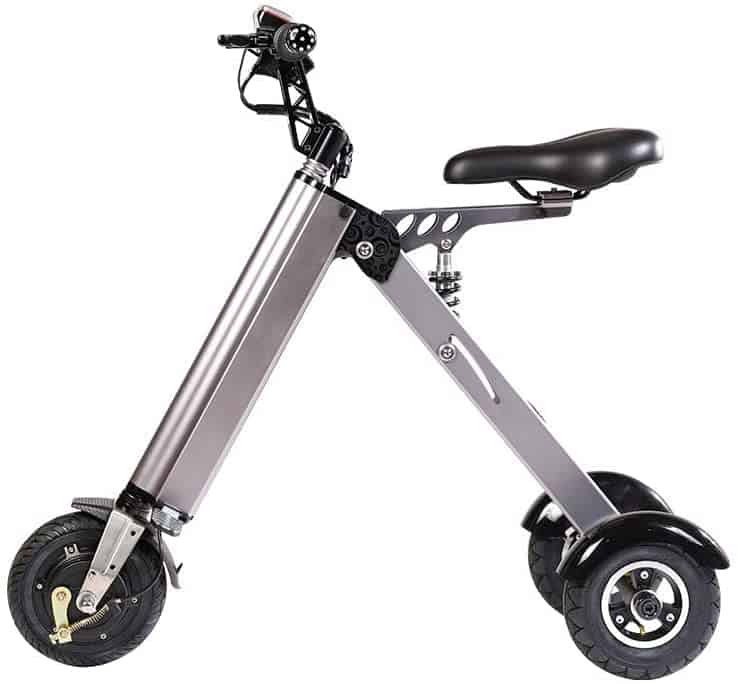 Specifications
Transmission gear: 3 speed
Load capacity: 220.5lbs
Maximum speed: 14 mph
Battery: 18650 Lithium battery
Motor: 250W Controller motor
Charging time: 3 to 4.5 hours
Range on a single charge: 12.4 to 18.6 miles
If you're looking for an electric trike that's light and easy to move around, the TopMate ES31 Electric Foldable Tricycle is a fantastic option. It's not like a traditional tricycle; instead, it's a mini trike with small wheels.
However, what's great about this trike is that it can be easily folded, allowing you to carry it and keep it indoors or on the bus. Therefore, it's our best foldable 3-wheel bike.
This mini trike also takes only about 3 to 4.5 hours to charge (depending on the charge level) and can be used to travel short distances with ease. So, you can use it as a great alternative to walking and getting back from a bus stop quickly and comfortably.
For its size, the Top Mate ES31 Electric Foldable Tricycle can reach a comfortable speed (max speed 14mph). It comes with a 3-speed transmission that you can use to keep your ride comfortable at different speeds.
The trike doesn't have any pedals, so you will have to rely on its electric power alone. You can control the speed of the vehicle with the twisting throttle on the handlebar.
This foldable trike also keeps itself stable at high speeds with a suspension system consisting of three shock absorbers. The rear wheels have two shock absorbers, and the seat has one as well. As a result, users will feel comfortable at bumps, and the ride won't feel jumpy when it picks up speed.
While the portability of this foldable mini trike is fantastic, it does come with its disadvantages. First, it has no storage areas. So, you won't be able to carry groceries with you or bring your pet along with you. The maximum weight limit is also only 200lbs, so this trike is not perfect for all people.
The fact that this mini trike doesn't have any pedals can also be a disadvantage. It means that you'll have to rely on electric power alone. So, if you run out of battery while you're using it, you will have to carry it and move it around.
No pedals also mean that you can't save battery by using a mix of both pedaling and electrical power. So, this trike is a good option for those users who don't need to travel long distances.
This mini trike is also not the best option for people with disabilities who have trouble balancing. The rear wheels are relatively close to each other, so it's not stable when you're stationary.
Therefore, you will need to know how to balance this trike if you want a steady and safe ride. With that in mind, this mini trike is not the best option for elderly citizens.
5. Belize Bike Twin Tri-Rider – Best Tandem 3-Wheel Electric Bike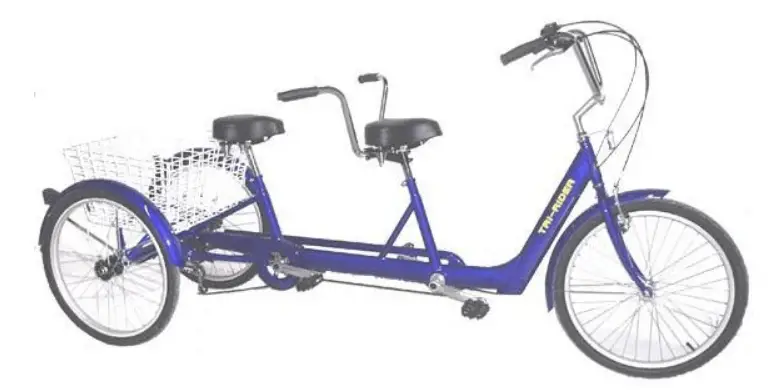 Specifications
Front wheel diameter: 24 inches
Rear wheels diameter: 24 inches
Transmission gear: Shimano 6 speed
Weight: 70lbs
Maximum speed: 20 mph
Brakes:  Band rear brake and front v-brake
Battery: 48V12Ah SLA battery pack
Motor: Front brushless hub motor500W
Range on a single charge: approximately 19 miles
Do you enjoy getting some fresh air and biking with your friend or loved one? If so, then perhaps the Belize Bike Twin Tri-Ridertandem 3-wheel bike is made for you. This is our best tandem 3-wheel electric bike as it offers great value.
If an electric trike is proving too expensive for you, you can also get the same model without electric power. However, because this is a guide on electric 3-wheel bikes, we're only focused on the electric model.
This tandem 3-wheel bike comes with a 500W motor, which is enough to carry two adults up inclines with ease. It also has throttle-on-demand or pedal assist, so you choose between riding comfort or saving battery.
The Belize Bike tandem trike also comes with a relatively large basket at its rear. So, you can take a few along with you for a picnic, for example. This tandem electric trike would be great for going to the beach in Florida with your friend on the weekend
That said, the maximum distance it can cover in a single charge is approximately 19 miles. So, make sure to keep that in mind before considering traveling long distances.
Belize Bike is not typically known for creating premium quality bikes, so the brakes and suspension systems are nothing to write home about. Therefore, you should avoid riding this tandem trike on any other terrain than asphalt.
Also, the tandem electric trike comes partly assembled. Thus, you may need to take it to a professional bike shop to assemble it for you. With all of that said, the build quality is fairly good, and the motor and battery are good to keep you moving without trouble.
You should note that this electric trike is not produced by Belize Bike anymore; it is replaced by the Tri-Rider Buddy Trike Electric.
Unfortunately, the newer model is suitable for only transporting 2 children (in addition to the adult in front) or a small adult (a maximum weight of 135lbs) in the rear seat. Therefore, if you can get your hands on this older and better model, it provides better value.
You may like the following electric bike articles:
The Bottom Line
It's difficult to say which is the best electric 3-wheel bike. Every person is unique, and their requirements will differ. Thus, there are many things to consider when purchasing a trike for yourself or a loved one. Some of these include its design, the amount of distance it can cover, the storage options available, the dimensions of the vehicle, and of course, the price.
It's up to you to determine what you plan to use your electric 3-wheel bike for. Whether it's for daily commuting, shopping, trail riding (offroad), or traveling with a friend, you should pick one that allows you to do what you want to do within your budget. With the five best electric 3-wheel bikes mentioned above, your decision should be a lot easier. Good luck!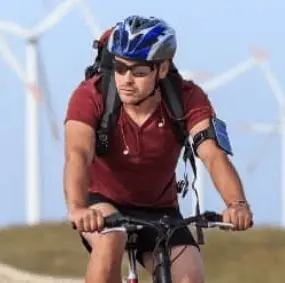 I am Michael, an avid rider and bike expert. I am here to provide, biking tips and expert advice on in-depth bike reviews covering features, capabilities, price range, and much more. Specially on electric bikes, mountain bikes, road bikes, etc. I will provide honest product reviews, along with expert advice on purchasing, training, and maintenance. Check out my complete profile.