Are you a parent looking for an alternative to cars and SUVs?
Enter electric bikes with child seats!
The latest models are exclusively designed for families and can transport you and your kids around safely and comfortably. Cargo bikes make you and your family more mobile, so you can spend more time together, have more fun, and go down to school with style. It also means fewer hassles with parking, traffic, and of course, the environment.
Because the environment matters. 
But why Electric Bikes?
Electric bikes have enjoyed a massive surge in popularity in recent years. They use pedal-assist electric motors to help you easily rack up several miles (in the double digits) on a single battery charge without breaking a sweat (okay you may sweat just a little).
However, the tech that makes this possible comes at a price. But if f you run a cost-benefit analysis of these electric bikes with child seat, you'll realize that the features more than make up for the steep price hike.
You may like, Best electric bike for long distance touring.
Electric Bike with Child Seat Can be Accessorized for Your Needs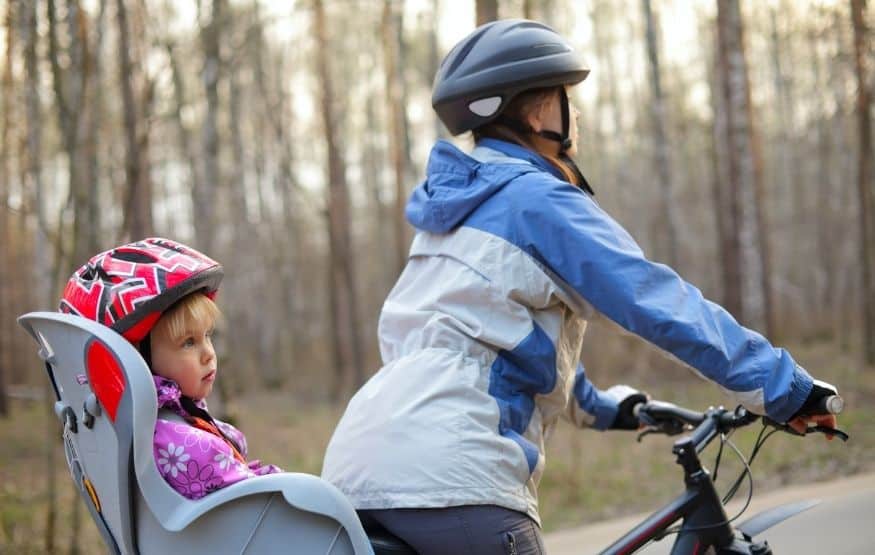 Once you have purchased an electric bike with a child seat, the journey isn't over – yet. You can purchase aftermarket kits to maximize your ebike's utility.
Start with the manufacturer's website and try to buy items that are specifically designed for your electric bike in the USA. The advantage of buying from the manufacturer is that you won't have to worry about the issue of compatibility.
Or you could invest in a bakfiet like the Riese & Muller Load 60 that comes with a giant box to let you stuff anything in there, including kids (don't worry, there are seat belts for your kids).
The best way to figure out your style is to get out there and haul weight.
Read, Bike Chain Skips When Pedaling Hard and Best mountain bikes under $2,000.
Best Electric Bikes with Child Seat
To help you find the most compatible options, we've rounded up the best electric bikes with child seats that let you haul it all, including kids, cargo, and more.
1. Rad Power Bikes RadWagon
The Seattle-based Rad Power Bikes is known for its high-quality products, and among the most popular of these is the RadWagon. In fact, we've done quite a few stories on this electric bike's feats. The best part about this ebike is that it will fully replace your car (at least over shorter distances).
It is one of the best electric bikes with a child seat out there, allowing you to take your kids to school, commute to work, and do some grocery shopping. Meanwhile, your car collects dust in the garage.
We would like to mention that the RadWagon isn't for everyone – it's a bit longer, heavier, and has a larger turning radius that can be a bit difficult to adjust for new riders. However, the RadWagon comes with this powerful battery that compensates for some of these issues.
Unlike most electric bikes with child seats, the Rad Wagon will let you speed past other bikers as you commute to work or visit the grocery store with two kids on the back deck.
This electric bike in Florida is super sturdy so you won't have to worry about crashing down uneventfully with all your cargo scattered on the pavement.
Of course, the only drawback with the RadWagon is that it's extremely heavy. However, it does come at a price point that makes it super affordable despite being a cargo ebike.
It costs about $1,500, give or take – which is absurdly low for a cargo bike. We're surprised how Rad Power Bikes even stays profitable at this price point.
The RadWagon is affordable because it sacrifices several bells and whistles that we often take for granted with ebikes, such as Bluetooth, GPS tracking, app control, and anti-theft measures.
Check out, Hardtail vs. Full Suspension
It's Not the Best Looker Out There
Admittedly, the RadWagon was designed as a utility ebike first, with style and aesthetics taking the backseat. It's got a hulking aluminum frame and a beefy 672Wh battery attached on the down tube.
However, it's still a crowd stealer and you'll be surprised as to how many people will stop you to ask about the bike's specifications and prices.
For obvious reasons, the RadWagon is really popular with parents because it has two child seats on the back. To make hauling older kids easier, Rad Power Bike sells various accessories such as fixed rails and seat pads to stabilize the ride for your kids.
If you remove the rails, you can also provide enough space for a fully grown adult.
Do keep in mind that this electric bike with child seat has a maximum carrying capacity of around 350 lbs., with the rear deck rated at 120 pounds.
It's also worth noting the thoughtful running boards made of wood on either side of the electric bike, this will come in handy when your children want to climb up onto the seat. Oh, and the center kickstand is durable enough to keep the ebike upright as your child mounts up.
Read, What Is a Cyclocross bike and Why You Should Buy One!
It's Heavy Though
At maximum carrying capacity (with kids and cargo at the back), the RadWagon can start to show its limitations, especially when you try riding uphill.
But this is to be expected of bikes – they're not behemoths like SUVs. This is where the seven-speed gear shifter really shines, as it makes those heavier trips a walk in the park.
You can easily control the gear shifter with the RadWagon's intuitive interface: a paddle to shift up and a button for shifting down.
The RadWagon's range is between 25 to 45 miles, but you'll soon realize that heavy cargo will quickly deplete battery.
And you don't want to ride the hulking 33kg RadWagon without a battery or motor because of the sheer weight, so we recommend checking the battery level before planning your trip.
It does come with regenerative braking, but it's obviously not enough to eke out enough juice to power your entire day. This is why we recommend leaving the RadWagon connected to a power outlet overnight.
Due to the lack of anti-theft measures, we don't recommend parking your ebike in public if you're afraid of it getting stolen.
The best part about the RadWagon is that it sells for $1,500 and is arguably the best electric bike with child seat in 2021.
At this price point, it's cheaper than practically every other e-cargo bike on the market. So if you want something that comes close to replacing your car, then be sure to check out this electric bike in the USA.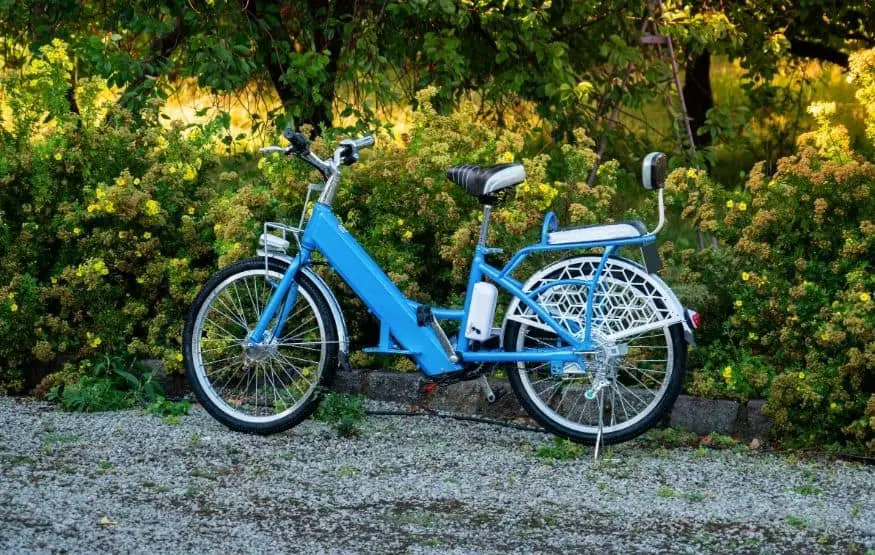 Read Fastest Electric Bike in the World
2. Tern GSD S00
Tern's GSD has been met with much praise among critics and bikers alike. This all-in-one compact electric bike with child seat comes with a heavy-duty build – and its price tag reflects that.
At a price tag of nearly $7,000, the GSD S00 leaves no stone unturned to make your riding experience a pleasant one. It features a powerful motor, an Enviolo variable hub, and a robust uprated stand.
All of these features contribute to its hefty price tag. If you go for other extras, such as a backup battery (highly recommended for longer trips) and additional rear-seat pads (for the kids), you're looking at an additional $1,000 of investment.
That's a ton of money for any bike (electric or otherwise), but if you want a solution that works and lasts, with lots of power for massive hauls (up or down the steep hills), then it's hard to recommend anything other than the GSD S00.
The center of gravity, sturdiness of the frame, and weight of this electric bike with child seat make the riding experience very enjoyable, even with heavy loads on the back. 
You may also like, How Fast Does a 1000W Electric Bike Go?
At a Glance
The GSD has a long tail and has small wheels with lots of cool features. Its 20" wheels and compact riding position go hand in hand to get you a lot of potential loading space. For a long tal, the GSD isn't significantly longer than standard bikes.
The GSD features two panniers on either side with lots of capacity for hauling massive cargo. There is also space for two people on the rear rack using optional foot runners and padded cushions (that you'll have to purchase separately). The rack can be outfitted with two child seats as well.
Buyers can choose from the standard 63Nm Performance Line by Bosch or the much beefier (and expensive) 75NBm Bosch Performance Line CX. It also comes with a safety lock that's key matched to the battery, to allow you to use just one key for every lock on the ebike.
We recommend going for Enviolo's CVT hub for the GSD S00. It has an impressive range of 380%. The cargo-spec CVT hub is designed for taking longer loads for prolonged usage, which ensures a longer service life.
One distinct advantage of the GSD S00 is that unlike other electric bikes with child seats, it is designed in a way to not take up more storage space than a conventional bike. That's just impressive when you realize just how much weight this ingenuous ebike can carry.
This means you can store the GSD S100 anywhere you want (even indoors). No space in garage? No problem! You can fold the handlebars and push the seat downwards to make the GSD S100 more compact.
And if you're really running out of storage, you can just as easily stand the S100 on its end with the help of a four-legged rear rack.
Moreover, the handlebars and seatpost are easy to adjust with the help of quick-release clamps, allowing the GSD to fit riders of all sizes with a few adjustments. 
All in all, this electric bike with child seat is designed to give you a lot of joy. It's practical, fun, and convenient to use – so if the higher price tag isn't a problem for you, we recommend the GSD S100 over the RadPower.
3. Kona Electric Ute
Kona's marketing pitch for the Electric Ute is very similar to the one used for RadWagon – it seeks to replace your car.
The Electric Ute comes with all the bells and whistles that you would expect from any cargo electric bike with child seat. But is that enough for this electric bike in Florida to live up to its high expectations?
Well, a cursory glance at the Electric Ute will reveal a few shortcomings, which means it's probably not the best cargo electric bike out there. This isn't necessarily a bad thing – because the bar has been set exceptionally high thanks to the likes of the GSD S100.
So how does the Electric Ute hold up to other cargo electric bikes in Detroit?
The Electric Ute features the standard 6061 aluminum frame with 650b wheels. It packs a lot of power thanks to the use of the 250W Bosch Performance Line motor with a 500Wh battery.
The Performance Line allows the bike to power up to 63Nm of peak torque, which is slightly less than the 75Nm Performance Line CX, but powerful enough to carry heavy cargo on most terrains.
It also features bulky panniers designed by Kona itself, fashioned out of durable waterproof material and safely secured using tough bungees and metal hooks. The panniers are massive and designed to carry up to a week's worth of cargo effortlessly.
An integral component of the ebike's frame is the bulky aluminum, with a stylish wooden deck over the top. There is enough room for a few Yepp child seats and just about all manners of cargo.
The promo video for the Electric Ute shows it being used to transport beer kegs, guitars, and a host of other items that you would probably not carry with you.
With that said, Kona didn't really provide that many options to its users, with the exception of a rear deck compatible with Yepp child seats.
There are no foot rails, monkey bar kits, padded seatpads, or foot pegs, which makes for an underwhelming experience when compared with other options on the market. 
Built-in Lights to Help You See in the Dark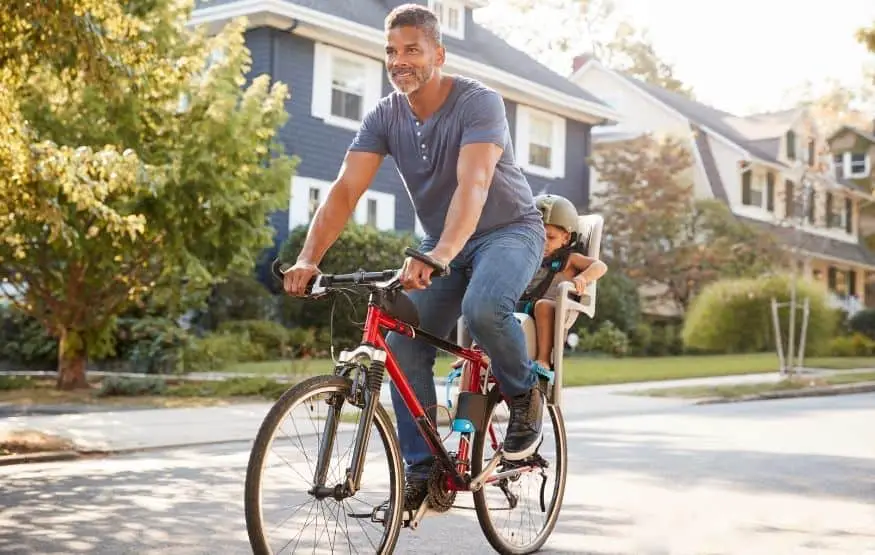 One feature that riders will appreciate is Ute's built-in lights (that draw their power directly from the battery). The lights are powerful enough to light up dark roads, but we would advise you to be a bit more careful in the dark.
The 50 Lux Lumotec Avy won't let you see potholes in the dark and other problems with the road, so proceed with caution.
The last thing you need is a tire puncture when carrying such a heavy bike – and yes, the WTB Horizon is just as vulnerable to potholes. Kona should have gone with heavy set tires for this electric bike.
We would advise a change of tires if you want to minimize the chances of a flat (or at least carry a puncture kit on you at all times). 
All in all, we would recommend the Kona Electric Ute to anyone who wants to try out a long-tail but without breaking the bank. It can do a lot of the things that the GSD S00 can, such as carrying children, adults, and a ton of cargo.
4. Babboe Slim Mountain
Babboe is a Dutch company known for making well-designed, well-priced cargo ebikes. It was founded by parents who couldn't find any family cargo bikes on the market and decided to create their own variation of the Bakfiet. This led to the launching of the Babboe Big, which was met with a lot of success.
Since then, Babboe has been known for making a range of well-designed cargo bikes, such as the pet-friendly Dog-E and the City Model.
The Babboe Slim Mountain is among their most recent offerings and is exclusively designed to accommodate small humans. A quick look at this unique electric bike will show you why. It features a Long John design with the cargo bay directly in front of the rider.  
This bike is massive at a size of 8 feet and a weight of around 220 kilos (when loaded up). Despite the size, it handles up amazingly well. Granted, it may take you some time to adjust to the unique dimensions but once you get the feel for it, riding it will become effortless.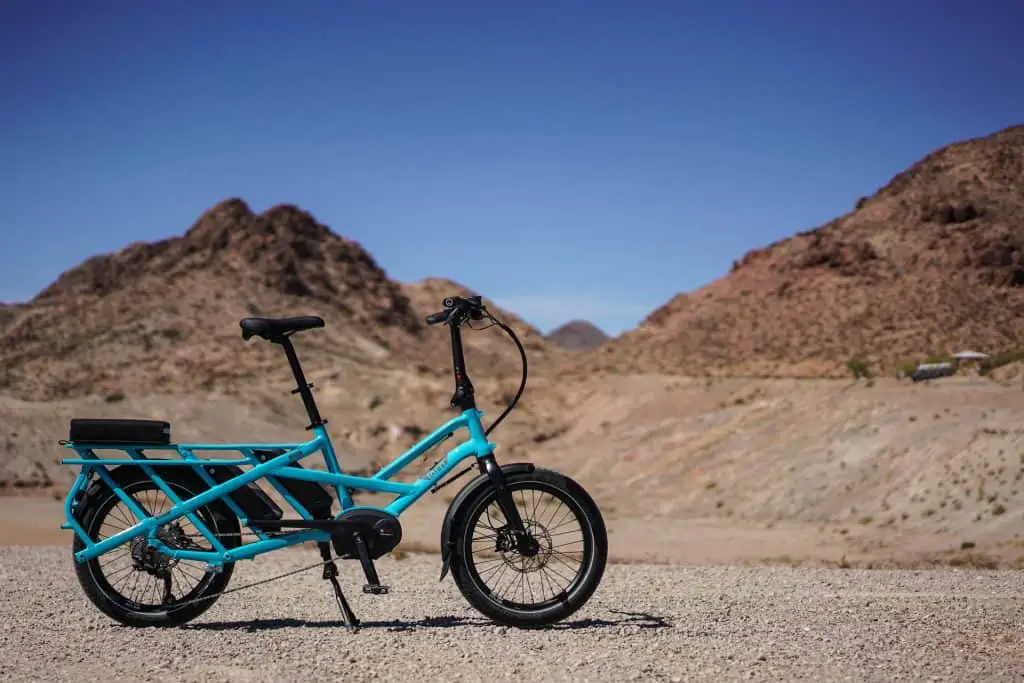 The battery is just as impressive given how it can accommodate one adult and two children for a distance of up to 37 miles. This means you can easily transport your kids to and from school for an entire week on a single charge. The best part is that you can recharge the battery in a couple of hours.
Since this electric bike is designed for kids, it prioritizes safety features above everything else. Each kid will have a seatbelt to keep them securely locked in place. The hulking frame of the bike also makes you feel a bit safe when riding around town.
At nearly $4,000, the Babboe Slim Mountain is no small investment, but a quick comparison with other electric bikes (or a car) will reveal that the price is justified for all the perks you're getting.
The only problem is storage because you can't just park it out in a public space. If you don't have a garage, then you probably will need to leave the Babboe outside (make sure to buy a bike lock to prevent theft).
You may like the following ebike articles:
Wrapping Up
Like any other heavy investment, make sure to do proper research before buying an electric bike with a child seat. The market is flooded with a slew of cargo electric bikes, but the options we've highlighted will work for the majority of parents, especially those who want to replace their cars. Do you agree with our list?
Let us know your thoughts about our list of the best electric bike with child seat!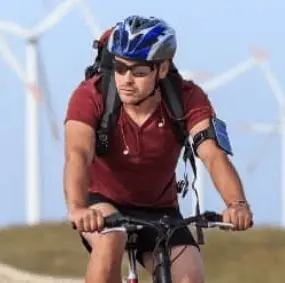 I am Michael, an avid rider and bike expert. I am here to provide, biking tips and expert advice on in-depth bike reviews covering features, capabilities, price range, and much more. Specially on electric bikes, mountain bikes, road bikes, etc. I will provide honest product reviews, along with expert advice on purchasing, training, and maintenance. Check out my complete profile.