Women are doing wonders in every field. They are scientists, acing their careers as doctors, engineers, and artists, running their own businesses and owning their own companies.
A few decades ago, it would have been impossible to think of women as boxers or wrestlers. It was strictly a man's sport. Similarly, cricket and football would never have been a sport for women if they had not taken up the challenge and ventured into these games.
Today there is no such game or sport which is "only for men." Just as women are found in every other profession, so are they taking up games and extreme sports that were not considered for the delicate and physically less strong gender.
One such sport is mountain biking. It is no longer an only-for-men sport. Women have become bold and daring enough to overcome all the risks involved in these sports and are leaving their marks behind.
With proper training and practice, women can do anything as well or better than a man. They must take the necessary safety measures, and precautions and they are ready to go up and down the steep mountain tracks on their special mountain bikes.
Before we get to tell you about the best women's electric mountain bikes, let's look at some of the differences between bikes made for men and bikes made for women.
The difference in men and women bikes
Saddles
For both males and females, Saddles are designed to cushion the buttocks when the biker is sitting in their standard biking position. The differences in saddles for men and women are very subtle and barely noticeable.
The shapes, holes, cushioned areas, and depressions all have subtle changes to serve the different anatomical features in men and women.
These changes are made because women usually have longer legs and different bone structures in their joints.
Stack
The length from the bottom-most frame to the head tube of your bike is the stack. Typically, on bikes made for women, the stack length is shorter when compared to bikes made for men.
The shortness of the slack helps women reach the pedals easier and achieve complete leg extension to pedal comfortably, even for shorter women.
Handlebars
Shoulder width is very different in men and women, and to accommodate the differences, women's bikes usually have narrower handlebars.
Men's bikes typically have handlebars over 42 centimeters wide, and women's handlebars are usually around 38 to 40 centimeters wide.
Also, even the handlebar stems are shorter in women's bikes to be comfortable and safe!
Reach
The reach length is the distance between your seat and the handlebars. Since, on average, women have shorter torsos than men, a shorter reach length makes it easier for women to grip the handlebars comfortably.
In other words, medium-height women won't have to lean over too much when riding their bikes!
Read How to Adjust Front Shocks on a Mountain Bike?
Step-Through
Most lady's bikes have their top tube leaning downwards. This practice has been going on from times when women used to ride in long dresses and coats, but it can still come in handy if you are ever riding in a sundress! 
The step-through makes getting on and off the bike easier, but it is mostly there for just the look instead of any usefulness. Newer bikes are coming out with different curved parts and not just the step through!
Shorter-reach brake levers
The length of the brake levers is an issue many women, who have smaller hands, face a lot. Some women's bikes come with shorter reach brake levers to make it easier for those ladies.
Now that we know about most of the key differences between women's and men's bikes let's look at some of the best women's electric mountain bikes.
Best Electric Mountain Bikes For Ladies
1. Liv Embolden E+1
Motor: Giant SyncDrive Sport
Battery: Giant EnergyPak Smart 625, 36V Integrated Lithium-Ion
Frame: ALUXX SL-Grade Aluminum
Brakes: Shimano MT420, 4-piston
The Liv Embolden E+1 is an electric mountain bike specifically made for women. It's a great choice for smaller women or anyone who might benefit from its smaller geometry and frame.
The Embolden E+1 was made to 'embolden' new riders to take on challenges and new trails! It is powered by a SyncDrive Sport motor and a Giant 625Wh battery.
Its RockShox forks and shocks smooth out rougher mountain treks and let you go further with more confidence.
Liv builds all their bikes from the foundations with women in mind and is specifically designed for the female anatomy.
The frames and specifications of this particular bike are geared more towards touring rides and a little less to extreme mountain biking.
Instead of throwing yourself down the roughest and grittiest mountain trail, use the Embolden E+z for longer and smoother distances!
2. Scott Contessa Genius eRIDE 910
Motor: Bosch Performance CX
Battery: PowerTube 625Wh
Frame: Alloy Frame
Brakes: Shimano BR-MT520 4 Piston
This bike, too, was specially made for women. The Scott Contessa Genius eRIDE 910 is a mountain biking machine that can get you through any and all kinds of terrains and challenges.
It is fitted with women-specific designed contact points and tuned suspension. This makes it a comfortable ride on mountains and for daily commutes.
The eRIDE 910 has a powerful Bosch CX motor and a 625Wh battery with strong four-piston brakes to help you maintain control while flying up and down mountain trails.
The bike comes with 29-inch wheels, but they can be changed for 27.5-inch wheels for different terrains.
The Scott Contessa Genius eRIDE 910 is a bike that is ready for adventures, technical climbs, or just to ride down your everyday routes.
3. Powerfly 5 by Trek
Motor: Bosch Drive Unit, Performance CX, Gen 4
Battery: Bosch PowerTube 500
Frame: Alpha Platinum Aluminum
Brakes: Tektro HD-M275 hydraulic disc
The Powerfly 5 is a great value electric mountain bike to purchase. It features a high-end Bosch Performance CX 250W motor with a 500Wh battery that can assist you to up to 20 miles per hour.
Its aluminum frame, which is specifically designed for women, features a Removable Integrated Battery (RIB) that is very user-friendly and doesn't need any tools to remove.
The Powerfly 5 also has a 100mm RockShox fork and is a very versatile, adventure-friendly electric mountain bike.
Its great quality parts and systems give you all-around performance for just commuting, and also if you want to go down trails!
4. Specialized Turbo Levo
Motor: Specialized Turbo Full Power System 2.1 Motor
Battery: Specialized M2-500
Frame: Specialized M5 Premium Aluminum
Brakes: SRAM Guide RE
The Specialized Turbo Levo is a very popular electric mountain bike in the market. It is a unisex electric bike that is great for all kinds of riding!
Your pedaling power on the Turbo Levo gets multiplied a whopping 4 times! And with Specialized's M2 batteries, you will get plenty of range.
Their Mission Control App helps you handle the battery management easier and ensures your battery will last until you are done!
Specialized doesn't make electric mountain bikes that are specific to women, but Specialized bikes are designed on their own frames with a database or body dimensions of both men and women.
All this results in a mountain bike designed to suit the needs of each bike rider!
If you want to, you can even spend some cash for their lighter carbon frames!
5. CANYON GRAIL: ON CF 7 WMN
Motor: Bosch Performance Line CX Gen4
Battery: Bosch PowerTube 500 Wh
Frame: Carbon
Brakes: Shimano MT800
The Grail:ON is an electric carbon mountain bike made for women. It floats over gravel and will let you speed down (or up) your favorite mountain biking trails.
The bike is powered by a Bosch Gen4 CX performance motor and has a 500Wh removable battery.
The Grail:ON features Canyon's distinctive two-bar split. This feature gives you incredible comfort on top while riding down brutal terrains, also while providing lower bar stiffness for good handling and performance.
The bike comes with 50mm Tires that are great for off-roading but may cause an increase in friction on roads.
The Grail:ON is great for all kinds of speedy adventures!
6. Haibike Sduro HardLife 6.0
Motor: Yamaha PW-System – USA, 500W
Battery: Yamaha Lithium Ion, 500 Wh
Frame: Aluminum 6061
Brakes: Magura MT4
This women-specific mountain bike is built by Haibike. Haibike is one of the world's biggest manufacturers of electric bikes.
The HardLife 6.0 comes with a Bosch Performance CX motor and an InTube 500Wh battery.
It is designed a little smaller in size than other Haibike mountain bikes for women. The smaller frame gives you more control and better handling in rough and tough parts of rides.
Also, the battery is hidden in the bottom of the frame, giving it a low center of gravity, which also adds to the performance of this bike.
You may like the following mountain biking articles:
Final Thoughts
Now that you know some of the best electric mountain bikes for women, you can choose whichever is best for your size, needs, and budget! Before you make your purchase, you need to consider a lot of things.
The bike's power level, its battery size, your driving range, and lots more. Once you have figured out all of this, you can get to flying down the best mountain trails in your area!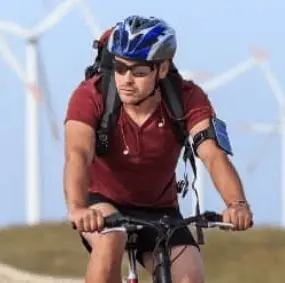 I am Michael, an avid rider and bike expert. I am here to provide, biking tips and expert advice on in-depth bike reviews covering features, capabilities, price range, and much more. Specially on electric bikes, mountain bikes, road bikes, etc. I will provide honest product reviews, along with expert advice on purchasing, training, and maintenance. Check out my complete profile.