This article is all about where to store your electric bike? We will check out the best storage tips for electric bikes.
Can you store electric bikes outside?
Even though most premium e-bikes can withstand harsh weather conditions, owners avoid outdoor storage. They contemplate how and where to store electric bikes to overcome environmental challenges. We understand that unpredictable weather poses a significant threat to your e-bike systems and outdoor storage spaces.
It's why we rounded up the best storage tips for electric bikes to assist you.
Our comprehensive guide introduces different types of storage spaces along with maintenance tips for electric bikes.
Best Storage Tips for Electric Bikes
Here are some tips and tricks you should know:
1. Choose the Right Storage Space: Where to Store Your Bike?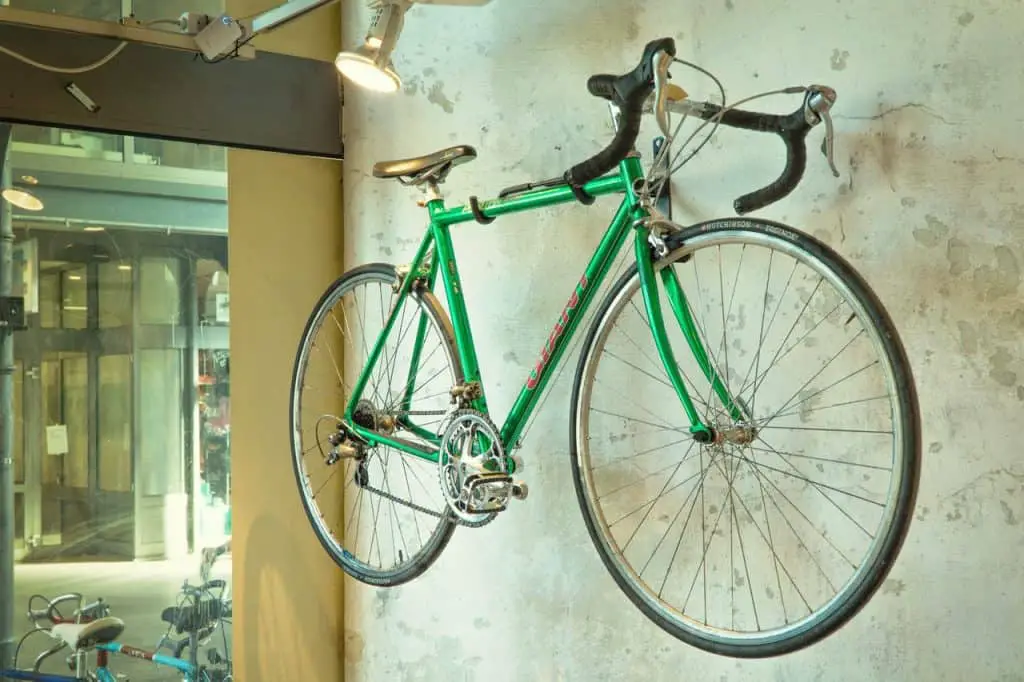 Can't figure out where to store your bike?
Don't fret!
We have a wide variety of options for storing bikes (i.e., racks, wall mounts, floor models, ceiling racks, etc.). Each option comes with its advantages and disadvantages.
The best storage tip for electric bikes includes understanding your short-term and long-term needs to make a practical decision. You can use our checklist to consider the significant factors that influence most storage choices.
They are as follows:
What is your budget? Have you included the maintenance costs for the electric bike and storage space?
How much space do you have at home?
Would outdoor storage be more feasible?
Do you have a storage room inside the house (either in the garage, basement, or elsewhere)?
What's the weather like in your region?
Can your electric bike tolerate outdoor conditions, or is indoor storage crucial for its maintenance?
Do you plan to ride daily in the warmer seasons?
Your answers shall narrow the choices, and then you can finalize the storage space. Do remember to designate a clean and sheltered spot for better coverage. It's a rule that applies to both outdoor and indoor storage.
You may like, What To Look For When Buying A Used Bike and Can An Electric Bike Replace A Car?
Now, let's have a closer look at your storage options:
1. Bike Racks
The most common storage accessory for electric bikes (and their traditional counterparts) is a bike rack. Its popularity makes it accessible in different styles and it is readily available in the market.
You can opt for a heavy-duty floor model bike rack, often seen in public places (i.e., parks, sidewalks, and parking lots). These racks are durable, sturdy, and weather-resistant. These specifications allow them to work well throughout the year.
Here are a few things to consider before purchase:
Single vs. Multiple: Go for bike racks with multiple storage spaces if your family has bikes too. It makes storage more manageable, and you will easily find a design that matches your needs. 
Metal vs. Plastic: Always choose high-grade materials that have the maximum potential to withstand all types of weather. Also, metallic structures are stronger compared to plastic bike racks. Yet, metal rusts over time, and plastic doesn't. It's best to consider warranty and maintenance costs when you're making a long-term investment.
Free-Standing Designs vs. Bike Racks Requiring Support:  Free-standing models have a user-friendly installation process. You simply prop it in their designated spot and push your bike's front wheel in the right position. Yet, these structures can collapse more quickly.
In contrast, bike racks that come with posts are less likely to fall over when a strong wind or someone bumps into it. You just need extra time (or professional help) when you secure the posts inside cemented/gravel ground.
Lastly, bike racks work for outdoor and indoor storage spots. The only limitation is size and shape. Choose a design that you can accommodate for both areas. That way, you can bring the rack inside when the weather conditions worsened.
Handy Storage Tip for Electric Bikes:
Add a bike lock to keep prying eyes and sneaky hands at bay.
2. Wall Mounts for Electric Bikes
Don't have free floor space for your electric bike?
No worries, look around to see if you have an empty wall in the garage or room. Choose a strong, less-lit area wall to hang your electric bike. That way, you have more ground space and flexibility for other storage needs.
Here are three different ways to mount your electric bike on a wall:
Installing hooks is efficient and straightforward. You can hang your electric bike from its frame or wheels, depending on its structural design. Ensure that the hooks don't damage the rim or tires when you hang the e-bike from its wheels.
You can reuse the hooks for indoor decor or other storage types when it's not holding an electric bike.
The unconventional option requires you to slide your electric bike onto posts while keeping its angle and direction in mind. It's comparatively less secure than the other wall-mount storage choices on this list.
Yet, it's a viable choice as a last resort for riders who don't have space for indoor storage and money for renting a storage facility.
Racks are stronger, sturdier, and more flexible than their counterparts. One (or more) screws anchor the supporting structure.
Regardless of the wall mount option, make sure you place your electric bike at the right height. The best idea is to lift your e-bike to consider the choices and mark that position on the wall. Once you have selected the ideal spot, you can drill the required holes.
More importantly, buy proper hardware for installation and choose a premium-quality wall-mounting structure. You want something with the strength and durability to support your electric bike for weeks/months of storage.
The wrong choice will cause your bike to fall and get damaged.
What else can you do?
If you don't have wall space, you can hang your electric bike on the ceiling. Homes with roof rafters are an ideal choice for this situation. Yet, you can still create a proper ceiling mount with the right tools.
That said do consider the weight and size of your e-bike to ensure that this option is workable for your particular model.
3. Bike Shed vs. Bike Tent for Outdoor Storage
If you have decided to store your electric bike outside, you should invest in a bike tent or bike shed. Both options have their pros and cons.
Electric bike tents are a common choice because of their feasibility. Unlike the other storage options, they take up some room, so you need a roomier garage/outdoor space. We mention the garage because it's preferable to stow the tent (and e-bike) inside whenever it's raining too hard or a snowstorm.
Nevertheless, only buy bike tents are waterproof, windproof, and provide UV protection. That way, your electric bikes shall be safe and secure whenever it is placed outside.
What about e-bike sheds?
If you have enough space in your backyard, you can go for an electric bike shed. The sturdy construction protects your vehicle all-year-around, in rain and sun. It is also sturdier and highly durable compared to an electric bike tent.
That said, building a shed can require a legal permit or at least a proper examination of district regulations if you like in the UK, the USA, or Canada. Mostly, the rules surrounding outbuildings (such as sheds) are about height restrictions.
On the whole, you have got three to four excellent storage options for your electric bikes. Select the one that aligns with your budget, feasibility, and convenience. Also, consider the usual weather in your region to prevent any mishaps during harsh weather.
You may like, How Long Do Bike Tires Last and When to Replace A Bike Tire.
2. The Importance of Covering Your Electric Bikes
It doesn't matter where you store your electric bikes. A bike cover protects it from unpredictable external changes when kept outdoors (or indoors).
For instance, a durable, waterproof bike cover serves as a barrier against the changing climate. It shields your vehicle from rain and snow.
Also, make sure your electric bike cover comes with a UV-proof feature. It keeps the harsh sun rays out and reduces the risk of weather damage caused by extended exposure to the sun during storage.
Additionally, having a windproof electric bike cover adds another layer of protection. It is less likely to blow away or let air pass through gaps.
Consequently, it shields your electric bike from dirt, debris, and leaves that might be flowing around due to strong winds.
In turn, it saves your mechanical parts from clogging and prevents its exteriors from getting too dirty.
All in all, throwing in a cover means less cleaning time for you.
3. Take Steps to Extend Its Battery Life
Electric bike batteries last up to 2-6 years if you maintain them properly. It's why you should be extra careful when you store your electric bikes.
Here are three rules for long-term storage:
1. Remove Your Electric Bike Battery
Keeping your battery on your electric bike exposes it to fluctuating climates and environmental conditions. Potential condensation buildup and moisture accumulation can lead to corrosion. That's why you should consider your battery separately for long-term storage.
2. Never Store Your Battery Fully Charged/Discharged
Avoid storing your battery at 100% or 0%. These conditions can accelerate deterioration due to external changes. When partially charged, batteries can preserve capacity for more extended periods. Thereby consider setting your battery between 30-80% whenever you store it.
If you're storing your batteries for an extended time, make sure to check their power in brief intervals. Adjust its level to prevent it from dropping below 30-20% as your battery shall start dying after reaching that point. It, in turn, will make it unusable for riding season.
3. Maintain Optimal Temperature for Storage
Place your lead batteries (or lithium batteries) in a cool and dry place. The ideal temperature for storage is 20 degrees Celsius. They'd survive the winter as long as you keep them warm during below freezing temperatures.
The important thing is to protect it from extreme high and low temperatures so that its chemicals don't react to environmental changes. Following this rule can extend your battery's life.
What about short-term storage?
The same ground rules apply for short-term storage. The only difference is that you might be tempted to charge your battery overnight. Avoid this habit to minimize the risk of electrical fires or overheating.
 If you don't want to keep the battery at 30%, you can store it at 80% before storage. That way, it charges the next day, quickly, if you are keeping it at home.
Handy Storage Tip for Electric Bikes:
You should also consider professional consultation if you're ever in doubt. That would ensure that your electric bike is in premium condition before and after storage.
4. Clean and Maintain Your Electric Bike for Better Storage
Stowing your bike for the season does not always prevent wear and tear. You can improve its condition by maintaining a regular cleaning schedule. You should also inspect your rides in storage to ensure they are in good condition.
Otherwise, you risk structural and technical damage when they are not in use. 
Here are a few steps to take routinely:
Regularly wipe dirt and grit off the exteriors and wash waterproof surfaces.
Grease and lubricate your chains by polishing mechanical/metallic parts. 
Repair broken chains and links immediately to avoid accidents. 
Check tires for cracks, tears, and punctures.
Maintain healthy air capacity in the tires for a smooth ride.  
In other words, ensure that your electric bike is spic and span even if it's going into hibernation. These steps would extend its longevity and durability. You should also give it a quick once over from time to time if you're keeping it at home.
What's more?
You should also consider professional consultation if you're ever in doubt. That would ensure that your electric bike is in premium condition before and after storage. 
5. Consider Renting a Reliable Storage Facility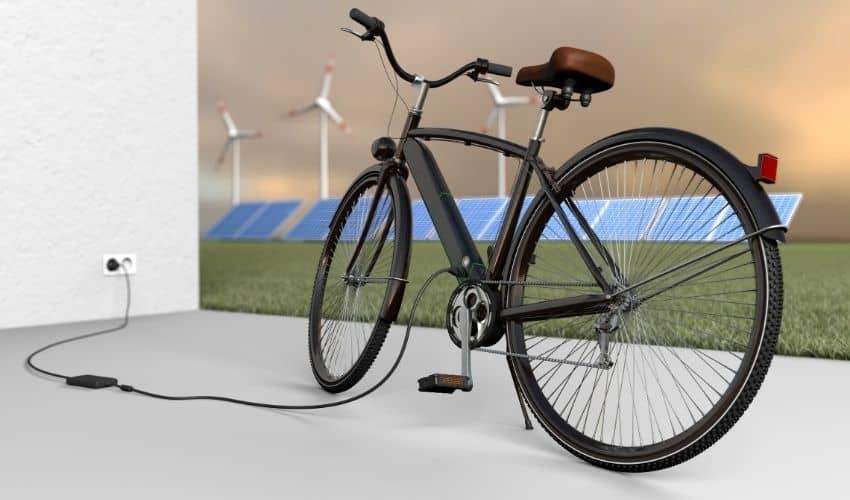 Don't have a place to store your electric bike at home?
No worries.
Many apartment-dwellers, condo residents, and small homeowners face a similar challenge. If you find bike racks and wall mounts inconvenient, you can rent a local storage facility. Choosing a renting space would help you keep your bike safe and sound when you're not using it.
Here are the main points to consider if you're renting a storage facility:
Choose a storage facility that offers 24/7 access for ease-of-use
Opt for renting spaces that provide security codes and personal entry keys etc.
Make sure the premises have CCTV cameras for extra security.
Research available options to rent a place that fits your budget
Weigh in the benefits of seasonal and yearly plans for optimal use
Confirm logistics concerning space, duration, and finances before finalizing anything
In the end, go through the contract properly before signing the legal agreement. Understanding the terms and conditions allows you to steer clear of legal challenges.
Handy Storage Tip for Electric Bikes:
Follow the other storage tips for electric bikes to extend its lifespan. That includes adjusting environmental conditions, maintaining your ride, and cleaning it thoroughly whenever you store it. 
Bonus Tip: How to Prepare Your Electric Bike for the Next Ride?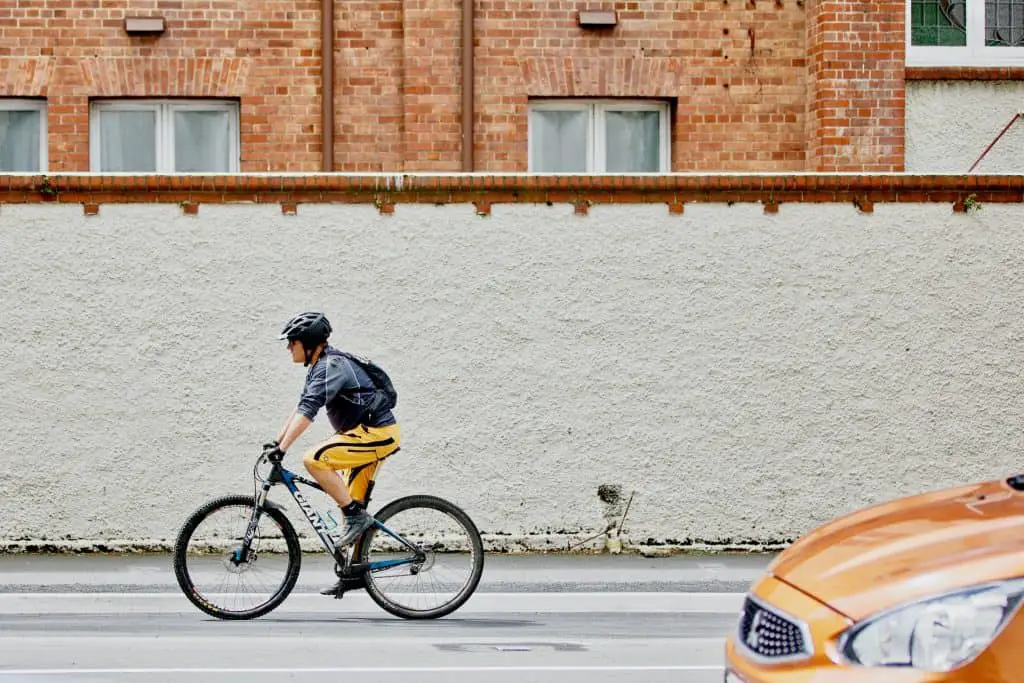 Whether you're storing your bike for the winter season or a short hiatus, unpacking it requires preparation. We recommend examining your ride correctly before you take it out for a spin. It's an excellent way to embark on the next great adventure with minimum setbacks.
Here are a few things to consider:
Check Your Battery.
Replace your battery if you took it out before storage.  Also, losing power during your ride is a big no-no.It's best if you test the battery and recharge it before heading out.
Conduct a Full Inspection.
Ensure that everything from your tires, gears, brakes to the chain are in excellent condition. It's wise to consider a routine service a few days before use. That way, you're less likely to face problems when you hit the road.
Avoid Riding on Dusty and Greasy Electric Bikes.
Despite your best efforts, your ride can collect dust or accumulate greasy stains during storage. It's why you should wipe it thoroughly after unpacking it. Remember to wipe off the dust and then wash it properly to remove stubborn stains.
Keep an Air Pump and Tire Patches at Hand.
It's always good to have a backup plan for emergencies. When it comes to riding electric bikes, you should have a portable air pump, spare tires, and tire patches at home. These tools would allow you to tackle small problems without taking it to a professional. 
Once you've gone through these three steps, you're ready to roll.
You may like the following e-bike blogs:
Final Words
In conclusion, deciding where to store your electric bike depends on individual needs. Always consider the pros and cons of each option to make an informed decision. You can also switch things up by opting for seasonal storage spaces when the weather gets rough. It's an excellent way to maintain its longevity and avoid preventable wear and tear.
Hopefully, our tips and tricks will set you on the right track. Got some more storage tips for electric bikes? We'd love to hear your ideas.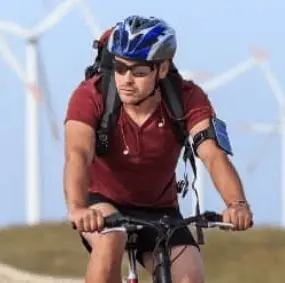 I am Michael, an avid rider and bike expert. I am here to provide, biking tips and expert advice on in-depth bike reviews covering features, capabilities, price range, and much more. Specially on electric bikes, mountain bikes, road bikes, etc. I will provide honest product reviews, along with expert advice on purchasing, training, and maintenance. Check out my complete profile.